Onondaga County Settlement Plan
The Onondaga County Settlement Plan encourages and enables the municipalities of Onondaga County to improve residents' quality of life through a renewed emphasis on neighborhoods.
The Settlement Plan acknowledges that the County's greatest strength is our tradition of historic neighborhoods, and then focuses on providing the tools that can most effectively reinforce that tradition. The Settlement Plan represents the determination of the County and its citizens – as demonstrated in the 2010 Development Guide – to limit suburban sprawl in favor of the traditional neighborhood development model of growth.
The term Traditional Neighborhood Development (TND) refers to villages, towns and cities that are made up of traditional neighborhoods. TND mandates that new projects be organized along the lines of traditional neighborhoods, with mixed use centers, a network of through streets, public spaces, and the like. The Settlement Plan consists of three documents:
The Regional Plan and Pilot Projects
In recognizing that most planning occurs at the local level, the Regional Plan provides a countywide framework within which individual municipalities can make wise decisions.
The Regional Plan emphasizes that future growth should be focused at existing urban centers.
An Open Space Structure outlines the natural areas at the county scale that individual municipalities are asked to incorporate into their Town Settlement Plans.
Transportation Policies, which support pedestrian and transit activity, govern the County's planning of its own transportation infrastructure and which are recommended for use by individual municipalities as well.
Eight Pilot Projects were completed as part of this plan, to represent ideal solutions to typical problems that face municipalities within Onondaga County. They include:
Municipal Settlement Plan: Town of Camillus
Urban Neighborhood Improvement: Butternut Sector
Brownfield Redevelopment: Harbor West
Village Retrofit: Liverpool
Mall retrofit: Fayetteville Mall
Shopping Center Retrofit: Bayberry Plaza
Village Extension: Baldwinsville
Hamlet Extension: Jamesville

Liverpool Village Retrofit
The Traditional Neighborhood Development Code
Onondaga County has experienced a half century of suburban sprawl, in direct accordance with existing zoning and subdivision regulations that effectively outlaw traditional neighborhood development, or Smart Growth. The TND Code offers an alternative set of regulations to allow the construction, extension and revitalization of the County's neighborhoods, to be utilized and adapted by municipalities. The TND Code is based on the following principles:
Encouraging development so long as it is compact, diverse and walkable.
Regional planning for environmental protection and open space conservation.
Using scale versus use as a basis for zoning decisions.
Supporting mixed-uses and a balance between transportation options.
Facilitating infill and renovations projects.
Zoning within the TND Code is not categorized by uses, but by the Transect, below.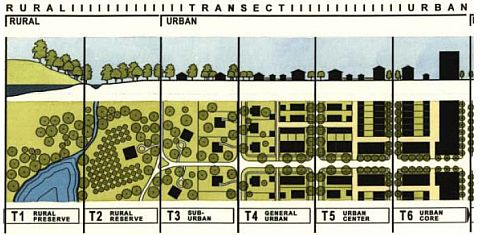 The Transect conceptualizes each environment, from rural to suburban to urban, as habitats with a series of characteristics, such as building heights, lot configuration, and block size. The characteristics of each of the six transect categories are detailed within the code, so that each project will reinforce the intended environment rather than have its use dictate its function.

Transect 4
General Urban Environment


Transect 5
Urban Center Environment
The Traditional Neighborhood Development Guidelines
The TND Code is a technical document designed to attain specific built results in a regulated legal environment. The TND Guidelines are designed to quickly and easily communicate the philosophy and practice of Traditional Neighborhood Development. As a guideline, it is more descriptive and less precise than the Code, and is best used as an educational tool.