The Onondaga County Planning Federation (OCPF) is a nonprofit corporation that serves every municipality in Onondaga County by hosting annual training conferences for elected and appointed local officials and the public, and providing trend data and planning information to Federation members. The Syracuse-Onondaga County Planning Agency (SOCPA) provides staff services to the Onondaga County Planning Federation.
OCPF Goals
Promoting community and inter-community planning within or by the municipalities of Onondaga County.
Educating members of the Federation and the public.
Providing for the collection and distribution of information and resources on planning and related subjects.
Promoting cooperation and coordination with and among federal, state, county and local authorities in matters relating thereto.
Board of Directors
Kevin Gilligan, President
Municipal Attorney
Senior Counsel, Costello, Cooney & Fearon, PLLC
David Tessier, Vice President
Zoning Board of Appeals Chair, Town of Pompey
Land Planning Consultant
Vince Bongio, Secretary/Treasurer
Planning Board Member, Town of Geddes
Chief Engineer US Operations, Daldrop-SBB, LLC
Howard Brodsky
Community Planning Consultant
Ilana Cantrell

Planner, Syracuse-Onondaga County Planning Agency
Christine Capella Peters
Planning Commission Member, City of Syracuse
Kathleen Carroll
Planning & Zoning Boards Member, Town of Marcellus
Controller, Greek Peak Mountain Resort
Ron DeTota

Town and Planning Board Engineer for the Town of Clay
Municipal Services Department Manager, C&S Companies
John Elleman

Zoning Board of Appeals Chair, Town of Onondaga
Member, Bond, Schoeneck & King PLLC
John Fatcheric

Supervisor, Town of Camillus
Anthony Geiss Jr.
Zoning/Planning Board Chair, Town of Van Buren
John Langey
Municipal Attorney
Partner, Costello, Cooney & Fearon, PLLC
Jane Rice
Planning Board Chair, Village of Fayetteville
Director of Planning, EDR Companies
Jamie Sutphen

Municipal Attorney
Partner, Baldwin, Sutphen & Frateschi, PLLC
Alex Wisniewski
Village Engineer, Village of Minoa
President, L.J.R. Engineering, P.C.
As of January 1, 2007, New York State law requires a minimum training standard of four hours each year for members of county, city, town and village planning and zoning boards. The type of acceptable training is left to the discretion of individual municipalities. The legislative body for each city, county, town or village approves a course or courses of training for its board members.
The Federation offers annual Municipal Training Conferences to assist municipalities in meeting these minimum training standards.
Click here if you would like to receive notices for future Annual Planning Symposiums.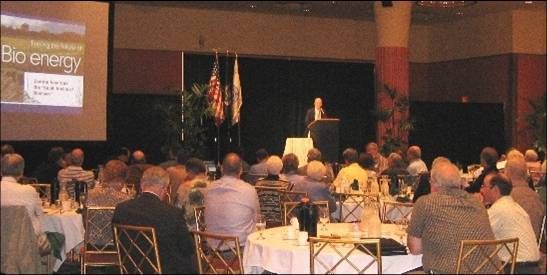 Neil Murphy, Ph.D., President, SUNY ESF
Annual Planning Symposium Keynote Speaker