Community Planning & Transportation
Public Survey
Please Note:  If you receive a survey by mail, please fill it out and return it in the postage-paid envelope. The online survey results are being compiled separately from the mailed results!
Please click on the image below to take the survey.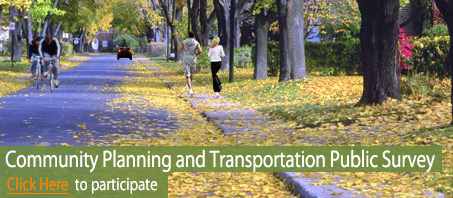 Please help us in creating a new Onondaga County Sustainable Development Plan. SOCPA and the Syracuse Metropolitan Transportation Council (SMTC) have teamed up to create a Community Planning & Transportation Public Survey for residents of Onondaga County.
This online public survey is intended to:
assess residents' values and attitudes toward land development and infrastructure investments,

test acceptance of a variety of concepts in land use and transportation planning, and
help us understand residents travel habits and desired improvements to the transportation system.
SOCPA will be using the results of the survey to guide a land use visioning process for Onondaga County that will be incorporated into the County's Sustainable Development Plan.
This survey is being conducted in partnership with the Syracuse Metropolitan Transportation Council (SMTC), who will also be using survey results as they update the Syracuse Metropolitan Area's Long-Range Transportation Plan (LRTP). For more information on the SMTC or the LRTP, please visit the SMTC's website at www.smtcmpo.org/LRTPUpdate.
The survey is being administered both by mail and online. The National Research Center, Inc., on behalf of SMTC and SOCPA, is also mailing a statistically valid survey to a random sample of households in Onondaga County. If you receive a mailed survey, please complete and return it, as the results of the mailed survey will be tabulated separately from the public survey found online. All mailed and public survey responses will be kept anonymous.
Thank you for taking the time to complete our survey! Your participation is important as your opinions will help shape the plans and future of Onondaga County.