PUBLIC SAFETY COMMITTEE MINUTES - SEPTEMBER 8, 2014
BRIAN MAY, CHAIRMAN
MEMBERS PRESENT:  Mr. Dougherty, Mr. Holmquist, Mr. Ryan
MEMBERS ABSENT:  Mr. Jordan
ALSO PRESENT:  Chairman McMahon and see attached list
Chairman May called the meeting to order at 12:08 P.M.   
Chairman May advised those in attendance that the meeting is a work session of the Legislature; discussion will take place at the table.   There are many forums and opportunities to publicly discuss any business before them and those opportunities will occur through regular session and other aspects of the process. 
A motion was made by Mr. Dougherty, seconded by Mr. Ryan, to waive the reading of the minutes of the proceedings of the previous committee.  MOTION CARRIED.  A motion was made by Mr. Dougherty, seconded by Mr. Ryan, to approve the minutes of the proceedings of the previous committee.  MOTION CARRIED.
1.    SHERIFF:  Chief Estenban Gonzalez
      a.    Monthly Update on Status of:
            1.    Special Operations Facility
            2.    Pistol Permits
Chairman May stated that if it was ok with committee they would skip the regular updates and asked how things were going with the housing of inmates.  Chief Gonzalez expressed his apologies to the committee, adding that he will do his best to substitute for Dick Carbery.  In answer to Chairman May, Chief Gonzalez:
Population management going very well if we continue shipping female inmates out of Jamesville; knows this isn't fiscally what anyone wants to hear

Females and minor males largest growing population both nationally and in NYS, Jamesville female population also full

As of today, shipped 17 female inmates to Oneida County-closer than Wayne County; cost $90 per day, spent over $36,000 to date

Required to maintain different inmate classifications within a facility, cannot mix adults and minors, males and females, would quickly be in violation of the law if you tired - no choice but to send sentenced Jamesville female inmates out of the county as presentenced inmates to court several times per week, less transportation costs     
Chairman May said he brought this up because, as of late, he heard they had to do this and he wanted the committee to be aware.  Chief Gonzalez added that the population number might be at 620-630 out of 671 beds but they are still overcrowded, based on those classification categories.  They have room for adult males, don't have room for the female population.        
Mr. Ryan said that the females are being shipped to Oneida and they are always mindful of housing federal inmates at Jamesville because of reimbursement and asked if it was somewhat of an offset.  Chief Gonzalez said this was a great question.  Not that many years ago, they dropped the federal number down from the 100's to a single digit at Jamesville - only house certain individuals going through trials here, at request of the federal government.  It is not a money making operation.  Commissioner Cowin has done a great job of shipping everyone out that can be, in order to make room for them.  Mr. Ryan agreed, adding that they don't want to go outside of the County if they can get them into Jamesville, but if the opportunity presents itself and there is something they can do to offset the costs, they should be looking at it.  Chief Gonzalez agreed, adding that the other big push from State Corrections is the Prison Rape Elimination Act (PREA), which mandates that they separate above and beyond the way they are separating the population.  Although $36,000 is an amount of money, if they didn't appropriately classify and separate the population, the legal ramifications they would be facing would be 10 to 20 times this.
Mr. Ryan asked how they were doing with Correctional Health.  Chief Gonzalez:
Opened infirmary in July, higher level of care, nurses received extra training, CCS provided infirmary style education

Mental Health population skyrocketing, recent constant observation numbers in 13-18 range daily, 1 officer watching 2 inmates - consider the number of posts on overtime 24/7 watching inmates

Mental Health Unit doing good job, every 24 hours checks presentation of behavior and gets them off as quickly as possible, preservation of life is paramount, won't downgrade at the risk of anyone's life    
Chairman May asked the maximum number of constant watch the present unit can hold, noting that it had to be close.  Chief Gonzalez responded that they have already exceeded the maximum for the present unit.  It has four originally built glass front cells.  Going down to the carpeted area they have reengineered the doors to have more glass in the front, down to about cell 18 or 19.  After that, they would have to put one officer in front of each door because the standard doors would not allow one officer to watch two inmates - unable to see both inmates consecutively.
       b.    2014 Transfer Resolution-Police/Civil ($111,024)
Chairman May advised the committee that he has had a lot of discussion with the Sheriff's department over the past week and thanked Captain Rinella, Chief Gonzalez, Dick Carbery and Steve Morgan for their help and unprecedented cooperation at this stage of the game.   They have done a great job providing information that has been requested for a while.  The information in this packet is the quality and type of information our collaborative budget management process is striving to accomplish.
Chief Gonzalez:
Attempted to fulfill all requests, took out any asks just primary day-to-day business operations  

Doesn't address overtime - addresses everything needed to get business done for both Police/Civil and Custody account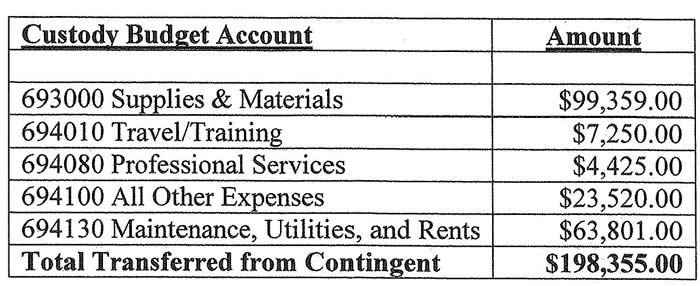 Chief Gonzalez said he would do his best to answer any questions they may have on the graph or information provided.  
Chairman May referenced the Sheriff's Office Projection Sheet provided with the backup information (see next page); shows budget amounts, where they are year to date, and where they anticipate finishing for the year.  In his opinion, it is time to release some of this money for operating expenses.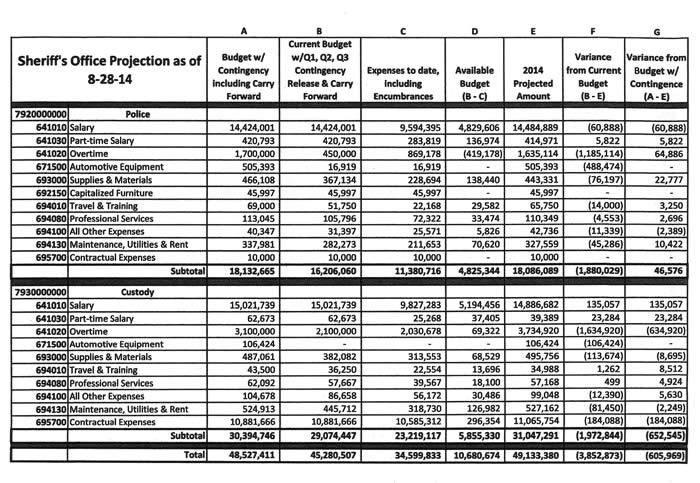 Mr. Ryan said they had a lengthy discuss about overtime in July.  There was a request to release some of the contingency funds to avoid running in the red.  He shared in their concerns and wants to know how you are doing now.  Ms. Fricano responded that overtime for Police is in the red and was in the red at that time for the third quarter.  Custody is extremely close to the red and if not already there, will be shortly.  Those accounts are still being paid, but are in the red.  Chairman May said that the liabilities are being paid.  Ms. Fricano agreed.
Mr. Ryan questioned how long this could continue and asked if they would be able to make this up at some point if they don't receive the contingency funds for overtime.  Ms.  Fricano responded that her understanding the portion in the red will just get bigger until a portion of the money is released.  It has to be paid contractually and holiday pay has to be paid out of this account in November.  Those amounts will still be paid out, the accounts will be operating in the red and any accounting will be through the Comptroller's office.
Mr. Ryan said that the request in July was for a release of $825,000 to cover the third quarter.  If contingency funds aren't released the problem will continue to exacerbate.  Ms. Fricano agreed.  Mr. Dougherty said that they aren't saving any money by doing this - it is up to the management of the department to slow the spending.  Even if they slow the spending, it will still continue to increase and the County is going to owe the money.  Chairman May noted that the funds are appropriated and sitting there. 
Chief Gonzalez stated the large portion of the overtime is Custody.  This was due, in large part, to staffing.  There were no academies in 2013, grew behind and caught up in 2014.   Again, the astronomically high numbers of 1-on-1's in Mental Health resulted in 40-50% of the overtime – the mandated manning of posts to watch all those bodies.  They are in contract negotiations now and as contracts come up management would love to negotiate a different level of pay or different people watch the 1-on-1 inmates.  Everything within regulation that they can legally address, including the Comptroller's report, is being addressed.  Mr. Ryan agreed, adding that a lot of this is operational, some things can't be changed and they must remain compliant – there isn't anything that they can do.  Chief Gonzalez responded except negotiate and that is what they are attempting to do – negotiate a less handsomely paid individual to watch the constant watch observations.
Chairman May asked if the 40-50% was of any overtime dollar spent or the budgeted overtime.  Chief Gonzalez responded of the budgeted overtime.  The primary drives of overtime are constant observations, hospital details and authorized leave.
Mr. Dougherty questioned where they stand on the Mental Health unit for the jail.  This is really dominating our overtime budget at this point.  Chief Gonzalez responded that right now the project is not moving per the last meeting he attended with Chief Balloni and the County Executive's office.  It is not as if they forgot about this, they are dying for the unit.  Out of respect, he thinks it was stopped in order to get past the next few months and then number one on their project list is to see what can be done with the Mental Health unit.  Mr. Dougherty is correct, this is dominating our budget.  If approved, in the way it is architecturally envisioned, they would be able to watch 5-6 inmates with 1 officer; 15 inmates could be watched with 3 officer as opposed to 7 or 8. 
Mr. Dougherty said that he knows Chief Gonzalez agrees with him, it is a shame that they are locking up Mental Health people but they have no other place to go.  Having said that, it would be great to make something good happen there.  Chief Gonzalez agreed.
Mr. Holmquist stated that earlier this year this committee was told by Chief Balloni that the County Executive's office was putting this on hold.  This was being reported on each month by Chief Balloni, as it was a top priority problem that was getting worse and worse and we were already behind the eight ball.  Back then, as I recall our opposition was expressed noting that work should continue to be done.  He cannot imagine that the new Sheriff will have any quarrel with this.  This is probably our number one problem and it's getting worse.  Chief Gonzalez responded absolutely.  Mr. Holmquist added that to lose a year is a mistake.  Chief Gonzalez said that he would be happy to revisit this with the County Executive's office to see if anything has changed and if they would like to move ahead. 
Chairman May stated that legislatively there were some things going on in Albany as well; age of minor inmates and how they should be incarcerated.  He does not know if anything happened with that but recalls that in addition to a hold being placed on this, some of it might have stemmed from uncertainty in this regard.  Chief Gonzalez said that Chairman May was referring to the PREA legislation mandating that all jails separate the 18 year olds by themselves.  They would have had 16 and 17 year olds separate, 18 year olds separate and then 19 and above separate.  It was making even more of a problem.  Chairman May added both male and female.  Chief Gonzales agreed adding that it was astronomically difficult.  Albany changed the legislation to allow 18 and above in the adult male population with the 16 and 17 year olds segregated.  When this act came to be they worked with Mr. Cowin at Jamesville to use the space the best they could and segregated 16 and 17 year olds from the adult population, and that is ok the way it is now. 
Mr. Holmquist stated this was an excellent point.  As he recalls those decisions at the state were in the mist of being made and certainly that is understandable.  He still feels, as expressed at that time, that there are aspects of this that are known and controllable, at least do what they can while they are waiting for some of the other stuff to shack out so that at bare minimum they can hit the ground running with the new Sheriff and not have to go through another year of due process.  It is going to cost a lot more money and they have lost all that time unnecessarily.  Chairman May agreed, adding that it is a planning and engineering phase so why not keep moving forward.  
Chairman May stated that this is way off topic for the budget transfers and asked if there are any further questions on item b.
Mr. Ryan said for the record that he would be voting for this apprehensively, knowing that at some point in time they are going to make this whole.  To the Chair's point, they don't have a choice but there is also the choice of not releasing these funds if legislators so choose.  Chairman May responded that theatrically on paper that statement is correct but what legislators don't have a choice in, is whether or not to pay the bill.  Officers are being paid and how this is shored up from the County standpoint is what they are really talking about.  To Mr. Dougherty's point, it is a management process and holding that in contingency a little longer gives us a little more visibility to continue to work and make progress with the Sheriff's department to keep those funds as tight as we possibly can together.  What is seen in the packet today is great evidence of that work product.
Mr. Ryan asked if this committee or the Legislature in its entirety would get to a point where they wouldn't release all of the contingency funds.  Chairman May responded that he doesn't know that he is in a position to answer that question.  Honestly, legislators did their best to budget as tight as they can.  They know that every year there are cost overruns and they aren't going to be in any different position this year, they have to pay the bill.  Bear in mind that these particular dollars are budgeted and appropriated, they are just sitting in contingency.  That is what they are for, it is not as though they are looking for money to pay these bills.
Mr. Ryan said he understands the premise and doesn't have an opinion, good, bad or indifferent – it is what it is.  The fact is they have been appropriated, taxed for and are sitting there.  He just doesn't want to get to a point where the legislature keeps it in contingency, the operational department goes further into the red, overtime money is not released and they go even further into the red.  Chairman May responded that he doesn't like to speak for some that wasn't in the room, but in discussions with Chief Carbery, to him, what they are approving today is almost more important because this is the stuff that keeps the cars rolling down the road, vests on people with the equipment and training they need and so on.  When the money isn't siting in the accounts it is very difficult to keep that stuff going forward.  In Chief Carbery's words, this is what is most important to him today. 
Chief Gonzalez said that this is the bare minimum necessary to operate, everything else was taken off of the table.  Literally what they are asking for in the vehicle transfer resolution is 8 cars, just those that are inoperable and the other transfers are needed just to do day-to-day business.  There is a moratorium on anything else – the message was heard loud and clear. 
Mr. Ryan said this was good, it was part of it. If he had the opportunity he would release all of cars, but it's not in the cards.  Chief Gonzalez responded that this is what's needed for safety.  Chairman May said that this is not saying that these are the only cars they will purchase this year.  When they get to that resolution they will talk about this more.
A motion was made by Mr. Holmquist, seconded by Mr. Dougherty to approve item 1b.   Passed unanimously; MOTION CARRIED.
      c.    2014 Transfer Resolution-Sheriff Custody ($198,355)
A motion was made by Mr. Dougherty, seconded by Mr. Holmquist to approve this item.   Passed unanimously; MOTION CARRIED.
      d.    2014 Vehicle Transfer Resolution-Police/Civil ($224,764)
Chairman May said that 3-4 months ago a resolution was brought forward for all cars budgeted in 2014.  That money sits in contingency.  When the request was originally made both informally and formally, for the record, Chairman May had asked a number of times for a Plan B with respect to that ask.  What is finally being seen today, thanks to their cooperation, is a Plan B.  This particular plan is directly in response to the safety issue seen within the first presentation.  To our knowledge this represents 8 cars, deemed beyond repair in the presentation.  Very late last week a revised resolution was received asking for those specific cars.  Again, this isn't to say that these are the only cars being purchased in 2014.  What this is saying, is that specific safety issue brought to the Legislature are being addressed, as they now have the means to do so and he supports the resolution. 
Chairman May asked Chief Gonzalez if he had anything further to add.  Chief Gonzalez thanked the Chairman noting that he explained this very well.  As they sit here today this is the bare minimum to remain safe - it doesn't take into account another car being damaged.  
In answer to Mr. Holmquist, Chairman May confirmed that this purchase is for 8 cars from the 2014 budget and the door is still open for additional cars with 2014 monies, upon further discussion.  In answer to Mr. Holmquist, Chairman May said that there were 25-26 cars requested on the Police/Civil side and 8-10 on the Custody side, going off the top of his head.  It was a mix of CID and patrol cars and a van for two.  Again, now that there is something to vote on they can address the safety issue and then move on and look at need and prudence.  They have a very large fleet and it cannot be maintained on 8 cars per year.  Everyone knows this, but they also have other needs.  He can quantified $7.5-$8 million dollars' worth of those needs were the County has drawn funds out of reserves, in the past twenty months.  From Chairman May's individual prospective, he wants to make sure that budgeted funds and contingency money is used wisely.  He asked that they work together to make good budgeting operational decisions through yearend, so that if funds are available they can be used to offset what they anticipate in overruns.  Looking at the spreadsheet, there will be cost overruns on the jail side, as just talked about.  Chairman May believes that the legislature is doing the right things, he would love to do everything but also has to be prudent.  This is the position they are in right now - they need a plan to manage our fleet better, need to be able to replace more cars each year, but there are many things that they need to do better.  The contingency approach give us flexibility to manage it that way.
Mr. Holmquist said this was an excellent point.  None of these issues operate in a vacuum - whether talking about cars, overtime, Air 1 or anything else.  There is a $72 million dollar budget in the Sheriff's department and they have to prioritize and figure these needs out based upon the budget as they move along.  This is a step in the right direction.   
Mr. Dougherty stated that he was going to support this but wanted to make sure that everyone was aware how we got to this point.  We taxed for and allocated money last year for this year's budget.  Somewhere near $600,000 specifically for replacement police cars for Custody and Police/Civil.  That money was held to show that there would be a need beyond what was presented at budget time.  A few months ago the Chief was here and presented the condition of the 8 cars discussed here.  These aren't cars that reached some milestone or were on a schedule to be replaced.  These are cars that were rooted through the floor and used street signs were used to weld the floor back in.  These cars were shot – cars that nobody at the table and likely no one in the room would ever drive and yet they were being used to transport prisoners, move people back and forth to crime scenes, and in patrol.  These cars were used every single day.  Chairman May has agreed that we are going to spend the rest of the contingency money somehow.  Mr. Dougherty's hope is that it will be spent to replace cars so that the next batch of cars don't have to get so bad that they are physically unsafe to operate – hopes we are smarter about this going forward.       
Mr. Holmquist said that he agreed with everything Mr. Dougherty said.  From his point of view, in terms of the management of the department, if the Legislature passes a budget for $74 million then that is what there is, understanding of the challenges with the mandates and so forth.   However, this is a need and possibly there is something else that doesn't have to be done so that we can insure that cars are not unsafe.
Mr. Holmquist said he was really happy to hear the tone and collaboration has improved dramatically.  It is phenomenal and needs to continue.  If they had worked together to begin with, contingency funds wouldn't be hold back, wouldn't have the frustration on both sides and would have an updated fleet, addressing the needs that they can afford.  It is the Legislature's job to pass the budget and if they say the taxpayers have $74 million that is all they have, there is no more, without dramatically and adversely affecting other areas of our budget.  It would be terrific to be able to work together for next year's budget, again understanding that there are mandates and uncontrollables that are going to happen but they can also manage to that, prioritize other things and address the fleet.  It is a hard job and that is why we have professional here to work on it.  They shouldn't be having contingency debates and he hopes this is the last year for them. 
Chairman May reiterated, for the record, that he made this request quite some time ago.  He went onto to say that they are acting within a few days of that response, in other words, they received the information and are able to make good decisions and move forward.  They have been ready and he is glad that they are doing it, also hopes this is the end, but again it is fiscal responsibility.  Mr. Holmquist agreed, adding that there is only so much money.
Mr. Ryan said similar to Legislator Dougherty, he would support the resolution with the expectation that the rest of the contingency be used in the Sheriff's department to purchase all the vehicles budgeted and allotted for in the 2014 budget. That being said, back in June Mr. Ryan asked for a comprehensive report on the fleet to be given to the Vehicle Use Review Board so that they don't get to this point.  If there are cars that are really, really bad, he hopes that they see this so that they can appropriate the correct response.  If there are bad ones, then they will look at what they can get out of them in the interest of fiscal responsibility.  He is supporting this resolution, hoping that they get their cars by the end of the year.  Mr. Dougherty also asked for the report.  Chief Gonzalez stated that he would get the report to them.
Mr. Dougherty said the he feels we got lucky - having these 8 cars get to the condition they were in without anyone getting hurt and hopes this luck continues.
Captain Rinella said that he wanted to make a clarification – those 8 vehicles were just vehicles that they were able to get photos of as they were being worked on in the garage.  The fleet works 24/7 and there are a number of other vehicles in the fleet that weren't in the County garage, they were being operated.  Those 8 cars are a microcosm of the fleet's shape.  Mr. Ryan added that one of the deputies stated this and he had asked to be advised of vehicles that were the worst, or really bad, so that he could get the information to the Vehicle Use Review Board.  Then they could appropriate the right dollars to buy the right cars; replacing anything bad to worse, being more efficient in replacing cars.  Captain Rinella responded that he believes when the package of information was sent over there were memos from WEP members that run the garage and work on the vehicles stating that most of the 2005-2007 Taurus's, which are primarily investigator vehicles, were long past due to be replaced.  Then there are patrol cars which are running 20 hours per day and things such as this.  He is very appreciative that they are going to release the money for the 8 cars and will work with them, as Mr. Ryan said, to get the remaining money released. There is a lag from the time a car is ordered, it has to come in and be outfitted.  A lot of this may not happen until 2015. 
A motion was made by Mr. Dougherty, seconded by Mr. Holmquist to approve this item.   Passed unanimously; MOTION CARRIED.
2.    PROBATION:
      a.    Informational:  Local Gang and Gun Initiatives – Andrew Sicherman, Commissioner
Mr. Sicherman: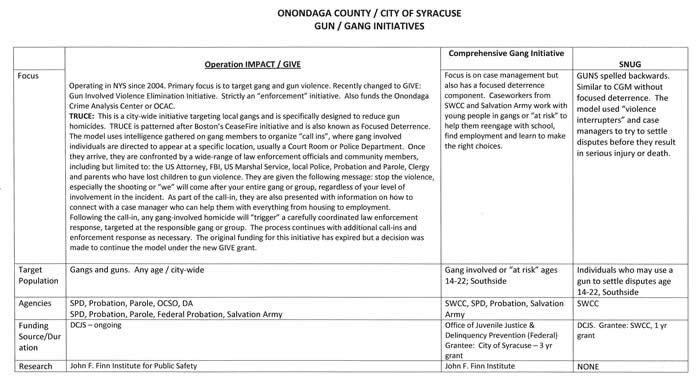 Operation IMPACT/GIVE now combined with TRUCE

3 initiatives not necessarily probation in nature; under agencies can see they are not directly involved in SNUG but have over 3k probationers in the County and many using this program come to Probation
Mr. Dougherty asked if there were impact results from the programs – he has the impress that gun violence in Syracuse is about the same as it has been in recent history and asked if this was true.  Mr. Sicherman responded that it was true, adding that he didn't want to comment on things that he does not have firsthand knowledge of.
In this particular case, he can say that gun violence has not significantly abated but looking at the target for TRUCE, which is gangs, he has been told by Finn Institute that in fact TRUCE did have a positive effect on gang gun violence.  Overall gun violence no, but these initiatives haven't had a report on them as they are relatively new and so he would expect that.  For TRUCE, they get regular updates on shootings and gang related shootings and those numbers are down.  They are in the process of doing a longer term study and he believes they will study all the initiatives as are part of their requirement for funding.
Mr. Dougherty asked if there was a decrease in gang population or activity in crimes other than gun violence.  Mr. Sicherman responded, not to his knowledge, although the operation of gangs themselves is not his area of expertise.  Chairman May said that in the Criminal Justice Advisory Board meetings they are very good at bringing antidotal type information into the group for examples of exactly how they are making a difference.  They sight individual circumstances, what they did to work with that individual and how they got the individual on a better path.  A lot of it has to be hard to measure - some of it is proactive, keeping kids away from the scene.  Many good examples are provided in the meetings of those types of circumstances, via TRUCE or another initiative that they operate.
Mr. Sicherman continued:
Interesting and very important is the level of cooperation between primarily the City Police and helping agencies, i.e. Salvation Army - has never seen this kind of cooperation under these initiatives, thinks this is where you will see success

There is the hammer and the helping - helping is just as important; can't put everyone in jail,  the object is to use developed intelligence to identify those at risk, given an opportunity under TRUCE for a "call in", opportunity to make better decisions and turn their life around using helping agencies, if they don't change then comes the hammer - they get the message loud and clear

Separate funded initiatives, working together across agencies very well
Chairman May said that the funding for this has also changed.  It is still grant funded but the application process is different.  Onondaga County, the City and the various agencies apply for their respective pieces.  This year they may have authorized a separate application but he thought it would be good to have a better understanding of how they are going to authorize this going forward; will apply for our direct cost of these programs within GIVE.
TRUCE is a focused deterrence model, statistics available online, used in other cities and has been very successful, one of the only gang initiatives tried that has been successful in Chicago, Boston and other cities

GIVE is more of an enforcement initiative - Probation, Parole, and City Police details hit corners and do home visits looking for people that are not getting the message from TRUCE 
Mr. Ryan thanked Mr. Sicherman, adding that this was something that was really good and needed to continue.  Unfortunately, part of his district has a lot of gang and gun violence.  Deterrence is the perfect word, the true hope is that they can deter people from getting into the criminal justice system.  Once they get into the system, many recycle and never get out of it.  This is a tough job, especially these days when they get into gangs and guns earlier and earlier.  Those guns are ready and available in the streets, it is unfortunate but anything you can do is appreciated - keep up the good work.
SNUG side uses "violence Interrupters"

Shootings aren't what you see in the media with gangs going after each other and blazing up territories, develops from small street disagreements – someone feels disrespected and rapidly becomes gun homicide or shooting

Violence interrupters try to squish disagreement early on - in the streets doing difficult work that can be dangerous, need to remember there are agencies other than the police and DA working on this   
In answer to Chairman May, Mr. Sicherman said that violence interrupters are not police, they are case managers, people that work for Southwest Community Center (SWCC).  Chairman May responded that they are brave people.  Mr. Sicherman agreed, adding that they are out on the street trying to stop people from making bad decisions. 
Chairman May thanked Mr. Sicherman for coming in, adding that it was very helpful. 
3.    Local Law – Creating a Jail Oversight Committee (Sponsored by Mr. McMahon)
Chairman McMahon:
Chairman McMahon said that he would read through the purpose and intent of the law (see attachment A) and then touch on some bullets for the rest of the legislation.  Knowing that the committee just received this information and he doesn't expect a vote today, but if there any questions, he would be happy to entertain them. 
Mr. Ryan stated that he appreciated the collaboration and cooperation, they were able to have some input and it was taken into consideration – believes this is long overdue.  Chairman McMahon said that he is still willing to make changes that help strengthen the legislation and goals, which is to have a collaborative effort, bringing all parties together to move forward.  This is for anyone, the Sheriff's department included.  He does not buy the idea that some of these issues take care of themselves, thinks this legislation is needed and if they do a good job with this committee, doesn't think they will see many incidents going forward.
Chairman McMahon went on to say that there has been a lot of collaboration from Mrs. Ervin, Ms. Williams and others.  Mr. Ryan said absolutely.  And not to diminish anything they do across the street, it is a really tough job, but inmates are also citizens, with constitutional rights, and he thinks we are moving in the right direction.
Mr. Holmquist said that he too thought this was terrific.  This started back when he was the Chair of Public Safety, he remembers having meetings here with a group of people.  Barrie Gewanter and others brought this issue to the forefront.  He has not had a chance to read through the local law in detail, but at first blush it looks fantastic.  He is looking forward to reading it in detail and feels that it is critical that all stakeholders feel that they are heard and are part of the process as they work together.  He is hopeful that there is no single or multiple entity that pulls in the opposite direction.  There is really no reason to, they should be working together on this.   
Mr. Holmquist said the committee administrator is being appointed by the County Legislature and asked if they would work for the Legislature.  Chairman McMahon responded that the person would technically work for the board, but the legislation is very specific as to who would hire this person.  Unfortunately, there is a wealth of documented information in our community, looking at incidents that happened previously with the Citizens Review Board, so there are mechanisms in place to make sure that the person is actually doing what they are supposed to do and then what happens in the event that they don't.  The position would require a legislative vote for confirmation.  Mr. Holmquist asked whom the person reports to.  Chairman McMahon said that on a day in and out basis they would be reporting in the Legislative offices, but would also be reporting to the oversight committee members.     
Mr. Holmquist asked what the timeline was in terms of a vote, understanding that he is looking for input on this item from others.  Chairman McMahon confirmed that he was looking for input and is always in favor of waiting a little bit longer, if they are going to get real input from all stakeholders that haven't participated up till today.  He is not looking for a situation where "stall-ball tactics" are played because this has been going on for 16 months.  As Mr. Holmquist has stated, when he was the Public Safety Chair he was working with this issue also.  Chairman McMahon said the local law is out there now for everyone to review.  There have been many versions of this law.  The Sheriff's department has seen other versions, County Law has seen other versions and commented on what they liked and what they didn't, asked to change "x, y and z".  Some changes were made but not all changes.  If there are other things that they think helps to strengthen the law so that this could be a collaborative effort, he is more than willing to take those changes into consideration.  He would like to see this addressed sometime in October, which has two voting sessions.  This would put a 90 day time period going into the New Year, where the position could be appropriately budgeted for.  This is how he would like things to go, but as Legislator Holmquist knows, a lot of things don't go the way you would like them to here. 
Mr. Holmquist said that this sounded terrific as all legislators would have a chance to read and review it, input could be received from everyone that wants to.  Chief Gonzalez and others have given some good input, which is terrific.  Chairman McMahon said that there is not a bigger expert and advocate for these issues than Chief Gonzalez; believes he is a huge asset to the team and would welcome any input the Chief has.  Mr. Dougherty stated this was the kind of thing that it would be tough to be opposed to.  He has not read it, there may be things that can be fine-tuned but he is glad to see this is finally written. 
In answer to Chair May, Chairman McMahon said he envisioned the administrator position being a fulltime job.  Chair May asked where they logistically go from here.  Chairman McMahon said the next step would be for legislators to look at the language and make sure that any concerns are addressed, also further feedback from Chief Gonzalez and/or the County Law department, if they had anything further to strengthen the intent.  This does not need to drag on.  Chair May agreed.  Chairman McMahon added that if you are against this, you are against it and he appreciates and respects that, but if you want to have an opportunity to have your fingerprints on it, sitting at the table is the right way to handle that.  Chair May said from a legislative standpoint people should get to this to and provide their comments.  Chairman May said that was correct.     
The meeting was adjourned at 1:18 PM.                    
Respectfully submitted,

KATHERINE M. FRENCH, Deputy Clerk
Onondaga County Legislature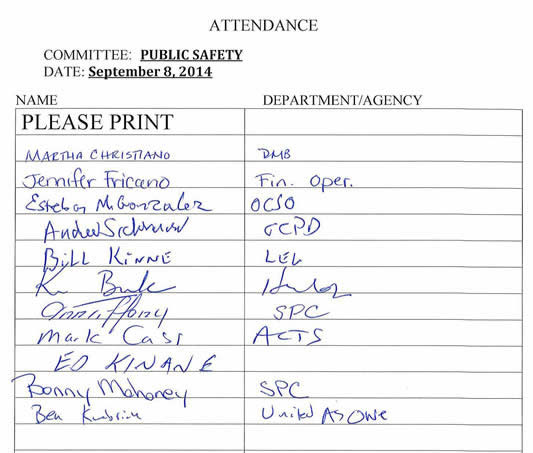 * * *
PLANNING & ECONOMIC DEVELOPMENT COMMITTEE MINUTES -

SEPTEMBER 9, 2014
KATHLEEN A. RAPP, CHAIR
MEMBERS PRESENT:  Mr. Liedka, Mr. Corl, 1Mr. Plochocki
MEMBERS ABSENT:  Mr. Knapp
ALSO ATTENDING:  see attached list
Chair Rapp called the meeting to order at 10:30 AM.  A motion was made by Mr. Liedka, seconded by Mr. Corl to waive the reading of the minutes of the previous committee.  MOTION CARRIED. A motion was made by Mr. Liedka, seconded by Mr. Corl to approve the minutes of the previous committee meeting.  MOTION CARRIED. 
1.    ONCENTER:
        a.    Quarterly Update – Kelly Carr, General Manager
Chair Rapp said that as the committee is aware, the Oncenter has been going through a transition over the last several years under the fine leadership of Mr. Carr.  She thought it was important for him to update them before budget, rather than receiving the information during the onslaught.  
Mr. Carr presented the following: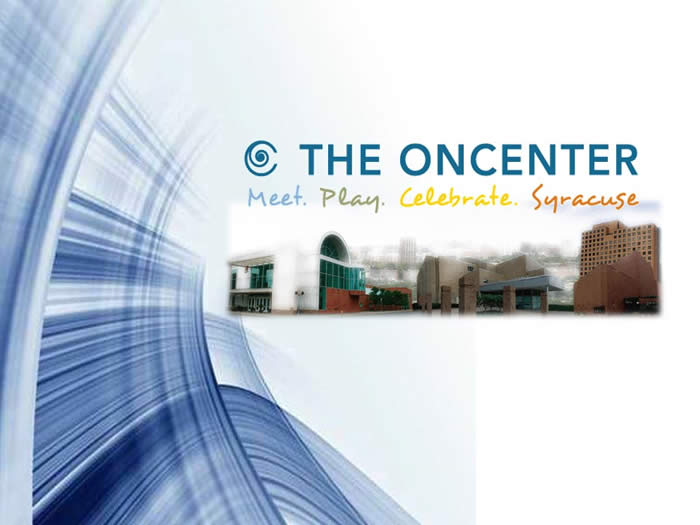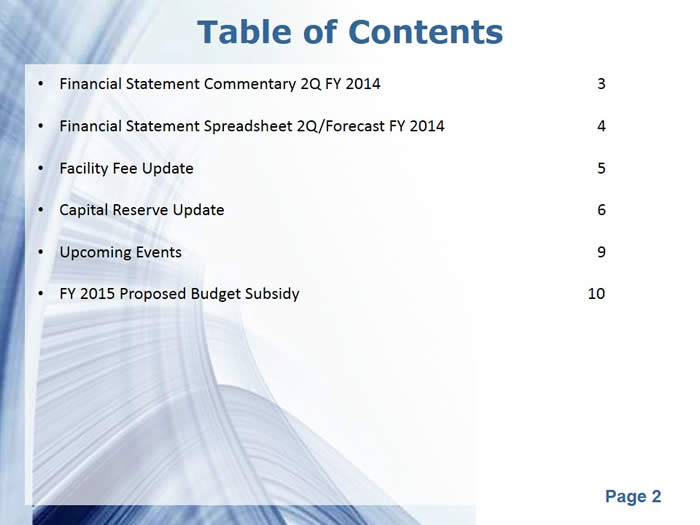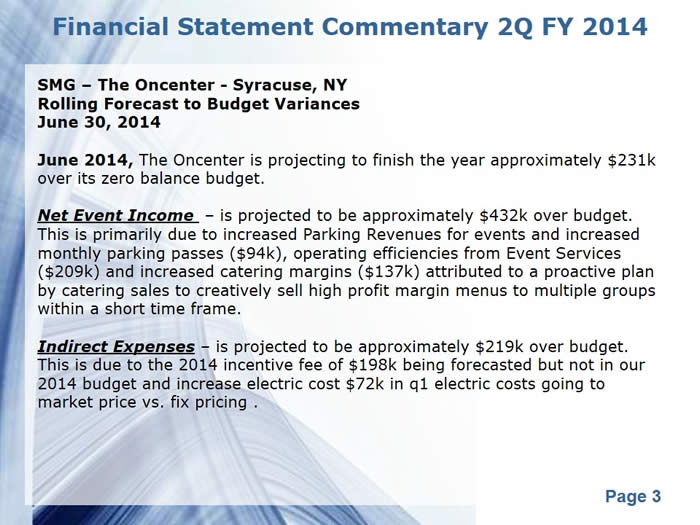 Over budget a good thing in their world, on pace to do what they did last year, able to make up deficiency in electric cost, typically q1 slow then picks up as the year goes along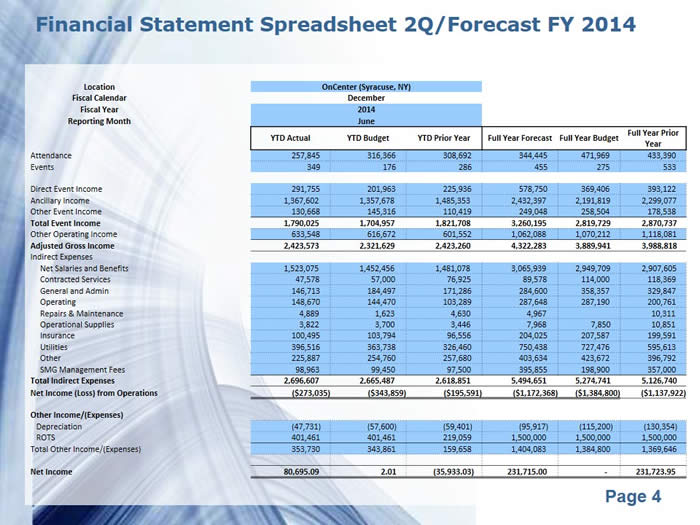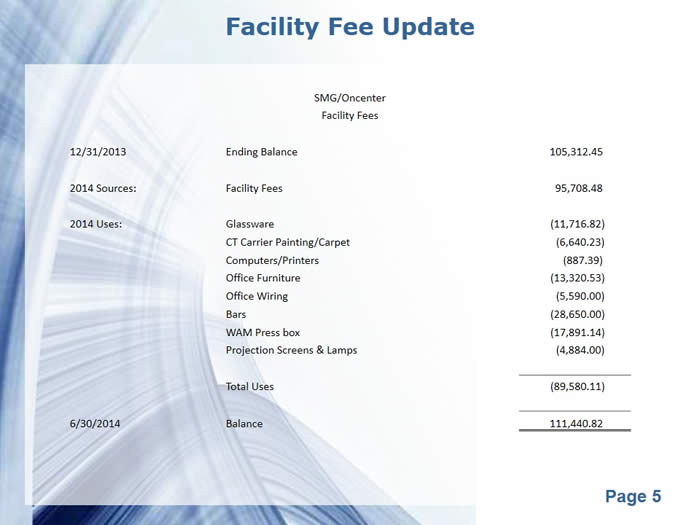 Chair Rapp said that the funds hadn't been spent, they were projections.  Mr. Carr responded that most are projects.  Reviewing the list of uses he believes the office furniture funds are spent and the WAM press box has been completed. 
In answer to Chair Rapp, Mr. Carr said that the WAM press box is in the War Memorial.  There was a "hornets' nest" of wires and materials in the press box causing issues with scoreboard operation for the Crunch and Silver Knights games.  An IT company cleaned up, modernized the area a little, and put up some new monitors. They also completed the projection screens and lamps in the Oncenter and are looking at doing another project on the other side of the WAM press box - turning it into an owners' suite for Tampa Bay.  The building is old but it doesn't have to look that way.  They are trying to do some improvements to upgrade a little more.
Chair Rapp asked if this would be some sort of a box.  Mr. Carr said it would be for Tampa Bay and Crunch owners, providing a little privacy. They work during games, doing scouting and those types of things.  In answer to Chair Rapp, Mr. Carr agreed that this was not an entertainment box.  They are currently working on this project.
Chair Rapp said that years ago they discussed putting in entertainment boxes, similar to what they have at the dome, and asked if this was happening.  Mr. Carr responded that there is discussion that the ice will be expanded seven feet.  Currently ice in the War Memorial is not regulation size for NHL regulation hockey.  They are working with the Crunch and Facilities for the expansion, which will be at the horseshoe end of the War Memorial next summer.  During that project, they are looking at possible reconfiguration for that area of the arena.  Facilities will be hiring a conceptual engineer to assist them with potential ideas that may include boxes for the entertainment value of game patrons.  Chair Rapp asked if this would be facility use money.  Mr. Carr responded that it would be capital money.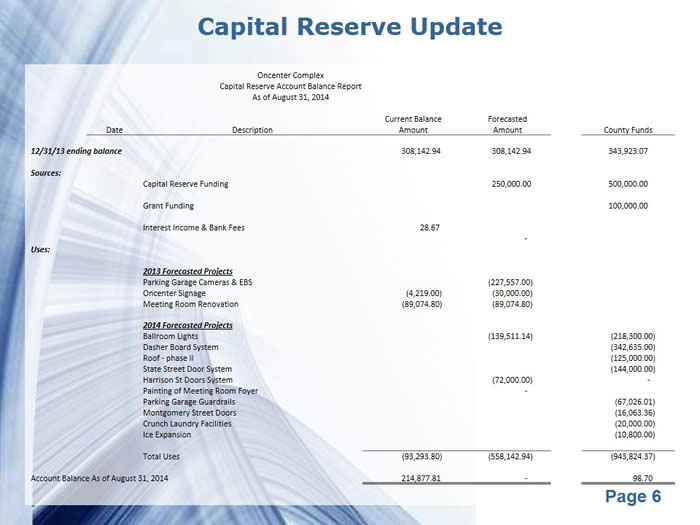 Many of these projects have not been completed

Oncenter parking garage cameras and EBS system finalized and confirmed, waiting for PO to be processed

Oncenter signage underway – new sign installed on the sky bridge highlighting parking, will see additional signage in 6-8 weeks

Meeting room renovations complete, all rooms renovated over the last 2 years – painted, carpeted and air wall reconfiguration, some upgrades to the IT system include screens and video lighting, etc.

Currently working on ballroom lighting, manufacturer no longer in existence, can't get parts, lights are beginning to fail as is the dimming system - looking to do full lighting upgrade, likely start this year and complete by end of q1 2015

Dasher Board System done, to be installed later this summer; discussed ice expansion for next year, will involve an insertion of another piece, 2 additional pieces will be purchased and installed next year after ice expansion is complete - won't need reconfiguration of the system
Chair Rapp asked if the entire cost was County or shared with the Crunch.  Mr. Carr responded that he believes the entire cost was County, between Facilities and SMG's capital improvement budget.
Phase I of roof completed, looking to complete Phase II at the Oncenter

Outside doors on State  & Harrison Streets to be completely replaced, not good doors for Syracuse weather

Completed Montgomery Street door replacement along backside of convention center

Painting meeting rooms complete

Looking to do expansion to Crunch laundry facilities, utilized by the Silver Knights and SMG staff

Part of the ice expansion is for next year
Chair Rapp asked the amount put into the capital fund each year.  Mr. Carr said they receive $250,000 per year and work in conjunction with County Facilities to maximize the funds.  This year they had $500,000 and SMG had some that was carried over from last year.  They try to work together on the largest areas, needing upgrades, to complete projects that will show the most efficiencies moving forward or that will allow them to continue operating.  Ballroom lighting is important because at some point, it is going to fail and if they don't have lighting, they can't book the venue.  The venue is booked 125-130 nights per year.  They want to make sure that they have the facility up and working. 
1Mr. Plochocki arrived at the meeting.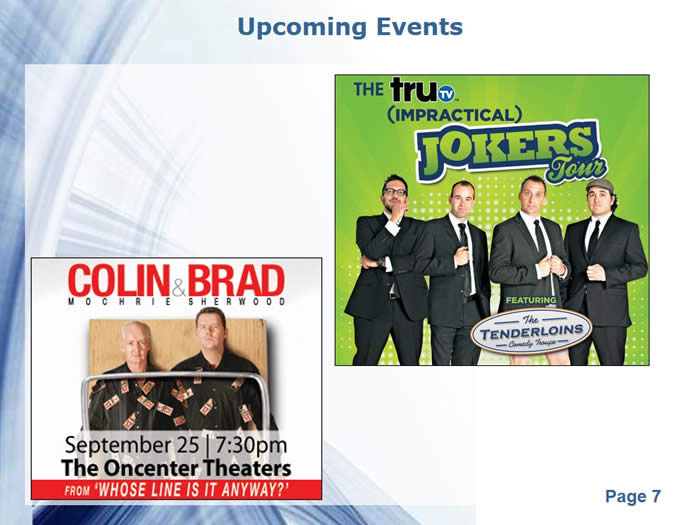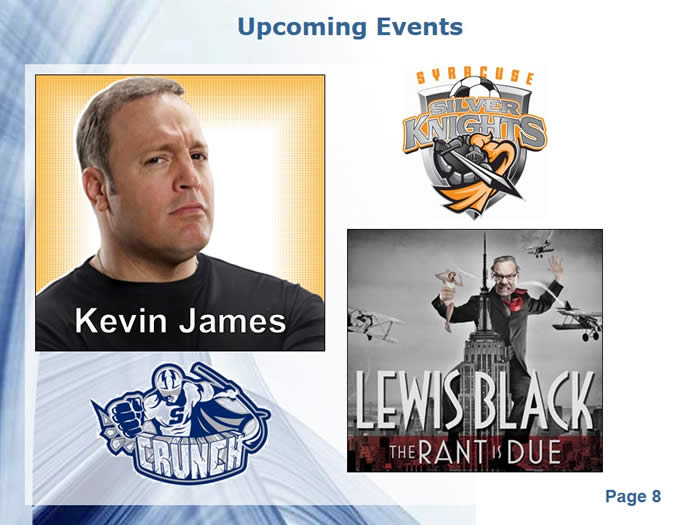 Impractical Jokers in arena, typically theatre show, reconfigured arena to seat 3k

Colin & Brad, Kevin James and Lewis Black in Crouse Hines Theatre

Crunch and Silver Knights begin their season in October and November
In answer to Chair Rapp, Mr. Carr said that both teams did well last season.  Chair Rapp asked if the Silver Knights met their numbers.  Mr. Carr responded that they did.  SMG reconfigured their deal, was able to find some efficiencies and generate a little bit of revenue.  Across the board, it was a success. 
Chair Rapp said that the backstory is that the Silver Knights needed a reconfiguration deal in order to stay solvent.  The third year in operation was their year - if they made it through the third year, they would be solid and ready to go.  Mr. Carr did a great job of renegotiating their contract and coming up with something that sounds like it worked for everyone.  Mr. Carr added that it did - they just gave the Silver Knights their set dates for this season and there are no changes in the fees.  Chair Rapp said this was a big success story and she knows that Mr. Carr put a lot of time into this.  Mr. Carr responded that they did, but that is what they are here for.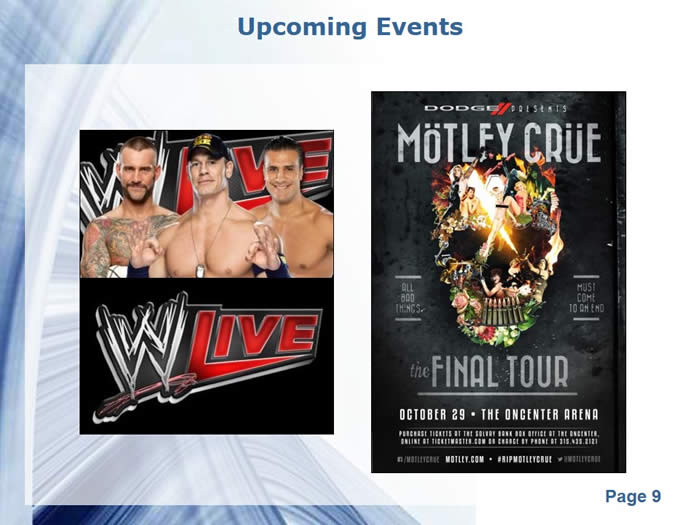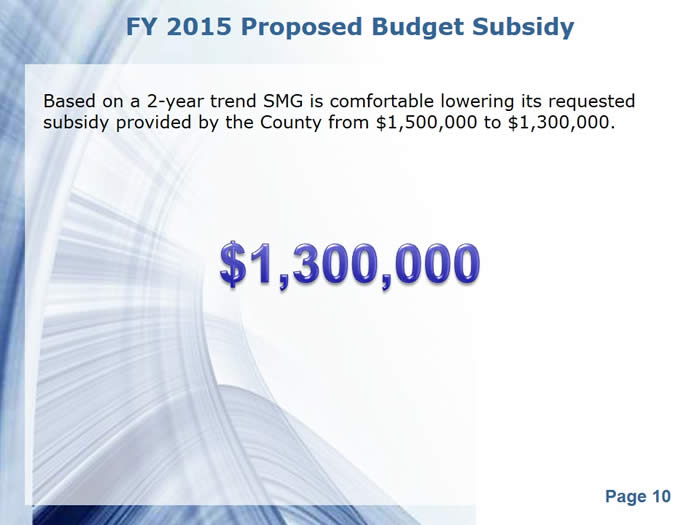 Chair Rapp said that bringing SMG in, as a professional management group was a legislative initiative, after they were hit with several million dollars in overages.   This has been a huge turn around.  Mr. Plochocki added that SMG was one of the greatest decisions this legislature made.  Mr. Carr responded that they appreciate the opportunity to work with the legislature and the County.
Chair Rapp asked if Mr. Carr had any thoughts on the amphitheater.  Mr. Carr said that he thinks the amphitheater is a great venue for this community.  It is complimentary to the Oncenter based on what happens during the summer - typically a slower time for concerts in the War Memorial, most concerts go outdoors and Syracuse is being skipped over because they don't have a venue that works.  The grandstand is nice for the state fair but isn't being utilized the rest of the year.  All the major shows have driven by Syracuse on their way to Darien Lake and CMAC this summer.  This venue would be able to bring in big name entertainment.
In answer to Chair Rapp, Mr. Carr said that concert business is alive.  He does not know that it is necessarily well - can't always tell how concerts are going to go.  Some acts will defiantly make money.  Luke Bryan was huge this summer, played at Saratoga, CMAC and Darien Lake.  He is the only artist that played all three venues this summer because he is the only artist that could pull those numbers. This might be able to be done with a Dave Matthews or Jimmy Buffett concert, it has to be a big name; those shows are always going to sellout.  There will still be dates for a Journey or Foreigner show that will appeal to a certain demographic and won't generate the same kind of revenue, but the opportunity to bring that type of entertainment into this community would be available.
Chair Rapp said how the facility operates makes the difference in success from her understanding.  Parking and ease for patrons makes a difference.  Mr. Carr agreed that this was a big part of it.  The other part that usually makes a successful amphitheater is what is backstage as artist, agents and promoters all talk to one another.  From the plans he has seen, they will be provided with an experience that they will not be able to get in many others.  It is very high-end and will take care of the main artist and his crew.  It gives them an opportunity be to separate and alone, so that if they are traveling with their family, it is a nice safe environment - cove setup works nicely for this.  They have a unique opportunity to do something special in this market as long is everything is done the way it needs to be and they get the feedback from everyone, which they are doing.
2.    CONVENTION AND VISITORS BUREAU:
            a.    Tourism Update – David Holder, President
Mr. Holder:
Distributed packet to committee members, asked that they not look through the information, will guide them through it at the end; reaching exciting point in brand development of the logo

China update:
Shared photo of shopper from China at Destiny with 8 full bags from Coach Outlet – shows what is in store for us from this marketplace

Met with Ms. Hapanowich yesterday and discussed itinerary focused on Chinese mart

China market hungry for what Syracuse area has to offer - wants access to topline name brands at outlet prices, mass outlets at Destiny USA extraordinarily appealing to them

Itinerary 3 days in NYC and 2 nights in Syracuse - tour Destiny, then college campuses

2nd greatest opportunity is density of college campuses – Syracuse University, Colgate, Hamilton, SUNY Oswego, OCC, Ithaca and Cornell; want college campus tours, are middleclass or higher and want their child to attend a US university, prefer brand name, need entry point like OCC to achieve this; would be part of their vacation and the reason they are able to get a visa

Invitations to visit the US sent to anyone they meet with

Final part of tour would include business meetings or tours of agricultural assets – orchard, brewery, winery, dairy farm, getting a sense of the other side of American life

Desire to stay in bed and breakfast, want to see and experience single family homes with yards – will have to work on this; group tours will provide opportunities for hotels

Putting many programs in place targeting the fact that we are between NYC and Niagara Falls

Saw 1st results from August trip in NYC media publication "China Elite Focus" a luxury travel magazine, entire section on Syracuse; came to Syracuse while he was in China, communications team hosted them, took them through the area, built same itinerary from the media concept; magazine passed around to committee members, contained Beak & Skiff, Little Gem Diner, Empire Brewing and Destiny USA – all part of their experience; will see more of this type of media

Final step - Ms. Hapanowich and Mr. Holder going to China in November, exhibiting in series of tradeshows, itinerary will be handed out, opportunity to seize the moment and build on their interest in the US; prepped to send 200M travelers abroad by 2020, currently NYS predominantly NYC gets 1.5M of that
In answer to Mr. Plochocki, Mr. Holder said that they had not shared this with the Post Standard.  Mr. Plochocki said that they should, he loved it.  Mr. Holder said that they have a newsletter coming out in the next couple of days and this is one of features within it – will be able to see the article exactly as it presents in the online publication.  In answer to Chair Rapp, Mr. Holder said they are having the article translated now and have no idea what it says.
Mr. Holder reviewed the logos with the committee, noting the changes in each.  


Feedback suggested the need for orange,  not just promoting SU but the orange affiliation in the community, doesn't have to be the only color but needs to be somewhere

Looking for committee feedback, ready to start moving forward, request for proposals sent to marketing agencies to assist with implementation over the fall and winter
In answer to Chair Rapp, Mr. Holder said the bids have gone out to every local agency and they are waiting for responses.  They haven't excluded out of area agencies, but a big piece of this that needs to have that local touch point.  Chair Rapp agreed.    
Mr. Corl asked who has input on the final logo.  Mr. Holder responded that they were giving the same presentation to their Executive Board today.  In his view, they did not start out to build this by committee but are now at a point where the more input they get, the stronger they can make this.  Mr. Corl asked if the community would have input on the decision.  Mr. Holder said that the community will have a lot of opportunity for input, but they are going to take a final concept to the community – will have it most of the way there.  Chair Rapp added that the CVB Executive Board is community members.  Mr. Holder said that there are about 25 people who have already gotten them this far and will take them to the next step.
Mr. Plochocki said that he feels orange should be a part of the logo.  He likes the third and fifth logos with the orange.  Chair Rapp said she didn't really get the fifth logo but agrees with the third.  Mr. Corl also agreed with the third logo.  Chair Rapp said the third logo has a swish action.  Mr. Plochocki said that the fifth logo was trendy and would appeal to younger people.
Mr. Holder said the fourth logo stood out the most in their shop.  Chair Rapp said that this would be her second choice.  Mr. Holder said that they have asked to see the bars on the fourth logo in different colors.  Consider taking the action marks and adjusting the color depending on the customer.  They are going to play around with that a little because they have always gotten a great response to the colors on their current mark. This logo now says our brand position and holds it up firmly. 
Chair Rapp said she liked the idea of adding colors.  Mr. Liedka said that consistency is the key.  They should stay with whatever colors they put in because brand recognition is all about consistency, i.e. Harley Davison - orange and black.
Chair Rapp said she would let the committee know what happens this afternoon.
3.    ONONDAGA HISTORICAL ASSOCIATION:
      a.    Informational:  Skӓ-noñh Center – Gregg Tripoli, Executive Director
Chair Rapp said the typically Mr. Tripoli would present to the County Facilities committee but they didn't have a meeting this month and he has a lot he wanted to tell them about before budget.  
Mr. Tripoli said he wanted to bring them up to date on the development of the Skä·noñh – Great Law of Peace Center (the Center) and provided the following:
Floor plan shows what will be demolished and constructed in the facility from a construction prospective

(see attachment A)

, includes elevations from exhibit designers for interior of the building – how it might like if they continue with the existing plan

Summary of development stages included with committee backup

(see attachment B)

, currently nearing the end of Phase 2 architectural plan being done by King & King, exhibit design plan being done by Exhibits and More   

Requested appropriation from the County for Phase 3 - construction phase, provided budget:
Ska-nonh Center Budget
Administration:                                                                                                                                    65,000
Site and Construction Supervision; Coordinate contractors for                             
all trades; Grant administration & reporting; Accounting (including accts. payable &
receivable for all trades and grants); Fundraising, Event coordination, Public Relations;
Collection Management; Content oversight ; Retail logistics, design, inventory, and
set-up; Appliance and related material purchasing
Construction Services:                                                                                                                         80,000
Demolition: interior office walls, existing exhibit remnants
Re-construction: Ceiling, Floor, lighting, HVAC Blend (for demolished area)
Construction: Kitchen (wall, door, floor, cabinetry, water & electric, countertops,
lighting, HVAC, and Sprinkler adjustments); wall partition and doors for Temporary
Gallery; Carpet, Tile, Painting ,Electric modification (as per exhibit plan requirements);
Security modifications to separate & secure retail store and temporary Gallery from
Remainder of the building (offices of Soil & Water)
Permanent Exhibit Fabrication and Installation:                                                                         180,000
Fabricate all elements of permanent exhibits: graphics, murals, audio/visual and
interactive components, exhibit cases, "wall" partitions, built-in display cases &
components, interpretive features – atrium Great Tree of Peace, text panels,
decorative painting
Supplies & Materials:                                                                                                                          15,000
Kitchen appliances, screens and projectors, iPads, DVD players
Signage:                                                                                                                                                  10,000
Wayfinding, Ste. Marie Mission interpretive panels, Walking Trail interpretive Panels
Film Production:                                                                                                                                   50,000
Production of 6 permanent exhibit films to emphasize oral history nature and theme
 of the Center – oral history filmed interviews with 30 Native Americans, scripting, narration,
music, "B"-roll footage, editing, credits, voiceover
TOTAL………………………………………………………………………………………………………………………   $400,000
Chair Rapp said that the numbers were shockingly positive.  Mr. Tripoli agreed, adding that they are very low but they made the facility work for them by designing to that facility.  A Soil and Water office is also in the facility therefore, there will be times when people will have access to the museum when the museum is not open; had to design accordingly.
Decided not to create object based museum – will be an oral history experience of the Native American Haudenosaunee Confederacy, particularly the Onondaga Nation which is the spiritual and political center of the confederacy, good part of facility will be audio visual component – large flat screens where Native Americans telling their history in first person narrative as handed down to them generation to generation

Native American story very popular particularly for foreign travelers, this story has never been told – story of the most formidable entity on the North American continent prior to European arrival

Collaboration for facility construction made national news – very unusual for local and county governments, local indigenous nation, and traditional historical society museum to see eye to eye; traditional historical society museums haven't had good relationships with Native American communities in the past due to collecting their sacred objects and putting them on display, local governments and indigenous nations have been contentious

Created academic collaboration consisting of Syracuse University, SUNY ESF, Empire State College, LeMoyne Collage and OCC; academic institutions haven't had great relationship with Native American communities due to Eurocentric education model which doesn't look at things from the Native American prospective

Collaboration is part of OHA's strategic plan; not many art & cultural heritage organizations can reach up beyond their community, OHA does so regularly even with retail product development, i.e. partner with other for-profit agencies to manufacture and retail products based on their collections, have a number of products throughout the Northeast, now moving into the Midwest, i.e. Congress Beer tray, an OHA designed product, chosen by Baltimore magazine as one of their Top10 products of the summer, have had tremendous product success in NYC and are expanding that line, talking to other manufacturers and retailers around the country looking to design products based on OHA's collection

OHA worked hard at getting the great stories of Onondaga history, as well as products designed and based on that history, out to a much larger audience, good for OHA financially also – this is what they are looking to do with the Center also
Chair Rapp said that putting this together with the foreign visitors that Mr. Holder just discussed would be incredible.  It would be one of those takeaways that people didn't expect.  Mr. Tripoli responded that there are stories that people don't know, i.e.:
The Great Law of Peace was established on the shores of Onondaga Lake, Hiawatha came across the lake with the peacemaker and brought the 5 warring nations of the confederacy together explaining that 1 nation like 1 arrow can easily be broken but putting 5 arrows together makes them impossible to break, then uprooted the tree and literally buried their hatchets, replanted a tree of peace, peacemaker put eagle on the top of tree for vigilance of the peace

Thomas Jefferson and Benjamin Franklin were enamored by this arrangement, used Great Law of Peace and the confederacy to convince separate colonies to come together to create a more perfect union

Shores of Onondaga Lake created the 1st representative democracy in the west and the 1st united nations 

When creating our national emblem wanted to incorporate Native Americans, settled on the Great Law of Peace imagery – eagle with 13 arrows in talon representing the 13 original colonies, imagery came directly from the shores of Onondaga Lake; 1987 US formally acknowledged the major influence the Great Law of Peace and Haudenosaunee Confederacy had on our government

National story residents don't realize – type of story they want to tell at the Center
In answer to Chair Rapp, Mr. Tripoli said that he would be asking for $100,000 during the budget process.  They are also looking to the Nation.  OHA will be putting money in and they hope to make up the difference with national and local grants.  There is also $100,000 of in-kind contributions; total budget is about $500,000.  
Mr. Plochocki said he was thrilled that the Center continues to move forward.  In answer to Mr. Plochocki, Mr. Tripoli said they were allocated $75,000 in the 2013 budget, which was more than matched.  The first two phases were $200,000 - $250,000 each.  Mr. Plochocki asked if this would have been for the design phase.  Mr. Tripoli responded that this year is the design phase.  The backup information provided (attachment B) contains details on Phase 1, which included bringing the coalition together, collaborating and creating the concept and themes.  All of that information informed the design. Phase 2 was about developing the facility with a more detailed and narrative content and it is now at the construction phase.
Mr. Plochocki asked if they had received any significant grants.  Mr. Tripoli responded that they have gotten grants from the NYS Council on the Arts to assist with the design phase.  They have also received other grants, funds from the Nation, and individual donations.  As previously stated, they received $75,000 from the County then matched those funds to bring it up to the $200,000 - $250,000 needed for each phase.  Chair Rapp added that a match was required for the funds.  Mr. Plochocki said that he recalls the first year they had to match the funds but it wasn't necessarily grant funds.  Mr. Tripoli added that they were required to match the funds for both years and had the matching funds for the second year prior to the request.  Mr. Plochocki said that the questions were softball questions.  He continues to support the Center and wanted to be sure that he fully understood past amounts and what they did in turn.  They have more than matched the funds allocated, which is what legislators like to see. 
Mr. Tripoli said that the timing is good.  They hear about foreign visitors increasing but they should also look at what is going on around the lake.  This is a positive time for that part of our community.  The timing of this is not coincidental; they hope to capitalize on the popularity.  The lake has a history that is unlike any other inland waterway in the US, it mirrors the history of the US.  With the amphitheater, Loop the Lake, Destiny and the Inner Harbor, this Center will add to that.  It is a very small addition, as far as the financial aspect in comparison to the other, but adds another amenity that really speaks to what is going on in that area.
Chair Rapp said that the Center could become a visitor's center for the community.  It would be an incredible place for people to start as they come into our community, go to the exhibit and then take off from there.
The meeting adjourned at 11:22 A.M.                                    
Respectfully submitted,

KATHERINE M. FRENCH, Deputy Clerk
Onondaga County Legislature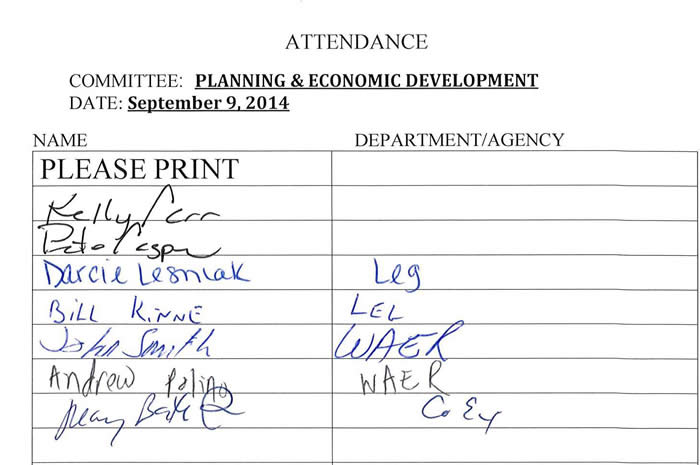 * * *
WAYS AND MEANS COMMITTEE MINUTES - SEPTEMBER 12, 2014
DAVID KNAPP, CHAIRMAN
* * *