ENVIRONMENTAL PROTECTION COMMITTEE MINUTES - OCTOBER 18, 2017
MICHAEL E. PLOCHOCKI, CHAIRMAN
MEMBERS PRESENT:  Mrs. Tassone, Dr. Chase, Mr. Burtis, Ms. Cody
ALSO ATTENDING:  Chairman McMahon; see attached list
Chair Plochocki called the meeting to order at 9:07 a.m.  A motion was made by Mrs. Tassone, seconded by Dr. Chase, to waive the reading of the proceedings from the previous committee.  MOTION CARRIED.  A motion was made by Mrs. Tassone, seconded by Dr. Chase, to approve the minutes from the previous committee.  MOTION CARRIED. 
1.    OFFICE OF ENVIRONMENT:  Travis Glazier, Director
a.    Approving the Consent Decree with the Natural Resource Damages Trustees and Honeywell International Inc. in U.S. V. Honeywell International Inc. Et Al., and Authorizing the Execution of Related Agreements, all for the Purpose of Releasing the County of Onondaga from Liability for Natural Resource Damages at the Onondaga Lake Superfund Site
Chair Plochocki said that items 1a-1c will be discussed, and are able to be considered at the November session, but no vote will be taken today.  There are some questions and people need more time to process the information.
Mr. Glazier presented the following:
DATE:            October 18, 2017
TO:                Onondaga County Legislature
FROM:           Office of Environment and County Law Department
SUBJECT:        Natural Resources Damages Assessment and Restoration for the Onondaga Lake Superfund Site
On January 24, 2012 Onondaga County received notice via letter from the Onondaga Lake Natural Resource Damage Assessment and Restoration Trustee Council of the County's status as a potentially responsible party (PRP) for damages associated with the Onondaga Lake Superfund Site.  The Trustees contend that the County may be responsible for natural resource damages that occurred or continue to occur as the result of the County causing or contributing to a release of "hazardous substances" to, on, at or about the Onondaga Lake Superfund Site, including any subsites or other locations at which natural resource damages have occurred.
The Onondaga Lake Trustee Council is now comprised of the United States Fish and Wildlife Service (USFWS) and the New York State Department of Environmental Conservation (DEC).  The Comprehensive Environmental Response, Compensation and Liability Act ("CERCLA"), 42 U.S.C. § 9601 et seq., is the statutory basis for each of the two acting as a natural resource damages trustee.  42 U.S.C. § 9607.  Initially, the Onondaga Nation was a participating member of the Trustee Council.  The Onondaga Nation voluntarily withdrew from the Trustee Council and the NRD assessment process in December 2015.  The Nation has continued to participate with those rights equal to all other members of the public.
One of the trustees' primary responsibilities is to conduct NRD assessments to determine the extent of the injury to a natural resource and determine the appropriate manner by which to restore the resource.  A natural resource damage assessment (NRDA) is "the process of collecting, compiling, and analyzing information, statistics, or data through prescribed methodologies to determine damages for injuries to natural resources." 43 C.F.R. §11.14(aa).  This process concludes with the publication of a Restoration Plan and Environmental Assessment (RP/EA) in accordance with 43 CFR § 11.82 and 11.93 to inform the public as to the types and scale of restoration that are intended to compensate the public for contaminant-related injuries to natural resources. 
Here, the Trustees, Honeywell and the County have agreed to implement the final Restoration Plan that was issued by the Trustees in September of this year.  This settlement of the Trustees claims against the County and Honeywell and the process by which the selected remedies will be implemented are set forth in the Consent Decree that has been presented to the Legislature and will be presented to the federal district court for approval by the court.  The settlement detailed in the Consent Decree will be combined with the $2.3 million in proceeds from a 2012 settlement the Trustees secured in the General Motors bankruptcy proceeding.
The Consent Decree as presented (U.S. v. HONEYWELL INTERNATIONAL INC. et. al,) settles all potential County liability for NRD damages to the Onondaga Lake Superfund Site, and all of the subsites, in exchange for the County committing to: (1) operation and maintenance of five (5) NRD restoration projects located on or adjacent to County Parks Property; (2) provide access to Honeywell for the installation and maintenance of five (5) restoration projects on County-owned properties adjacent to or in the vicinity of the Lake, and primarily occurring on tax parcel no. 030.-01-02.1 in the Town of Geddes (a/k/a Maple Bay and the Northwest Shore); and (3) take no action that would alter or modify the current use or condition of or destroy or degrade the ecological value of County-owned tax parcel no. 030.-01-02.1 in the Town of Geddes (a/k/a Maple Bay and the Northwest Shore) until December 31, 2062, subject to public's use of existing trails, platforms, etc..
Full descriptions and details on all 19 projects selected by the Trustees are included in Appendix C of the presented Consent Decree before the Legislature.  Specifically, NRD Projects 1, 2, 3, 11, 12, 13, 14, and 17 are those Projects that will take place on County lands and/or require the County to maintain the Projects for a specified period of time.
County Obligations for NRD Projects:
1. Maple Bay In-Lake Habitat Enhancement:
- Access for habitat enhancement on County shoreline
- Land Conservation (2062)
2. Maple Bay Onshore Habitat Enhancement:
- Access for habitat enhancement on County upland
- Land Conservation (2062)
3. Northwest Shoreline Onshore Enhancement:
            - Access for habitat enhancement on County upland
            - Land Conservation (2062)
11. Erie Canal Trail:
- Access to small sections on County land along proposed route
- Maintenance of only the County West Lake Recreation Trail parking area (adjacent to the Orange Lot)
12. Southwest Shore Recreation Trail:
 - Maintenance of trail segment located on Honeywell property
13. Deep Water Fishing Pier:
- Maintenance of pier (NOT shoreline) and annual installation and removal of pier to be accessed from the SW Shore Trail
14. Southwest Shore Angler Access:
- Maintenance of angler access area adjacent to the SW Shore Trail (NOT parking lot or shoreline)
17. Outlet Jetty Enhancement:
- Maintenance (possibly) of the Barge Canal jetties' NRD enhancements (NOT underlying Jetty structures)
- Access to County-owned property adjacent to Canal Corp-owned Jetties.
Displayed large map of Onondaga Lake and surrounding area

Consent Decree allows permission, own 95% of Onondaga Lake shoreline, restoration requires our participation

Limited use of Maple Bay and the Northwest Shore until 12-31-2062 allows for ecological restoration projects to restore lost environmental opportunities that the consent decree and NRDA process are compensating for
Chair Plochocki said that the Maple Bay/Northwest Shore was essentially the natural forested area of the lake.  With the exception of our trail going through it, it is not developed, and the reason this area has been targeted for the types of projects Mr. Glazier is speaking of. 
Trail not inhibited in anyway

Decree puts all 19 RP/EA projects into motion

Trustees have final say on projects selected and selected damages assessed for this settlement; County is a PRP, did not make any decisions on these projects, simply granting access

No monetary contribution, settles all other liability associated with NRD's in the Onondaga Lake Superfund Site and all subsites
Mrs. Tassone said that the most of the money is coming from Honeywell.  Mr. Glazier agreed, adding that all of the money is coming from Honeywell with the exception of $2.3 million from the GM settlement.  Upper Ley Creek is also an Onondaga Lake Superfund Site.
Chair Plochocki said that to ensure everyone is on the same page, the natural resource damage assessment and this agreement itself were put together by the trustees who are acting on behalf of all the American people.  Onondaga County is not a trustee, as we are considered one of the contributing parties.  We have no control over which projects will be chosen and the way these projects work.  In theory we can say no, but we are then liable.  Part of what this is doing is taking away our liability as an active party; want to make sure everyone keeps that in mind.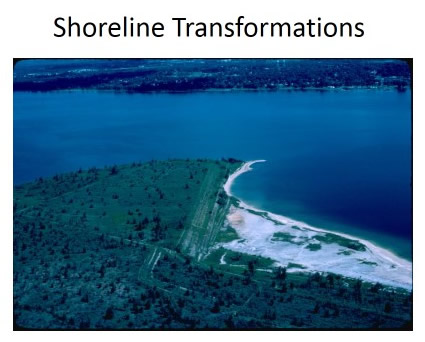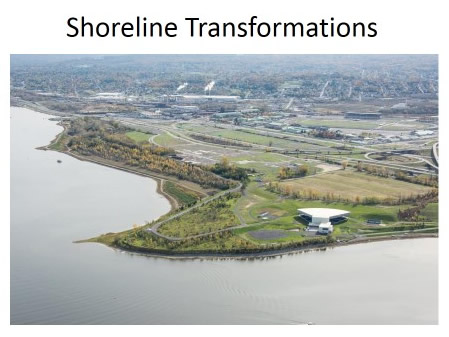 Restoration can happen under NRDA process or as part of the remediation; before and after images where Honeywell has implemented other restoration projects associated with remediation around Onondaga Lake

Lakeview Point CERCLA 2003/2004; notice green wetlands headed south toward the City, restoration is creating an environment where contamination once existed, allows natural habitat for animals and fish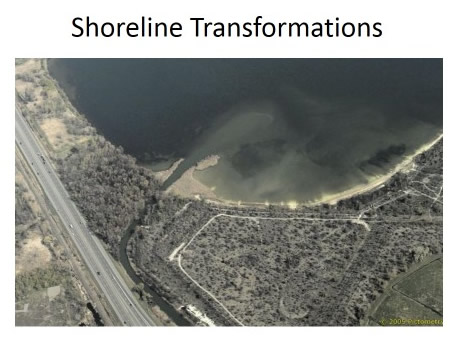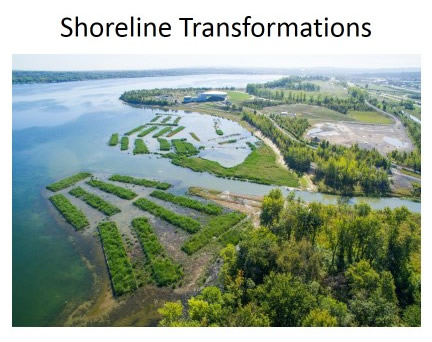 Mouth of Ninemile Creek 2004; today have fenced in wetland areas, keeps carp from eating the bottom; capping was remediation, restoration was return to natural habitat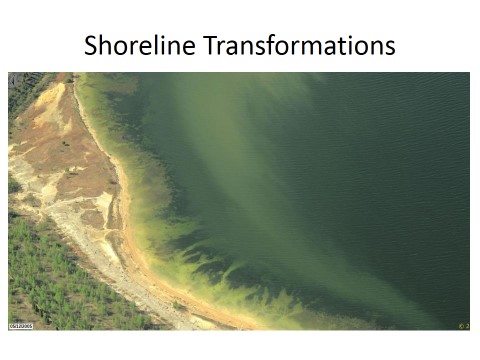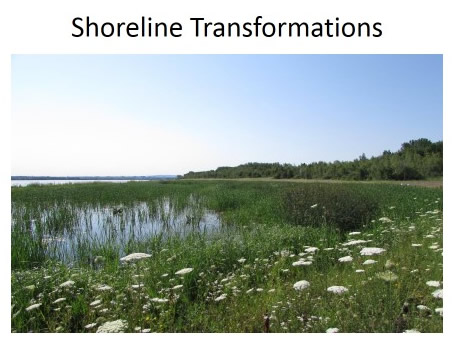 Southern corner Lakeview Point; now raised wetland with wetland habitat; primary focus of the Legislature should be the release of taxpayers liability for these claims, huge benefit, but consider NRDA objective to return lost resources to the public; great examples of the type of return from a settlement like this

No monetary contribution and providing the benefit of returning great resources to the taxpayers is a positive settlement for the County; large document, focus on Consent Decree itself, page 19 contains the restoration obligations of the County, Appendix C contains detailed descriptions of each project, Appendix A is the RP/EA itself
Mrs. Tassone asked how long the process would be.  Mr. Glazier responded that Honeywell has 5 years to implement the projects.
Dr. Chase asked what kind of pushback the Chairman received.  Chair Plochocki said that he would not call it pushback.  The reason I think it best not to vote on these first three items is that several people called, including other legislators and at least one person on this committee, saying they would like additional time to process these things.  Again, we are considering them so they can still be voted on.  This is a lot of dense readying, and we have a really full agenda.  If there are no further questions we will move onto item 1b.
In answer to Chair Plochocki, Mr. Glazier pointed out the location of the Honeywell Visitor's Center and the area of the restoration project for the Western Shore Extension Trail on the map.  Chair Plochocki asked the current status.  Mr. Glazier responded, preliminary design.  This is another section of the trail that the County doesn't have to pay for, other sections are federally funded.
No action was taken on this item.
b.    A Resolution Authorizing Construction of Loop the Lake Trails in and for the County of Onondaga, New York, at a Maximum Estimated Cost of $1,500,000, and Authorizing the Issuance of $1,500,000 Bonds of said County to Pay Costs Thereof ($1,500,000) (Sponsored by Mr. McMahon)
      c.    Concerning Construction of a Trail and Ecological Enhancements to Murphy's Island to Extend the Onondaga County Loop the Lake Trail; Approving the Classification of an Unlisted Action Under the State Environmental Quality Review Act (SEQRA); Accepting the Environmental Assessment Form; and Accepting and Adopting the Negative Declaration (Sponsored by Mr. McMahon)
Mr. Glazier discussed items 1b and 1c collectively.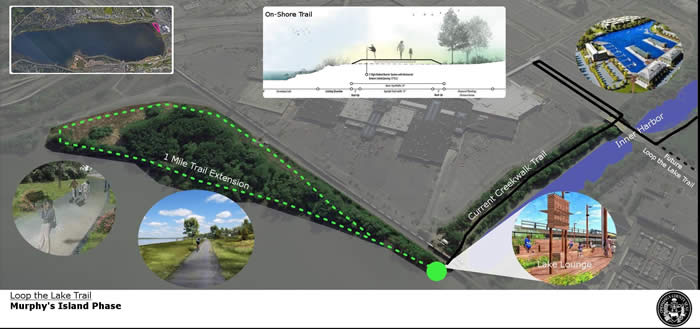 Extending Loop the Lake Trail to include County Park's property known as Murphy's Island; parcel purchased in 1980 from Donald J. Murphy estate for trail extension, 1 mile trail will connect to the Creekwalk and provide the first accessible shoreline for  Syracuse

Bridge over CSX railroad necessary eventually; seizing momentum from extension of Western Shore to capture more Loop the Lake segments, keep moving forward

County hasn't paid much for trail extensions over the last decade, primarily federal and state funded, includes a bridge over Ninemile Creek and CSX railroad; this project locally funded, next step, $1.5 million bonding
Mrs. Tassone said that Murphy's Island is known not to be in the best shape.  Mr. Glazier responded that it is currently a subsite of the Onondaga Lake Superfund Site.  However, by itself it would not qualify as a CERCLA site.  It was largely an orphan site recognized because it was formerly the Barge Canal and home of the Iron Pier.  When they dredged the Inner Harbor and did the rerouting of Onondaga Creek some of the sediment from that area was brought into this wetland to fill-in the old Barge Canal.  Petroleum based contamination is the concern and it has been managed under the Harbor Brook Wastebed B Subsite of Onondaga Lake Superfund Site.  However, the PRP aspect is very ambiguous.  Many responsible parties are associated with parent companies of Oil City.  The status is under the RI/FS which should be coming out later this year.  All information received thus far indicates that our typical trail structure in which we put the trail as the cap and then create a 10' buffer on either side is an alternative which will be accepted by the DEC.  Constructing a trail in its current state is a viable solution without any additional remedial costs. 
Mrs. Tassone said that health wise there is no issue with people walking on this.  Mr. Glazier agreed; we are adding contingency in case there is any sediment removal, but the site itself is under the Human Health Risk Assessment (HHRA).  HHRA makes the determination as to what has to be done in order for people to go on the trail; it has already been laid out.
For the record, Chair Plochocki said, "I want to talk about the issue of the Bald Eagles nesting area.  The protection of Bald Eagles and their habitat is of utmost importance to me personally, but I think it is fair to say that it is of utmost importance to this whole committee, I would imagine.  About a year ago, maybe a little less, I met with the Audubon Society and they expressed concerns that they have about the Bald Eagles, their nesting, and the potential trail.  I assured them that in the planning process of this I encouraged Travis and others who are involved to give every benefit of doubt to the Bald Eagles and the maximum extent of protection, under whatever plan was put forward."
Chair Plochocki said that Mr. Glazier met with the Audubon Society, and others, and asked him to explain in detail.  Mr. Glazier responded that Mr. Lansley and he sat down with the Audubon Society several times on this issue.  In addition, the County Office of Environment has contacted Fish and Wildlife Service for their determination on whether a trail is conducive to the roosting of Bald Eagles.  To be clear, having a Bald Eagle roosting in Onondaga County would be a major event.  It would be exciting and, regardless of where it took place, we would go through great measures to ensure there was not disruption.  In the past, Bald Eagles roost at Murphy's Island because the lack of snowmelt at the mouth of the Inner Harbor allows for fishing when the rest of the lake and other waterbodies are frozen over.  That area is adjacent to Destiny USA and some roosting takes place during Christmas months.  Based on fish and wildlife conversation and research from Cornell ornithology, all indications are that if we took proper measures to close off the trail in the event of mating or reproduction, the roosting should not be disrupted and County Park's does not maintain trails during the winter, which is the roosting time.  We are willing to go to great lengths to ensure that if we are fortunate enough to have Bald Eagles roosting, they will be secure. 
Chair Plochocki said that as he understand it, the US Fish and Wildlife Service has fairly strict guidelines with regard to this sort of thing and that is something that you have looked into.  Mr. Glazier responded that they have advisory on the distances; the feedback received was that much of the advisory is based on very remote areas, i.e. Montana, don't have a lot of people, presence can spook the eagles and cause problems.  In this urban environment, next to our busiest retail outlet, it is safe to say that roosting will not be bothered.  This trail segment involves no clearing of the trees, which the eagles are roosting on.  In addition, if we had Bald Eagle stops during the summer this might provide a great vantage point; considering setting up bird blinders.
Chair Plochocki said for the record, "Our Department of Environmental Protection, through Travis specifically, reached out to the US Fish and Wildlife Service and, in talking to them, they have advisories and discussed with them the advisories as they pertain to urbanized areas with regard to Bald Eagles.  All of that has been fully taken into consideration in the planning of how this was done."
Mrs. Tassone asked the timeline.  Mr. Rauber said that we hope to build next year.  Once we get into design we go to review and some of those could take a while.  Mrs. Tassone asked if it would be finished by next year or started.  Mr. Glazier and Mr. Rauber said that it would be started.
Chair Plochocki encouraged those with further questions to reach out to Mr. Glazier, who has a wealth of knowledge on this. 
No action was taken on items 1b and 1c.
2.    WATER ENVIRONMENT PROTECTION:  Tom Rhoads, Commissioner
      a.    A Resolution Calling a Public Hearing in Connection with Proposed Improvements for the Onondaga County Sanitary District for the Oak Orchard Wastewater Treatment Plan ($11,540,000)
Chair Plochocki said that items 2a-2c are public hearings, which we will quickly go through as there is another presentation that may be lengthy.  Also, item 2e is being pushed back a month.
Mr. Rhoads discussed items 2a-2c collectively:
December public hearings for 2018 CIP projects, 3 projects:

Oak Orchard WWTP SPDES project required to reduce total chlorine, $11.54 million, construction dollars

Ley Creek Force Main project, significant failure 1 year ago, 3 failures in the past 5 years, 50 years old, needs rehabilitation, also examining the Liverpool Force Main, equal age and significant failures; failure events release raw sewage into the environment immediately adjacent to Onondaga Lake; $2.3 million for engineering, $17 million plus estimated total project cost

Camillus Force Main project, total project $10 million, previously released $2 million, now asking for $1.5 million towards replacement of 7 mile long force main, failed 4 times in the past 5 years, chasing after suffering aging infrastructure; back next month to discuss bonding and projects
Dr. Chase said that Oak Orchard needs to be completed by November 1, 2019, and asked if all projects will be completed in this timeframe.  Mr. Rhoads answered, most likely not.  Ley Creek will probably be a 5 year project.  Mr. Capozza added that we are continuing engineering of the first phase for Camillus and hope to construct that portion next year.  It will probably be a 5 year project as well; to be completed in phases that go from Milton Avenue in Camillus to the Westside by the Honeywell Visitor's Center; very long pipeline with complex construction.  Mr. Rhoads said that we are trying to put these projects together in bite size chucks so that we are not chocking on the costs.
A motion was made by Dr. Chase, seconded by Mr. Burtis, to approve item 2a.  Passed unanimously; MOTION CARRIED.
     b.    A Resolution Calling a Public Hearing in Connection with Proposed Improvements for the Onondaga County Sanitary District for the Ley Creek Force Main Replacement Project ($2,300,000)
A motion was made by Mr. Burtis, seconded by Dr. Chase, to approve item 2b.  Passed unanimously; MOTION CARRIED.
      c.    A Resolution Calling a Public Hearing in Connection with Proposed Improvements for the Onondaga County Sanitary District for Phase II of the Camillus Force Main Replacement Project ($1,500,000)
A motion was made by Ms. Cody, seconded by Dr. Chase, to approve item 2c.  Passed unanimously; MOTION CARRIED.
   d.    A Resolution Approving Various Green and Innovative Infrastructure Projects Located Outside the Amended Consent Judgment Area, as Outlined in Local Law 1-2011, for the Purpose of Mitigating Inflow and Infiltration of Stormwater into the Consolidated Sanitary District Sewer System ($1,200,000)
Discussed last month as part of the public hearing resolution, now approving distribution of $1.2 million, from the 2017 budget, for various green and innovative projects used to mitigate I&I, significant problem

Asked municipalities for projects, ranked based upon I&I removal and cost effectiveness, in areas with high I&I
A motion was made by Mr. Burtis, seconded by Mrs. Tassone, to approve this item.  Passed unanimously; MOTION CARRIED.
      e.    Pulled
A2. OCRRA Update:  Dereth Glance, Executive Director
Ms. Glance:
Adopted 2018 budget 10-11-17; 2 year contract for MSW haulers, no increase - $85 per/ton if in good standing; increased construction and demolition debris $2

Tires significant issue, Seneca Meadows only outlet, have contract for a few more years but are turning away others; increased passenger tire to $7 - $2 increase, don't want to cause liter issues, want it to be affordable but need to cover our costs; large working group at NYS Solid Waste focused on tires and what we might be able to do

Food waste composting increased $2; past year again won international award for excellence in municipal composting, O'Brien and Gere took significant quantities for the Wastebeds 1-8 restoration project, doing a lot more brownfield restoration as well as other landscaping applications, critical to move this material as much as possible; state legislation in governor's budget last year, expected to move forward this year, hasn't been adopted but would divert large quantities of source separated food at a level of 2 tons per week, not allowing in landfill, have part of that infrastructure and want to continue to move that way, 7,000 Onondaga County school kids are separating their food scrapes, start early to shape how they behave in the future, holds us accountable as they come our leaders

Critical to have comprehensive successful solid waste system in Onondaga County for sustainability, our operations avoided about 780 tons of greenhouse gas emissions in 2016; Drawdown plan to reduce climate change lists reducing food waste as number 3, methane comes from food waste, huge priority for us, number 55 is to increase household recycling, currently at 57% recycling rate, more recycled than trashed, something to be proud of, number 68 is waste-to-energy, our fact test show mercury levels are at nondetect level, $15 million put into capital improvements, amazing charts shared with towns supervisors
Chair Plochocki asked that the charts be sent to him for forwarding to the committee. 
1980's energy technology not what we are doing today; levels of dioxins and furans continue to go low, very low on permit levels, something to be proud of, manage waste locally, which limits transportation that is one of the biggest contributors to climate change

China dictates significant amount of secondary market, announced green Sword limiting accepted material, Onondaga County quality is paramount, 3% residual rate in blue bins and large totes, enjoyed robust secondary markets this year, don't expect that to continue; one function of OCRRA is to stabilize solid waste infrastructure in the County, contract with recycling facility to share costs when times are good and support them up to $375,000 per/year when times are bad

Costs continue to rise, much operation and maintenance cost associated with the waste-to-energy plant, as well as personnel costs; looking at consolidation and other cost saving measures, baseline increases about 500,000 each year, finally back in the black
Chair Plochocki said that not only is that one of the best five minute summaries ever, in terms of speed and quality, but I am happy with the content too.  Thank you very much. 
3.    INFORMATIONAL:  Skaneateles Lake:  Mark Burger, CPESC, Executive Director – OCSWCD
Chair Plochocki said that Mr. Burger has Mr. Abbott, from the City of Syracuse, with him as his guest.  This committee does not generally have informationals unless they are required by law or pertain to a project.  In this case, an informational regarding our Skaneateles Lake Watershed Agricultural program could be very useful.  In light of the blue-green algae outbreak there may be law changes that we consider in the coming months.  In fact, later today there is a meeting of the Skaneateles Lake Association in Auburn that will discuss this issue in more detail.  This may grow into policy changes and in addition, I want to make everyone up to speed with regard to this program as they do a bang-up job for the City and County - unsung heroes in a lot of ways.
Mr. Burger presented the following:
Displayed 2 large binders containing the annual operating plan for 1 farm doing cash crops of corn, soy beans and hay, 1,600 acres, must follow plan to stay in compliance with environmental regulations to run their operation daily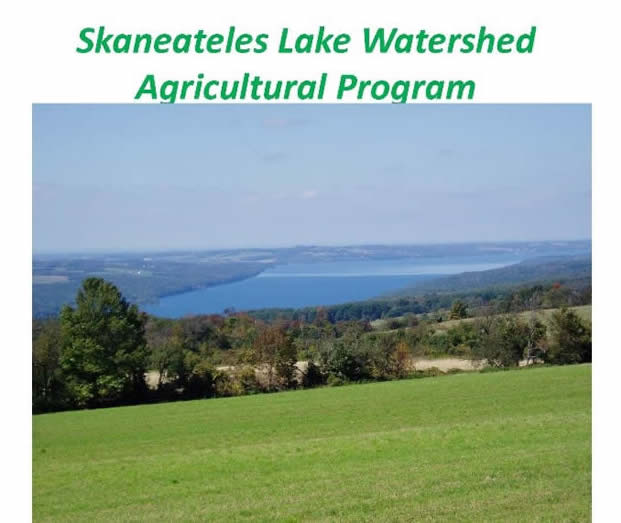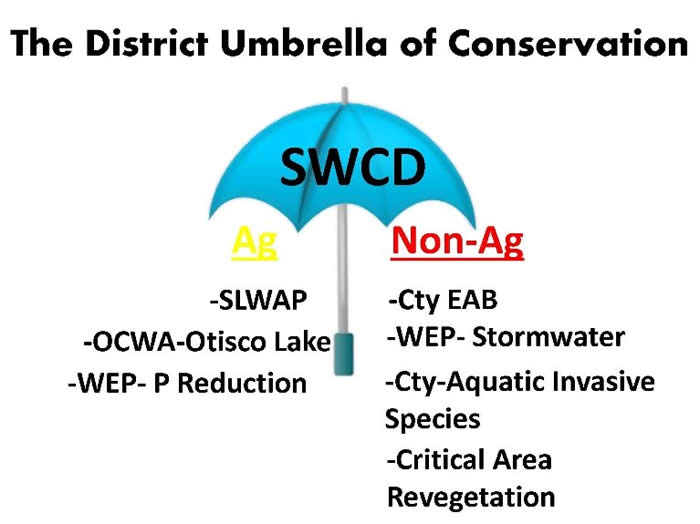 Chair Plochocki said that legislators often forget how much the Soil and Water Conservation District (SWCD) does.  Largely we are just going to talk about one item today, the Skaneateles Lake Watershed Agricultural Program (SLWAP).  Keep in mind we get a lot of bang for our buck when we fund SWCD.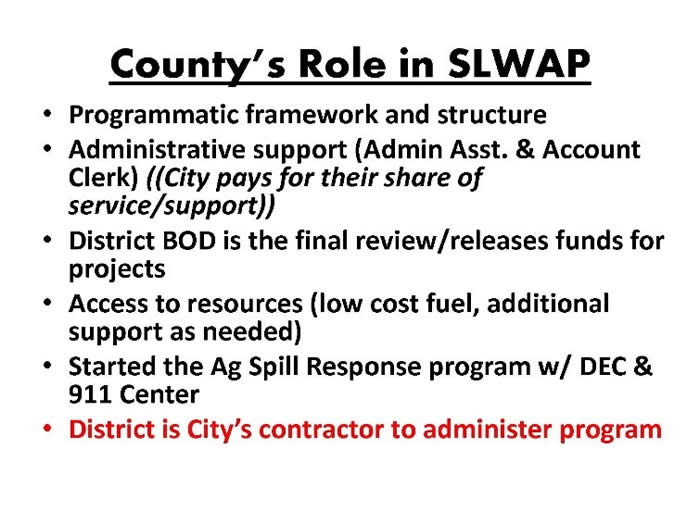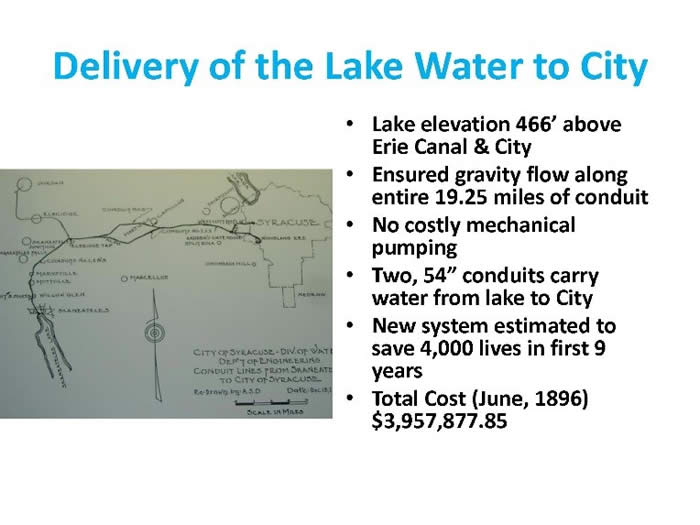 SLWAP consolidation happened 25 years ago; county also supplies rent and shares resources, avoids need for full time employee; County started the Ag Spill Response as a result of a 2003 spill, City and OCWA immediately jumped on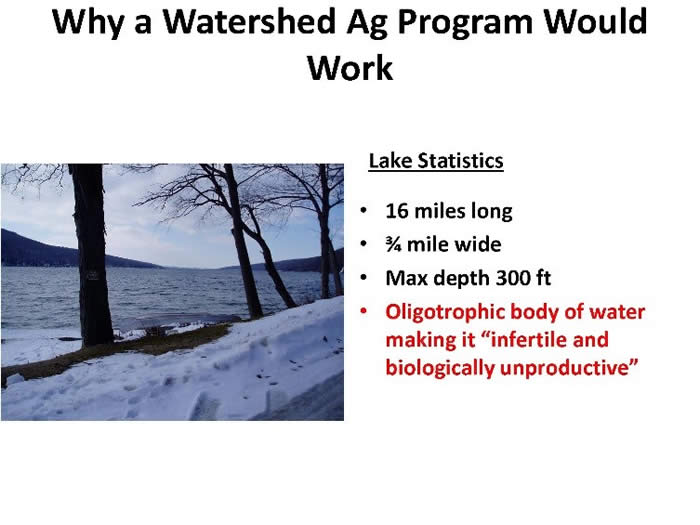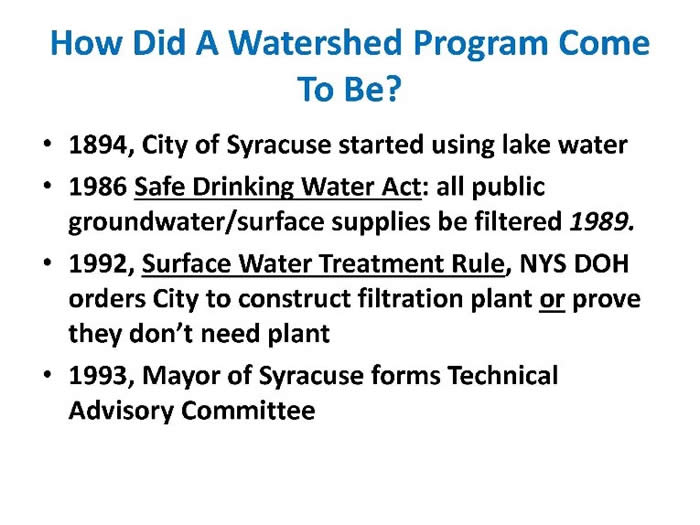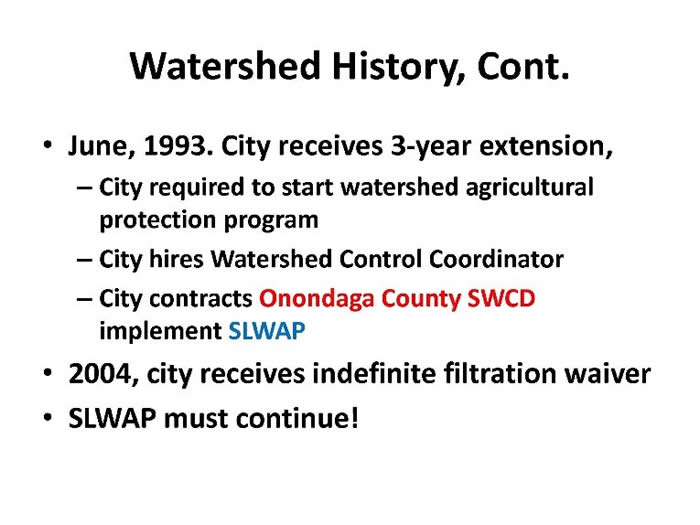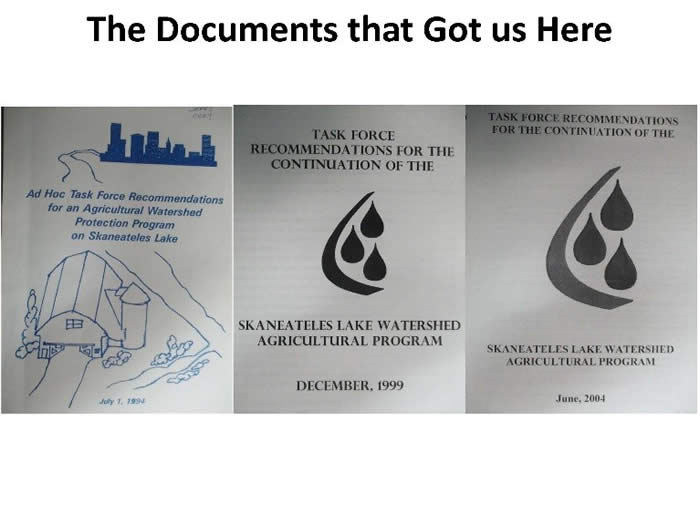 SLWAP must continue in perpetuity; much leg work behind the scenes, multiple meetings per week for years to put this together, documents had the blessings of the NYSDOH, OCDOH, USEPA and Mayors Young and Bernardi
Chairman McMahon asked Mr. Berger to touch on the cost avoided by the indefinite filtration waiver.  Mr. Berger said that 1992 conservative estimates were $80 million to build the plant and $7 million for yearly operation.  Future slides (pg. 14, last slide) will show the remarkable City cost savings that this forward thinking provided.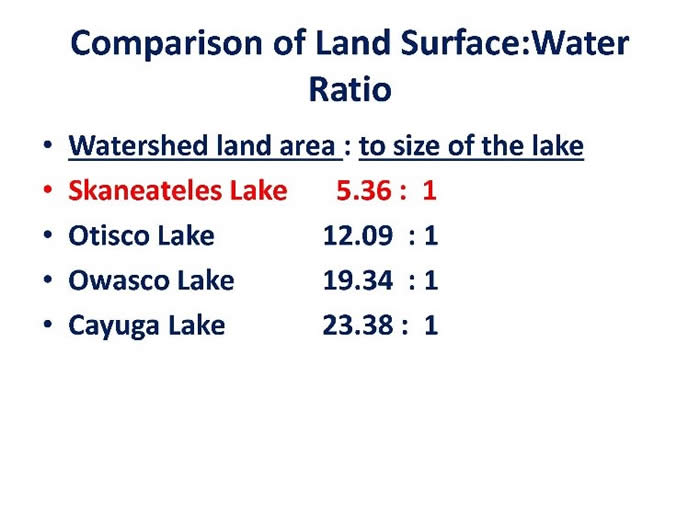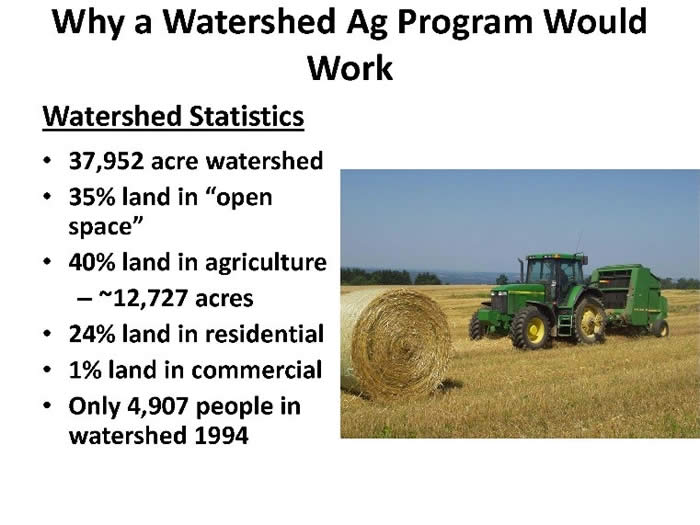 Skaneateles Lake chosen due to small land to water surface ratio, makes it manageable to work with farmers and landholders to implement the program, 75% open space, 25% residential with small amount of commercial land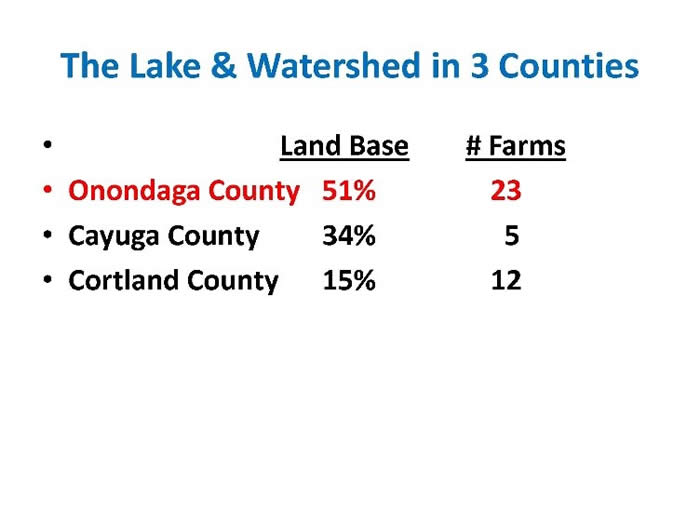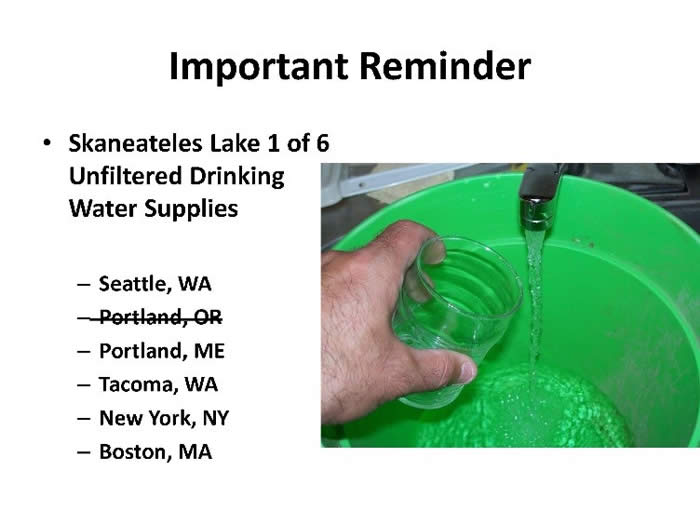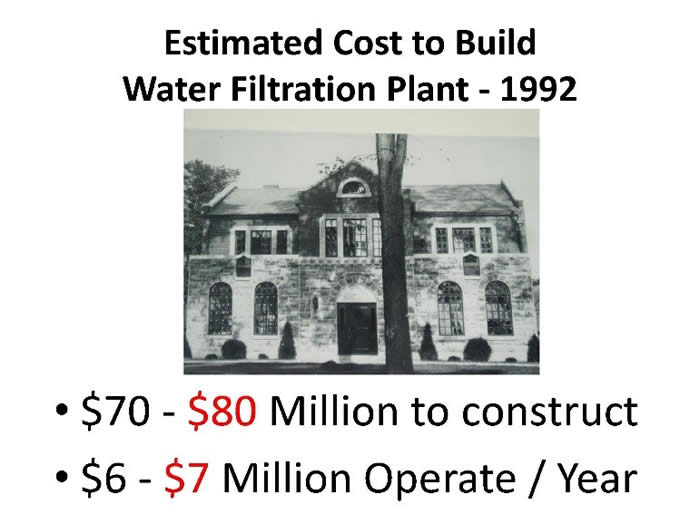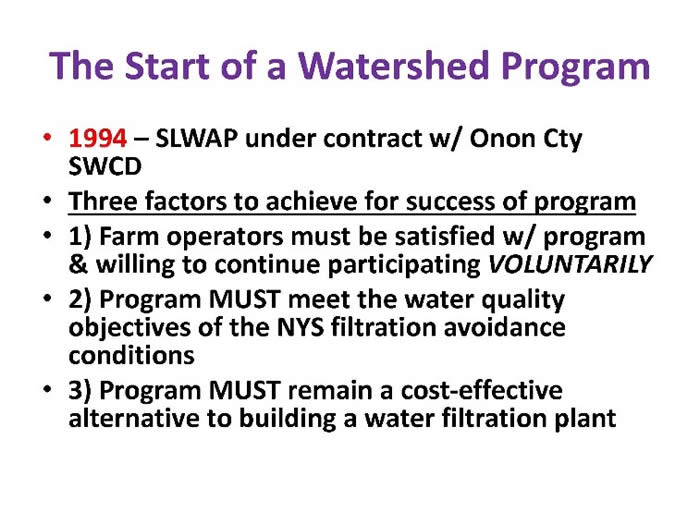 Chairman McMahon said that OCWA estimates it would be north of $150 million to build a filtration plant today; this shows the tremendous savings.  Mr. Berger said that a future slide (last slide) will tie this all together.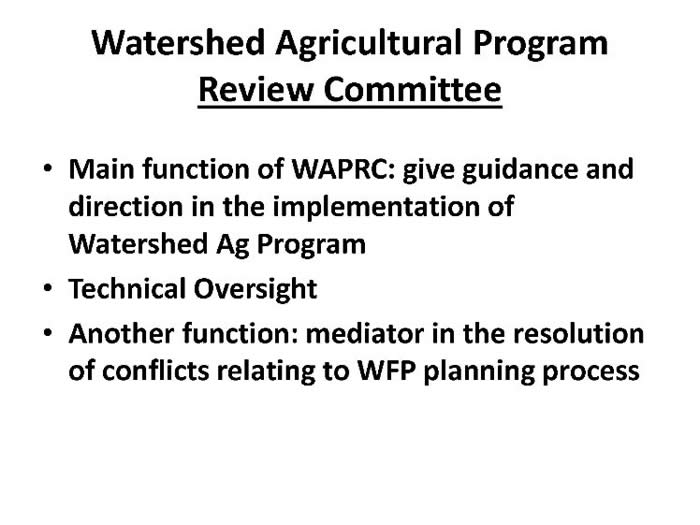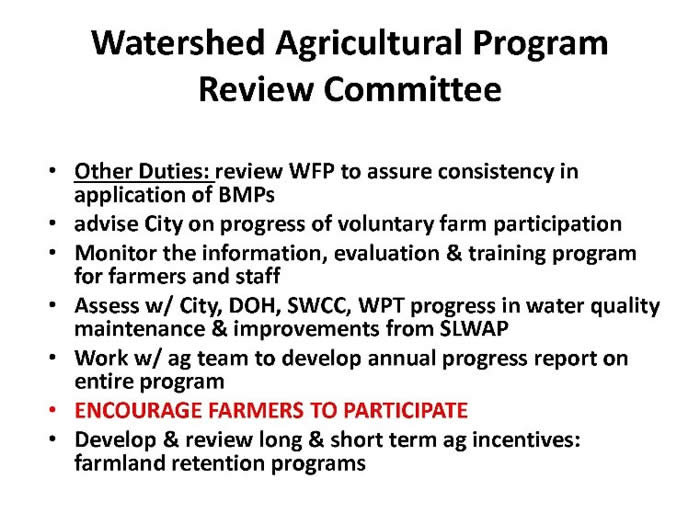 1 of 12 program requirements, needed a board of watershed farmers and City of Syracuse personnel to oversee the operations

Not a lot of credibility when government folks tell them what they should be doing, their life is on the line every day, if something goes wrong it could be the end of their farm, look to their peers for direction and guidance – one of the best things provided by the board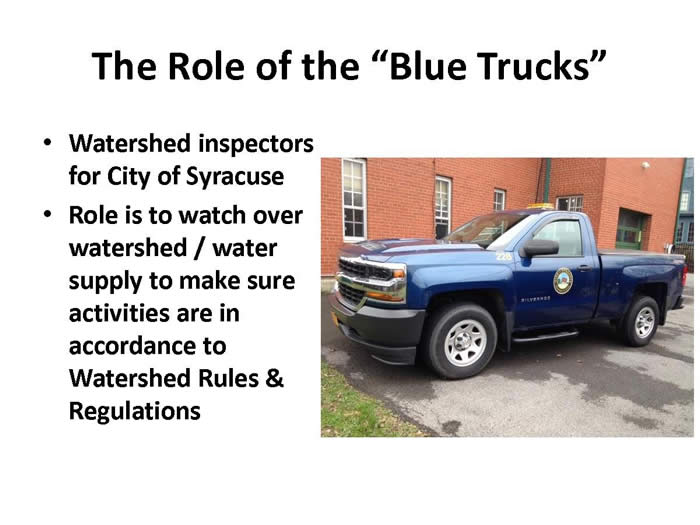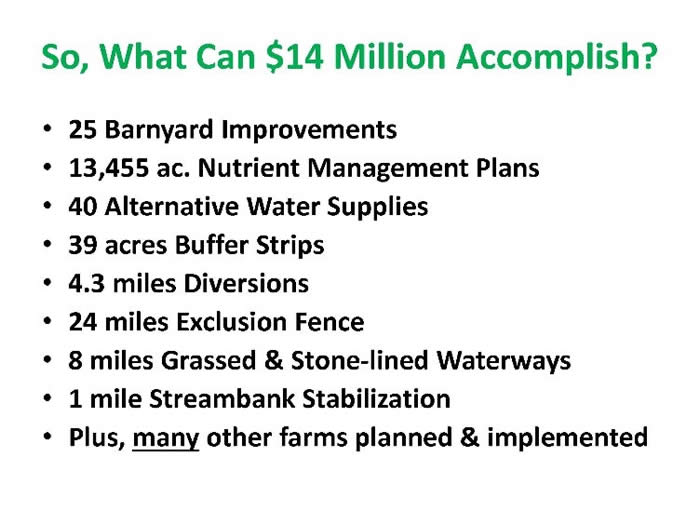 2 full time inspectors; watershed rules and regulations updated 2004; Owasco reviewing our rules and regulations and those from NYC, looking to develop their own

Summary of practices developed, hard to understand in words - pictures below show what this really means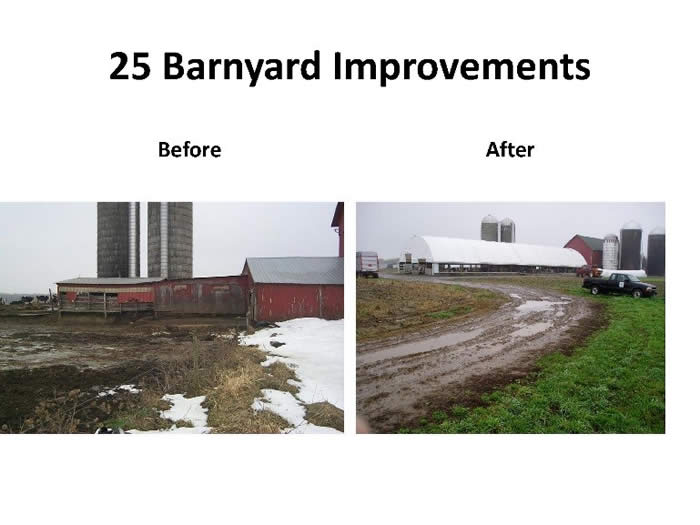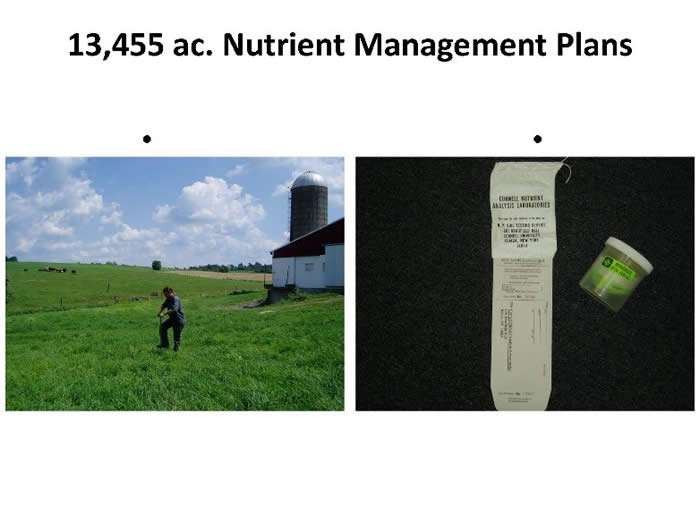 System on left bowl filled with mud, manure and rainwater, located in the Bear Swap Subwatershed, runs off at the south end of the lake, before federal or state standards our planners determined this needed to be cleaned out, built it up and put a covered barnyard over it so that clean water is kept clean and the farmer can manage the manure resources inside, most expensive and controversial project, took almost 3 years to complete, now program leads by example internationally – states and federal government now have standards 

Soil sampling part of the green infrastructure of agriculture, staff and farmers take field soil and manure samples and send them to lab for analysis, tells the baseline nutrients in the soil; use manure first as opposed to processed fertilizer, it is organic and builds the soil, keeps organisms alive in the soil; large part of our job, plans must be updated every 3 years, 1/3 of the farms done each year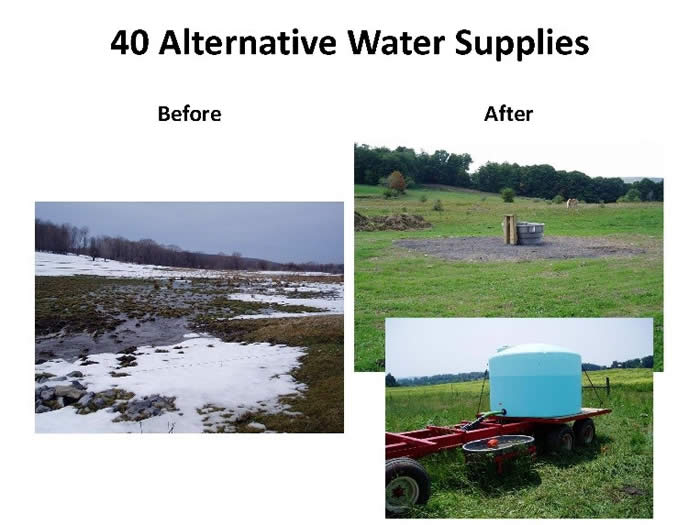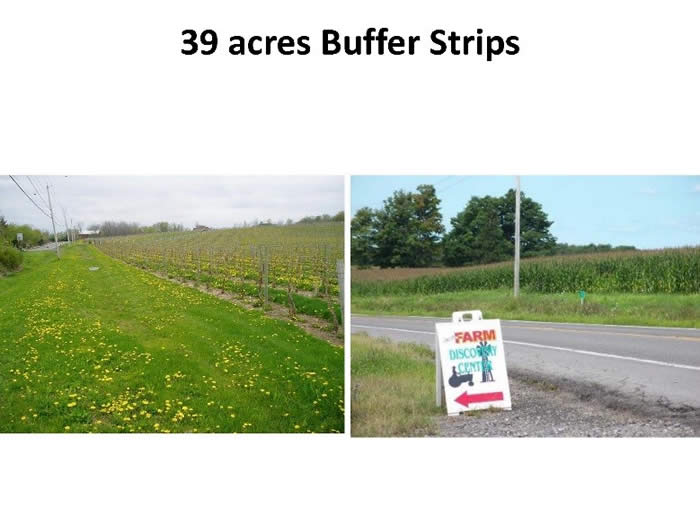 Worked with farmers to pull livestock out of wetlands, built fence systems and provide alternative water supplies, i.e. tanks, troughs, or water wagons; secondary benefit easy access to fresh water increased milk production

Farm on right had buffers before US Ag had a program to support buffers, 25' buffer between cornfield and road ditch, road ditches carry sediment and nutrients to watercourses, ends up in waterbodies; vineyard also has wide buffer for filtering and polishing water before it hits the road ditch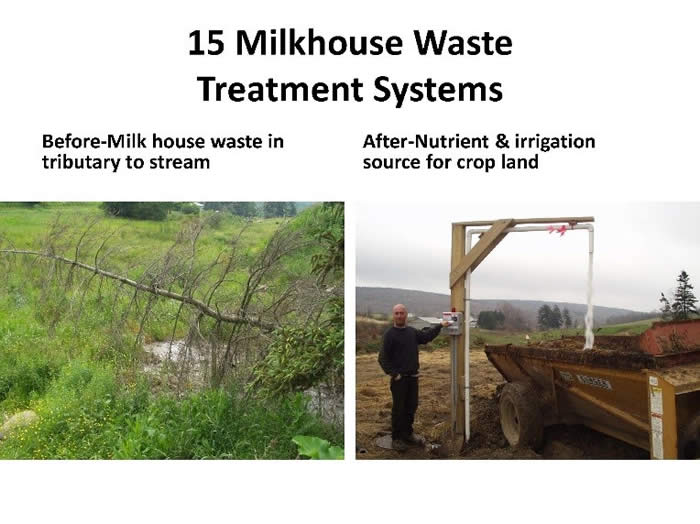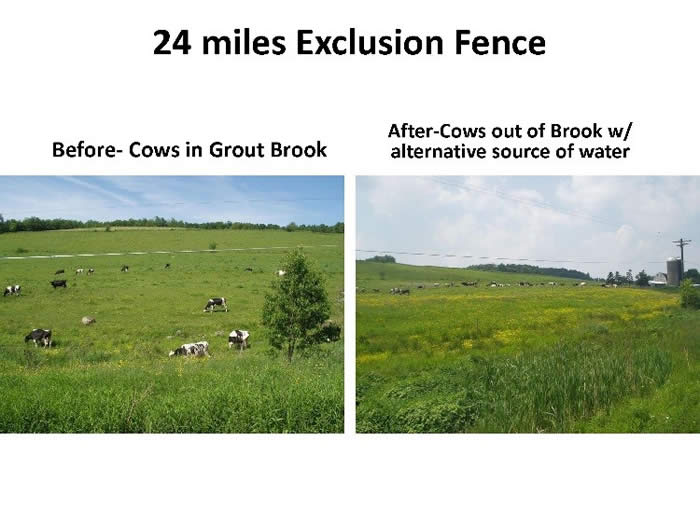 People don't suspect milk can be harmful, when added to water biological oxygen demand can kill aquatic organisms and resources, build containment systems for milkhouse waste, farmers put it in with manure when they take a load to their field, irrigates the field during a drought and provides other beneficial nutrients to keep the soil healthy

Exclusion fences used to keep cows out of streams; cows eating and defecating in tributary, environment substantially improved on the right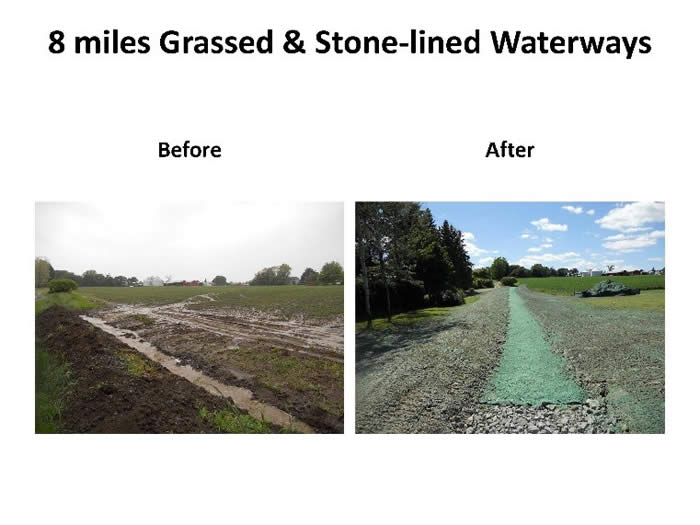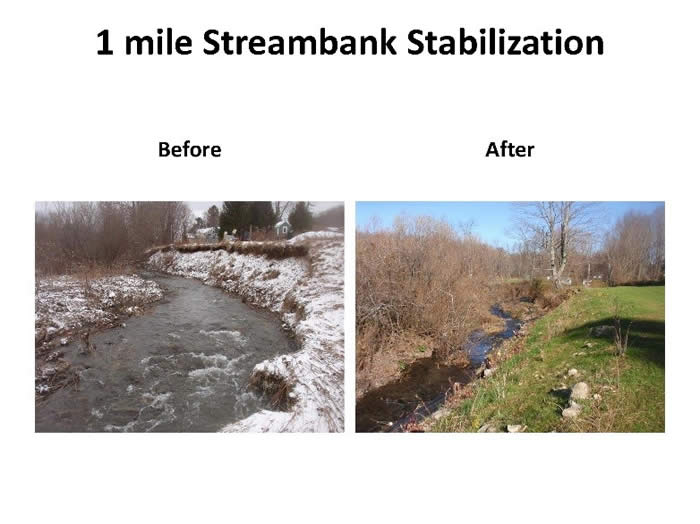 Runoff from fields all too typical for June, July and August storm events, through buffer system, diversions and other conservations practices work to keep soil on the land and out of the watercourse; use of geosynthetic textiles reduces need for rock, decreases cost, can be mowed and maintained

Streambank erosion one of hardest issues to address due to lake of state and federal funds for these programs; image of Grout Brook, south end of Skaneateles Lake, hundreds of tons of soil falling into the stream during storm events, staff added toe protection to the energy side (right bend of stream), graded bank back for natural stabilization, revegetate and add shrub willow, woody roots stabilize and plant shades the stream, helps keep water temperature cooler for the aquatic life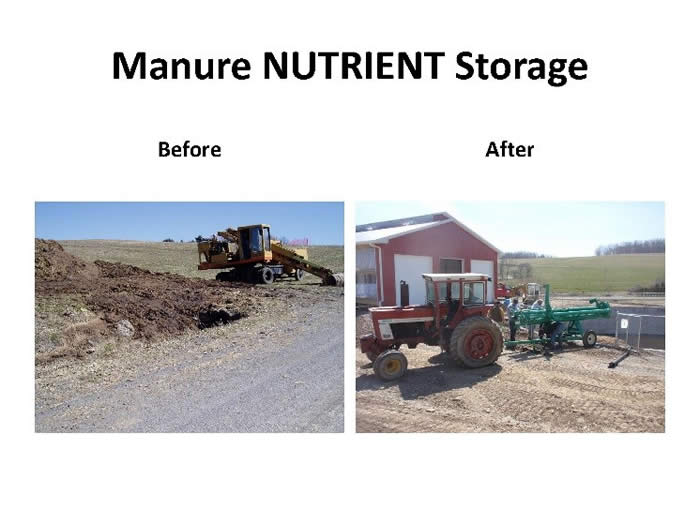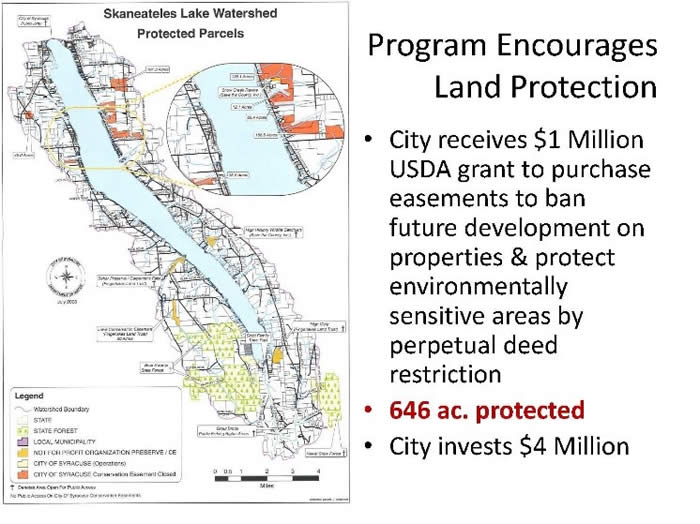 Manure nutrient storage the most controversial and beneficial program, state changed regulations - no winter spreading of manure; image on left shows manure going into the road ditch, build manure storage so that farmers can safely and effectively get to storage locations and hold it for the winter, then put it on the land when planting crops and in the fall before planting cover crops - one of the best tools in our toolbox, happy the rest of the state is realizing this

City of Syracuse has done more than we can cover in this program; permanent protective covenants around 646 acres of streams entering Skaneateles Lake, primarily the northern 1/3 of the watershed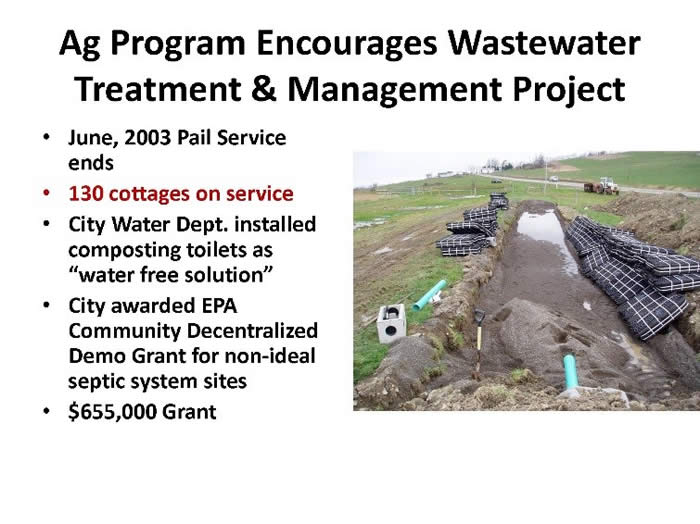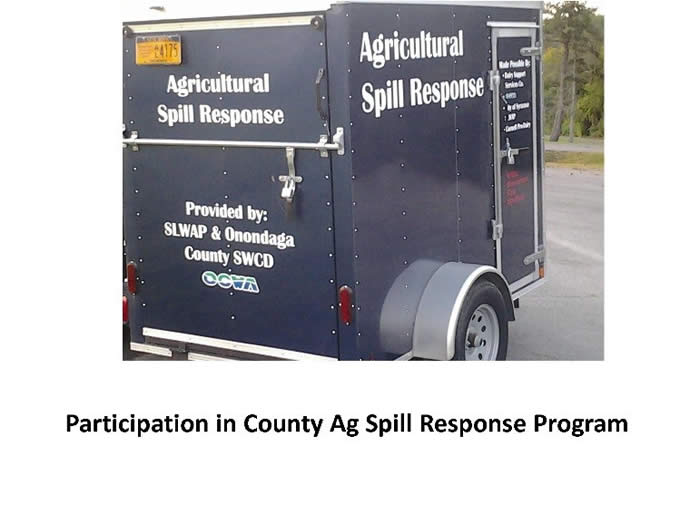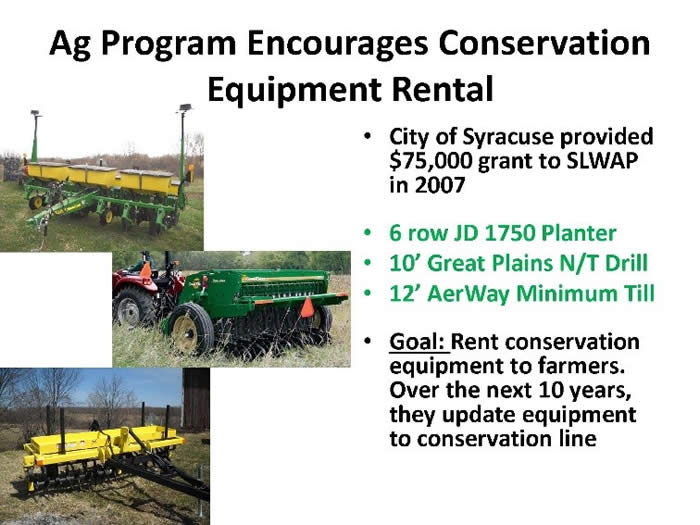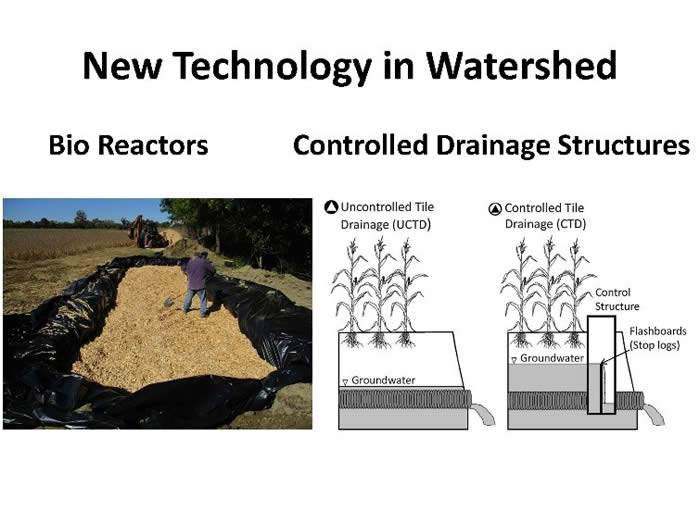 10 farmers out of 40 moved to no-till technology, working 1/3 of the land with no-till equipment, upper left image no-till corn planter, middle no-till drill, bottom airway, mixes manure into the soil, helps reduce volatilization of nitrogen and put manure right into the rooting zone, tremendous foresight by the City; some farmers doing custom work for neighbors

Technology just out; 4' deep x 10' wide x 40' long rectangle of hardwood chips that will be covered over, all underground cropland piping will flow into the bed of woodchips, microorganisms consume nitrates and phosphates for energy, water leaving that system polished with less nutrients; image on right shows refrigerator sized box placed in the ground with stop boards inside, able to control the level of water in the soil, crops take up nutrients, water leveling the system much cleaner; one farm currently using this technology, straddles Otisco and Skaneateles Lake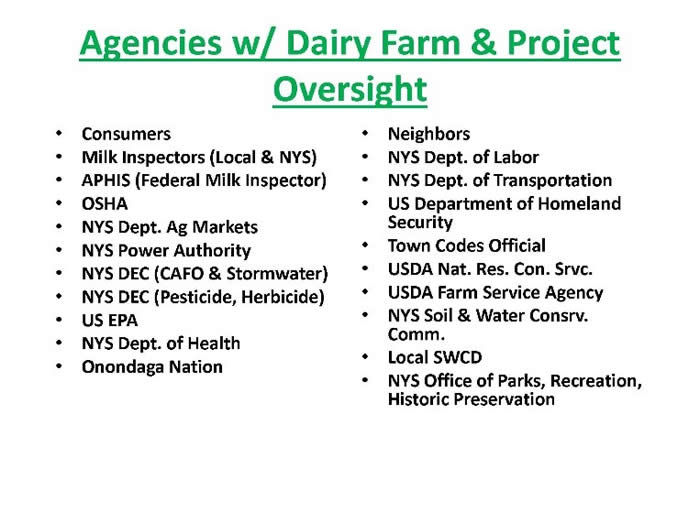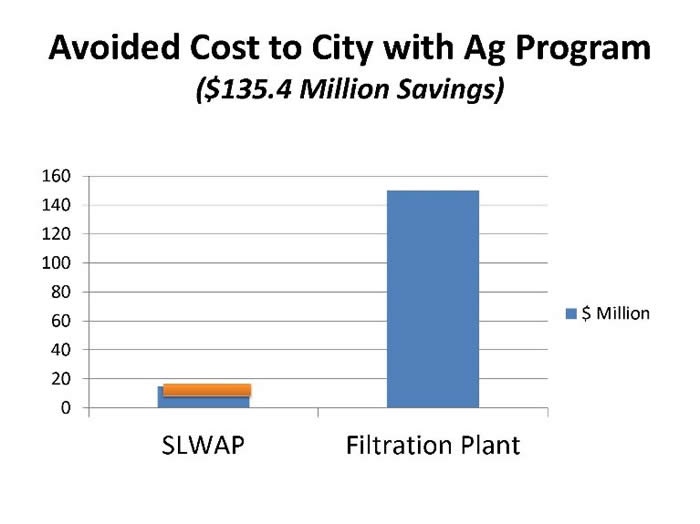 Farmers answer to 23 different groups, some or all have a say in everything they do and how they do it

Forward thinking saved millions; great support from the City, resources are there if something changes and new jobs need to be completed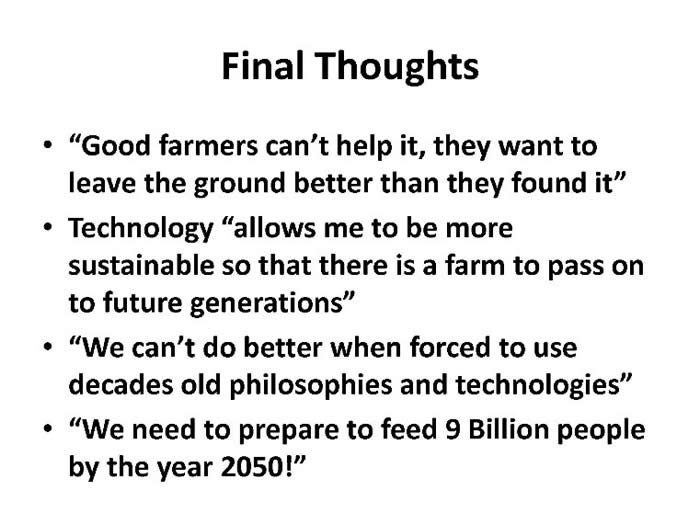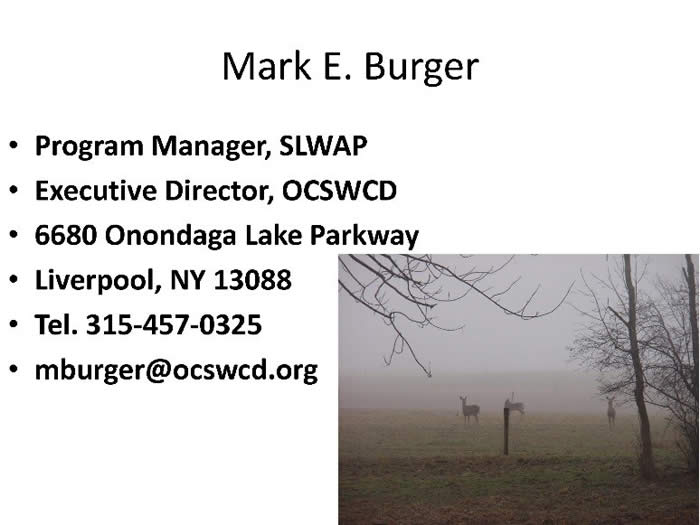 Chair Plochocki thanked Mr. Burger, adding that he is always impressed by how much they do.
Chair Plochocki asked Mr. Burger how he would briefly respond to someone saying that the blue-green algae problem was caused by City and County government not doing enough.  Mr. Burger said that he would disagree for everything just heard.  No day is like yesterday and no day will be like tomorrow; we are always on the cutting edge.  For the last year we have been working on strategically locating and creating wetlands in subwatersheds closest to drinking water intake pipes, we have the DEC working with private landowners for stewardship planning and the DEC will bring new resources for streambed and bank stabilization.  We are always looking for the next best technology and are aligned with Cornell University, the Miner Institute in Plattsburgh, and the USDA.
Dr. Chase said that they previously discussed people putting toxic chemicals on lawns.  When this program started there wasn't a lot of residential but that probably changed.  Mr. Burger answered that we are going to look to remeasure the residential side with the resources available.  The focus has been on getting to as many meetings as possible and answering questions.  On the agricultural side we started with 65 farms in 1992 and are down to the low 40's.  However, there has been a vacuum of the land on the agricultural side, when one farm goes out of business there will be 3-4 farmers bidding to buy the land; no change in agricultural land use as a whole.  The residential land component is something that Mr. Abbott and I are looking at along with Cornell Cooperative Extension, landscaping for water quality and shorelines.  We are also looking to bring nutrient management to the table; provide a kit and pay for soil testing if the landowner takes the sample.  The board has not approved this yet, but it something that we have been strongly talking about.  Keep in mind that farmers are heavily regulated and certified by the DEC as pesticide applicators, but homeowners buy products and don't need any training to apply it; need to determine how to get a better equilibrium.  The golf course has been using soil analyze for 10 years.  
Dr. Chase said that the City already has a system in place to check septic systems, hopefully it would not be too far of a reach to include something else.  Mr. Burger responded that the best programs are those that are simple to use.  We are trying to figure out how to make this as simple and accessible to the public as possible.  The Town of Skaneateles is also looking at cabins that may be suitable for a residence of 4 but have 50-100 people on a weekend, still using the septic, without port a johns; trying to get a better handle on this.
Chairman McMahon said that in talking with OCWA about the strategy for the Skaneateles algae bloom event he learned some interesting points.  OCWA thought this would happen on Owasco Lake first and while both have similar landscapes with farms, plush green lawns are only found on one body of water.  To Dr. Chase's point, the Town of Skaneateles is discussing some regulatory measures and we are working with the Skaneateles Lake Association, the DEC and yourselves on invasive species.  However, clearly one of the main factors, besides the environmental intricacies of the wet spring, is the nutrients in the water.  We know we are managing farms and Otisco has the same farms but did not have the algae bloom.  This may be something to think about and get back to us on, as you may not have the answer today, is there a regulatory item that this body could potentially take up or recommend to the locals.  This is something we need to get serious about.  For years property owners around the lake pointed their finger at farmers.  However, there is anecdotal evidence that the problem isn't the farmers anymore, it is the property owners.  Mr. Abbott responded that our watershed rules and regulations and efficient waste matchup against any watershed program in the country.  That being said, we were no match for the 25 inches of rain that fell in May, June and July, the most rain ever recorded on the south end of the lake.  Literally everything but the kitchen sink was flushed into Skaneateles Lake this year.  Our watersheds just got beat on; now dealing with the DEC on how to remove piles and piles of sediment that washed up on the shore.  DEC has regulations, can't excavate or fill in Skaneateles Lake, now confounded by how to get the sediment out of this area where there are 90 degree slopes.  I don't know if the south end of Otisco Lake was effected because of the weather patterns, but we had two events with 4 and 5 inches of rainfall within minutes.  We design based on 10 and 25 year storm events for infrastructure projects and soil and water studies, everything was overwhelmed. 
Chairman McMahon said that the answer may be that pesticides applied on lawns isn't the issue, it could be that this is a 150 year event that we can't design for.  However, if there is something from a regulatory standpoint that could help a little bit, now is the time to look at all options.  The City has done a great job and we have been funding your organization for this and will continue to do so as we just proved with the budget process.  If there is more we can do, we want to do it.  Our water assets, across the community, are important to us.  Chair Plochocki asked that Mr. Burger, Mr. Abbott and perhaps the legal department discuss these things and get back with any suggestions.
For the record Chair Plochocki said, "We don't want you to feel that you are given an assignment and you are the only one being given this.  Ever since the algae bloom broke out, myself personally, as well as many of us, have been in the process of talking to legal and people like yourself, putting everything on the table.  You are part of a larger effort in what's going on.  Please understand that."  Mr. Burger responded that we do and the support received, since this happened, has been phenomenal.  It is almost as if the lake fired a warning shot.  We all need to pull together and that is what we heard at the Environmental Science Club's meeting with 800-1,000 people in attendance.  There wasn't a lot of finger pointing, it was about what we can do together to keep this from happening again or minimize the occurrence. 
Mr. Abbott said that blue-green algae bloom is complex.  I manage our woodland reservoir from day to day and hate August and September because we have an open water reservoir.  We have some methods to control algae in a smaller environment, aeration and ultrasound units.  Skaneateles Lake changes from day to day, month to month and we don't know what will happen with each storm event.  Testing and determining why algae blooms occur is probably a good place to start spending money because it is so dynamic.  There are so many variables between personal care products, pharmaceuticals and it is such a developed watershed that it is a mixed bag as to what is contributing.  Some phosphorous levels were relatively low this year, yet we had the bloom.  The lakefront is very complex.
Chair Plochocki thanked the presenters.
The meeting adjourned at 10:32 a.m.
Respectfully submitted,

KATHERINE M. FRENCH, Deputy Clerk
Onondaga County Legislature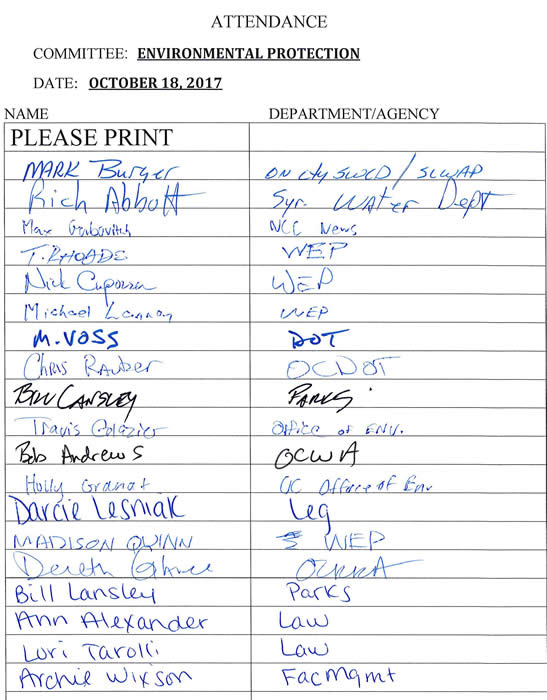 * * *
WAYS & MEANS COMMITTEE MINUTES (Click on link)
October 30, 2013
DAVID KNAPP, CHAIRMAN