JOINT MEETING OF WAYS & MEANS AND COUNTY FACILITIES COMMITTEE MINUTES - MAY 13, 2020
VIRTUAL
            TIM BURTIS, CHAIRMAIN                                              DEBRA J. CODY
        WAYS & MEANS COMMITTEE                                          COUNTY FACILITIES COMMITTEE
WAYS AND MEANS MEMBERS PRESENT:  Mr. May, Mr. Rowley, Mr. Ryan, Mr. Jordan, Mr. Williams, Mrs. Ervin
COUNTY FACILITIES MEMBERS PRESENT:  Mrs. Tassone, Ms. Kuhn, Mr. Bush
ALSO ATTENDING:  Chairman Knapp, Mrs. Abbott-Kenan, Mr. Holmquist, Dr. Chase, Dr. Crabill,
Mrs. Tormey, Mr. Manning, Ms. Obernesser, Ms. Gaffney, Mr. Morgan, Mr. Donnelly, Ms. Velasco,
Mrs. Maturo, Mrs. French, Ms. McNamara, Ms. Lesniak, Mr. Paro and Mr. DeSantis
Chairman Burtis called the meeting to order at 11:40 a.m. and introduced Dr. Casey Crabill, President of OCC.
1.    ONONDAGA COMMUNITY COLLEGE:  Dr. Casey Crabill, President; Mark Manning, Senior VP and CFO
     a.   Adoption of the Annual Budget for Onondaga Community College for the Fiscal Year September 1, 2020, to August 31, 2021, and Authorizing the County Executive to Enter into Contracts with Other Governmental Units in Which Appropriations and Revenues are Approved by the Adoption of the 2021 Budget
Dr. Crabill introduced her staff, and presented the following: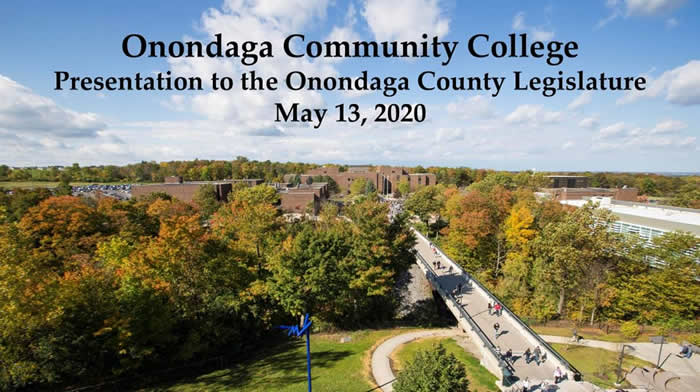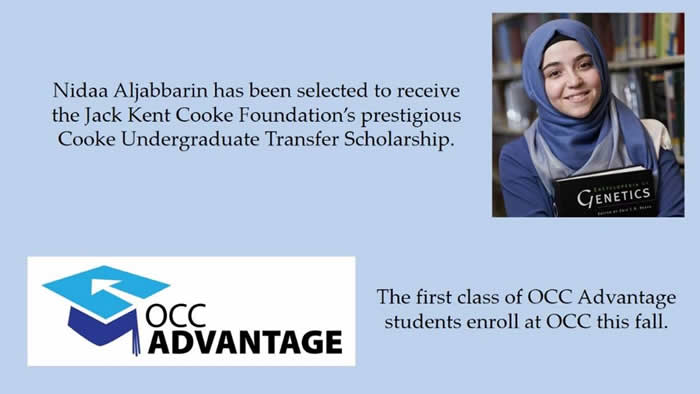 Scholarship will provide Ms. Aljabbarin with up to $40,000/year for up to 3 years to complete a Bachelor's degree, and up to $75,000 for graduate work; she plans to attend Syracuse University and hopes to become a physician

First Advantage students graduating high school - program preparing students for college; first 2 classes are from East Syracuse Minoa (ESM) and Solvay High Schools; 154 students stayed with program since 9th grade

If students stayed with program for all 4 yrs, then OCC raised money to cover their tuition for 1st yr at OCC; if they keep grades up, then OCC will cover their 2nd yr of tuition; idea to support families and get students read for higher education

Program is now active at Onondaga Central, Jordan-Elbridge and LaFayette High Schools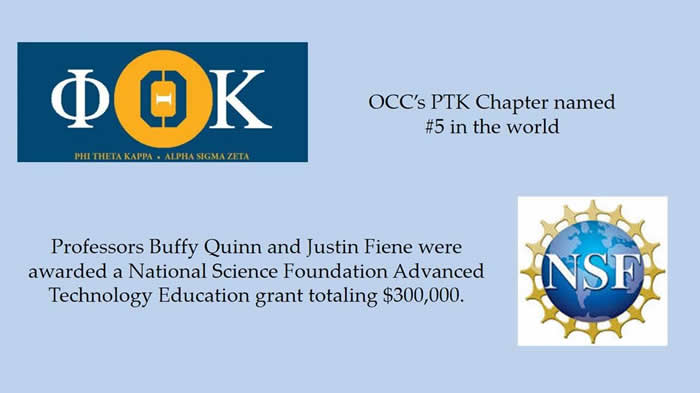 International Honor Society Chapter – about 1,700 chapters around the world; second year to be in top 5; recognized for scholarship and community service

Grant – supports equipment for new drone technology GPS systems technician program just approved by NYS; OCC will be able to launch program in the fall and begin training for technical workers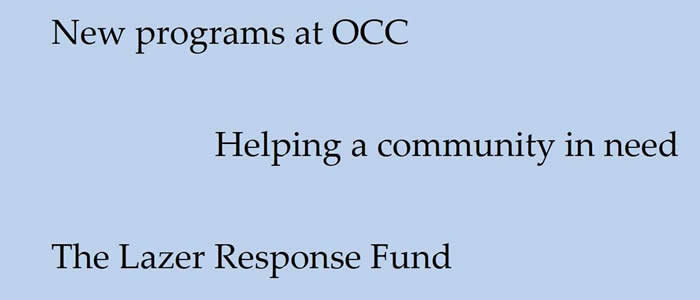 Developing 2 additional health programs:  (1) paramedic – in conjunction with Upstate; expect approval soon from Dept. of Education (2) developing health certificate and degree program linked to Upstate to train students entering Upstate programs including respiratory care and ultrasound technology

Submitting for approval on electro-mechanical technology program – create technicians in broad range of electro-mechanical skills; working with local employers; series of skills beneficial to employers to make students marketable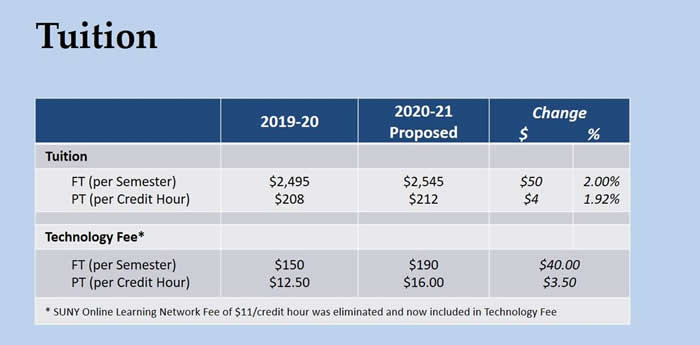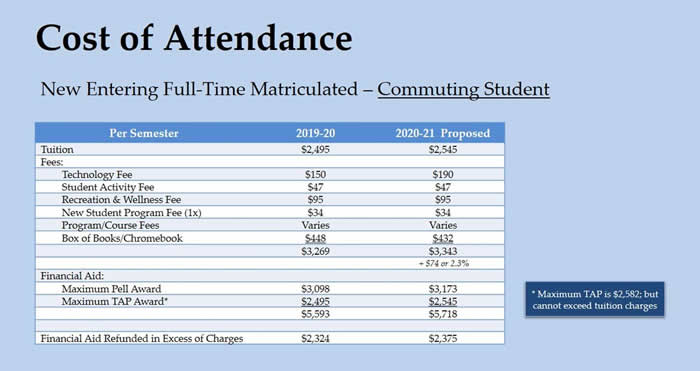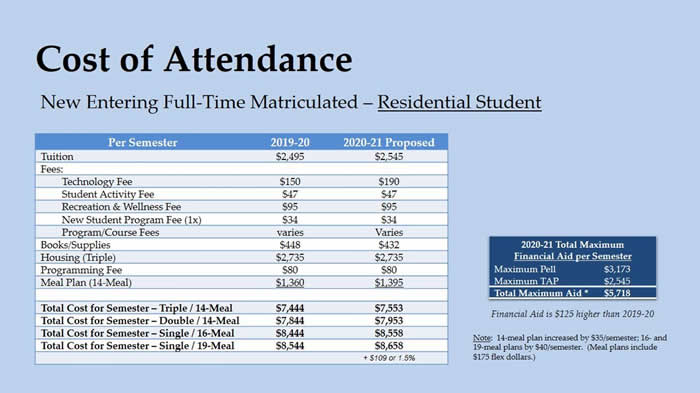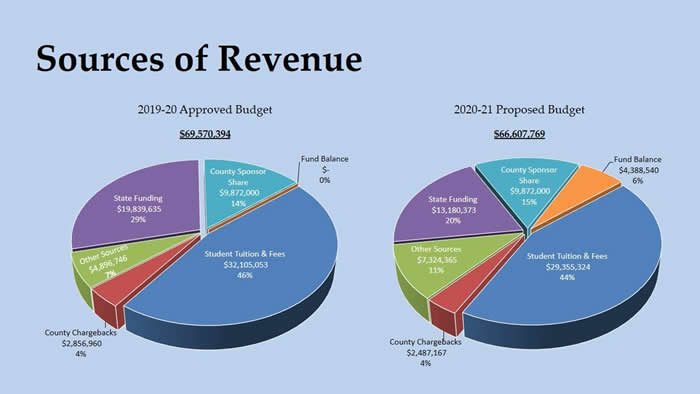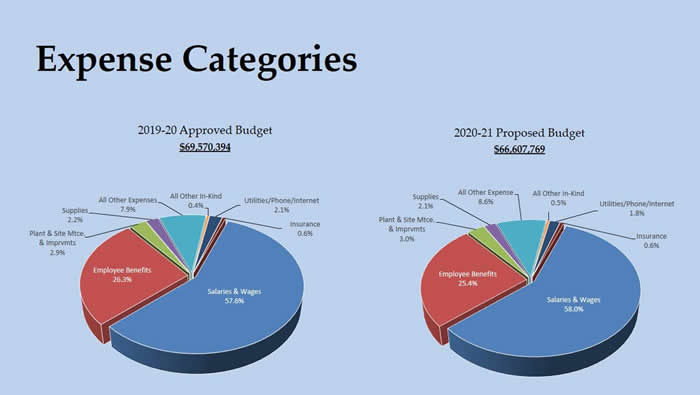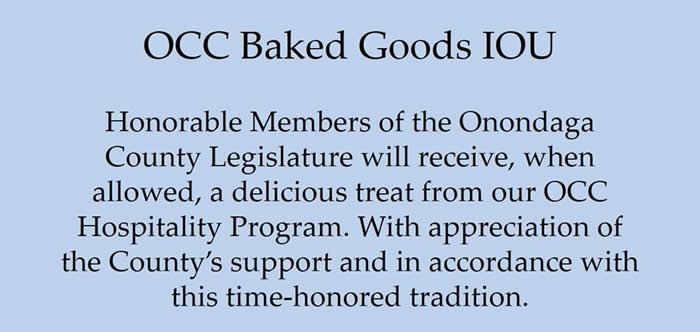 Mr. Jordan:
Dr. Crabill:
Chargeback rate is determined by formula; formula then applied to expectation of number of out of county students likely to have based on general enrollment assumptions
Mr. Manning:
Information chargebacks comes from county office based on what they anticipate paying other counties for students living in Onondaga County that go to school outside the county

Chargeback rate remaining same as last year; expecting small decline in enrollment

Projection of students in and out of county comes from Onondaga County, not OCC

Mrs. Venditti was asked what the County anticipates paying out in the budget
Dr. Crabill:
Track percentage of local high school students that come to OCC; percentage has stayed consistent at 18%

Numbers in classes have declined locally
Chairman Knapp:
Process for County – when local student goes to (i.e.) Cayuga Community College, they must apply through the Finance Department that they are a resident of Onondaga County, and also where they are going

Finance then knows there is a student going to another county, and what the rate is for that county

Number calculated at Finance, then it is sent to OCC
Mr. Jordan:
Mr. Manning:
Trying to do best estimations from data; could find that the chargeback revenue is higher or lower; it's all part of the budgeting; continual monitoring of where OCC will be overall for revenue and expense

If enrollment continues to go down, they will look at other expense areas to cut back

Record all revenue and expenses; if net savings, then increase in fund balance; if spent more, then use fund balance
Chairman Knapp:
Mr. Manning:
Two components of chargebacks:

(1)  chargeback revenue college receives - put in revenue budget

(2)  every community college allowed to charge $300 to other counties per FTE (full-time equivalent); 30 credit hours

Money collected is held on college's behalf; twice a year it is turned over to the County - approximately $400,000; 2019 was $363,000; money helps to pay debt service associated with bonds for capital projects

$300 is a statute amount; cannot charge any more or less
Chairman Burtis:
Dr. Crabill:
Mr. Manning:
Mr. Jordan:
Mr. Manning:
Travel/training scheduled to increase, but will be first area to cut; increases due to programs with reaccreditation cycle; also additional travel for national conference

Most recent faculty contract approved (in first year of 5 year contract) includes travel requirement reimbursement; faculty travel to high schools – 19,000 credit hours generated by students at local high schools taking OCC classes

Overtime increase would be cut first if necessary; contractual CSEA overtime with facilities and campus safety; once exceed 35 hour work week, required to pay overtime due to the contract; fixed amount of full-time

Instead of another full-time individual with salary and benefits, better to have overtime
Mr. Jordan:
Mr. Manning:
Mr. Jordan:
Mr. Manning:
College used to only generate $8,000 - $12,000 in interest income; couple years ago, joined cash management group that helped put money into highest yielding areas – US Treasuries; 1.5%, but now 0.08% on renewal

Based on interest environment, took more conservative approach for next year; always modest interest income

Looking at putting money into local bank with 50-60 basis points on earnings; right now solely treasury bonds; 30,60,90
Mr. Jordan:
Number of positions related to on campus housing including additional residence hall director; housing set up as not-for-profit corporation, it would seem the positions should be funded out of housing corporation, not operating budget
Dr. Crabill:
They are; made decision couple years ago, for liability and oversight, that they should be employees of college, but bill Housing Authority to support the positions; show as funded, but paid for through billing arrangement with housing corp.
Mr. Manning:
Included in revenue to offset expense; do not subsidize housing at all; probably make money, because they may not hire the hall director, but locked in fixed dollar amount including salary and benefits in chargeback
Mr. Ryan:
Mr. Manning:
Current budget for 2019/2020 is salaries of $30.7 million; next year going down about $500,000 or $2 million; benefits going down from $18.2 million to $16.9 million; other wages from $9.1 to $8.1 million
Dr. Crabill:
Mr. Ryan:
Dr. Crabill:
Mr. Manning:
58% of budget is salary and wages, versus 57.6% last year; percentage going up, but denominator is down

$69.5 mil budget last year is denominator and wages are numerator; next year's denominator going down to $66.6 mil

Salaries on page 3-3 of budget book
Mr. Ryan:
Dr. Crabill:
Mr. Ryan:
Mindset – if potentially people are doing distance learning, will it be easier to do classes at OCC? 

Has Dr. Crabill heard anything, and are they anticipating anything?
Dr. Crabill:
Hearing from guidance counselors that students who had plans are rethinking for a couple reasons – (1) parents worried about kids going too far from home with uncertainty of health (2) uncertainty of market, people concerned about paying price of original school selected

Could see students make decision to spend year with OCC to let things settle

Yesterday enrolled 2 students originally planning on Cornell; if Cornell and OCC are online, then people looking at value of taking the classes at OCC
Mr. Ryan:
Dr. Crabill:
Noticed students coming to college were not quite ready including mental framework for studying, being independent, skills with English and Math, or not doing enough career thinking

Approached high schools (ESM and Solvay) - looking at as college readiness program for 9th, 10th, 11th and 12th grade

Workshops every year where students come in and have to hit 3 benchmarks:  (1) unexcused absences  (2)  grades  (3)  engagement outside themselves – club, sports, band, community service

College success depends on showing up, doing their best and getting involved

If students hit the benchmarks for 4 years, OCC raises money for their tuition through OCC's foundation

Started with ESM and Solvay; now have Onondaga Central, Jordan-Elbridge and LaFayette involved

Takes commitment of school administration and fundraising ability to support students coming through that pipeline
Chair Cody:
Dr. Crabill:
Yes; 2 tracks of thought

(1)  started addition of new programs; 14 new workforce related degree programs for adults looking to train or retrain for professional or paraprofessional roles

Some rolled out in weekend program including Human Services - agencies serving people with (i.e.) addictions or disabilities cannot find people with basic level skills

Built connection to Keuka College; takes students to bachelor's program; upward mobility for students as well as people working in Human Services field

(2) more intense worker training in concert with companies

Doing this with companies including Stickley, Feldmeier, and Bristol Myers Squibb; OCC is recruiting arm and training arm; able to do however length the company needs (averaging 8 – 12 weeks); more flexibility for students

Goal - all worker training company related pieces should link to degree, so student can continue education, move up

Usually uptick in adult student enrollment; depending on length of economic downturn, might see graduation uptick also

Hard to say if adult students will come for a semester of intense training for a job or be there longer to finish a degree
Chairman Burtis:
Enrollment assumptions – increase to part-time of 104 and full-time decrease of 489; understand it's a conservative look at downturn; hope they do not lose that many full-time

High school senior enrolled and set to go someplace else; as a Dad, wondering what will happen; would it make financial sense to keep him home taking online classes here instead
Dr. Crabill:
Assumption side – see increase in part-time and decrease in full-time related to expectation that people will want to grab job the minute they can; keep education going, but drop to part-time status

Tuesday afternoon, learned that SUNY will be making marketing available to get message out across NY that if parents are worried about the fall, a great way to deal with it is to keep their kid home and send them to community college

Will be getting help from state in pushing that message out
Mr. Jordan:
Mr. Manning:
Page 3-3 on revenue offset to expense; included in $6.495 million: $2.6 million from stimulus funding, rent revenue, $1.5 million from housing, auxiliary gives chargeback, as well as foundation
Mr. Jordan:
Mr. Manning:
Increase associated with Starfish Hobsons, a retention alert system coming in for next year

Can follow up on the rest, but contractual
Dr. Crabill:
Mr. Bush:
Wanted to give shoutout to Dr. Crabill and her staff; collaboration with high schools has been fantastic; relationship continues to grow; wonderful program in place encouraging kids to increase their academic skills and get college credit

Thank you; positive impact on families and kids is enormous
Chairman Knapp:
Share in Mr. Bush's point; LaFayette's program has been very successful

Thank you to Dr. Crabill and everyone for putting together a budget that is responsible and forward looking at a time that is incredibly difficult
Dr. Crabill:
Chairman Burtis:
Thank you; as an OCC grad, have a lot of fond memories; it is a great community college; wish well going into uncharted waters; it is a responsible and conservative budget; appreciate it, and hopefully OCC will hold onto fund balance
Mr. Manning:
Back to Mr. Jordan's question - part of increase of fees for services is the partnership on the paramedic program that they hope to have approval on for the fall with the Department of Education

OCC will be registering and collecting revenue for Upstate Medical and college; revenue share agreement; will pass on the expense; factored into revenue; portion to Upstate for use of their staff for teaching is in fees for services
A motion was made by Mr. Jordan, seconded by Mrs. Ervin, to adjourn the meeting.  Passed unanimously; MOTION CARRIED.
The meeting was adjourned at 12:46 p.m.
Respectfully submitted,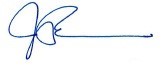 JAMIE McNAMARA, Assistant Clerk
Onondaga County Legislature
* * *
WAYS & MEANS COMMITTEE MINUTES - MAY 27, 2020
VIRTUAL
  TIM BURTIS, CHAIRMAIN
MEMBERS PRESENT:  Mr. May, Mr. Rowley, Mr. Ryan, Mr. Williams, Mrs. Ervin
MEMBERS ABSENT:  Mr. Jordan
ALSO ATTENDING:  Chairman Knapp, Ms. Cody, Ms. Kuhn, Dr. Chase, Mr. McBride, Mr. Kinne, Mr. Kwasnowski, Mr. Manning, Mr. Donnelly, Ms. Sardo, Mr. Czarny, Mr. Morgan, Mr. Schwartz,
Mrs. Tormey, Ms. Velasco, Mr. Frateschi, Mrs. Maturo, Mrs. French, Ms. McNamara, Ms. Lesniak and
Mr. DeSantis
Chairman Burtis called the meeting to order at 9:33 a.m.  A motion was made by Mr. May, seconded by Mrs. Ervin to waive the reading and approve the minutes of the previous committee meeting.  Passed unanimously; MOTION CARRIED.
1. COUNTY CLERK:  Brian Donnelly, Deputy County Executive
      a.    Mortgage Tax Apportionment
Collections and distribution for mortgage tax; Oct 2019 – March 2020; $4.54 mil collected, up 3% from April 2019 to Oct; up 23% from same time last year
A motion was made by Mrs. Ervin, seconded by Mr. Ryan, to approve this item.  Passed unanimously; MOTION CARRIED.
2. EMERGENCY MANAGEMENT:
      a.    Accepting a Donation from Lions Club International Foundation for First Responders During the COVID-19 Crisis ($7,500)
Chairman Knapp:
Through Pompey Lion's Club locally; foundation put up $100,000 for NYS; local portion of $7,500; specifically for meals for first responders and health care workers; many thanks to the Lions Club
A motion was made by Mrs. Ervin, seconded by Mr. May, to approve this item.  Passed unanimously; MOTION CARRIED.
3. ONONDAGA COMMUNITY COLLEGE:  Mark Manning, Senior VP and CFO
      a.    Adoption of Annual Budget for Onondaga Community College for the Fiscal Year September 1, 2020, to August 31, 2021, and Authorizing the Co. Executive to Enter into Contracts with Other Governmental Units in which Appropriations and Revenues are Approved by the Adoption of the 2021 Budget
Chairman Burtis said he appreciates OCC and everything that they do, including the budget.  It is a conservative budget, and Chairman Burtis is hopeful OCC will have more students because of COVID.  Mr. Manning said he appreciates the County's support of their operating budget and capital.  He said Mrs. Tormey is on the line, and she extends her gratitude.
A motion was made by Mr. May, seconded by Mrs. Ervin, to approve this item.  Passed unanimously; MOTION CARRIED.
4. SYRACUSE ONONDAGA COUNTY PLANNING AGENCY:  Dan Kwasnowski, Director
      a.    Approving the Inclusion of Viable Agricultural Land within Certified Agricultural Districts Pursuant to Section 303-B of the New York State Agriculture and Markets Law
Chairman Burtis stated it is for the towns of Onondaga, Camillus and Elbridge, and these are landowner requests.
Mr. May commented that SOCPA does outstanding work to support the AFPB in this process.  Anything they can do to get viable land in the ag district is a positive for the industry and the community.  The committee itself does outstanding work, they are very thorough and representative of those that need to weigh in on these decisions.  Mr. May wholeheartedly recommends approval of items a and b.  Chairman Knapp said that he wanted to echo Mr. May's comments and include Ms. Jamie McNamara and the staff that do a boatload of work with SOCPA; this includes mailing thousands of letters and taking minutes for meetings that go for several hours.
A motion was made by Mr. May, seconded by Mr. Williams, to approve this item.  Passed unanimously; MOTION CARRIED.
      b.    Renewing with Modification Agricultural District No. 2, in the Towns of Marcellus, Skaneateles and Spafford
8 year review – look at adding and removing properties; led by landowner; do not ask anyone to be removed

Send survey people fill out, and they decide if they want to still be in or not

Adds are pretty straightforward, except for one property in Marcellus; all part of farm, typical ag district; all in realm of ag operation and make sense

Marcellus property – discussion with AFPB; 48 acre wood lot; not associated with a farm; not farm operation; not timber/harvest (but want to this year); adjacent to ag district land

Included addition because it's adjacent to active farmland, adjacent to ag district; in future a neighboring farm property could purchase as support land or buffer to more developed areas or natural resources

Received yesterday – John Houser sent letter in coordination with town supervisor and town attorney; sent similar letter in 2018; town has ongoing drainage and runoff issue, which has been identified in their local hazard mitigation plan

Town working with Soil and Water and farmers; seeing how to address drainage issues with steep slopes

Contents of letter – continuing concerns with drainage and runoff; hate to see woodland converted to crop fields, especially since it has steep slopes and it's adjacent to Nine Mile Creek; major tributary

General concern questioning if this ties town's hands in future; does it affect how they manage water shed, water bodies and residential properties

AFPB discussed size of property; does not qualify for tax exemptions as a forestry property; not associated with farm; will not get full benefits of being in ag district, but a lot of properties are like this

Do not think town will be upset, or that it will tie their hands in future

Do not know if the committee needs to hold up process for this one parcel
Mr. May:  
A motion was made by Mr. May, seconded by Mr. Rowley, to approve this item.  Passed unanimously; MOTION CARRIED.
      c.    Acceptance of Funds from Empire State Development for the Preparation of an Update of the Onondaga County Comprehensive Plan, and Authorizing the County Executive to Enter into Contracts to Implement this Resolution ($100,000)
$100,000 from state; 10% match requirement to total $110,000 contract; SOCPA will provide at least $90,000 of in-kind planning and GIS services

This is to create an updated countywide plan, which is required by charter; long overdue

Fortunate to receive the money to do the study and make better plan; large proponent of public participation; by the time it is in contract and working, hope will be to meet everyone face to face
Mr. Ryan commented that public participation is a good thing and asked what the plan is for going out to the towns and villages.  Mr. Kwasnowski responded:
Mr. Ryan commented that a lot of towns and villages have done updated comprehensive plans, and he is hopeful that the towns, villages and county can work together for a really good plan.
Chairman Knapp said that when Mr. Kwasnowski came on board, his team went on a roadshow through the entire county talking to each town supervisor, planning person and village mayor.  The ground work is in place.
A motion was made by Mrs. Ervin, seconded by Mr. Ryan, to approve this item.  Passed unanimously; MOTION CARRIED.
5. COUNTY LEGISLATURE:  Deborah Maturo, Clerk
      a.    Standard Work Day and Reporting Resolution
A motion was made by Mr. Ryan, seconded by Mrs. Ervin, to approve this item.  Passed unanimously; MOTION CARRIED.
      b.    In Memoriam – Gerald Mingolelli, Jr.
Chairman Knapp:
Legislator for 18 years 1976 - 1993; served as majority leader from '82 - '83; graduate of North Syracuse High School; attended Syracuse University Law School

Major accomplishments including:  helping to achieve landmark status for War Memorial and to adopt Martin Luther King Jr.'s birthday as a County holiday

Played football and baseball at North Syracuse; Batted 400 on Syracuse University baseball team

Syracuse YMCA handball champion in '70s and '80s; leaves behind his children and grandchildren
A motion was made by Mr. Rowley, seconded by Mrs. Ervin, to approve this item.  Passed unanimously; MOTION CARRIED.
6. BOARD OF ELECTIONS:  Michele Sardo, Republican Commissioner; Dustin Czarny, Democratic Commissioner
      a.    Transfer from Supplies & Materials, Acct. 693000, to Professional Services, Acct. 694080, $10,300
Transfer $10,000 to cover cost; NTS raised contract prices for registration software; when happened, took lower price on mail check cards (paid out of supplies and materials)

$10,000 will cover contract increase, that came out after budget was prepared, due to electronic poll votes

Contract price of $90,000 will be next 3 years; got approval for 30 day out on contract

Problem is the vendor is the only vendor allowed to do registration in NYS; rumors of new vendors coming in on scene, which may be significantly more cost effective; have not been approved by state yet due to COVID

Put in 30 day out to in case they want to get out of this contract to find a better vendor for the registration software

Been with NTS since 2006; 3 year package; no escalator; this is price for next 3 years
A motion was made by Mrs. Ervin, seconded by Mr. Ryan, to approve this item.  Passed unanimously; MOTION CARRIED.
7. FINANCE:  Steve Morgan, Chief Fiscal Officer
      a.    A Local Law Amending Article VI of the Onondaga County Charter and Further Amending Article VI of the Onondaga County Administrative Code with Respect to the 2021 County Budget Cycle (Sponsored by Mr. Knapp)
Local law looking to amend charter and code for 2021 county budget cycle

With pandemic, largest revenue of sales tax very volatile throughout remainder of year and major expenditure accounts, the thought is to push budget cycle out 2 months

This allows for more data and information to make better informed decisions with current year estimates and to build the 2021 budget; allows for a better spending plan for next year

Various date changes required  (1) currently Executive presents budget by Sept 15th; this would amend to Nov 4th; (2) 16 day review including veteran's day; (3) WMS report due by Nov 20th; (4) publication on Nov 26th; (5) public hearing Dec 1st; (6) budget adopted Dec. 3rd

Pushes it not quite 2 months later in the year
Chairman Knapp commented that they've been talking about this for a while.  Without this, the budget process would be starting in a week, and it would be difficult to put together an intelligent budget based on the current information.  Product of give and take between the Legislature and Executive team, led by Mr. Steve Morgan.  It was a collaborative effort with Ms. Darcie Lesniak, Leader Brian May and himself.  It is for one year, and they can assess after; keeping it, going back to the way it was, or doing something in between. 
Chairman Burtis said it makes sense, since they do not know where the sales tax received will end up, or where the feds and state will come. 
A motion was made by Mr. Rowley, seconded by Mrs. Ervin, to approve this item.  Passed unanimously; MOTION CARRIED.
      b.    Amending Resolution No. 372-1967, Regarding the Imposition and Disposition of Sales and Compensating Use Tax Pursuant to Articles 28 and 29 of the Tax Law of the State Of New York (Sponsored by Mr. Knapp)
1967 resolution allowed for phase out of sales tax charge on residential energy as of 1982; since then, residential energy purchases exempt from sales tax from county

This would allow funding for significant, yet unknown, decrease in largest revenue source - sales tax; working hard to forecast and project what gaps will be, and how it will impact county

One tool identified was ability to remove exemption on residential energy purchases; 20 counties in state currently charge and levy sales tax on residential energy including Cortland, Cayuga, Suffolk, Tompkins, and Westchester

Chart attempts to give committee idea of what it would mean to the average household; estimated what the average energy bill in household is - $150; sales tax only on delivery and commodity, not on additional charges and fees

Estimating monthly energy bill of $150/month and $1,800/year - results in $6/month and $72/year in sales tax generated

For counties that charge, they gathered data of taxable sales; categorized in 4 ways:  average of upstate counties, surrounding counties, upstate counties with population greater than 100,000, and just Erie County

Got per capita sales amount for each scenario, then used that to project what our county gross collections and ensuing county share of those collections would be; range from $9 mil - $13 mil annually

No home rule required, as it already exists; can go straight to resolution to levy tax and remove exemption locally

Projection standpoint – did number of things to date to address the unknown gap to ensue in lag in sales tax collections

Reduced spending to tune of $25 mil already in austerity and locking money in various non-salary accounts, contract reductions, hiring freeze, temporary staff reductions, cash for capital in DOT

Looking to this in addition to stimulus money passed related to enhanced Medicaid funding estimated at $5 mil; believe coming to county to help fill that hole; looking at additional sales tax revenue to assist as well

Other items in play continue to monitor and determine for end of year; talk at federal level for another stimulus bill aimed at state and localities, which would be huge for NY:

Major pressure besides sales tax is potential reduction in state aid; state made clear that if there is no federal help, there will be cuts to aid for local schools and municipalities; est. of ~$35 mill in reduced state aid for 2020

Numbers from NYSAC; estimates of almost $60 mil to potentially be cut as result of their own fiscal pressure; state budget passed gives Governor control to reign in and reduce aid to locals, if they do not meet their own revenue marks

First marker was April – waiting to see what happens with next stimulus bill before enacting cuts; between potential state aid cuts and sales tax, could be up to $100 mil in lost revenue that will have to be addressed this year

This potential sales tax would be a welcome addition and another tool in tool box to dip into to address shortfall
Chairman Burtis:
Appreciate effort to enhance revenue; appreciate they can do something now; do not have to go to state; concerned about hole in revenue since the start, also about health of community, and how well the county is doing

Did not realize the county would stop; effected in negative way

Do not like to raise tax; not something take lightly, but in position to do something do not like and approve the resolution

Today is the day; need to do what they can to fill the hole of revenue loss

In a tunnel – it's dark; just want to know where we stand, so they can make better decisions; no light at the end

Prudent thing to do; need to do everything can for fear this could go on for a period of time; appreciate everything the county is doing with austerity measures; some will talk about using cash and savings, but this is a good first move

Hopefully it will not affect residents in too much of a dramatic way
Mr. Rowley said there is no sunset clause, and asked if this is a permanent change to sales tax.  Mr. Morgan said correct.
Mr. Rowley asked if the first quarter projection of $12 million surplus is a starting point.  Mr. Morgan answered:
Yes; went through normal process and looked at major revenue and expenditure items; not supply accounts

Also took austerity into account; other pressures in budget as well

When cutting expenses, do not get 100% benefit out of it, because of reimbursement from various areas

This is assuming sales tax at budget, which would require a 3.6% growth in sales tax; baseline, and for different sales tax scenarios, this is what the impact would be on overall projection

Also factored in an estimated sales tax reduction; items they are counting on – (1) $5 million federal stimulus, (2) this sales tax and (3) possibly another federal stimulus package

There is fund balance, and that may be a tool that has to be used

Retirement incentive – tracking it and those responses are due by the end of this week

Will have idea of those people intending to take the incentive; doing work now, and will ramp up with knowing who's leaving and which positions need to be filled; with that, this will be potential savings this year
Mr. Morgan replied to Mr. Rowley that the baseline includes all of the austerity measures.
Mr. Rowley said he's hearing from the Governor that the state aid reduction is 20%, but they are estimating 35%.  Mr. Rowley is wondering where they got that number.  Mr. Morgan answered that NYSAC put out a report, and they estimated on a low to high end from 10% to 50% reduction in state aid.  Mr. Morgan said he went half way based on the estimates.
Mr. Morgan responded to Mr. Rowley that the $5 million is part of one of the original stimulus packages passed.  It enhanced the FMAP rate for Medicaid by ~6.2%.  The estimated value the county got from NYSAC and state was $5 million.  It was originally valued at more based on an annual amount, but this enhanced FMAP only exists while a national federal emergency is declared.  This is 6 months of enhanced aid, so it could be reduced, if it were to end, or increase, if it were extended.  
Mr. Rowley asked what the access over 10% of fund balance is.  Mr. Morgan answered that the CAFR is almost done for 2019, so it has not been reported out.  The general fund ended at almost $7 million in the good.  There is about $11 million over the 10% goal.  There is $79 million in fund balance.
Chairman Knapp:
This is not on top of list of what people what to do; county in difficult times; FMAP federal dollars on Medicaid – fight between county, state and fed; state trying to grab money before getting to county

Happened with other stimulus that went to state, and they kept it; Monroe received because population over 500,000

Hearing state not happy that county worked out deal to get funds directly from feds; if county receives $5 million from feds, state looking to decrease funding to county by that amount

In 2018, state did away with aid funding, but brought it back taking it from local sales tax; towns and villages getting local sales tax to tune of $2 mil this year

In 2020 budget, state created fund for distressed hospitals and nursing homes, but are charging local and county sales tax dollars; costing additional $2 mil; $4 mil will be coming out of sales tax dollars; on top of what state decides to do

This is one of few arrows in quiver that can be acted on immediately, because it is already authorized by state

For 2021 budget

,

everything on the table with property taxes; going that route now would not help this year

Fund balance will be in play; last thing want to do is impellent something like this, but not a lot of choice
Mr. May:
Mr. Morgan stated there is no use of fund balance.  That will be a last resort, and it will be used to plug whatever hole remains after all the other tools are employed.  It is usually the balancer.
Mr. May asked if it is possible to get a slightly better picture across the functional areas across county government, and what the financial picture looks like.  Mr. Morgan responded yes:
Not sure if it will be helpful; everything is on lockdown

From spending perspective, aside from program areas like Children and Family that are putting negative pressure on budget, things are below budget

County is at a hiring freeze and projecting almost $10 million in salary and wage savings; almost $10 million in non-salary accounts

From a functional perspective, departments are in a holding pattern where they can still conduct business

From a COVID perspective, $4 - $5 million in responding to that; had ability with grant dollars to spend, and submitted initial application to FEMA; working with them to start reimbursement process; running through grant; anything not reimbursed will have to determine where it comes from - not burdening departments with FEMA expenses

$12 million in projected general fund surplus, not a ton of moving pieces other than austerity and 2 or 3 program accounts in Children and Family; everything else below budget based on tightening done with austerity

Tried to allocate austerity amounts based on each department's share of overall budget; supplies and materials -froze over $1 million, allocated mostly based on particular department's budget compared to the overall county

Some areas could not do that with concerning contractual expenses; focused those freezes in bigger human services departments with higher contract dollars; hiring freeze across county

Areas they are beefing up staff and allowing expenses are in response to pandemic including (i.e.) Emergency Management and Health Department; rest of the county is being squeezed and put into austerity for savings
Mr. Rowley asked if the $25 million baked into the baseline projection is about a 30% budget cut, and Mr. Morgan responded yes, the general fund budget is about $1 billion.
Mr. Rowley asked if there are other cuts in their pocket that they are looking at, and Mr. Morgan said yes.  The biggest expense is people.  Mr. Rowley does not want to go down that road, but wanted to make sure they are looking at that.  Mr. Morgan stated that they are waiting on the results of the retirement incentive, which will play a big role in the picture.  When they know the numbers, what the backfill of positions will be, an overall savings for this year and a projection for next, then that will be placed in the analysis.  When they have all the pieces together and have to go to the involuntary separation route, then unfortunately that may be the route they go.
Mr. Rowley stated that he views this imposition of sales tax on residential energy a regressive tax, and it is bad timing.  Mr. Rowley has constituents who have lost their jobs, have a retail shop or karate studio that they will lose, and it is tough for him to look them in the face to tell them the county will be raising the taxes on their residential energy bill.  Mr. Rowley is willing to do this if it is temporary, but not on a permanent basis.  
A motion was made by Mr. Ryan, seconded by Mr. Williams, to approve this item.  Ayes:  4  Noes:  1 (Rowley)  Abstentions:  1 (May); MOTION CARRIED.
A motion was made by Mr. Ryan, seconded by Mrs. Ervin, to adjourn the meeting.  Passed unanimously; MOTION CARRIED.
The meeting was adjourned at 10:54 a.m.
Respectfully submitted,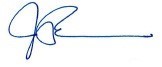 JAMIE McNAMARA, Assistant Clerk
Onondaga County Legislature