ENVIRONMENTAL PROTECTION COMMITTEE MINUTES - JULY 12, 2017
MICHAEL E. PLOCHOCKI, CHAIRMAN
MEMBERS PRESENT:  Mrs. Tassone, Dr. Chase, Mr. Burtis, Ms. Cody
ALSO ATTENDING:  See attached list
Chairman Plochocki called the meeting to order at 9:06 a.m.  A motion was made by Mr. Burtis, seconded by Dr. Chase, to waive the reading of the proceedings from the previous committee.  MOTION CARRIED.  A motion was made by Mrs. Tassone, seconded by Mr. Burtis, to approve the minutes from the previous committee.  MOTION CARRIED. 
1.    LAKE IMPROVEMENT:  Tom Rhoads, Commissioner
   a.    ACJ Update
Mr. Rhoads: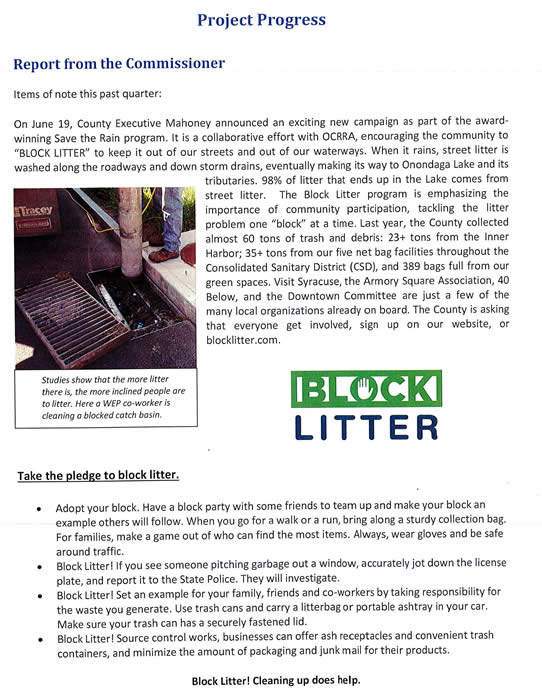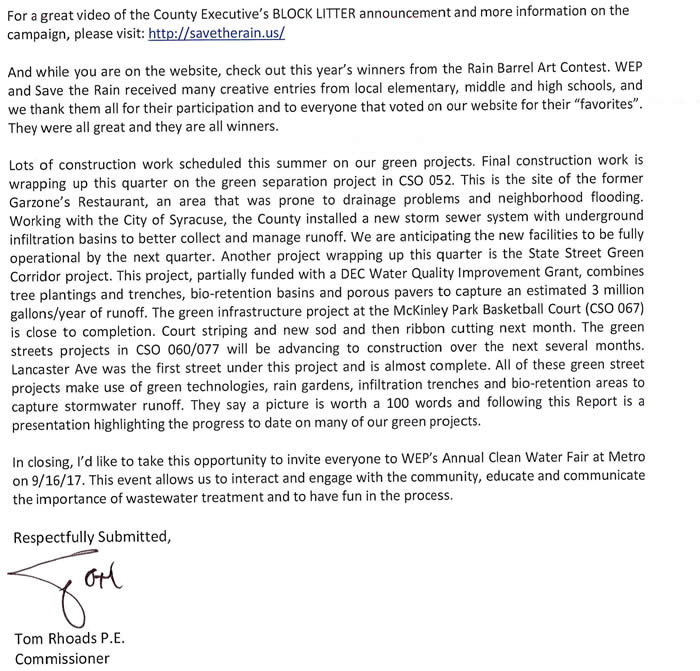 Liter must be removed from catch basins, owned by the City, or it ends up in water bodies and has to be removed at a higher cost, engaging the public to block liter is the least expensive
Dr. Chase said that the area near Garzone's looks incredible, great job.  Mr. Rhoads said thank you.  Dr. Chase asked who is responsible for up keep of the completed projects.  Mr. Rhoads said that each individual project has an IMA that describes who will be responsible for maintenance, i.e. City responsible for Garzone's, WEP responsible for Townsend median.
Dr. Chase said that the Townsend median looks nice until you cross Harrison and Adams and she can't seem to get an answer as to why.  Mr. Rhoads said that he would have to bore into this further, some parts are still under the contractor's responsibility.  When a project is built or rebuilt the contractor has a warranty period in which they maintain things.  Green maintenance gets tricky during the transition period, warranty voided if they dabble around with it. 
Doing less intrusive, small projects, instead of large Clinton style projects, neighborhood scale; work with neighborhoods, let them know what is being done

Continue to look for green projects in Harbor Brook area, southwest part of the City - CSO's that would overflow into Harbor Brook, and combined sewer CSO 060-077, outlined bel

ow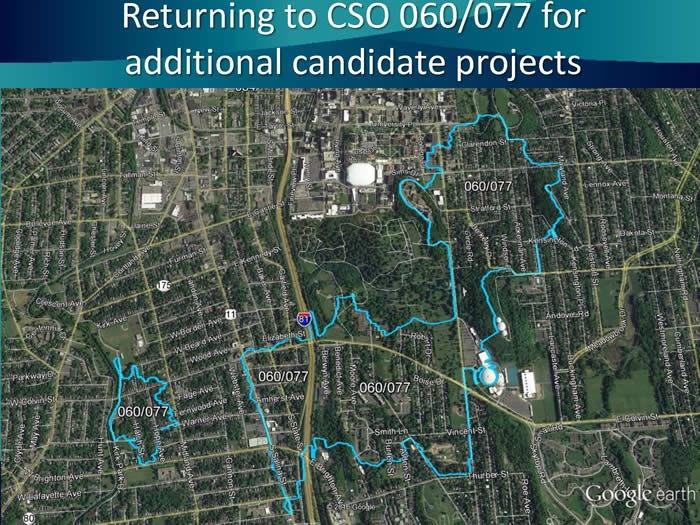 Mrs. Tassone asked the difference in county costs for these projects.  Mr. Rhoads said that there is a wide verity of costs.  The cheapest capital cost would be $0.10 to $0.20 cents per million gallons of capture for IMA road constructions projects with the city.  Most GIF projects range between $0.20 and $0.30 cents per millions gallons capture, and projects done on our own historically average around $0.75 cents.  Some of the marquee projects can be up $1.50 or higher, i.e. war memorial project, used to try and make people understand and buy into the concept.
Mrs. Tassone asked if we approach them or do they approach us.  Mr. Rhoads said that there is a good network of local designers who are engaged in the project, we let them know, advertise, and put it on our website.  We make sure the entire community is aware and Ms. Quinn talks about GIF when giving community presentations.  Public engagement helps attract jobs and we have done such a great job that only small parts of the City have an active GIF program; now laser focused on where investments go due to high level of capture.  GIF projects are less expensive and don't have maintenance. 
AMP part of ACJ, very expensive; hope to end ACJ in 2018, discussion continue with EPA and DEC, must meet capture and water quality, doing AMP to meet water quality, most  NYS WWTP's only monitor water that comes out of the affluent pipe, we are monitoring all these water bodies - Onondaga Lake for 20 years

Cost almost $1 million per year, WEP's contributions no longer driving the lakes biosphere, 97% capture suggests that if others want to continue to monitor and investigate the lake, money other than the sanitary fund should be used; large goal to complete ACJ sometime after 2018

DEC created Finger Lakes hub looking at algae blooms, staffed and making huge investments as water bodies throughout NYS are seeing hazardous blue-green algae blooms; we measure phosphorus, which is the fertilizer, and chlorophyll-a, which is the green plant, to see if conditions are right for a blo

om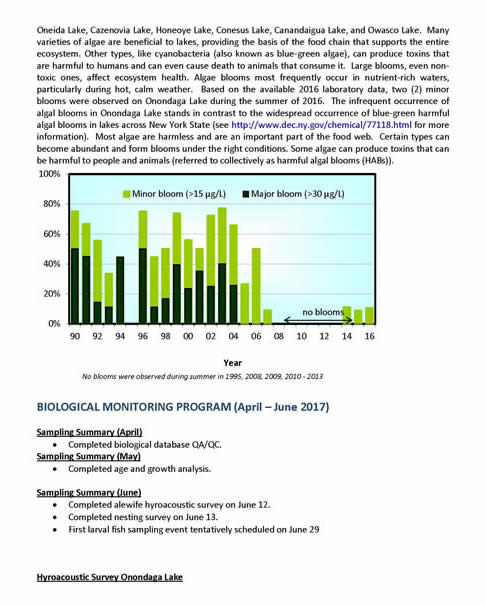 Many contributions from Metro in the early years of the graph, later on most contributions are from the watershed – phosphorus coming from MS4, stormwater, or upstream sources, many different contributors, including food change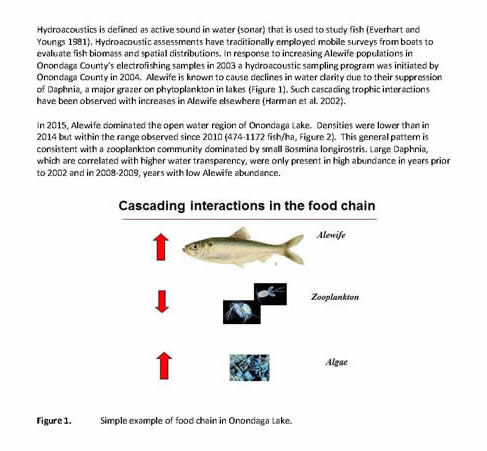 Alewife eat zooplankton or daphnia, who eat the algae, in really cold winters alewife die off, daphnia's take off and zooplankton eat more of the algae, in really warm winters alewife's grow abundantly, eat all the zooplankton and nothing forges on the algae

Have inputs from humans, fertilizers, storms, biology and food change, very complex things we should not be studying any longer, no other sanitary sewer is doing this; great stuff for ESF and others to spend money on, lake is important but others should be studying the biology, encouraged legislator's to talk about why we are spending money on this

Report includes media from all the different campaigns, working on liter connections, don't spend a lot of money, use a lot of social media with geofencing, analytics provided, use "earned media", i.e. County Executive's presentation on Block Liter program well carried, repurpose and retweet; county executive support critical, legislators support also helps, talking about connecting the entire community, don't be afraid to tell people the wonderful work being done with the lake and how every person's support makes a difference, all have a role to play

Financial updates included for Clinton, Harbor Brook, and Midland sewershed, along with sewer separation/green, previously capitalized bond projects, Save the Rain projects continue to come of out these appropriations, remaining authorization in status summary, also summary of contracts and grants and chronology of construction projects; use public bidding, spending a lot of money, are open and transparent, other communities spending much more, green program saving dollars, i.e. Washington DC into multibillion dollar project, happening nationwide
Chairman Plochocki thanked Mr. Rhoads for the presentation.
Dr. Chase asked how WEP was handling the rainfall.  Mr. Rhoads said that the tremendously wet year has caused combined sewer overflow.  The remaining CSO's are still active and several rainfalls were huge events, i.e. monumental 2" storm.  In that regard, we had to call in staff for every one of our treatment plants to respond to the tremendous amount of extraneous flow.  We are experiencing real problems with the Meadowbrook Limestone treatment plant, which serves the Meadowbrook section of the city, towns of Dewitt and Manlius, and villages of Fayetteville and Manlius.  Their old sewers are contributing massive amounts of extraneous flow.  We saw this coming and put flow meters in the sewer system.  In heavy rainfalls, parts of the system are contributing 19 times the dry weather flow.  These problems are in sewers owned by these municipalities.  We have a suburban program and are spending a little bit of money this year, funded $1.2 million, but these municipalities need to be making much larger investments in their infrastructure.  WEP is the permitted entity so when the treatment plant designed for 6 million gallons per day, receives 20 million gallons per day, the efficacy of treatment is not satisfactory and we have permit violations.  Violations because of flow, and overabundance of suspended solids leaving the plant.  This is a significant issue and it happens with all of our plants; currently most actuate with Meadowbrook Limestone.
Dr. Chase said that the bottom line is people in those municipalities need money to fix this.  Mr. Rhoads said that they need to raise the money.  Dr. Chase asked if Mr. Rhoads thought municipalities were seriously looking at doing this or thinking we will bail them out if it goes long enough.  Mr. Rhoads said that he thinks the policy questions, or larger question, is right; does not want to speculate.  We know that in 2002-2003 we did a Sanitary Sewer Evaluation Study of the same service area, spent a lot of money, did an engineering report, told them where their problems were, and asked them to make a $ 5 million investment in their sewers, at that time.  In 2016-2017 we measured flows in those same areas and are seeing no change or worse, a 15 year horizon with no investment.  What will drive that investment, cause it to happen?  Right now, DEC is trying to locate WEP in their crosshairs because of the permit violations at the plant.  Those violations were caused by upstream issues.  This will be a larger discussion that our community is going to be forced to embrace.
Dr. Chase said that the easy answer is raise the money and do it, but that's not easy.  Mr. Rhoads said that even for us, we thought we had a great year last year because we lined 3 miles of our sewers; one half of one percent of our sewers.  At that rate our sewers would have to last 200 years.  Is that really the right amount of investment to be making?  He understands they are interested in keeping the rate low and we are much lower than the rest of the country; half the rate of Oswego who got caught in those same crosshairs with the DEC.  The City of Oswego is paying $800 to $850 per year and we are paying $411.11.  These are things that happen if we don't make investments; pay me know or pay me later.
Ms. Cody said that this is sobering.  Mr. Rhoads said that we have a massive utility.  National Grid is talking about a 10% to 11% rate hike and we haven't had a rate hike since 2014.  Most utilities are experiencing their infrastructure aging out and they need to make a continued investment in it.  This is an important discuss, and we will have it again this fall.  The Environmental Protection Committee needs to understand that this is a pretty significant issue. 
Dr. Chase said that the letter sent to the people in the City made it difficult.  Mr. Rhoads said that it was confusing.  Dr. Chase said that it was very confusing, and talk about being sobering, people are seeing the cost of their sewers increase three times.  When you talk to these people and explain that they have no idea how lucky they are to have been paying relatively nothing all these years.  Mr. Rhoads interjected saying that some people made nothing, they weren't assessed at all.  Dr. Chase said that these people have no idea what we are talking about.  They should all sit in on these committee meetings and see the amount of money, not without merit, given to keep the county environmentally clean.  Mr. Rhoads said, "Just environmentally", and apologized for interjecting.  This is critical to our economy.  If your sewer doesn't have capacity because it is treating clean water, we don't have room for even building one more house.  We won't have room for industry if we don't take care of capacity constraint issues.  We will have to tell industries to take their jobs elsewhere - that is a problem.
2.    WATER ENVIRONMENT PROTECTION:  Tom Rhoads, Commissioner
      a.    Calling a Public Hearing in Connection with the Acquisition of a Portion of a Twenty-Four Inch Force Main by the Onondaga County Sanitary District from Honeywell International, Inc.
Chairman Plochocki asked if the intent was always to take the pipe back.  Mr. Rhoads said that he doesn't know; thinks there were people that said maybe we will need it in the future, was never any perfect language on it.  Chairman Plochocki said that he was just curious.
Mrs. Tassone asked what kind of maintenance is required.  Mr. Rhoads said that of course there is a lifespan, and there air relief stations on pipes such as this.  Force mains can entrain air, air mixed with the materials in wastewater creates hydrogen sulfide gas, and sulfide gas and water create sulfuric acid.  Concrete and steel pipes then start to get corrosively attacked.  All air relief stations on this pipe were replaced by Honeywell and the bridges that carry the force main over Harbor Brook were replaced.  Most of the rest of the pipe is below ground and has been inspected.  We do things called "pig a line" – run a projectile through the pipe to scrap off any biologic material and reduce the biologic growth.  There is not a lot of maintenance that can be performed; things that are maintainable have been maintained, the pipe is in good condition because Honeywell did all these upgrades.
Mrs. Tassone asked the lifespan of the pipe and the advantage of the county taking it over, verses Honeywell keeping it.  Mr. Rhoads said that the advantage is we avoid the cost of having to install our own force mains; multimillion dollars for new pipes.
In answer to Mr. Burtis, Mr. Rhoads confirmed that the bridges and vents were the upgrades made to the pipe by Honeywell, and added that we are not acquiring the whole Honeywell force main, only the portion from the Westside Pump Station to our plant.
A motion was made by Mr. Burtis, seconded by Dr. Chase, to approve this item.  Passed unanimously; MOTION CARRIED.
The meeting adjourned at 9:47 a.m.
Respectfully submitted,

KATHERINE M. FRENCH, Deputy Clerk
Onondaga County Legislature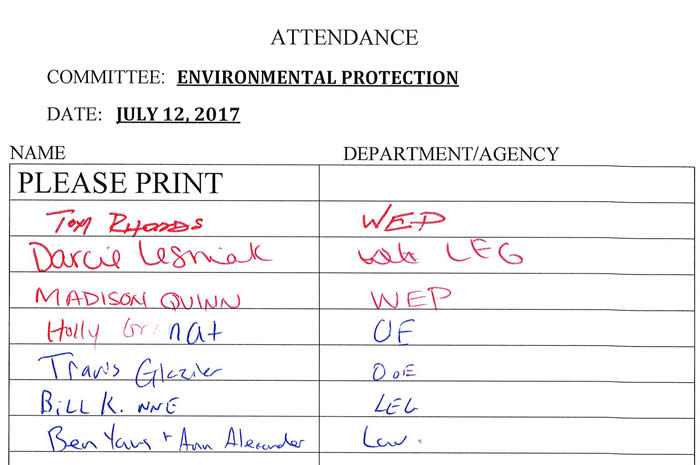 * * *
COUNTY FACILITIES COMMITTEE MINUTES – JULY 12, 2017
JUDITH A. TASSONE, CHAIR
MEMBERS PRESENT:  **Mr. Dougherty, *Ms. Cody, Mr. Plochocki, Dr. Chase
ALSO ATTENDING:  Chairman McMahon; see attached list
Chair Tassone called the meeting to order at 10:32 a.m.  A motion was made by Dr. Chase, seconded by Mr. Plochocki to waive the reading and approve the minutes of the previous committee meeting; MOTION CARRIED.
*Ms. Cody arrived at the meeting.
1. WAR MEMORIAL:  William Fisher, Deputy County Executive
a.    Informational:  Capital Improvements Plan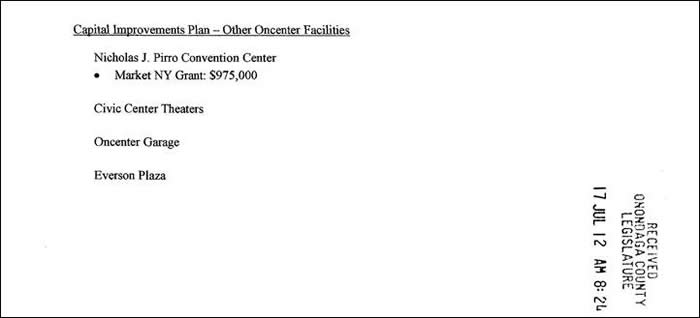 Mr. Fisher:
Introduced Kelly Carr; General Manager of Oncenter

Syracuse Crunch – 7 years left in lease; want improvements; Executive office discussed extension to lease; open to idea of 10 year lease (add 3 yrs to 7 left); believe War Memorial will continue to serve the needs of residents of County

Different than NBT because Syracuse Chiefs are the only tenants; lease with Parks

War Memorial more than just Syracuse Crunch; but they are the most significant tenant; most significant stake holder are Veterans - War Memorial built to honor service of Veterans

Consulting with Onondaga County Veteran Service Advisory Board (also Corliss Dennis); John Paddock, Chair, made group available to consult about the changes to ensure the primary purpose of the building is maintained and enhanced

Syracuse Crunch had fantastic playoff; made to game 6 of Calder Cup; 1,000s of people came out

Ongoing discussions with Crunch including extending lease, and higher level fan experience they are looking for
Veterans issues:

Strong bias towards service members of earlier eras; lots of displays about WWI and WWII; names from Vietnam; not much for Veterans who served in recent years in (i.e.) Afghanistan or Iraq

Would like to balance out, and honor recent service members including plaques, kiosks, and upgraded video
**Mr. Dougherty arrived at the meeting.
Decision made to reinvest in this building; brings vitality to downtown

Good time to think about doing something at War Memorial to help Crunch, with Veterans being consulted; will also be better use for the Silver Knights, concerts, graduations, etc.

Approached by OCC club hockey team who wants to play at War Memorial; last year had 14 games (7 away); would like to play as many as 9 home games and practice at War Memorial; would work around Crunch and Silver Knights

County Executive enthusiastic about making this the home ice; kids going to OCC can play club hockey

Will think through whether to offer ice time cheaper than local hockey organizations; maybe, because it's the County's college; sports keep the students at college
Crunch wants:

SMG put out RFP that would result in scoreboard and marquee replacement before hockey season

LED marquee panels on State Street and Montgomery Street; at will call window; also Civic Center theaters; 5 total; if choose to upgrade ribbon lighting, then it will be one integrated system

Becoming commodity hardware; inexpensive to get sourced; good time to look at investment – 10 year life (lease time)

Amphitheater – when put up displays, County retained advertising rights; looking to retain advertising rights on center hung scoreboard; advertising rights on marquees will be County's

How to finance $1.5 – $2 mil; Legislature previously approved $850,000 for marquees (part of bonding of $1.5 mil for various Oncenter capital programs); need to finance other pieces through FUF, capital reserve and contributions from Crunch; also have indications from state Legislators interested in helping

Senator DeFrancisco working on SAM grant; asked for letter making an ask; Pam Hunter interested in helping finance

Looking at $1.5 – $2 mil for marquees, center hung scoreboard, ribbon lighting (put in 2008, spent $600,000)

Crunch priority is enhanced experience for sponsors and seats; Assembly Hall, where Veterans meet monthly - rip out wall which is structural; est. $2.5 - $3 million – improve area and make suites to overhang the seats
Chairman McMahon:
Asked Mr. Fisher to come today, because there are various stakeholders and items; appropriated money from Legislature for improvements to War Memorial, and/or Oncenter campus, earmarked for different things

Veteran related improvements; big item is Syracuse Crunch and negotiating favorable lease; War Memorial only stadium in NHL that does not have premier seating; also scoreboard was down for a period of season

Asked Mr. Fisher to give synopsis; waiting on source of funds; part will come with negotiations with Crunch

Hope to have legislative item accepting state funds and potentially reallocating new funds for master plan for War Memorial; certain needs to be met for Crunch and Veterans groups
Mr. Fisher:
Mr. Dougherty said everything sounds great, but are they focusing too much on the luxury aspect versus the average hockey fan.  The main concourse is dated, getting to the stage is behind bleachers, the locker rooms are a mess, and there are continuous complaints about the bathrooms.  Mr. Fisher agreed that all bathrooms have issues.  Serviceability is hard, but it has to be addressed.  Mr. Dougherty feels it would be nice for this stadium to have the appearance that professional hockey stadiums do for the average attendee.  Mr. Fisher agreed, and said it is a trade-off.  SMG does long and short term planning, so they must prioritize.  $250,000 per year given in capital for the Oncenter, garage, Everson Plaza, Convention Center, Civic Center theaters and offices, and the War Memorial.  FUF is tied to what people are willing to see added to their tickets.  There are also state grants, and the tax for it.  Recently there was an ask for $1.5 million in bonding for all of the Oncenter for three years, which will be (on average) $500,000 per year to do some of these things.  The wish list was $14 million.  The Crunch focus on profit making opportunities.  Mr. Fisher can look at having a discussion with the Legislature about investing money into things that do not drive revenue and are not priorities of the Crunch.  The County Executive articulated that the County is caught up on a lot of deferred maintenance on roads, buildings, parks, etc., so they are trying to avoid bonding.  Mr. Fisher said this is a small dollar amount, but if the committee wants to bond for millions more, then they can prioritize more.  Mr. Dougherty is not looking for millions more.  Years ago the lighting was replaced with LED's, and it made the whole place brighter and friendlier for relatively few dollars.  Mr. Fisher commented it was $600,000, and he thinks they got a grant.  A building built in ~1951 is expensive.  There are complaints from persons with disabilities, so the Executive office would like to try to fix these things.  Chairman McMahon stated everyone understands what Mr. Dougherty is saying, but what they are trying to put forth is a package that addresses immediate issues for the veteran's community and the Crunch, and will also get the Crunch to make a larger commitment.  Chairman McMahon stated anything that is not included in this package may be included in the Capital Improvement Plan going forward.  Mr. Dougherty is not debating any of this, and thinks the package is great.  Mr. Dougherty is hoping the Legislature can take care of some of the other issues in addition to this (even bonding).  Mr. Fisher said the feedback is helpful. 
Chair Tassone asked when negotiations come up again for the Crunch.  Mr. Fisher replied if they extend it now, then 9 more years.  Chair Tassone asked if it is going through now, and Mr. Fisher responded that the Crunch would like some things, and the Executive office would like to write some things off over more years.   
Chairman McMahon said the baseball team had strategic improvements to help them succeed.  There has been a struggle to keep baseball in the area, and if they leave, there will be penalties.  Chairman McMahon stated some of the Crunch's asks and priorities are necessary for the facility, and others for the business.  The community needs to know they will be there.  Mr. Fisher agreed.  If the seats cost $2 million and the Crunch leave next year, then there are $2 million seats not making any money.  Chairman McMahon said the lease is not up, but if they want that type of investment, then the Crunch need to commit to a longer term for the community. 
Mr. Fisher:
The meeting was adjourned at 11:10 a.m.
Respectfully submitted,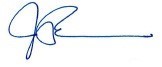 JAMIE McNAMARA, Assistant Clerk
Onondaga County Legislature

* * *
PUBLIC SAFETY COMMITTEE MINUTES - JULY 12, 2017
BRIAN MAY, CHAIRMAN
MEMBERS PRESENT:  Mr. Dougherty, Mr. Ryan, Mr. Liedka
MEMBERS ABSENT:  Mr. Holmquist
ALSO ATTENDING:  See attached list
Chairman May called the meeting to order at 12:07 p.m.  He apologized for the short delay, and noted that the only item on the agenda is a local law that definitely warrants a meeting.  The topic is interesting and certainly bears discussion by this committee.
A motion was made by Mr. Liedka, seconded by Mr. Ryan, to waive the reading of the proceedings from the previous committee; MOTION CARRIED.  A motion was made by Mr. Ryan, seconded by Mr. Dougherty, to approve the minutes from the previous committee; MOTION CARRIED. 
1.    EMERGENCY COMMUNICATIONS:  William Bleyle, Commissioner
      a.    A Local Law Repealing the Wireless Communications Surcharge Authorized by Article Six of the County Law of the State of New York; and Imposing the Wireless Communications Surcharges Pursuant to the Authority of Tax Law §186-G
Mr. Bleyle:
Hoped to present item as part of budget, state and law determined action was more eminent

In 2004 the legislature approved County Law § 308 to collect a surcharge on wireless phones, state also collected a surcharge – county share $.30 cents per month, state share, called Public Safety Surcharge, $1.20

County uses revenues exclusively to offset local dollars, applied towards their budget, reduces county taxpayers share, at the same time those who use 911 service pay a portion of the cost to provide that service – not cheap, especially with changing technology

Loophole in 2004 law, surcharge not collected on prepays, wasn't major component of wireless business at that time, now more are migrating towards prepays - NYSAC estimates 30% of wireless market is now prepaid

Seeing decline in revenue the state changed the law with recent budget, County Law § 308-f abolished, new Tax Law § 186-g calls for collection of surcharge on prepays and contract phones; County needs to act one way or another as law goes into effect 12-1-17, County Law § 308-f will no longer exist – won't be able to collect surcharge on wireless contract phones

With approval Tax Law § 186-g will apply to both the state and counties; surcharge remains the same but will be collected differently, wireless will be .$.30 cents per month, prepays will be $.30 cents at time of sale for phones and additional minutes, and all surcharges will now be collected by the state and remitted to the county
Mr. Ryan asked if the revenue would be the same or less.  Mr. Bleyle said that year after year we have seen a decrease in our revenue from the surcharge.  Mr. Ryan asked if this was because of less people using phones or the state taking more.  Mr. Bleyle that it is because we are not able to collect on prepays.  As people started migrating to wireless phones, they did away with their landline phone, which also had a surcharge.  Now people are moving to prepaid and not paying any surcharge.  Mr. Ryan asked if the new tax law would fix this.  Mr. Bleyle said that the prepaid market is very difficult to define because there are different ways of doing prepaid service.  The state will have to identify all of those and move toward recovering revenues.  Management and Budget has had discussion with the NYS Comptroller's office and others.  Based on those discussions, we anticipate our revenue will be about what we collected in 2014.  
Mr. Ryan said that we talked about this surcharge, going back many budgets, and asked if we should have received a greater share.  Mr. Bleyle said that he may be alluding to some concerns that the law has allowed the state to collect a surcharge based on the 911 services provided.  Mr. Ryan said exactly.  Mr. Bleyle said that this was a concern of all the 911 coordinators and NYSAC.  The FCC authorized the surcharge to help provide 911 services but the state changed the name of the surcharge and is putting the money into the general fund, and using it for many different things.  Some of the money has been recouped as the state have given it as grant money.  We have seen decreases in both wired and wireless surcharges since 2014.
Chairman May asked Mr. Bleyle to comment on the grants, is it aligned with expectations or is too much staying with the house.  Mr. Bleyle said that NYSAC estimates the state is collecting about $200 million per year and about $75 million is made available to the counties for 911 purposes, less than half of the revenue.  There are some states where the full amount goes to local municipalities and it plays a major role in offsetting local dollars for 911 services.  It would be nice to have access to that money and it is something that NYSAC and 911 coordinators continue to press for.  The intent of the law was to provide 911 service from the beginning.  Chairman May said that it is falling into the same rabbit hole as the lottery money.  Mr. Liedka added, and Thruway money.  Mr. May said that it is just one big giant rabbit hole.
Chairman May said that he had asked Mr. Bleyle some questions off line but will ask them here for the purpose of getting them on the record.  All counties are probably looking at this right now, is there a deadline in which we need to act in order to do something with this?  Mr. Bleyle said that he is not aware of any counties that are not moving towards it.  Those that previously collected on contract wireless will no longer be able to collect, if they don't adopt the new law; Madison County voting today, Oswego County is doing it, Jefferson County and another have already enacted the law.  The law must be filed with the state by September 1, in order to become effective on December 1, 2017. 
Chairman May asked if there were any further questions and said he had additional information, if anyone wanted more.  He then thanked Mr. Bleyle for the information, adding that it helped him determine whether or not the committee would meet, as it was the only item on the agenda.
A motion was made by Mr. Dougherty, seconded by Mr. Ryan, to approve this item.  Passed unanimously; MOTION CARRIED.
Chairman May asked if there was any other business.  Mr. Ryan said that he had an item, not on the agenda, for discussion purposes:
Have been talking about youths in solitary confinement at the Justice Center -  reluctant to bring something forward because of ongoing litigation, all parties now signed off on a settlement agreement, item again worthy of conversation
For the record, Chairman May said, "Do you know when that settlement took place, the date or thereabouts".  Mr. Ryan said, "Umm, this is dated the 26th".  Chairman May said, "Maybe a week and a half ago, or something like that".  Mr. Ryan said, "Probably, no a little more than that, the end of June". 
Worked on resolution for a while, hopeful to get it going; agreement speaks to an end date, two points, other than it's a good read:

All parties involved work towards a good faith agreement to live within the confines of this agreement; objective is to get all involved parties around the table for discussion how to do this going forward, how to live within the confines, how this is going to be enforced, and ultimately to no longer have youth housed in solitary confinement for many different reasons – worth discussion, doesn't want to be sued again, can end this if we get together and talk with all the parties

Settlement agreement expires on 10-1-2019; wise for the legislature to adopt a policy that ends the incarceration of juveniles at all county facilities, sooner rather than later, and prior to the end date

Resolution prepared as draft, original spoke only to the Justice Center, expanded to cover any county facility
July 5, 2017
Motion Made By Mr. Ryan                                                      RESOLUTION NO. _________
OPPOSING THE USE OF SOLITARY CONFINEMENT OF YOUTHS INCARCERATED AT ONONDAGA COUNTY FACILITIES
            WHEREAS, persons confined to Onondaga County facilities, including, without limitation, the  Justice Center, are to be treated in a manner consistent with the United States Constitution, and all other laws, rules and regulations, and this County Legislature advocates using County resources toward developing policy, practices and training to protect such persons within the County's facilities, having established the Justice Center Oversight Committee and renewing support for the Onondaga County/Syracuse Commission on Human Rights; and
            WHEREAS, youths between the ages of 16 and 18 are held at the Justice Center, some of whom are awaiting trial, and allegations have arisen regarding the extensive use of isolation and segregation as a means of discipline for youths, beyond what is reasonably necessary for security and safety purposes, where the language used surrounding such detention methods includes "lock in", "administrative segregation", and "punitive segregation"; and 
            WHEREAS, the use of solitary confinement is believed to have detrimental effects on youths, likely worsened by restricted access to programs and services, such as education and mental health assessments; and
            WHEREAS, New York State has prohibited the use of solitary confinement on youths held in its detention facilities and is undertaking measures to reform the manner in which it is used within adult populations; and
            WHEREAS, it is not insignificant that New York State is one of two states within the United States that has not yet raised the age for criminal responsibility, continuing to treat youth at 16 years of age as adults, but if such age were to be raised, youths would not be permitted to be held in the same facility as adults and could not be subjected to solitary confinement in the same manner as adults; now, therefore be it
            RESOLVED, that this County Legislature stands in strong opposition to the use of punitive segregation for youths incarcerated at Onondaga County facilities, including the Justice Center, urging the Sheriff, as keeper of the Justice Center and conservator of the peace within the County, to take immediate action to stop the use of solitary confinement in all its forms (including, but not limited to "lock in", "administrative segregation", and "punitive segregation") and to develop alternative practices to assess the needs of this special and vulnerable population, promoting an environment to safeguard such persons' well-being, including mental health and physical safety, while at Onondaga County facilities; and, be it further
            RESOLVED, that the Sheriff and the Commissioner of Corrections are urged to institute mandatory training for their respective staff members in non-violent conflict resolution and alternatives to isolation, including restorative justice and other rehabilitative programs and services; and, be it further
            RESOLVED, that the Sheriff and the Commissioner of Corrections are urged to ensure that incarcerated youths have consistent access to quality mental health assessment and treatment, as well as quality educational services provided in a classroom environment, where appropriate; and, be it further
            RESOLVED, that the Sheriff is urged to make available information on this situation to the Justice Center Oversight Committee, working with the County Attorney's Office in providing such information, so as not to disrupt or otherwise harm the County's legal interests; and, be it further
            RESOLVED, that the Clerk is hereby directed to cause a copy of this resolution to be transmitted to the Sheriff, to the County Executive, to the Commissioner of Corrections, and to the Executive Director of the Onondaga County/Syracuse Commission on Human Rights on behalf of the Justice Center Oversight Committee.
Chairman May:
Mr. Ryan:
Completely fair, would anticipate Chairman to look through the settlement agreement before offering an opinion on the resolution

Will provide copy of agreement in 10 minutes; also wants to hear from others
Chairman May said, "Certainly", he is not saying we limit that prospective.  He is saying that in order for us to act on policy we have to put some framework around this and some meat on the bone.  He would like to know if the Justice Oversight Committee is the committee we are talking about; may not need a specific committee, may be right up their ally, doesn't know.  Mr. Ryan said that he would like the Justice Oversight Committee, Human Rights Commission, and the community group, that has been working on this, to work in conjunction with the County Executive's office, the Sheriff's department, the Department of Corrections and Juvenile Justice.  There are many moving parts, also have raise the age coming into this; immediate need is this agreement and adopting policy that speaks to this.
Mr. Dougherty:
Mr. Ryan:
Open for any and all feedback, goal is to determine how to advance the resolution, adopt policy and end solitary confinement, how we get there is semantics
Chairman May:
Need to find out when we can get feedback from a planned performance standpoint at the jail; got impression, from Chief Gonzalez, that things were going to be enacted very quickly, but takes time to get information 
For the record, Chairman May said, "Members of the committee agreed to forward comments, issues on the resolution itself, even in advance of what we are hearing from a performance standpoint at the jail, or having read the settlement, and some of the circumstances stipulated may not even have occurred yet.  I know the Chief said there are incentives, punitive stuff, and new policy approaches to all, and we have to cross those bridges to find."  Mr. Ryan interjected saying, "For the record, I also want to say that I do have additional sponsors on this.  This was mine, but since then Legislators' Ervin and Williams are now sponsors as well".
Mr. Kinne distributed copies of the settlement agreement.
Chairman May said that he will find out when Chief Gonzalez can report on this and will communicate with Mr. Ryan.  Mr. Ryan said that he will get insight from some of the other enforcement agencies involved in the good faith agreement, NYCLU, LNCNY, and the plaintiffs' attorneys, and will bring this back.
In response to Chairman May, Mr. Ryan confirmed that the resolution has been through the Law department.
The meeting adjourned at 12:39 p.m.
Respectfully submitted,

KATHERINE M. FRENCH, Deputy Clerk
Onondaga County Legislature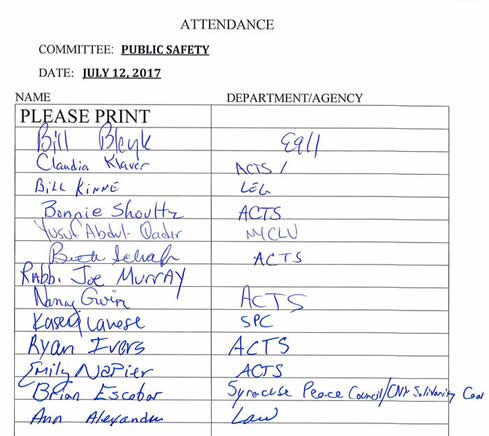 * * *
WAYS AND MEANS COMMITTEE MINUTES
July 24, 2017
David Knapp, Chairman
MEMBERS PRESENT:  Mr. Kilmartin, Mr. Shepard, Mr. May, Ervin
MEMBERS ABSENT:  Mr. Jordan, Ms. Williams
ALSO PRESENT:  Chairman McMahon, Dr. Chase, see also attached list
Chairman Knapp called the meeting to order at 9:02 a.m.  A motion was made by Mr. Kilmartin, seconded by Mrs. Ervin, to waive the reading of the minutes of the proceedings of the previous committee.  MOTION CARRIED.  A motion was made by Mr. Kilmartin, seconded by Mr. May, to approve the minutes of the proceedings of the previous committee.  MOTION CARRIED.
1.    CNY REGIONAL MARKET AUTHORITY:
      a.    Confirming Reappointment of Joann Delaney to the Central New York Regional Market Authority (Sponsored by Mr. McMahon)
Mr. Kilmartin noted that Ms. Delaney has been on the Authority for a number of years, an active participant, and has done a very good job.  Chairman McMahon noted that she is currently the President.  Mr. Kilmartin asked to be listed as a co-sponsor on the resolution.
A motion was made by Mr. May, seconded by Mr. Kilmartin, to approve this item.  Passed unanimously; MOTION CARRIED
2.    EMERGENCY COMMUNICATIONS:  William Bleyle, Commissioner
      a.    A Local Law Repealing the Wireless Communications Surcharge Authorized by Article Six of the County Law of the State of New York; and Imposing the Wireless Communications Surcharges Pursuant to the Authority of Tax Law §186-G
Bill Bleyle:
Seek repeal of wireless communication surcharge currently in place, and imposing surcharge pursuant to tax law

State repealed county law effective Dec. 1, 2017; will impose a new surcharge under tax law

Up until Dec 1, 2017 the surcharge only covered contract based wireless phones - $.30/month since 2004 when the county imposed it

New tax law allows collection of wireless surcharge on both contract based wireless phones, as well as prepaid wireless phone

Prepaid was not covered at the time the law was put into place; it was a very small market share; today prepaid is growing -- estimated at about 30% of wireless market

Counties and state not being able to collect surcharge on prepaids have resulted in wireless surcharged being flat, then going in opposite direction since 2014

If local law is passed, will begin to see the return of some of the wireless surcharge money lost over the years – 2018 levels are estimated to be what was being collected in 2014 

If local law is not enacted, county ceases collection of surcharge on contract based phones effective 12/1/17 -- county law goes away can no longer collect those surcharges – $1 million/year estimate
Chairman Knapp asked if that money goes right to Emergency Communications, and Mr. Bleyle said that it is 100% for operating and expenses.  Chairman Knapp asked if it is a one-time change when you buy a prepaid phone.  Mr. Bleyle said the new law imposes a $.30 surcharge with every prepaid purchase.  Each time you add minutes a $.30 surcharge is collected at point of sale.  It is actually a $1.50 surcharge because the State collects $1.20 on wireless phones.
Mr. May noted that this passed unanimously at Public Safety Committee.  A question was asked if this incremental revenue could offset the cost that everyone is paying by lowering the cost for everyone.  However, because of the market transition, we are just recovering that which has been lost.  The part we collect is going to a very good central service, but can ask where the $1.20 is going.
A motion was made by Mr. Kilmartin, seconded by Mr. May, to approve this item.  Passed unanimously; MOTION CARRIED.
3.    FINANCE:  Tara Venditti, Deputy Director - Management and Budget
      a.    Resolution of the Legislature of the County of Onondaga Increasing Taxes on Sales and Uses of Tangible Personal Property and of Certain Services, on Occupancy of Hotel Rooms and on Amusement Charges Pursuant to Article 29 of the Tax Law of the State of New York
Chairman Knapp noted that the the state legislature passed the sales tax bill allowing the continuance of 1% extra collection by the County.  Mrs. Venditti said that this resolution is implementing the extension of the 1%; it is the last step.
A motion was made by Mrs. Ervin, seconded by Mr. Kilmartin, to approve this item.  Passed unanimously; MOTION CARRIED.
4.    WAR MEMORIAL/ONCENTER:  William Fisher, Deputy County Executive
      a.    Amending the 2017 Onondaga County Budget to Accept Funds from the Empire State Development Corporation's Market NY Grant Program to Provide Improvements at the Oncenter, and Authorizing the Execution of Agreements ($975,000)
Mr. Fisher distributed the following:
WAYS & MEANS COMMITTEE - July 24, 2017
Informational: Capital Improvements Plan – Onondaga County War Memorial
Quick History
Groundbreaking - October 22, 1949, Completed - 1951

Replacement of the War Memorial was actively considered by prior administration

Added to National Register of Historic Places in 1988

Mahoney Administration investments since 2008
Discussions with key stakeholders regarding Onondaga County War Memorial
Discussion with Onondaga County Veterans Service Advisory Board (Mr. John Paddock, chair and board members) on 5/25/2017

Syracuse Crunch (Mr. Howard Dolgon and senior management team).  Discussions and negotiations including meeting on 7/17.
Summary of Veterans issues and County response
Summary of Syracuse Crunch issues and County response
Sources and Uses of Funding
State Senator DeFrancisco – grant opportunity

State Assemblywoman Hunter – grant opportunity

Facility Use Fees

Oncenter Capital Reserve

Facilities Management department capital budget ($1.5 million in bonds for Oncenter projects 2017-19)

Operating Income from lease

Food & Beverage concessions

Sponsorship sales, including "Name-in-Title" rights for Arena (the rink, not the Onondaga County War Memorial itself)

Advertising revenue from marquees, LED screens inside arena, LCD TVs in Concession Areas

Syracuse Crunch contribution toward CapEx

New (or amended) Bond Authorization by County Legislature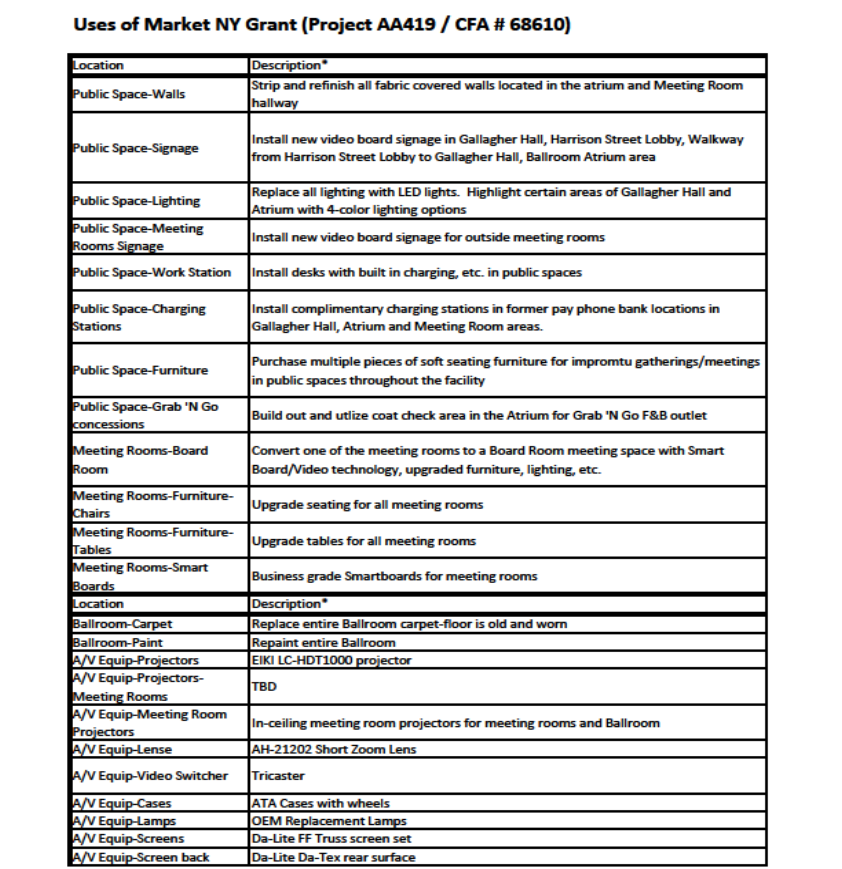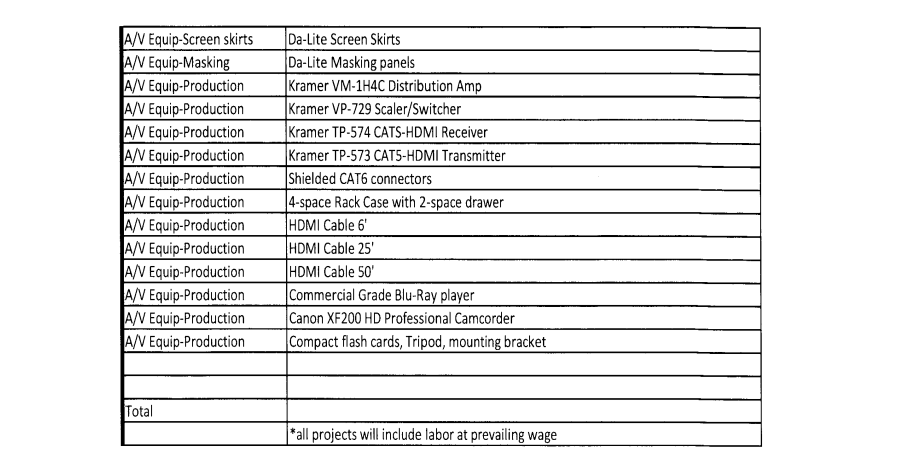 $975,000 awarded to county last year in round 6 of Regional Economic Council, Market NY grant, administered by Empire State Development – application made for upgrades at Oncenter; SMG put together a list of things which was made as part of application

General idea is to bring it up closer to what is seen at convention center headquarters hotel, Marriott Syracuse Downtown

$73 million was put into hotel; meeting space is modern, has amenities that people are looking for – i.e. informal networking spaces, video in hallways, WiFi, charging stations, open/bright areas, easy access to outdoors, etc. - market no longer has people coming into a room and sitting for 2 hrs. and not interacting

SMG's proposal was to upgrade public spaces, charging stations w/furniture, Grab 'N Go concessions; upgrades board room and meeting rooms, technology upgrades, carpeting, paint, etc.

Division of Purchase will have to issue bid specs – will be purchased with county dollars and reimbursed from grant
Chairman McMahon referenced the bowlers coming to the Oncenter in 2018, a really big deal.  These types of upgrades are needed; thousands of people will stay in the community, many at the Hotel Syracuse.  They will see the amenities there and spend most of their days in our facility – need to keep up with the times, especially to attract businesses.  This is a great opportunity, as it is grant money--state taxpayers' dollars, not local dollars.
In answer to Chairman Knapp about the timeframe, Mr. Fisher said they are ready to put bid specs out within the next 30 days.  Depending on how long it takes to order, receive, and install, a good portion should be ready before the bowlers get here. 
Mr. May said that is good; the rationale is good – have to be competitive and accommodating to make this place marketable.  He asked what the link is to the War Memorial arena at this point.  Mr. Fisher said that this is a matching grant.  The state agrees that it is part of the Oncenter; all of those facilities qualify as our match.  We do not have to put anything in towards this project at the convention center.
Mrs. Ervin asked if there will be a number of things done at the War Memorial as well.  Mr. Fisher said that there will be, and also at Civic Center theaters and Oncenter garage.  Some things were in the CIP; some things that were not part of the CIP plan, but are part of the discussions/negotiations with the Syracuse Crunch and veterans.
A motion was mad by Mrs. Ervin, seconded by Mr. Kilmartin, to approve this item.  Passed unanimously; MOTION CARRIED.
      b.    Informational:  Capital Improvements
Mr. Fisher noted that the County Facilities Committee had been briefed.  He distributed and reviewed the following: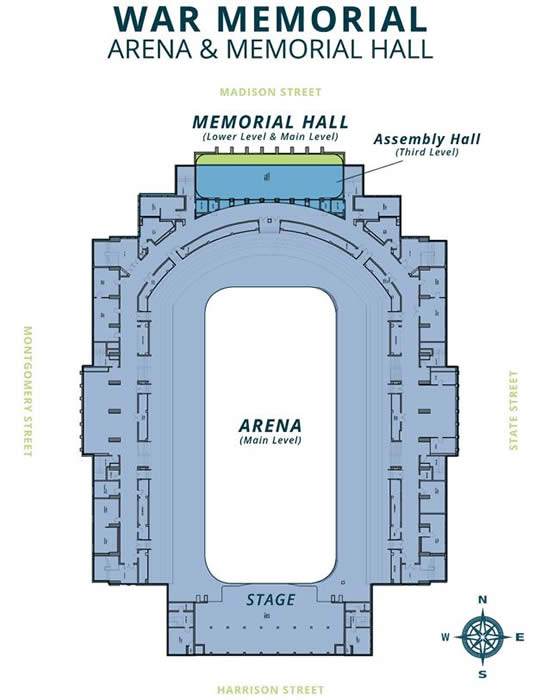 War Memorial is not just the arena; Memorial Hall is a separate area

To sell naming rights – corporate sponsor would not get any naming rights to Memorial Hall

During Pirro administration there was discussion about taking the War Memorial down – veterans groups thought that was a horrendous idea

At one point there was discussion about leaving Memorial Hall alone and taking down the arena – also decided against

2008 – legislature authorized bonding for $9.8 million; 2009 amendatory bond resolution added to the

War Memorial

Co. executive and legislature have been making investments needed to keep the War Memorial arena, Memorial Hall, and Assembly Hall at functional level

Suites would not be in Assembly Hall – on wall between Assembly Hall and Arena

Crunch was the most public driving force behind changes; equally veterans have expressed strong interest in seeing improvements; listened to Crunch as the most important lease holder, but first and primary stakeholder is the veterans

Fantastic memorial for WWI and WWII veterans; not as complete for anything after War Memorial was built

May – met with Onondaga County Veterans Advisory Committee, Chaired by John Paddock – they produced list of things they would like to see – kiosks, displays – modernize cases, and experience of veterans at the War Memorial – wheelchair access, ceremonies with overflow – discussed having an overflow room with video

SMG is supposed to keep subsidy at $1.3 million – have had challenges – have applied business type pricing and offers consistent discount for nonprofits

Veterans believe they shouldn't be treated as another nonprofit, and should be able to use the place for free; some prohibitions about giving away water, soda, and direct labor that goes into an event

No clear and consistent policy on how to price for veterans

At May meeting, agreed to continue to consult with Veterans Advisory Committee

Discussion with Crunch picked up; introduced Howard Dolgon to John Paddock – making sure that Mr. Dolgon understood the importance of what the veterans were saying

Are focused on fan experience, but need to do it in a way that is very sensitive, responsive to the veterans

Has described to veterans that this will be an expensive project; learned from amphitheater that the sponsorships sold often include naming rights – not separate anymore

Crunch wants to make sure that whatever we are doing fits into sponsorship rights that they have

Veterans did not say this was a good idea, but did not say it was a bad idea – understand the areas where a corporate name would never be put on and the arena where people pay money, watch a score board and may be willing to be receptive to corporate messages; corporations perhaps paying some money to reduce burden on taxpayers for the capital expenditures

Veterans currently don't see any quid pro quo because corporate sponsorship will never pay for any of the things that the Veterans would like – improve experience of people that come to War Memorial and learn about their service
Chairman McMahon clarified that they have been working with Senator DeFrancisco's office for a grant for capital improvements for veteran related issues and some more concourse-related improvements.  Hopefully there will be an announcement in the very near future. 
Mr. May said that from between the release of the agenda and this updated document, there are a lot of different sources of revenue, ideas, to advance all of these concepts.  He asked when there will be a budget, timeline.  He knows that some of the numbers are not going to be known, but even seeing it collaboratively would be helpful to put this into context and prioritize with respect to this project, attendance, and veterans' requirements.  In answer to Mr. May regarding when detail would be seen on all of this, Mr. Fisher said "that it depends on what level of detail you want to see and level we feel that you need to see."  He said the veterans are ready to come forward with some specifics; state legislature is interested in helping.  Senator DeFrancisco and Assemblywoman Hunter are looking into SAM grants as a source of funding some of the improvements the veterans are looking from.  Mr. Paddock's committee has formed working groups and has provided a list of what they are interested in.  Mr. Fisher said that within a couple of days, he could get a rough budget together on how much would be spent on veterans' improvements at the War Memorial.  He is sure it can be provided before the August 1st session of the legislature.  Mr. May said that he is not necessarily saying it's a rush; it would be nice to put all of this into perspective.
Chairman McMahon said that part of what has been worked on for quite some time is completing a whole capital plan for the needs at the War Memorial, and what those needs are to our constituencies – veterans and anchor tenant Syracuse Crunch.  Some of the needs are immediate for the facility, some are near term needs for the business operation of the Crunch.  Similar to what was done with the baseball team, we looked at the lease and made concessions to help that team, we have asked for things from the Crunch.  A scoreboard is needed – one third of it doesn't work – facility use fees are collected that are supposed to go to offset that.  Our facility is one of the only facilities in AHL Hockey that doesn't have any suites.  Suites are important because they generate revenue – it's an operational and business need.  To offset the business need, more commitment is wanted from the Crunch.  There is 7 years left on their lease; initially the thought was to get 3 more years.  That has changed – are very close to getting a deal for an extra 5 years – 12 years of hockey commitment.  In the event the team were to leave, there would be club asks on investments being made that benefit the team.  This is talking about certain improvements to the facility, improvements for the veterans, new scoreboard, and suites within the next 44 months.  This is a way to pay for some of it now; it is still working and evolving, but will probably receive at least $1 million from NYS; can probably finance some of it with the extension of the lease; naming rights revenue, and there will be bonding brought before the legislature.  Mr. May said that it makes perfect sense – we have to invest and need assurances.  Being able to put all of this into context – financially, from a business and operations standpoint, and community standpoint – would be nice to be able to have a picture of what is going on.  He said that his picture is what the news articles say about what the Crunch says we need and what the veterans say we need.  
Mr. Fisher said that the bond resolution would be a last recourse, but does think it will have to be used.  It would likely come to committees in August.  Regarding the lease with the Crunch, there are opportunities for increasing revenues.  If revenues increase, then can negotiate over shares revenues and who shares in the expense side.  We don't want the operating performance of the War Memorial to be any worse off when done, but if we can make it as good or a little better, then it might even go back into capital expenditures. 
Dr. Chase asked if there are rules for who we would accept for naming rights.  Mr. Fisher said that the Law Department advises that if a sponsor were to put their name on the arena, approval should be sought from the legislature.  Dr. Chase asked if it would be left open to anyone who wanted to put their name in the pot.  Mr. Fisher said that found at the amphitheater, and what the Crunch has expressed, is that the sponsorship of the other things in the arena, where the real value is the games that the Crunch puts on and the audience they bring, that they want to be part of that conversation.  They wouldn't want some RFP or outside expert on naming rights to be doing things that are at cross purposes to what they are doing.  At the amphitheater, Live Nation puts all of their money at risk to bring those concerts – wanted to have a part in the sales of sponsorship rights, including naming rights.  The law department is looking into what relationship there could be between the lease and the lessee and lessor with respect to naming rights.  Dr. Chase questioned if there are any categories of potential sponsors, that wouldn't be considered.  Mr.  Fisher said that the county executive would never accept tobacco as a sponsor.  It was written into the agreement at the amphitheater.  Dr. Chase asked about alcohol.  Mr. Fisher said that he wouldn't comment, but added that the Toronto amphitheater is the Molson's Amphitheater.  If Anheuser Busch wanted to put their name on the county property, he doesn't think we would say to them "we are not interested in talking to you." 
Mr. Antonacci reminded the committee that his office did an audit on naming rights, and it is on the website.  He pointed out that he would advocate that any naming rights be RFP'd so that it can be properly valued.  Regarding Dr. Chase's question, he thinks the issue is whether you will find it as "a donation" to put your name on a building, or if it is actually an RFP to procure the best price for that facility.  Without state law approval, it would be the Comptroller's opinion that this could potentially be illegal.  As part of any grant, he suggested that State approval be secured for any ability to name a building.  Mr. Antonacci said that we learned from the Chiefs that there could be conflicts within the naming rights – i.e. NBT requires that no other banks have any signage within the facility.  He urged everybody to make sure they work with the Crunch with the naming rights for whoever is the successful bidder to make sure there are no conflicts.
Chairman Knapp asked how the process worked with NBT, and then going back to Alliance before that (at the stadium).  Mr. Fisher said that Mr. Kochian went and cut a deal with P&C.  Mr. Antonacci said that when they did the audit, they were advised that as part of the State financing, permission was granted for that naming right for that facility. 
Mrs. Ervin asked which veteran's group is being consulted with.  Chairman Knapp said that there are two groups – the County Executive has one, chaired by Admiral Paddock, which he sits on it as the legislature's representative.  The legislature has its own, which he chairs, set up by Chairman McMahon.  He plans to call a meeting of that group soon.  Mrs. Ervin said that should happen as soon as possible; want to be sure when we refer to "the veterans", it is veterans in concert.  Chairman Knapp agreed – wants to be sure we are all pulling in the same direction.  The more thoughts, the better ideas we will have.  He noted that Admiral Paddock does a wonderful job of leading the group and has the best interest of veterans in mind.  Mrs. Ervin said that she is sure that he does, but there may be concerns not covered by his group.  She thought that was why our group was formed; that group hasn't met in a long time. 
Chairman Knapp referred to the more basic things, i.e. bathrooms, and asked if that will be part of this plan.  Mr. Fisher said "yes" and added that there are some things that may be done as normal business as usual.  There is probably going to be some improvements made to the bathrooms, regardless of whether we put additional money in.  Lighting is another example of that.  He explained that the legislature is typically asked for $250k per year for the capital reserve for Oncenter, in addition to the $1.3 million subsidy.  The source for both is room tax.  The $250k is a source for improvements for capital repairs to bathrooms, etc.  Facility use fees are collected – prior to this year it was $1 on Crunch tickets.  This year some tickets had a $2 facility use fee, which is how the Crunch changed over to how they pay for their scoreboard contribution -- they made a commitment to put $200k into it.  It was $20,000/year for 10 years; this is year 8 and they proposed bumping up the FUF so it didn't come out of pocket at $500 per game.  The third source of capital spending, which can go into routine repairs, is the $1.5 million in bonds – legislature authorized 6 years ago.  Roughly $500,000/year was spent in 2014, 2015, 2016.  Last year another $1.5 million was authorized.  There is $1.5 million backed by bonds, which includes the replacement of the marquees.  In the CIP they were $850k.  Bond funds usually aren't' available for capital repairs – bond counsel typically looks for a period of probable usefulness that is longer than you get with repairing bathrooms.  Mr. Fisher said the SMG carefully budgets--they do a 10-year, 6-year, and 18-month budget.  They are always using the money that comes through to be eligible to be spent on capital repairs and maintenance.  If something bigger were to be done, to really modernize the rest rooms, we would probably need to find some other sources of funding. 
Mr. Fisher said that in 2008 the ribbon lights were replaced, approximately $600k spent on it; the score board was at least that much, and the marquees budget was $850k.  An RFP was put out for the marquis combined with all LED displays within the arena.  Very favorable pricing came back – will be replacing the center home scoreboard with four panels with ring a underneath, larger panels, high definition, cameras driving displays.  Will replace the four ribbon lights; looking at replacing 11 exit portals.  Those rights have not been given away in a lease yet – opens discussion of who shares in the opportunities to display advertising on those panels.  He noted that at the amphitheater, the county retains some of those rights on the 5 panels, which generates revenue for us.  Also are looking at six LED panels hanging off of the press boxes – tied into the same system so sponsorships or advertising rights should be worth that much more.  If the lease gives us rights to share in the revenue on that, it could be as source of funding for the capital expenditures.  Replace marquees that accommodate LED panels – State and Montgomery Street entrances, will call – corner of Madison and Montgomery Streets; outside of Civic Center theaters, and a panel on the Nicholas J. Pirro Convention Center facing the parking lot --all within the budget set for marquees and scoreboard.  With revenue opportunities, leaning very strongly on replacing all of that, and is interested in feedback on that idea.  Some are in the RFP as add/alternates – can award RFP without doing it.  SMG is recommending going forward with it based on the RFP that came back and look to generate revenue off of it.
Mr. Fisher referred to the suites and an upgrade to Assembly Hall.  Assembly Hall is far from the VIP experience that you get at the VIP Club at the Amphitheater.  Can make it a better space for veterans to use, and a place that prior to games and intermission can sell food and beverage.  More revenues can be generated by selling food and beverage to folks that are renting suites and buying tickets from the Club.  If this is a VIP Club at night, we will very sensitive that it still needs to serve as the veterans meeting area during the day.  Will be consulting very carefully with them regarding any upgrades that go into that.
Mr. Fisher said that Senator DeFrancisco is very interested in supporting veterans and changes supporting the Assembly Hall.  He is not at all interested into funding going into suites.  Some of the funding will have strings attached.
Chairman Knapp said that he thought the marquees were already in the plan to get installed; asked what the timeframe is.  Mr. Fisher said that it is part of one RFP – hopeful to get all of the LED's inside the arena and LED's for the War Memorial done, before the first game of the hockey season on Oct. 7th.  It may be that the marquees for the other two building lag slightly.  The suites will not get built this year – looking at 2018/19 hockey season when they will be available.  He said that Assembly Hall probably won't be touched, as it will have to be a staging area for the suites construction.  Assembly Hall improvements will probably be done last.
Chairman Knapp asked if a basic look has been made from an engineering standpoint, as it has to be tough.  Mr. Fisher said that it is very tough – internally architects have looked at it.  They have also used a term contract with Bell & Spina to get specifics on structural steel that would need to be added to extend the support on the other side of Assembly Hall, above the seats, to build 6 suites with approximately 16 seats each.  It will be a 96 – 100 seat sitting out over the current seats – it is a structural wall, and there is quite a bit of expense just in tearing hole in the wall, creating a view out onto the ice.  The suites are not as big of an expense compared to the structural changes needed.
Mrs. Ervin asked if any of the work that the veterans want will be done before Veteran's Day.  Mr. Fisher said that certainly some of the work will be done this year before Veteran's Day, but anything done to Assembly Hall will probably wait until after this hockey season. 
Chairman McMahon said that he has attended games, and has been to other games in other areas.  There has been a lot of talk of a new stadium for the Crunch, but feels that this venue is the perfect venue for the fan experience.  It gets loud – it is a great facility for a hockey game.  It needs upgrades.  From a competitive standpoint there has been a lot of movement with the AHL – Albany lost their team to Binghamton; Binghamton lost their team to a Canadian team; Glen's falls is nervous.  There is a lot of competition; there are are markets looking for teams.  We are lucky to have the Crunch for as long as we have – this deal locks them in for 12 more years.  It is a good move for the community, especially with the success they have had recently and the fan base that we have here.
Mr. Fisher reiterated that they are looking for feedback from the legislature and its leadership.  If we are going to put this kind of money in; if the Crunch is willing to add 5 years to their lease, with a fall back that if they don't stay things will happen, we need to know that the legislature is on board with 12 years at the War Memorial.  We are not going to be looking to do something else with that building, looking for another place to build a hockey rink.  We are going to make the investment not only to keep it up to code, but to actually make it a competitive place for the team, and an enjoyable place for the fans of not only hockey, but Syracuse Silver Knights, high school graduations, Disney on Ice, and perhaps OCC club hockey.  "If someone thinks this will be a 4 or 5 year thing, that is not what we are talking about."  It is a 12 year commitment – will invest and amortize those investments accordingly.  He asked if there are any qualms about it, to please let him know before the lease goes forward.
Mrs. Ervin said that she is in favor of it, if is going to be in concert with what the veterans need.  She said that her sense of the War Memorial is that it is a building that veterans hold.  She understands that improvements can be made in the arena to keep the Crunch there, but we can't compromise what the veterans need.  "If anything comes to that point, I won't vote for it."  She said that the veterans come first.
Chairman Knapp said that he had heard that the the problem with Albany wasn't that the crowd was so bad, but the arena was so big that it looked empty even when there was a decent crowd there.
5.    PURCHASE: 
      a.    Revenue Contract Report - NONE
Chairman Knapp asked about the kiosks for the veterans.  Mr. Trombley said that there is a new diorama coming -- a Gold Star Mother.  It was designed by the same company that has the other dioramas at the War Memorial.  It required a special case to maintain it.  He expects it will be installed in the early Fall.  Additionally, there was funding set aside for upgrading the technology, allowing for stories to be told about the veterans within the building, which is in process right now.  The Veterans Committee is determining what information they want delivered.  Then the technology may be acquired to support that information – whether it is static or if they want it to change.  Chairman Knapp said that we are pretty much out of physical room to add significant conflicts, campaigns, battles, etc.  Kiosks are seen in Washington, where one can punch in what they are interested in and get the information.  It is a lot of work to put it all together.
6.    MISC.
      a.    Informational:  Opioid Litigation – Chairman McMahon, Chairman Knapp
Chairman Knapp said that some significant counties in New York State have started litigation against the opioid manufactures for some of the cost that we are all incurring.  He said that he reached out to the county attorney a few months ago, and thinks Chairman McMahon and some other legislators did as well, to get more information on this and how to go about doing it.  A few weeks ago, one of the two primary firms that are handling this met with Chairman McMahon and himself.
Chairman McMahon said that we are going to sue the opioid manufacturers and distributers in the county.  He said that right now there is a process of making a decision as to which counsel to join.  There are essentially two sets of attorneys that counties are looking at which have specific experience in this.  Regarding the other counties that are doing this, it looks like the hearings will be consolidated into Suffolk County.  He said that we are working with the Law Dept. to procure the right attorney with the right terms.  This is a crisis that every community throughout the country is facing.  It is a different type of crisis; not your traditional urban poor drug crisis – it is a crisis driven by pills.  Once the pills become too expensive, the cheaper variety is heroin.  He said that he doesn't know of anyone in CNY that doesn't know of someone who has been impacted by this; it has impacted his family greatly.  As a county, we are trying to figure out what the costs are to our community.  He hopes to have more details in the near future.
Dr. Chase clarified that this is going after pharmaceutical companies.  Chairman McMahon agreed and added "and distributers."  Many other companies have done this.  Chairman Knapp said that Oswego just announced it.  Chairman McMahon said that Erie, Genesee, and Suffolk are with one law firm; Nassau and a couple of others are with another firm.  Most of the firms take this on with a contingency basis; there are some costs associated at the back end of it.  The law department is negotiating and making sure that the costs are staggered.  It is something like what communities went through with the tobacco litigation--thinks we have a very good case. 
Dr. Chase said that the new rules are that prescriptions are only good for 30 days, and then you have to see the provider to get them, but it doesn't seem to have really slowed down the problem.  Chairman McMahon agreed and said that there are some bad actors.  Regarding the distributors, he gave an example of a county in Florida where a handful of folks were on a medication, but the distributors were selling crazy amounts.  Chairman Knapp said that enough opioids were shipped to that county in one month that could give every person who lived in the county a pill a day.  Chairman McMahon said that the distributors have a fiduciary responsibility, and that was a clear example of them abusing it.  That is what triggers the heroin; it is becoming like synthetic marijuana where there are different doses and different things getting into them.  The drug dealers are very sophisticated and now there is an epidemic.
Chairman Knapp said that the big challenge is going to be coming up with a number on the damages because it is everywhere.  Foster care numbers are through the roof, our piece of Medicaid, emergency response folks from 911 to the folks on the ground, Narcan, jails, emergency responders responding to overdoses while somewhere someone is having a heart attack. 
The meeting was adjourned at 10:08 a.m.
Respectfully submitted,

DEBORAH L. MATURO, Clerk
Onondaga County Legislature