WAYS & MEANS 2013 BUDGET REVIEW OF WAYS & MEANS DEPARTMENTS
September 25, 2012
CHAIRMAN DAVID KNAPP
MEMBERS PRESENT:  Mr. Kilmartin, Mrs. Ervin, Mr. Stanczyk, Mr. May
MEMBERS ABSENT:  Mr. Jordan, Mr. Holmquist
ALSO PRESENT:  Mr. McMahon, Mrs. Tassone, Mrs. Rapp, Mr. Plochocki
Chairman Knapp called the meeting to order at 9:20 a.m.
COMPTROLLER, pg. 3-5 -  James Maturo, Deputy Comptroller - Accounting; Phil Britt, Deputy Comptroller – Auditing; Tara Venditti, Budget Analyst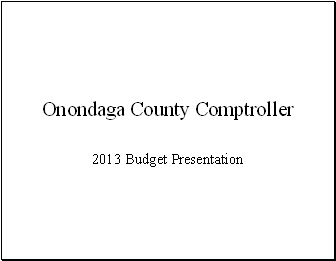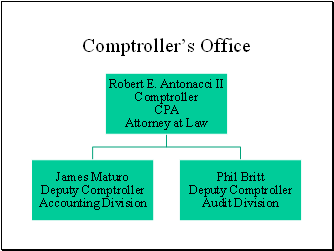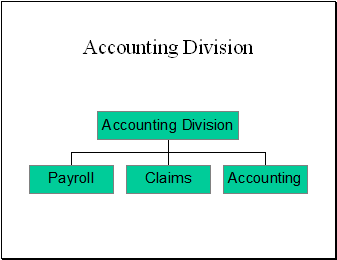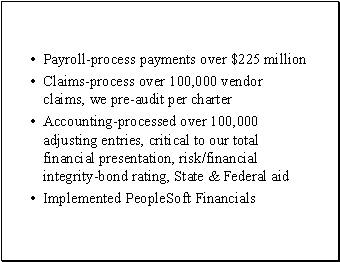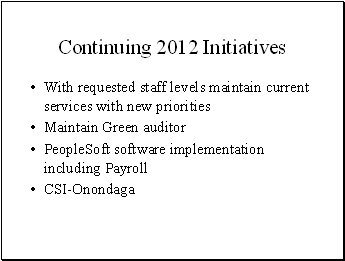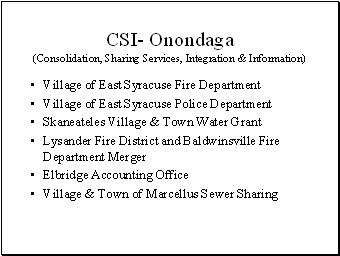 Mr. Maturo:
Accounting Division – 3 sections:
Payroll – payroll for County
Claims Payment – pays vendors for County
Accounting – internal accounting system, produces year end financial statements to NYS, produces audited financial statement
Internal Audit Division – Performs department audits; specialized programs, i.e. dedicated auditor to the green project; works with consolidated shared services and integration – CSI Onondaga; prepares single audit per federal regulations
Majority of both budgets are made up of salaries:
Accounting:  26 approved positions; 24 filled.  The only increases are due to raises

Auditing:  9 approved positions; 9 filled
Increases to 408 acct:
Accounting – every 2 years need to have post-employment retirement benefits appraised

Auditing – $15K increase over last year's budget – dedicated to CSI Onondaga.  Last year it was in the appropriated fund balance resolution.
FINANCE ADMINISTRATION, pg. 3-118 – Steve Morgan, CFO; Peter Seitz, Deputy Director, Management & Budget; Don Weber, Real Property Tax Director; Emily Tische, Budget Analyst
Mr. Morgan presented the following:
This unit has a number of distinct responsibilities. 
It collects delinquent taxes and other revenues owed to the County, and then manages those funds until they are needed to pay bills.
As a part of our tax collection responsibilities, we also run an installment program for the repayment of back taxes and, as the last step in the enforcement process, we auction tax delinquent property.
The Finance Department also administers the real property tax system in Onondaga County, maintaining tax maps on behalf of the City and all of the towns, preparing assessment rolls, and tax bills, and providing expert advice and guidance to area assessors.
The Finance Department is also charged with issuing and managing debt authorized by the Legislature.   Joan Ferrara handles that, along with managing our cash.
With our stable finances we've maintained our strong credit rating—one of the best ratings of any unit in government in the United States.
The proposed budget to support those functions is $2.3 million—with $1.1 million in direct expenditures and $1.2 million in indirect appropriations.
Our personnel costs—salaries and fringe benefits—represent slightly more than 67% of the entire Finance budget. The 101 line is increasing due to funding a Tax Map Tech 2 to comply with state law which requires us to prepare and keep current our tax maps. Failure to be current adversely impacts the timely filing of Town Assessment Rolls and the equitable distribution of the property tax burden on County property owners. 
Most of the rest of this budget goes for expenses tied to our tax enforcement programs—to advertise delinquent properties and the auction, pay for title searches and process serving fees, and so forth.
Looking at the larger accounts, the 408 line is the same as the adopted this year, with $19,000 used to maintain our on-line tax and assessment system and $4,000 for process serving fees.
The 410 line goes to pay for tax sale and tax auction legal notices, and to title search expenses.
And the 413 line pays for copier costs. 
Revenues are also generally in line with this year's levels except for interest on investments which continue to struggle.
I can go through these very quickly.
The "non-real property tax" item is the Finance Department's charge to the Room Occupancy Tax for the collection and enforcement of the Room Tax. This is the same as 2012.
The 030 Account is primarily made up of fees charged to delinquent taxpayers to cover the administrative expenses of tax collection and enforcement—for the cost of legal ads, title searches, certified mailings and staff time we spend to
collect back taxes. 

The 040 Account is the revenue we receive from towns, villages and school districts to maintain their tax rolls and print their tax bills.  We charge them $2 per parcel.
The 050 Account is essentially a portfolio management charge by Finance for investing and managing the County's funds.  The money comes from interest earned on those funds, and is used to offset the cost of the Finance Department's Treasury function.
The 056, or Sales of Property Account, is the amount of money we receive from the tax auction in excess of the amount of taxes due.  If, for example, we sell a property for $1,000 that has $800 of delinquent taxes on it, the $200 excess is deposited into this account.  The account also includes $2,600 in tax map sales.
And last, the 057 account contains fees for administering tax installment accounts plus wire transfer fees and unclaimed accounts.  It also includes a charge to the Tobacco Securitization Corporation for costs we incur to administer the on-going administrative tasks of the securitization.
Our large interdepartmental revenue account is our charge to WEP and the Water Board for preparing their tax bills.
Mr. Stanczyk said it is a perfect time to bond and take advantage of refunding.  Mr. Morgan said that they will be pursuing it; a few months ago $20 million was refunded. 
In answer to Mr. Stanczyk, Mr. Weber said that there is a general feeling in the department that there has been an increase in delinquency for the current year.  He will provide the exact number, but does not think it is astronomical.
Mr. Stanczyk asked about the land bank; there has been suggestion to give County property to them.  Chairman McMahon said that he has had the same line of questioning with SOCPA, Mr. DeMore, and Mr. Fisher.  There is concern that we are reading about this in a newspaper, when the legislature is being asked to appropriate it.  He asked Mr. Fisher to address this.  Mr. Fisher said that they don't have anything to bring to the legislature at this point.  The Common Council asked Mr. DeMore about what the County is looking at.  Mr. Fisher said that the County is looking at parcels in towns and villages, that the County makes the towns, villages and schools whole even though there is nobody to pay taxes.
Chairman McMahon noted that there is $586k in the 2012 budget and questioned what the year to date number is, noting it is fair to be conservative with the number but it probably won't be any worse than this year.  Mr. Morgan said that it will be roughly within the range budgeted; it is a little conservative.
Chairman Knapp noted that other employee wages is up nearly 3 times since 2012 modified.   Mr. Morgan noted that it is for a part time delinquent tax clerk to help with collections. 
Mr. May asked about the additional position.  Mr. Morgan said it is a tax map tech 2; it is presently filled; it is a mandated responsibility, not a mandated position.
Division of Management and Budget:  
The budget for the Division of Management and Budget supports both the Budget Office and the Office of Risk Management and can be found on page 3-125.
As you know, the Budget Office is involved in the preparation, monitoring, and enforcement of our now $1.25 billion budget.  We also prepare the County's six year Capital Improvement Plan.
You've already heard from Mark Stasko about the work done by our Risk Management Unit.
The DMB budget is very simple.
Personnel and intra-governmental costs represent 98% of our total costs.  The remaining 2% goes for supplies, travel and training, and a copier lease. The 101 account is increasing due to finalizing letter of distribution adjustments not addressed in the resolution passed in June. Salaries will be charged back to user departments accordingly.
Our budget also proposes a one-time expense of $250,000 for assistance with a core service review.
This review will assess all County programs and services through a core ranking filter to determine their place on the continuum of mandatory to discretionary.
Once placed on the continuum, a comparison of the current service levels of the programs against established service standards set by legislation, funding sources, or industry best practices will be conducted.
At the same time, service delivery approaches will be analyzed to determine whether the service is being provided in the most efficient manner possible.
The ultimate goal of this review is to provide the County with the necessary information to make informed decisions regarding the services it wishes to provide, at what levels and the delivery approach.
This process won't be completed overnight, but being faced with continued fiscal uncertainty and pressures, we must approach how we budget, fund, and operate programs differently.   
The budget supports 17 funded positions—11 in the Budget Office and 6 in Risk Management.  
If you have any question about the DMB budget, I'd be happy to take them now.
Chairman McMahan referred to the cost of the core services review, $250k, and asked if an RFP has been done.  Mr. Morgan said an RFP has not been done.  Some research was done; City of Toronto took this approach; Sean Carroll determined what it might cost initially to do the initial review.  If approved, a formal RFP would be done and let out.  Chairman McMahon noted that throughout the budget there are a lot of studies; he has a problem with the numbers being thrown out.  He feels that if it is known that these studies are wanted, why wouldn't the RFP process be done; park it away and then once there is an RFP, the cost is known.  The legislature is being asked to approve things, which they may want to approve, but will want to approve things for the actual cost.  Mr. Morgan said that the time and energy to go through the process is something that has to be considered as well.  If there is an indication that something might not be supported, that leg work takes a lot of resources. 
In answer to Mr. Stanczyk, Mr. Morgan said that it actually isn't a study; it is digging into the programs and services that the County offers and operates and determining where they fall on the continuum – is it mandatory to do the service; what law mandates it; at what level is it mandated; what level is the County providing it; what resources are being put into it to get the outcomes expected, and what is the delivery approach.  He feels it would serve the county well to inventory its programs and go towards the path of funding programs that are achieving the outcomes that are expected and are being achieved in the most efficient manner.  It will be an ongoing process; asking for an initial boost and resources to get it off the ground; he will be asking for $250k every year to do it.
Chairman Knapp noted that training and travel was flat over 2012, but up about 300% since 2011 actual.  Mr. Weber said that there are a number of classes he has to take for certification as real property tax director--thinks there are only 2 more classes that he is required to take.
COUNTY GENERAL - pg. 3-46
Mr. Morgan:
Budget includes funding for CVB, Erie Canal Museum, OHA, Counties memberships and dues, contribution to village infrastructure fund.
5700 account, $5.89 million for:
Village infrastructure fund - $4 million

CVB - $1.7 million

Center State CEO - $25,000

Syracuse Nationals - $22,500

Proposal for host fee for AAA All Star game - $125,000
5956 account:
Funding for OHA, an increase of $75,000  

Increase proposed to support OHA for operation of the St. Marie Museum, under condition that OHA would first demonstrate that it had raised the same amount of funding as a match

County Executive is prepared to propose the same amount in 2014 budget, after which OHA would be expected to operate without ROT support
5957 account:
9410 account – all other lines:
County wide memberships

Dues for NYSAC, NYS County Executive's Association

Audit fees for county's deferred savings plans

Other countywide expenses
Revenues:
0005 ROT – required to fund CVB, OHA, Erie Canal Museum

0030  Co. Svcs. – general support – monies collected from 401B plan vendors to cover cost of plan audits

0057 Misc. revenues – includes right offs for stale dated checks
OnCenter Revenue Fund – pg. 3-49
New fund created following the decision to hire SMG to manage the Oncenter

Budget of $1.75 million; includes $1.5 million for Oncenter subsidy, including SMG management fee and $250k for capital improvements
In answer to Mr. Stanczyk, Mr. Morgan said that current ROT fund balance is approximately $400k; assumption that it will be on budget this year in terms of revenue that will be brought in.  Chairman McMahon added that the 2012 ROT revenue was budgeted at $5.3 million; 2013 is $5.7 million.  Mr. Fisher noted that last year ROT had a surge from the lady bowlers; exact forecast for this year is $5.4 million – forecasting an increase of $250k for next year.  It is a little ahead so far this year; last year closed the books with $289,943.  In this year's budget there was $204,465 in unappropriated room tax – taken away from Symphony, after giving $200k to Alliance Bank scoreboard.  There is pending legislation that may use some of it.
Mr. Kilmartin asked what the 2011 ROT actual is.  Mr. Morgan said that it was nearly $5.8 million.  Mr. Kilmartin said that it came down to $5.4 million this year without the bowling tour or any other big event.  He referred to the projection going to $5.7 million and asked if there is a natural trend, an improvement to the economy or any other significant factors.  Mr. Fisher said that this year they took the room tax reporting and forecasting was done on seasonality, room supply, etc. They are comfortable that $5.7 million will be seen next year. 
Chairman Knapp referred to all other expenses account, and questioned the other county general and promotion expenses for $17,350.  Mr. Seitz said it is miscellaneous expenses:  deferred comp audits, IRS audits, memberships, etc.
COUNTY WIDE TAXES– pg. 3-53
Mr. Morgan:
This page depicts our estimates of property tax, sales tax, and anticipated use of fund balance incorporated into the 2013 budget.  $4.5 million of fund balance was required to balance the 2013 budget and $2.5 million was incorporated as a place holder for savings anticipated from healthcare plan re-design. 
The first line item includes our proposed property tax levy, adjusted by estimates of unpaid current year taxes and payments of delinquent taxes.  Our estimates for deferred and uncollectable taxes as well as prior year tax collections are based on historical data.  We anticipate approximately $11.9 million of deferred and uncollectable taxes and $6.7 million of prior year tax collections in the 2013 budget.
The property tax levy is $148.2 million, exactly the same as the 2012 levy.  As you know, this levy amount does not cover the cost of state mandates our taxpayers are required to pay.  In fact we are short approximately $31.8 million, which has to be made up with a portion of our sales tax distribution. We have budgeted a grand total of $395.5 million of local dollars in the 2013 general fund budget. I detailed where our local dollars go during the CE's budget presentation. 
The second line labeled "Non real Property Tax Items" is our $245.5 million estimate of sales tax revenue.  We estimate 2012 sales tax collections will finish 4% higher than 2011 actual collections.  This budget assumes sales tax growth of 3.43% above our estimate for 2012.  As you know the percentage of sales tax being retained by the County from both the 3% portion and the 1% portion is increased from 72% in 2012 to 75% in 2013.
The last line is the required fund balance needed to balance the 2013 budget. Also included here is the $2.5 million I spoke of earlier related to Healthcare plan re-design savings.
Interfund Transfers are on page 3-56.  These are simply the transfer of general fund dollars into OCC, the Road Fund, Library and so forth.  It is the local dollar portion of those budgets.  You reviewed these items when you reviewed the budgets for Transportation, OCC, Library, and Aging.
The debt service portion is the amount needed to cover debt for OCC and Oncenter complex. 
041 Revenue is decreasing $400,000 as a result of reduced capital cost chargebacks available relating to the students from other counties attending OCC. This reduction is due to the use over the last two tears of an accumulated surplus of funds built up over the last 3-4 years. This is now being budgeted at $500,000 which is the projection for 2013.
Interdepartmental revenue on line 060 is the offset to indirect costs which is prepared by the Comptroller's office.
Chairman McMahon asked about the decrease in chargeback for OCC; noting it is contrary to everything OCC tells the legislature.  Mr. Morgan said that the decrease is unique in the sense that there were some surplus funds available; they have been drawn down and now exhausted.  That is why it is back to the $500k level.  Chairman McMahon said that OCC is saying that they are capturing more and more students from other counties and doesn't understand why the number would be moved back.  Mr. Morgan said that he will take a look at it and report back.  Chairman Knapp asked that historical detail be provided.
Debt Service costs are on page 3-59 and reflect countywide debt service including WEP, Water and the General Fund.  The 2013 budget includes gross debt service payments of $47.3 million, up $1.4 million from 2012.  Increases in gross debt payments are primarily for transportation and IT related projects.  Net debt service expense charged to operations is up $2.5 million after use of RBD, surcharge revenue, and college chargebacks.
Transfers from the General fund into the debt service fund were mitigated by using $4.0 million of RBD, including $123,441 from the City for the Library Branch debt, receiving approximately $340 thousand of interest rate subsidy payments for bonds sold under the ARRA law, allocating $500 thousand from our college chargeback collections to partially offset OCC debt, and recognizing $2.5 million in surcharge revenue from our land line and wireless surcharge to help mitigate the debt service cost associated with the radio project.
In answer to Chairman McMahon, Mr. Morgan said that the debt service numbers are based on the actual scheduled debt.  These are actual payments to be made on debt that has already been taken.  The debt asked for 2013 is not reflected; it would be debt that they would borrow and hit future years.
Countywide Allocations on page 3-62 depicts a number of budgetary items. 
The "All Other Expenses" line is the estimated $1.9 million cost of college chargeback for County residents attending a community college outside Onondaga County.  As you know the amount we pay to each county is based on how much the county subsidizes its community college.  We basically hold that county harmless from the local cost of one of our residents attending their college.
The next expense is the expected cost of tax certiorari settlements budgeted at $200,000.  This is the estimated payment back to residents who successfully challenge their assessment and are due a refund of improperly assessed County tax.
The final expense item is the $82.3 million sales tax revenue we share with the City and schools.   
In the revenue section, the $9.0 million in "Other Real Property Tax Items" consists of two items:
PILOTS of $2.9 Million

$6.1 million of interest and penalties on delinquent taxes. 
The 050 Interest and Earnings account is our investment income.  Our investable balances earn an estimated .4% return in the 2013 budget.
In answer to Chairman McMahon, Mr. Seitz said that the actual number for OCC chargebacks won't be available until near December.  Mr. McMahon asked if the college tracks this.  The County is making massive investments in the college; the revenue line should be going up and this line should be going down.
Chairman McMahon asked to be provided with the actual 2012 number of earnings on investments.
COUNTY EXECUTIVE – Pg. 3-32
Mr. Morgan:
Majority of the County Executive's budget is personnel and benefits

101 and 103 accounts comprise 97% of total direct appropriations

Main change in the budget is the 101 and 103 accounts

Looking to upgrade the Executive Communication Director from gr. 35 to gr. 37

Will unfund Research and Communications officer

Put the difference in dollars into 103 account – assistance to kick off Core Services Review, approx. $12k – bring someone in on a temporary basis to get the project going

Remaining accounts are in line with the 2012 budget
Mr. Stanczyk asked how many employees make more than the County Executive.  Mr. Morgan said if counting base salariers, there are about 5 or 6; Mr. Fisher said he believes it is over 10.  Mr. Stanczyk asked that the exact number be provided.
Chairman McMahon said that the adjustment in the 101 is from the legislature's initiative to fix letters of distribution.  Mr. Morgan agreed, noting that the Research and Communication Officer was being paid out of DMB and Economic Development budgets.  When the letters of distribution resolution was brought over in June, it was an area that wasn't fixed and should have been.  The County Executive's budget as modified should have reflected a higher salary amount to begin with.  Chairman McMahon said that there is no new real money here – the books have been cleaned up; the Comptroller's office and the legislature worked to do this and this is complying with what was asked for.
ROT
Mr. Fisher:
$200k above what was budgeted for revenues; $5.9 million proposed to be spent

$125k proposed for CVB to help assist Syracuse Chiefs in landing the 2016 AAA All-Star Game

$75k proposed to fund the handover of St. Marie to OHA, which they will operate with the same dollars that Parks Dept. has today, and add the Haudenosaunee component – The Great Law of Peace
In answer to Mr. Stanczyk, Mr. Fisher stated that each major league team has an AAA franchise and each is eligible to have an all-star game; the sites have been determined for 2013-2015.  The 2016 game would be the subject of the winter meetings.  The Chiefs feel that if they could go in with support from CVB and Onondaga County, they would have a very good chance of landing it.  The Chiefs would have to raise an estimated $400k.
Chairman McMahon said it will be hard to quantify or justify the number being asked to have a return on investment; it is a lot of money to produce in sales tax when looking at the splits and the ROT.  He would look for a revenue sharing split with the County and Chiefs.  Early analysis shows it would be difficult to make back our money.  The timing is a concern; he questioned why the county would pay the money out now when it could be asked for later if the event actually comes here.
Mr. May asked if LeMoyne will materially be partnering in St. Marie.  Mr. Fisher said that they are at the table when it comes to academic input and are very interested in continuing to see the Jesuit story told there.  Mr. May asked where the $75k fits into the total need of OHA for this project.  Mr. Fisher said that he doesn't think a budget has been seen for what they will be doing there. They represented to the County Executive that in using this money, they can go raise $75k; with $150k they can get it off the ground and bring the rest of the partners in, including the academic institutions and Native American tribes. 
Mrs. Rapp said that essentially this is taking the money, putting it aside and waiting for OHA to raise the other $75k.  At that time, will they come with a complete plan and a decision will be made to release it.  Mr. Fisher said that it can be done that way; the County Executive planned that if they showed proof that they raised $75k, then the CFO and Comptroller would write them a check.  Mrs. Rapp said that the concept is appealing, there is a lot of federal money that can be leveraged, but is hesitant about writing a blank check without a plan in place.
LAW, pg. 3-140:  Gordon Cuffy, County Attorney; Joanna Gozzi, Chief Deputy County Attorney;
 Dan Hammer, Budget Analyst
Mr. Cuffy provided the following:
The proposed Law Department budget is a fair budget with relatively little added expenditure.
As you know, the Law Department lost a senior litigator in March of this year, and we are losing another veteran litigator this week. We filled the Senior Deputy position in house with an experienced trial attorney who had been working primarily on complex legal issues involving the Department of Water Environment Protection. We now seek to fund an entry level position to fill the gap in handling environmental matters. Filling that entry level position will leave us with the same number of attorneys that we had last year, while saving money by replacing an attorney at a lower salary.  We also will seek to fill a vacant funded Deputy 2 position with another trial attorney to provide additional support for our litigation unit. Our Family Court Unit continues to carry out the duties required by state law, representing the County in the Family Courts, trying child abuse and neglect cases, and appearing on juvenile delinquency, PINS, termination of parental rights and custody matters.  Our unit also handles all of our Family Court appeals and provides legal advice to DSS and the many caseworkers. The reimbursement we receive for this work covers 100% of the Law Department costs, with the exception of the Juvenile Delinquency and PINS cases. 
The Municipal side continues to be involved in a variety of legal issues, from the recently negotiated events management contract for the Oncenter facilities, to handling real estate matters, to providing legal assistance for the Save the Rain program. We have over 4000 active contracts, handled primarily by one attorney and 1 support staff members. We continue to have successes in our litigation unit.  During the past year, we argued several noteworthy Summary Judgment motions and various appeals, and have earned significant decisions in our favor at both the state and federal levels. We continue to vigorously defend the County's interests in an effort to limit or avoid significant exposure to the County.
Another notable success is the EPA's recent approval of the revised Onondaga Lake Phosphorous TMDL (Total Maximum Daily Load) for the Metro Treatment Plant.  Law Department attorneys contributed to the level of effort required to produce that favorable and important outcome.  Without the revised phosphorous TMDL, the County would have been required to spend hundreds of millions of dollars to divert discharges from the Metro Treatment Plant to the Seneca River or to construct costly additional phosphorous removal systems at Metro.  
In 2012, we continued our internship program with Syracuse University Law School, hiring as many as 12 unpaid interns who contribute more than 3500 free man hours. While we continue to look for ways to gain resources for the County, in the coming year, we will need adequate resources to meet the array of challenges, and we ask for your continued support.
Been here for past several years – doing more with less – asking for addl help – got to that lime to do the county's business.  Could use another support staff person with the contracts for help and fill a DCA2. 
Chairman McMahon thanked Mr. Cuffy and Mrs. Tarolli for the work they do for the legislature and noted for the record, that they work for both the County Executive and the County Legislature.
Chairman McMahon referred to the professional services account, and asked how much of it is used for outsourcing work.  Mr. Cuffy said work is outsourced to other firms when there are specialized projects or conflicts; generally they try to handle most things in house.  He noted, for example, that outside counsel was hired to assist them in the Van Duyn transfer.  There is outside counsel to assist with WEP issues, which is paid for out of WEP's budget.  The $150k is budgeted due to what is anticipated next year for a large project involving the nursing home.
Chairman McMahon asked if the revenues are interdepartmentals being billed back to departments.  Mr. Cuffy said that they are.
Mr. Kilmartin complimented the office, especially Mrs. Tarolli and Ms. Berger.  He asked about pending litigation concerns coming up in 2013.  Mr. Cuffy said that there are 2 trials scheduled to be completed in 2012 – significant trials involving the nursing home.  There is some pending construction litigation that is very substantial.
Chairman Knapp also thanked Mrs. Tarolli for all of the help she has given him and to all of the new legislators.  
COUNTY LEGISLATURE, pg. 3-66; Deborah Maturo, Clerk; Jamie McNamara, Assistant Clerk
Mrs. Maturo:
Recommend total budget approximately $2.2 million – approx. $1,700 above 2012 BAM

72% of budget comprised of personnel, wages and benefits

26% is allocated to interdepartmentals

2% other direct appropriations, total of $47k
Chairman Knapp asked about professional services, noting that 2011 was low, 2012 was up and now it is back down for 2013.  Mrs. Maturo said that it is a reflection of rolled over contract money for professional services.  The contract monies roll forward until they are extracted or the contract ends; monies would then roll to general fund balance.  This year the 408 line was budgeted a little differently.  In the past $12k was budget for outside counsel contracts and $7k for outside counsel service.  For 2013, the amount of contracted services was increased to $22k. 
Chairman Knapp questioned travel and training, which was previously $0 and $4,000 is budgeted for 2013.  Mrs. Maturo explained that the account had not been funded for a number of years 
Chairman Knapp questioned the travel/training account budget for $4,000.  Mrs. Maturo explained that the account has not been funded in a number of years.  With so many new members to the legislature, the thought process was that there will be a need for members to attend NYSAC events, visit other municipalities, and other private and public entities to become educated on issues that would affect county government.  Chairman McMahon said some people believe that NYSAC only represents the County Executive branch of government, but there are actually many more legislatures in the State of New York than there are county executives.  He and the County Executive both addressed the recent conference held in Onondaga County.  As a legislature, there is a need to be more involved and aware of issues going on with counter parts throughout the state.
HISCOCK LEGAL AID SOCIETY, pg. 4-3 - Susan Horn, President & CEO; Richard Engel, Board Chairman
Ms. Horn provided the following:
Good morning. I am Susan Horn, the President  & CEO of the Hiscock Legal Aid Society. With me today is Richard Engel, our Board Chair.
I will be addressing two programs that have been supported by the County for many years:
The Hiscock Legal Aid Society has been providing legal assistance though our Civil Program to individuals and families in need in our community since 1949 and has been an authorized agency of the County since the early 1950s.
We provide critically needed services to domestic violence victims, people facing homelessness due to foreclosure and eviction, to cancer patients, the unemployed and others in need. Most of our clients are working poor people with families and they live throughout our community. Last year, we served over 1,400 such clients and 2,900 people were benefitted by our services. During times of economic crisis and unemployment, the need for our services increases. This year, we expect to serve well over 1,600 people in need.
Since 2004, the Hiscock Legal Aid Society has been the primary provider of mandated representation to adults in Onondaga County Family Court, providing legal representation to over 2,000 individuals and families per year in such matters as custody/visitation, abuse/neglect, proceedings for orders of protection and termination of parental rights. In addition, the Society provides representation to over 600 people in parole violation matters, appeals and extradition cases.
In total, the Hiscock Legal Aid Society serves over 4,000 individuals and families in need in our community each year. We are grateful for your ongoing support for our Programs and services and urge you to approve the County Executive's recommendations.
Thank you.
Chairman Knapp noted that the 8020 line is approximately $150k over the 2012 BAM and approximately $200k over 2011.  He asked if it is a result of the volume of work.  Ms. Horn said that most of those dollars are state dollars because; there were some additional state money received in 2012 and 2013.  Ssince they began providing the services in 2004, the volume of work has increased dramatically over the years,.  With the state money, they have been able to add an additional attorney this year and are hoping that if the state dollars continue to come though, they will be able to add some additional staff.
ASSIGNED COUNSEL – pg. 4-3 - ; Renee Captor, Executive Director; Sandra Holihan, Board President:
Ms. Captor:
Provide mandated representation for indigent people charged with crimes within Onondaga County

Provide conflict representation for family court parole and appeals

Coordinate a panel of 160 private practice attorneys who appear in 30 criminal courts before 58 judges

Additional conflict representation before 11 parts of family court plus appellate courts

Handle about 15,000 cases per year, including 1300 family court cases

Priorities for last 25 years have been to move into 21st century by using technology to do more with less:  electronic billing system in 3rd yr. – most judges have agreed to approve vouchers on line, cutting processing and payment time substantially – it is available 24/7; information is transparent and available to the attorneys
Chairman Knapp asked if the rates paid to assigned counsel are mandated amounts.  Ms. Captor said that the rates are set by statute at the state level.
Ms. Ervin asked if there is an increase in workload; noting the increase requested is slight.  Ms. Captor explained that criminal caseload has a slight increase, but seems to be more stable than it has in the past.  They are at the whim of economic factors – the more people are needy, the more they require their services.  The family court cases are invariable, but are seeing a little bit more of an increase.
Ms. Ervin asked how the process works when someone comes to them.  Ms. Captor said that services are started immediately and verify as soon as possible thereafter. 
COOPERATIVE EXTENSION ASSOCIATION OF ONONDAGA COUNTY, pg. 5-3 - Joan Rogus; Board President; David Skeval, Executive Director
Ms. Rogus, Board President, noted that she has been a member for several years, elected in the past year as president.  The Extension serves each and everyone in the room--addresses needs of everyone in the community – putting knowledge to work.  In many programs they address needs of people and children at or below the poverty level -- take into consideration the work for all age groups at all economic levels.
Mr. Skeval presented the following:
Introduction
Thank you for the invitation to present the Onondaga County Cornell Cooperative Extension budget to the Legislature.  I am David Skeval, the Executive Director of your Cooperative Extension Association.  With me are: Board President – Joan Rogus; Nutrition and 4H Issue Leader Kathy Dischner; Natural Resources  Team Leader Jessi Lyons; and our Finance Team Sue Martinuea and Laura Haley. 
Purpose
99 years ago, your predecessors in the Onondaga County Legislature chartered this Cooperative Extension Association.  Since 1913, Cornell Cooperative Extension of Onondaga County has seen our county residents through two World Wars, and a Great Depression.  From victory gardens to food preservation to nutrition to youth development, to better tilling practices; the mission of Extension hasn't changed…to take knowledge gained from research at Cornell University and bring to the people and communities of Onondaga County.  The specific needs may change….the mission does not.   In the face of tough economic times, Onondaga County Cooperative Extension is as relevant in 2013 as it was in 1913.  Giving people and communities the ability to do more for themselves.
Request
To make the Onondaga County Extension function, we depend on administrative and benefit services from Cornell University as well as Federal funding, State Funding, donations, grants, and funding from the good people of Onondaga County.
As a strategy for increasing our impact with the appropriation funding we receive from Onondaga County, we utilize this funding to secure our core functions and programs and to leverage other funding to expand our programming. Cooperative Extension has requested $191,979 in appropriation funding and $141,979 in WEP funding. Extension expects to leverage an additional $543,239.  By making the WEP funding as flexible as possible, it will make it easier to pursue additional grant funding opportunities.
Fiscal Trends
Cornell Cooperative Extension Appropriations and Revenues 2009—2013
      2009 actual

     2010 actual

   2011 actual

      2012 projected

  2013 request

Onondaga County Appropriation

 $354,948

 $283,958

 $150,000

 $141,979

$191,979

Total Revenues

 $1,017,070

 $1,036,523

 $691,055

 $803,219

$877,197

Total Expenses

 $1,033,117

 $964,286

 $718,247

 $813,860

$877,197

Net from Operations

 $(16,047)

 $72,237

($27,191)

($10,641)
Volunteers
The other strategy for increasing our impact is through our volunteer programs where the training leads to citizens volunteering for community projects.  Examples of increasing impact through volunteers would be the CommuniTree Stewards, 4H, Master Gardeners, Stream Stewards, and Master Forest Owners. 
Goals for 2013
Expand Agriculture Programming
Extension needs to build its capacity in Farm Business Planning to be of greater service to farms seeking to diversify and people seeking to develop new agriculture businesses.  There is more support that Onondaga Extension can bring to its agriculture communities by connecting and advocating for State and Regional expertise.  This support is integral to farmland protection, food security, and agriculture business.  The $50,000 increase in appropriations funding will be put toward this effort.
Expand 4H
We currently have a waiting list of 80 families wanting to join or establish new 4H clubs in Onondaga County.  Support for 4H will rebuild an important component of the agriculture community as well as expand opportunities for urban and suburban youth.  4H expansion will place an emphasis on the national 4H "STEM" goals (science, technology, engineering, and mathematics).
Expand Nutrition
The Nutrition Program will expand to new audiences, including youth, middle-income and elderly populations.  The national emphasis on obesity prevention and nutrition based wellness will be reflected in our programming.
Maintain Excellence in Natural Resources
Our Natural Resources programs will continue to their high levels of outreach and education.  Particularly in the areas of invasive species with a focus on Emerald Ash Borer, Asian Long Horn Beetle, hydrilla, and Asian clam.
Highlights in 2012
Onondaga County Extension had many noteworthy accomplishments in 2012 including great interagency cooperation. 
In our effort to prepare for the arrival of the invasive Emerald Ash Borer, Onondaga County received State-wide recognition.  This was an email from Cornell's leading authority on EAB…
"Great job on the (Onondaga County) EAB Task Force…..!  I hold Onondaga County up as a shining example of proactive management. I can't thank you enough for the terrific job you have done." ...Dr. Mark Whitmore, Cornell University
Onondaga County Extension's Nutrition Program is recognized as one of the best in the State.  Kathy Dischner, our Nutrition Issue Leader received an "Outstanding Nutrition Team Leader Award" for excellence in program leadership and management for the Eat Smart New York Program. She also was recognized by the Syracuse University Genesis Health Program for cultural competence in nutrition education programming.
Thank you for your time and attention.  I would be happy to answer any questions you may have.
Details for 2012 Cornell Cooperative Extension Programming
Agriculture:
With our part-time Ag Educator we have moved ahead with the agriculture program; including reconnecting and updating our ag-producer data base, helping established farmers work through tough business decisions, helping new ag producer determine what products can be best produced on their land, and updating farmers on resources for dealing with this year's drought.  Ag workshops held in Onondaga County include; Beef Quality Assurance, the Cornell Maple School, the Regional Vegetable Team, and New York Logger Training.  Additional funding for Ag programming in 2013 will mean greater support for Onondaga County farmers leading to a more secure food supply for our County and farmland that can better withstand the pressures of development. 
Food Security:
Extension's Food Security Educators, working through a NIFA grant, are part of the research in the phenomenon known as "food deserts"; gaps in the availability of nutritious food across our communities, both urban and rural.  The challenge of distributing nutritious food, the vitality Onondaga County's Agriculture Business and the protection of our County's farmland are all linked.  Extension works across all of these related topics to help create a more sustainable food and ag system in Onondaga County.
4H:
4-H Youth Development programs provided 100 youth across rural, suburban, and urban settings with positive youth development opportunities ranging from animal care, to natural resource conservation,  to career exploration in Science, Technology, Engineering, and Math (STEM).
During 2012, a pilot "Robotics" Program, funded by Lockheed Martin and National 4-H, supported 30 inner-city youth through summer camps to use Lego-technology to create robots using math and science technology with other youth mentored by trained youth leaders.
38 4-H youth developed communication and presentation skills through engagement in horse competitions, public presentations, project learning, and presentation at the NYS Fair and in their communities.
Increased county funding is needed to sustain current programs as well as to expand 4-H youth development programs and opportunities to reach diverse youth sectors and volunteers to support skill development in sciences, engineering, and technology areas.   An additional 80 families expressed an interest in enrolling over 100 youth in 4-H youth development programs during our 2012 NYS Fair outreach and education at the 4-H Youth Building.
Nutrition Program:
Onondaga County Extension's Nutrition Program is recognized as one of the best in the State.  Kathy Dischner, our Nutrition Issue Leader received an "Outstanding Nutrition Team Leader Award" for excellence in program leadership and management for the Eat Smart New York Program. She also was recognized by the Syracuse University Genesis Health Program for cultural competence in nutrition education programming.
Our Eat Smart New York nutrition education programs help low-income residents to eat healthier for less. Healthy lifestyle behaviors reduce the incidence of childhood obesity and help reduce chronic disease.
Over 150 families and seniors who participated in a six-session program reported increased energy; weight and lowered cholesterol or blood pressure; reduced stress and greater feelings of control related to food, and improved budgeting, meal planning and food preparation skills.
200 youth gained food preparation skills, knowledge and confidence to make healthier choices at fast food restaurants, vending machines, and to reduce sugary beverage intake and increase vegetables and fruits.
We trained over 200 community partners, volunteers and students who, in turn, shared our nutrition resources and programs with over 1,800 families, seniors, youth and individuals throughout our community.
Food Plate and Smarter Lunchroom Project- brought Cornell research into our communities to help nudge healthier food choices. Over 300 families participated in a four-month family food decision making study that helps families raise awareness of food and family eating choices and portion size with weekly weight monitoring and physical activity participation. Over 30,000 youth across three school districts participated in a Smarter Lunchroom school project that helped increase sales of white milk, fruits and vegetable-based entrees just by changing how food is placed and featured in lunchrooms.
Natural Resources Programs
Cornell Cooperative Extension of Onondaga Natural Resource programs focus on providing hands-on education and training through community-based stewardship events and direct education to consumers, policy makers, land managers, and professionals. We are able to provide educational resources and tangible support necessary for education to turn into action. Our outreach programs empower citizens and professionals to make the best environmental choices at home and in their community.
The Urban and Community Forestry programs focus on training to properly plant and maintain trees in order to support an urban forest that is resilient to natural disasters, costs less to maintain, and provides long-term economic and social benefits to the whole community.
In 2012, over 300 municipally-owned trees have been cared for by over 100 volunteers. We anticipate at least 70 more volunteers will assist with fall tree planting across the County.

Each fall CCE coordinates the bulk purchase of bare-root trees for municipalities and non-profits, which may then be planted by CCE volunteers. This program enables the low-cost purchase and planting of trees which helps us move closer to the goal of tree planting exceeding tree removal.

Between 2011-2012, CCE identified over 8,400 sites in the City of Syracuse that can support increased tree planting. Direct homeowner education has led to the approval of 1,140 sites so far, on which 780 trees have been planted and 500 more trees will be planted this fall. Increased outreach efforts in 2013 will facilitate additional planting of 1,300 in 2013 between CCE trained volunteers and city/county contractors.

In 2012, CCE initiated an Emerald Ash Borer task force to assist municipalities and residents of Onondaga County to prepare for Emerald Ash Borer in order to limit severe economic impact from the inevitable loss of all ash trees, and to slow the spread of EAB. Over 100 municipal and agency officials have been educated through direct outreach efforts, leading to the on-going development of community-wide preparedness plans.

CCE increased EAB outreach efforts to include tagging of ash trees at Onondaga Lake to increase public awareness of the threat of EAB to public and private ash trees and to increase citizen support for practices that slow the spread of EAB.
The Water Quality programs focus on teaching youth, adults and municipal leaders ways they can improve water quality, how to identify water bodies at risk, monitoring and control of aquatic invasive species, and reduction of storm-water run-off through proper land-use practices. Our stream study program emphasizes teacher training and in-stream mentoring to increase the number of students receiving hands-on education.
So far in 2012 over 600 youth and adults have participated in our programs, and we anticipate 200 more this fall. We've directly provided water quality information to another 12,000 residents through articles and publications, and approximately 4,000 Onondaga County residents visiting our booth at the New York State Fair (approximately 9,000 people stopped overall).

In June 2012, a citizen trained by CCE to identify aquatic invasives alerted CCE educators to the presence of Asian clam in Otisco Lake. CCE worked with multiple agencies to confirm their presence and is working with agencies and community groups to identify management goals.

In fall 2012 and in 2013, CCE will further educate recreationalists and residents to properly clean boats and gear to reduce the spread of Asian clam and other priority invasives, with an emphasis on protecting the purity of drinking water coming from Skaneateles Lake.

Municipal official and land manager education in 2012 emphasizes the role of climate change and severe weather events on water quality, and the practices and technology to reduce loss of shorelines and stream-banks.
The Horticulture and Urban Agriculture programs train citizens in research-based horticultural principles and practices. The programs utilize volunteers such as the Master Gardeners to provide hands-on education and resources to consumers on topics such as blight and diseases, pest control, vegetable varieties, and water conservation in the landscape. Workshops focus on bringing rural farming culture and expertise to urban residents.
In

2012, 27 new Master Gardeners were trained. Overall, 55 Master Gardeners have provided information and outreach directly to over 1,600 county residents via gardening workshops and seminars, articles in the media and phone-based consumer education.

CCE coordinated all farm work and education at the Southwest Community Farm, including recruitment of 10 regular neighbors as volunteers, 50 additional volunteers to plant, maintain and harvest, and 40 youth using the farm for summer education programs. The site will be further developed this fall to include formal community garden and learning spaces.

Through garden workshops and on-farm training, CCE has increased the awareness of locally-grown products and the connection between rural producers and urban consumers.
Three County Comparisons with NY State Rank

Cayuga

Onondaga

Oswego

Total Market Value of all Agricultural Production

214,403,000 (3)

137,372,000 (11)

39,342,000 (40)

Cattle and Calves (includes beef)

73,000 (2)

41,979 (13)

9,985 (38)

Value of Milk Sold

140,238,000 (2)

80,417,000 (9)

9,386,000 (40)

Value of grains and oilseeds

30,575,000 (1)

9,571,000 (10)

2,570,000 (28)

Market Value of Vegetables

7,730,000 (15)

7,225,000 (16)

16,565,000 (6)

Market Value of Fruit

1,452,000 (24)

12,574,000 (10)

2,457,000 (20)

Descriptive Farm Statistics with Percent Change from 2002

Number of Farms

936 (+6)

692 (-5)

639 (-6)

Land in Farms

249,476 (+5)

156,284 (-4)

103,156 (-4)

National Rakings (out of ~3,070 counties)

Market Value of all Agricultural Crops

285, Top 10%

607, Top 20%

1,780 Top 60%

Market Value of Crops (including nursery)

872, Top 30%

1,089, Top 40%

1,307 Top 50%

Market Value of Livestock, Poultry, and their Products

170, Top 5%

387, Top 12%

1,846, Top 60%

Market Value of Milk

40,  Top 1%

81, Top 4%

497, Top 20%
Chairman Knapp referred to $141,979 from WEP and asked if it was a change from last year.  Mr. Skevel said it is level. 
Chairman Knapp asked for more detail on the new position being created.  Mr. Skevel said the position is Ag Resource Educator.  They get continuous calls from farmers and ag producers looking for help or to expand their businesses and need someone with farm business planning in the offices to help them, as well food distribution and general ag economy.  The position will bring a great deal of expertise and will afford the opportunity to reach out and garner more ag grants, as they don't have the time and expertise currently to produce them.  Chairman Knapp asked what the difference will be between that person and the part time ag educator that is already on board.  Mr. Skeval said that the first thing is more time – there is so much work to be done, and are limited by a capacity issue.  The difference between what they have and what they would seek is expertise in farm business planning. 
Chairman Knapp referred to the money to expand the 4H program – asked if there are some specific areas.  Mr. Skeval said that they are dominated by equine; there is one dairy club; had success with robotics club and would like to expand on it.  They seek to expand general ag clubs – produce as well as other livestock. 
ONONDAGA COUNTY SOIL & WATER CONSERVATION DISTRICT, pg. 5-3 – Mark Burger, Executive
      Director; Spencer Givens, Chairman of the Board
Mr. Burger provided the following: 
Thank you for the opportunity to appear before you today. I am Mark Burger, Executive Director of the Onondaga County Soil and Water Conservation District. Also, let me introduce our Chairman of the Board of Directors, Spencer Givens.
The Soil and Water Conservation District is a special purpose District created by NYS and the County Legislature in 1944. Our main purpose; planning and implementing soil and water conservation projects in Onondaga County. The programs and services that the District provides fill an important niche to ALL County residents, and they are services that are not duplicated by any other agency in the County!
The District's primary workload continues to be Agricultural Environmental Management (AEM), which means conservation planning on farms and implementation of BMPs to address Non-Point Sources of pollution.
As you are aware from the County's newly-formed Ag Council, agricultural land occupies one-third (156,000 ac) of the county's total acreage (499,000 ac). Nationally, our County ranks in the top 10% of the "Best Places To Farm" and State-wide, we rank:
1st in Strawberry production,
4th in the sales of poultry and eggs,
10th in grains.
Our District also provides professional level services to the taxpayers of Onondaga County at a low cost.  Currently, we are conducting an inventory of Ash trees on County-owned parcels and 800 miles of highway right-of-way.
We also continue to provide Green Infrastructure services in the form of Hydroseeding and Stormwater Management assistance to Onondaga County and five (5) additional municipalities. Our services help the municipal governments maintain compliance with Federal and State mandates at a low cost.
Our District can perform these quality, professional services at a very low cost because we offset the cost with the grant funds that we secure. Your appropriation helps us pay fixed cost so that we can secure these valuable grant funds to keep costs of services low to farms, municipalities, and the public.
Last year, the District brought in enough grant money to multiply the county appropriation (cash-equivalent) 43-times ($322,500)! In 2012, this money was paid to 48 local businesses that provided services and purchased materials and supplies to implement the conservation projects. This money helped to keep Central NY businesses working!  These efforts help protect the County's drinking water supply at Otisco Lake and the City's drinking water supply at Skaneateles Lake. These BMPs also support farmland preservation by reducing cost of environmental compliance to farmers, thereby helping to keep our farmers on the land, slowing Urban Sprawl!
Your Soil and Water Conservation District is providing these services from our new office location that we share with St. Marie of the Iroquois museum. For us, this change has enabled us to be centrally located to best serve all of our customers. For instance, we assisted Senator's Ritchie, DeFrancisco, and Valesky with the distribution of a mosquito larvacide kits to 132 households. And, our presence helps to keep St. Marie open year round versus seasonally.
We have provided a packet for each of you. In the packet are the following support materials:
2013 Proposed Budget

2011 Annual Report

Highlights of 2012 Projects
We thank you for your continued support of the District.  On behalf of my staff and the Board of Directors, I respectfully request your support of the Soil and Water Conservation District at a level of $37,500 from the County Appropriation and $37,500 from Water Environment Protection for 2013.
Thank you for your attention. We will be happy to answer any questions that you may have.
In answer to Chairman Knapp, Mr. Burger explained the history with the County funding over the last 4 years – noting it dropped in 2009 by $20k and they were able to slowly recover from it; were at a low of $52k, and over a 3 year period are back up to $72k.  They have asked for a modest increase of $3k this year.  Part of the increase in last year, total of $72k, was a result of relocating in the county's space; the money paid for rent is actually going back into the county, as opposed to short to short circuiting to the private sector.
Chairman Knapp referred to the ash borer survey, and asked how much money was saved by using Soil and Water vs. the private sector.  Mr. Burger said that there services cost on the average $35/hr.; the private sector is upwards of $50 - $75/hour depending on what level the person is involved.  There is a substantial savings.  The project is one third complete; just starting the 800 miles of highway right of way in the county, but have all of the county parks except Highland complete, and are working to finish up the WEP sewer shed.  It will be completed in 2013. 
Mrs. Rapp asked how the move to St. Marie has been.  Mr. Burger said that it has been fantastic, Parks Dept. has been a fantastic partner to integrate with.  The transition has gone well; feels they will be an asset in the partnership with St. Marie. 
In answer to Mr. May, Mr. Burger said that they take up just shy of 2000 sq. ft. of space. 
CNY ARTS; pg. 3-3 - Stephen Butler, Executive Director
Mr. Butler presented the following:
Thank you for providing this time for CNY Arts, formerly known as the Cultural Resources Council, to speak about our budget request of $1,054,125 in support of arts and culture organizations throughout Onondaga County.
CNY Arts' mission is to promote, support and celebrate arts and culture by providing services and programs to benefit individuals, organizations and the general public. To that end, CNY Arts offers substantial re-granting programs through contracts with government agencies. With our current contracts, by the year end, we will have distributed over $635,000 in Onondaga County including the County's funding for arts organizations.  This year's budget request is a portion of the same percentage that was recommended by the County Executive last year for art, culture and history groups, 22% of Room Occupancy Tax revenue, which is projected to have increased over last year. CNY Arts believes this modest increase will exponentially contribute to Onondaga County's economic development efforts and respectfully asks for your support. 
Today we are joined by Dr. Ron Wright, the Michael D. Madden Professor of Business Administration at Le Moyne College who will share with us the results of the County-wide study of economic impact of the arts.  His report is illuminating and exciting but I would like to share one fact from this study –  local arts and culture organizations (included in the study) put direct expenditures of over $33,875,000 back into the economy – important dollars that help to promote the County's agenda including generating sales tax and creating jobs.  In our preliminary work with the Syracuse Convention and Visitors Bureau (SCVB), zip code analysis of the arts and culture groups funded with county dollars demonstrates that 28% of their attendees are from out of town spending dollars on food, gas and parking – sales tax generators – and including 12% of visitors that are overnight guests, many of whom are occupying our hotels and motels which generate sales and room tax revenues. These figures are in keeping with the Economic Impact study as well as the Syracuse Marketing analysis study provided to the SCVB that shows 38% of overnight guests visit, in part, for arts and culture events. 
Our arts and culture organizations are more than an important economic driver for the County and provide crucial community services to children and families and quality arts experiences. From the funded arts groups' two quarterly reports submitted to CNY Arts to date, we know that these organizations have provided over 180 events and shows, served over 43,000 youth and children, provided over 20,000 free admissions to ensure access to the arts including the general public as well as underserved populations. Some highlights include: the Syracuse Jazzfest at Jamesville Beach County Park; the Annual Rocket Team Challenge at the MOST (100 teams of students); Salt City Performing Arts work with the Veterans Hospital, the Jewish Community Center and the elderly; the Y's Art Brach serving 850 elementary students daily through after-school programs; and the Robert Henri and Ireland exhibit at the Everson Museum – just to name a few.
CNY Arts has taken on the responsibility of funding these agencies for the County at the request of the local arts and culture organizations and in partnership with the County.  Today we are also joined by Carol Sweet, President of the Arts and Culture Leadership Alliance, who can answer questions about their proposal. We have worked successfully with the arts community to create appropriate guidelines, applications and funding formulas. Together these policies and procedures meet the critical review standards necessary to safeguard county dollars while providing a transparent system of grants-making and delivery to funded agencies. In this new system, CNY Arts joins the over 2,500 local arts agencies across the country that deliver municipal arts funding to nonprofits and are a part of the 96% of local arts agencies that maintain relationships with public entities including local government, convention and visitors bureaus and parks and recreation departments.
In addition to re-granting, CNY Arts provides joint marketing education, and opportunities to increase audiences through our partnership with the local funders and the SCVB in the Initiative to Develop and Engage Audience Services (IDEAS); community based programs to our schools, including the annual production of The Adventures of Rudolph, which we present at the Civic Center to over 6,500 children and their families; and the annual High School Theater Competition and day of workshops, the Michael Harms Festival that is attended by over 200 students annually and also provides scholarships. CNY Arts also presents the annual On My Own Time exhibit in partnership with the business community and the Everson Museum. These programs represent just some of CNY Arts' ongoing services to our County's residents.
In 2013, CNY Arts will continue to work with the SCVB, the funders collaborative, and the arts community on the creation of a social marketing system that will increase audiences and tourism, a tool that will be even more important with the reduction in delivery schedule of the Post-Standard; will implement an online grants management system to provide better access to our grants programs and data collection and continue to provide workshops, technical assistance and fiscal management to smaller arts organizations and individual artists. CNY Arts will also continue to host public forums and workshops to engage constituents and stakeholders, while meeting their needs to develop best practices and enhance the state of the arts. In its role as a regional leader the CNY Arts has begun to plan for a regional assessment that will help plan the region as an arts destination while providing key data towards important cultural planning.
CNY Arts is grateful for Onondaga County's past support and looks forward to continuing our long-term relationship. County support helps leverage supplemental resources from individuals, foundations, and corporations and helps ensure that our programs can continue and grow.  Again, my thanks to the Chair and the Ways and Means Committee for giving us this opportunity to speak.
Dr. Wright reported on the Arts as an Economic Engine (summary of report distributed - copy on file with Clerk)
Part of national study – data collected in 200+ cities, counties and other geographic areas

Study was submitted to Americans for the Arts, who did an analysis of data submitted

Data submitted relates to organization spending and audience spending

Organization spending – from reports of 45 organizations that participated in study – they provide data on regular basis through cultural data profile; data is audited – total expenditure of $33 million
There are approx. 150 cultural/arts organization is Syracuse area – they did not get participation from all, but got it from all large ones

Audience expenditures – conducted surveys of over 800 audience participants – asked a range of questions including how much money they plar to spend before or after the event – meals and lodging

Report indicates that audiences spend on average of $25.93 to attend an event; national numbers are $24.60 - does not include purchase of ticket

As part of the cultural data report (45 organizations), they indicate the total audience they serve.  Took total audiences serviced and multiplied it by the $25.93 to get estimate of expenditures

Total audience expenditure, approx.. $34 million; organization expenditures approx.. $99 million – total expenditures in Onondaga County = $133 million

Information was put through economic models – used specific results from Onondaga County, census, jobs, salaries, sales tax rates, income tax rates, property tax rates--information used to project the impact on economics

Suggests over 5,000 full time equivalent jobs in Syracuse that are consequence of the arts; household income associated with those job is over $110 million

Estimates of impact on revenues for local and state government – sales tax, property tax, income tax – over $12 million in revenue generated by arts and cultural events that take place in the county organizations

Numbers are in line with what is happening in the rest of the country with the exceptions of:  1.   budgets of arts & cultural organization in Onondaga County are substantially less than cities of comparable size – per capital in Onondaga County is approx.. $74/person; in small cities with 250k – 500k it is approx.. $175; larger cities of 500k – 1 million is approx. $194.  2.  Residents in Onondaga County tend to go to more events on average than residents of other cities – smaller cities residents attend approx. 6 events/year; in larger cities about 5 event/year; in Syracuse it is about 8 events on average.
Chairman McMahon asked if the arts and cultural groups in the other municipalities that participated in the study are receiving funding from both county and city municipalities.  Dr. Wright said that it wasn't included in the study.  Chairman McMahon said that he would guess that they probably are, and in our community there is only one government funding the arts and the City of Syracuse is not funding.  Dr. Wright said that the national report has indicated over the years that the return to state and local governments is about 7 times.  In our local government there is a return of $12 million and compared to what Onondaga County puts into the arts, it is a much higher rate than the 7 to 1 ratio nationwide.
Mrs. Rapp asked for an explanation of the $12 million return.  Dr. Wright said that $2.7 million is money generated by arts organizations – largely property taxes from people that work for those organizations; audiences' expenditures generate nearly $10 million – sales tax, property taxes from business (just the proportion associated with the money that the audience spent). 
Chairman Knapp referred to the funding line 2012 modified $588,170; 2013 requested $1,054,125 and asked if the increase is based on the 22% of ROT.  Mr. Butler said that the request is based on the original allocation that Ways & Means approved last year, which included money for a symphony, totaling $993k.  This year's request includes a request for a symphony.  Chairman McMahon said that it was last year's request, but it is 22% of the overall ROT budget. 
Chairman McMahon said that he has legislation to put before the legislature for the new symphony organization and asked Mr. Butler to go through the process of the plan for the symphony, why it is a sustainable organization compared to previous proposals before the legislature.  Mr. Butler said that the way funding is determined is through a proposal from the Arts and Cultural Leadership Alliance to the County, which asked that agencies already funded in past years were grandfathered into this funding process.  They rise or fall proportionally as long as they are financially viable, with is part of the due diligence to make sure that they are operating in the black with appropriate debt to income ratios, liquidity issues, etc.  The symphony is outside of that process because it is a new symphony; it was not funded in the past.  The process developed was to ask the symphony to submit a proposal to them mid-year.  A panel was put together to review that proposal, which included an economist, someone who manages theaters across the nation and associated with the Oncenter, and a community leader – bank president, to review that proposal.  The review was incisive and critical – the results were shared with the new symphony and they asked for an opportunity to suspend the application process – that they would amend it and return it.  They did so, and it is much more successful model.  It was clear in their second application that this model is a cooperative – musicians have ownership stake in the organization.  They will only be paid according to what is in the till that can be afforded to pay, while maintaining all direct costs and in looking towards the future to costs that they may have to produce events.  In the second proposal they more clearly articulated the roster of partners that are supporting the new symphony.  CNY Arts has implemented a subcommittee, headed by George Nardone, to look at data coming in from Symphony biweekly.  To ensure that whatever is paid out, especially in county dollars, will be to reimburse for performances that have happened or support performances that are ongoing.  The Symphony Foundation agreed, after looking at this business plan and model, to provide the start-up funding for the new symphony and then deliver monthly allocations - totaling over $350k over 12 months as long it is according to its dictates and meeting performance schedule. 
Chairman McMahon noted that the old symphony's budget was approx. $7 million, which is why they ran into some financial issues.  Mr. Butler said that the new symphony projects a conservative budget of $1.5 million in its first year.  The musicians who banded together after the symphony closed and operated in an informal way, generated over $700k of income, including $145k of unsolicited contributions and donations. 
Mr. Kilmartin noted that he likes the concept of mark and measure and a release of funds on a bi-monthly basis.  In the past the legislature had advanced some funds, and things quickly collapsed with the prior symphony.  It allows protection for taxpayers, allows continuation to evaluate progress and allows new entity to have a longer leash to advance their plan.  He asked that the legislature be provided with a business plan, org chart, number of employees, full time or part time, funding sources, etc.   Mr. Butler said that the symphony describes a business plan in their proposal, there is a budget, and they are working on a bonified business plan document to share with others in the community, and he will make that available to the legislature.  They are hoping to have the final version of it today.  
Mr. Kilmartin referenced the CNY Arts line, pg. 303, 2012 BAM, $588,170 and 2013 proposed, $1.054 million. and asked where the new funds will be allocated.  Mr. Butler said that the majority of the funds for 2013 are allocated to the 14 authorized agencies (pg. 3-1), that fall into tier I and tier II, as described in the budget book, which have a track record and existed for a number of years.  They have asked that they rise or fall proportionately with any funding increase or decrease.  The increase is 2.5%.  The remaining funds of increase would go towards the establishment of a tier III, for smaller organizations and/or organizations that have long sought county funding, but were not successful.  Also included in the $1 million is an allocation for a symphony of $404k, based on last year's allocation.  Mr. Fisher said that the County Executive's recommendations were based on a letter that was received from ACLA with their recommendation, based on something they saw in Denver.  That is the basis of what CNY Arts uses for their re-grants.
Chairman McMahon clarified that the resolution for 2012 funding has been distributed and is being considered today; it will be on the October 2nd agenda  - 2012 money held in a contingency account.  Also being discussed is the 2013 overall budget, which as proposed included new money for symphony for 2013.  
Mrs. Rapp noted that she likes the entrepreneurial model for the new symphony with the musicians having a stake in the bottom line.  She referred to the proposal for $200k from 2012 ROT to take the symphony through the rest of 2012.  She asked if there is another $400k for 2013.  Mr. Butler said that there is.  Mrs. Rapp asked Chairman McMahon if the proposal is to release the funding on a monthly basis.  Chairman McMahon explained that the resolution is not for the full $200k; it is $40k payment in October, then see how the operation goes and then a $40k allocation in November, and if all goes well a $40k allocation in December - $120k is proposed.  Mr. Fisher said the business plan will show a conservative budget, spending $1.5 million, showing 4 years out – revenues up to $4.4 million in the fourth year; compared to a $7 million budget. 
In answer to Mr. Kilmartin, Mr. Butler said that the Musical Associates of Central New York is the non for profit managing the new symphony.  They symphony will unveil its new name at a December events.  Musical Associates of Central New York has a full board roster.
Mrs. Rapp asked about the status of a joint marketing plan for all the arts groups, with a single point of entry to buy tickets, etc.  Mr. Butler said that they have been in long negotiations with the funders' community and CVB.  A prototype has been developed and the CVB and a local designer are being used.  CVB is redesigning their calendar – the hope is that by 2013 a new system with a point of entry can be unveiled, and that by April of 2013 they will roll out a large joint marketing campaign which will include CNY Arts and CVB.  In answer to Mrs. Rapp, Mr. Butler explained that currently it is being funded by seven private foundations.  CNY Arts has applied to the Economic Development Council for additional funding to help support the process – will have the results in mid October/early November.
Mrs. Rapp said that there were questions in the proposal regarding OHA; Mr. Tripoli is present to answer any questions.
OHA – Mr. Tripoli:
OHA looking at St. Marie facility

Fill voids currently in the heritage story told in Onondaga County

Eye towards increasing heritage tourism

Taking advantage of 2009 study – commissioned by the Friends of Historic Onondaga Lake to canvass community about what they would like to see at that facility

Working with Onondaga Nation for past 1.5 years – coming up with plan that would create from St. Marie facility a Native American Heritage Center / Haudenosaunee – Iroquois Confederacy  - to tell history of Native American beginnings.

Compelling story about the first inhabitants of this county, that is currently not being told anywhere in the county

Very big draw for heritage tourism with regard to Native American studies/history - not being met anywhere in county

Facility is on shores of Onondaga Lake, sacred to Onondagas, Haudenosaunee Confederacy - a culture that has contributed tremendously to the local community and the state and nation

Looking at a facility comprised of Native American history museum, a Great Law of Peace Educational Center--coalition of local universities and colleges, a history themed restaurant, retail store, a lacrosse facility – with camps and exhibitions
Mrs. Rapp asked how it will be financed.  Mr. Tripoli said that all parties are being asked to put skin in the game.  It is a County facility/County park; OHA matching contribution requested from the County; universities and colleges will be putting people and money towards it, as well as the Nation.  It will take a while to plan a facility like this – at beginning stages.  Also intend to raise money through retail, lacrosse camps, events held there.  They are looking at a number of opportunities for grants, spoken to local foundations.  Many granters in U.S. are poised to provide funding to Native American facilities of this nature.  In answer to Mrs. Rapp, Mr. Tripoli said that they are looking at 12 months for planning and putting the educational programming together.  During that time, they hope to begin a number of programs and events, establish plan for museum, how the museum will be built within the facility, how it will be used, how to use the mission that is there.  The $75k asked from the County will be used to employ people who would be heading up the organization and cover the cost of accounting and development.  A volunteer base needs to be built as well as a fundraising strategy.  Mrs. Rapp asked when OHA expects to raise $75k; Mr. Tripoli said "as soon as possible."  Their purpose is to create a sustainable organization; it has potential to be world class. 
Mr. Plochocki said that the $150k ($75k County; $75k OHA) is seed money to begin moving towards a world class facility.  Mr. Tripoli said that the facility exists, and they hope to use it as such – can hold events, symposiums and events there.  The intent is to use the facility and manage the facility as it is in the next 12 months while planning the larger, end-game facility.  
Mr. Plochocki referred to the funding model and as time goes on the County would pay a smaller and smaller role in this.  There is precedent for that in the history of the OHA.  Most counties in NYS own their own historical museums; we are a good exception to that – OHA owns the exhibits and museum.  OHA receives a subsidy from Onondaga County, but predominately it is private funding that keeps OHA going.  Mr. Tripoli agreed, noting that St. Marie would be different in the sense that it would be a discretionary art and cultural organization.  That is not the case with OHA, which provides a regular service to the County every day—collecting/gathering the history of the county.  He feels that because St. Marie is a discretionary institution, it is important that they wean it from county support over time and build a sustainable organization that can control its own workload and revenue sources. 
Mr. Plochocki said that over the years there have been discussions with the Onondaga Nation on a smaller level having some type of museum, and buy-ins from the Onondaga Nation have been a concern.  He asked why this time it would be different.  Mr. Tripoli said that OHA has worked hard to build a relationship with the Onondaga Nation.  It is important to tell the history, community of a nation that was the initial inhabitants of the community, and to tell it in a way that the Onondaga Nation sees it.  Their history is oral; there is no organization that currently deals with telling it.  OHA has received international press over a repatriation in the last few month – the only organization known of in the country that has made such a large voluntary repatriation of sacred items and items of cultural patrimony back to the Nation.  It was a major step in the healing process between OHA and the Nation.  They have a great relationship and have been working with the Nation on a number of different issues.  Mr. Plochocki asked if it is fair to say that the Onondaga Nation is on board with this and excited about this project; Mr. Tripoli said that they are very excited about it.
Mr. Plochocki asked if with all the revitalization going on with Onondaga Lake area, rebranding of Carousel Mall as Destiny, will it work in synergy with this project.  Mr. Tripoli said "absolutely, it can only help".
Mr. Kilmartin asked that the committee be provided with:   a summary of how funding for this will unfold; how the $75k from the county and $75k from OHA will be dedicated; source and use of funds; a timeline.
Chairman Mr. Knapp asked if there were any questions – going back to September 17th through today on the proposed 2013 budget. 
Chairman Knapp referred to page 5-3, Center for Nature Education, going from $0 in 2011 to 10k in 2012, and $12,500 in 2013.  Mr. Fisher said that it is Baltimore Woods, who did a very good job at raising money.  In the 2010 budget, the County Executive recommended taking them from $15k to $0.  The sentiment of the legislature was not to penalize them for success, and if they are going to be taken out, to do it over 6 years.  At the time, Chairman Rhinehart, suggested taking it to $12,500, then $10k and then $5 – gradually weaning them off.  He said that Mr. Millea recommended $12,500 this year and the County Executive accepted it. 
Chairman Knapp referred to St. Marie, and asked what will happen to Soil and Water Conservation, who were just moved in there.  Mr. Fisher said he would expect that to get worked out.  Chairman Knapp said an empty building was created in LaFayette to move Soil and Water to St. Marie – he asked what the long-term plan is.  Mr. Fisher said that they are open to ideas.  Chairman Knapp said he realized that Soil and Water is happy there, but a lot of the farmers that have to drive there and interact with them aren't.
Chairman Knapp thanked the County Executive's team, the County Legislature's team, and the Comptroller's team for all of their hard work in the budget process..
The meeting was adjourned at 12:40 p.m.
Respectfully submitted,
DEBORAH L. MATURO, Clerk
Onondaga County Legislature