WAYS AND MEANS COMMITTEE REVIEW OF THE 2013 TENTATIVE BUDGET
HEALTH DEPARTMENTS P.M. – SEPTEMBER 24, 2012
DAVID H. KNAPP, CHAIRMAN
MEMBERS PRESENT:  Mr. May, Mr. Kilmartin, Mrs. Ervin
MEMBERS ABSENT: Mr. Jordan, Mr. Stanczyk, Mr. Holmquist
ALSO PRESENT:  Mr. Meyer, Mr. Liedka, Mr. Shepard, Mr. McMahon, Ms. Williams, also see attached
Chairman Knapp called the meeting to order at 12:39 p.m.
PUBLIC HEALTH:  Dr. Cynthia Morrow, Commissioner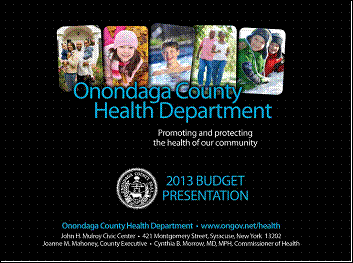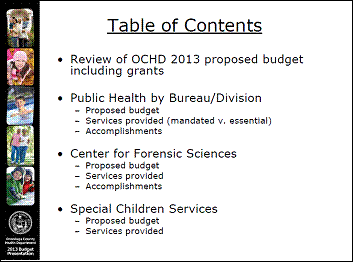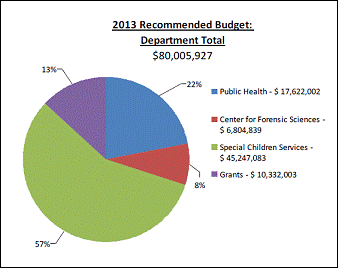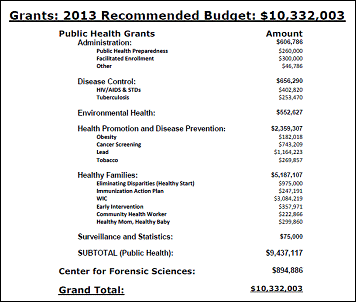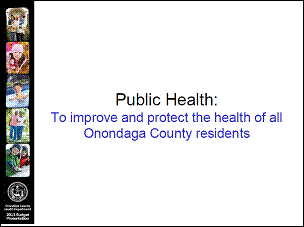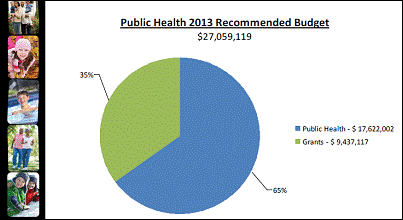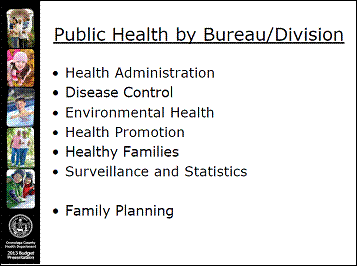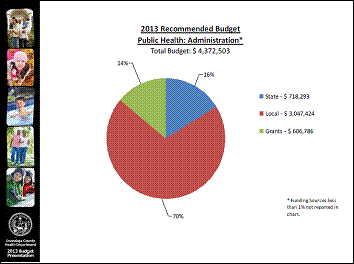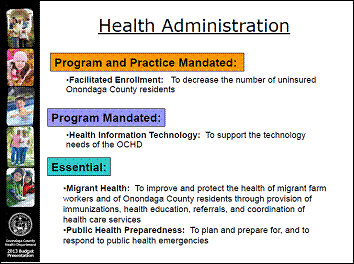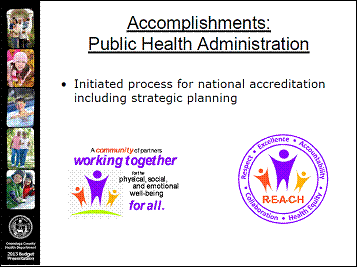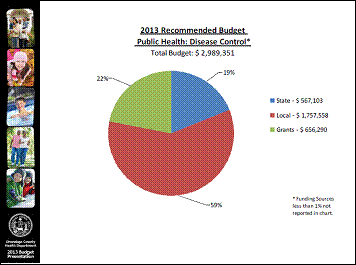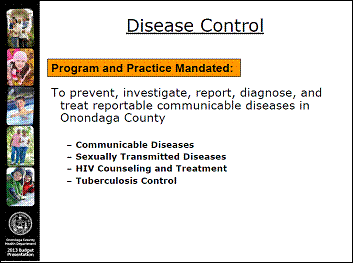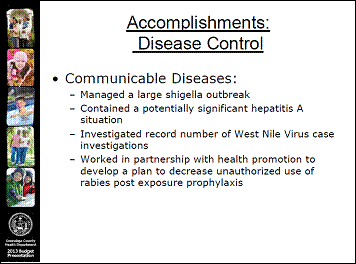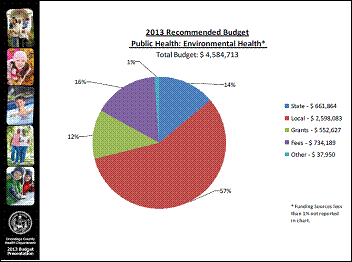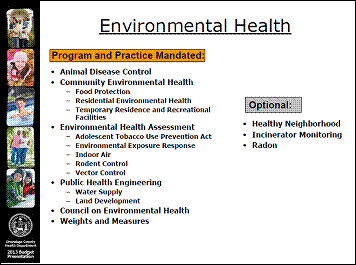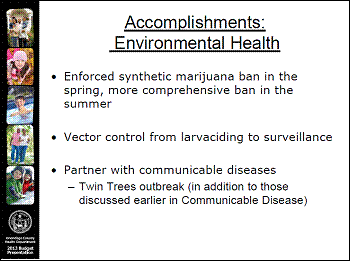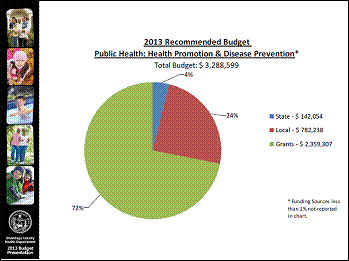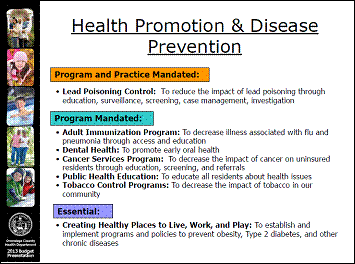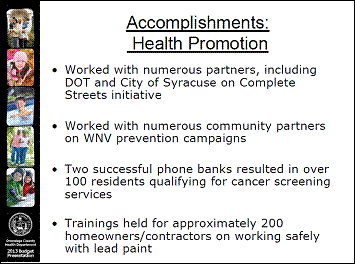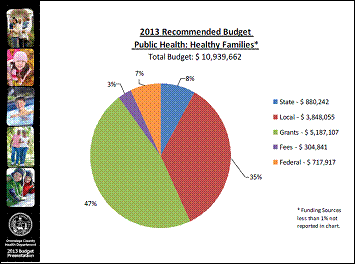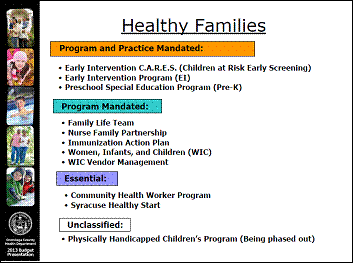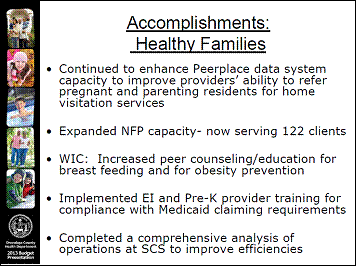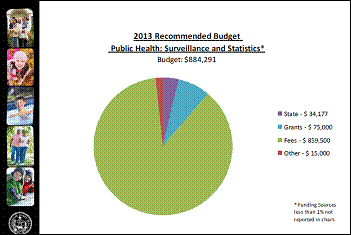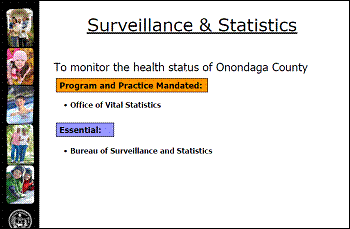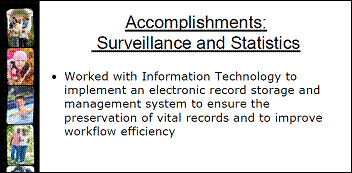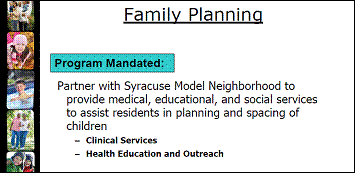 Mr. Liedka asked for an explanation of why overtime and employee wages are up $10,000.  Ms. Wilson responded they are required to budget overtime for the nursing staff so they try to budget around $5,000.  The 103 account is summer help that work mainly in the Environmental Health Vector Control Program.  There are a few part time staff that work 50% of the time but the majority is for the vector program.  The 101 has a lot of salary and wage adjustments from negotiated increases from the Union.  The Health Department tries to offset as much of the salaries as possible through grants.  If during the year there are surpluses in other lines to support more staff, those adjustments will be made.  Dr. Morrow commented the costs are estimated overtime.  The Hepatitis A situation was found out about on a Friday afternoon, so they had people working that weekend.  Nurses in particular are offered overtime versus comp time because the Health Department would have to pay comp time and a half.  It is cheaper to do overtime for nurses.  The other situation when they use overtime is with influenza clinics; try to get volunteers. 
Mr. Liedka asked if the Health Department did spray, and if so, how many times.  Dr. Morrow replied for 2012 budget there was $65,000 for a single aerial spray.  They have not sprayed this year.  In 2012 it was in the fund balance and got moved to the operating budget.  Dr. Morrow stated she cannot imagine at this point that they would spray for Triple E just because of the mosquito population.  They do not spray for West Nile because it is a different ecology, different density, and it is in the urban area rather than Cicero Swamp. 
Mr. Liedka asked, in reference to computer replacement, roughly how many computers is the County looking to replace.  Dr. Morrow stated she does not have the number but in terms of interdepartmental charges, the department is up $520,000 which $290,000 is computer associated costs.  Mr. Morgan commented next year they are going to get 268 devices between desktops and laptops.  Dr. Morrow stated they are looking forward to getting tablets for the Environmental staff to be able to take in the field; hoping for efficiency improvement.
Mr. Kilmartin stated there was an appropriation in fund balance for electronic medical records, and asked Dr. Morrow to expand on the type of use and details of the amounts.  Dr. Morrow responded the overall number is $120,000 gross, revenue from State aid is anticipated to be $43,200, and local is $76,800.  The idea is to be able to take the STD, HIV and TB records and put them in electronic medical records.  This is for better access to the data, and it is what everyone doing clinical services is doing.  The department has to stay competitive and continue at a community standard of care.  Mr. Kilmartin asked, in terms of the hardware and software, is this is similar to what Van Duyn or Social Services uses.  Dr. Morrow replied they've talked with all the other departments to see what they were using.  There are different needs based on use, and this is the best figure for licenses, installation, training, and support necessary for electronic medical records.  Dr. Morrow responded to Chairman Knapp that anything like the electronic records would be eligible for Article 6 state aid reimbursement of 36%.  Right now, in reference to the STD clinic, it is illegal for a local health department to bill, but there will probably be changes at the state regulatory level.  Dr. Morrow does not feel the revenue that would be affected by the ability to bill and be competitive would be significant because most clients that have insurance would have Medicaid.  It is more about staying current with the times.  The bigger picture is the Regional Health Information Organization.  Ideally in the near future most health care providers in Onondaga County will belong to the RHIO, and it would be poor practice for the Health Department not to be a part of it.  Dr. Morrow agreed with Chairman Knapp that if the Health Department does not get on the boat now, two years from now when everyone else is on it, they will not be able to see that their patient was seen in the STD clinic; that patient could get duplicate treatment.  Mr. Morgan responded to Mr. Kilmartin that the concept is to keep consistency, and Dell are the products the County is moving forward with (desktops and laptops); trying to standardize the whole County.  Mr. Seitz commented when the County had the old program of replacing equipment every three or four years, IT ended up with four different images within a department.  It was hard for IT to maintain the equipment so this new program is working out pretty well. 
Dr. Morrow and Ms. Wilson's responses to Chairman Knapp's questions:
Maintenance/utilities/rents – increase in property leases $12,000 for where Healthy Families is located; try to offset with grants; moved towards print management and copiers which are $6,000 more, but eliminated printers

2 vehicles for Environmental Health; purchased for West Nile – too bulky for other uses; '95 and '96; in VURB

Flu year - HVN2B – new swine flu; most with agricultural fairs; prior to State Fair – very unsure; has been isolated to people having contact with sick pigs; do not believe it has easy human to human transmission; keep an eye on it

If it does human/human, then will need a new vaccine; of 300 people who have gotten it, symptoms almost mimic seasonal flu; happy that it's not as severe; do not believe it will pose a threat but influenza is unpredictable

Shigella – early cases in Mid-June; did identify a few clusters of cases; something was contaminated in June which caused a few small outbreaks; went from food born to person/person transmission

Lead poisoning – communication important; work closely with Community Development; Anne's idea - have list of people at high risk of being in home with lead poisoning; outreach for those in various programs – ask if they need support; in reach in County and outreach
CENTER FOR FORENSIC SCIENCES:  Dr. Cynthia Morrow, Commissioner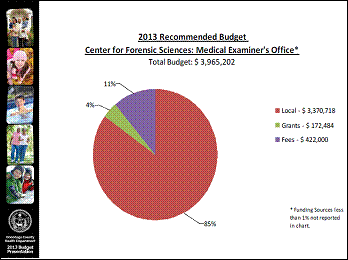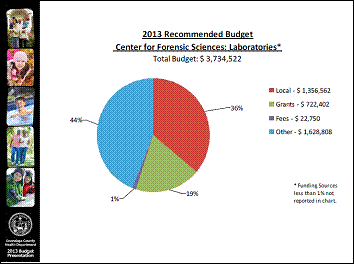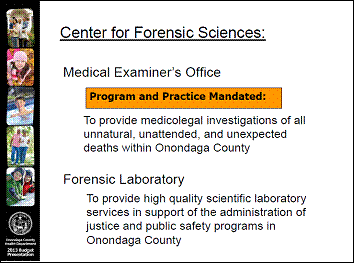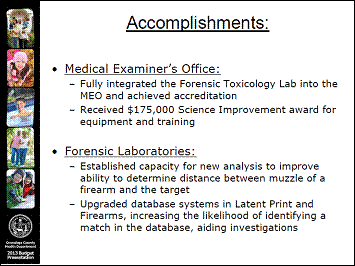 Dr. Morrow:
Fund balance request – single blade server costing $135,000; currently 7 servers, 5 need to be replaced soon; cost analysis and doing by piece meal over next several years would cost County $283,000

Medical Examiner's Office – couple grants did not pan out so unfunding positions; unfund Lab Tech and fund Toxic Forensic Chemist - need to improve turn around, reduce back log, new methodology

MEO - asking to create an unfunded Forensic Investigator – significant potential to grow as a regional MEO; Oneida County looking at potential changes; Pathologist in surrounding counties likely to retire

Would like to create unfunded position if potential growth happens; revenue from new and different contracts would pay for the position; would not be local dollar

Lab – requesting 6 authorized positions and 1 local funded position - requesting availability on adoption of budget

2005 initiated latent prints as discipline, had 718; currently have backlog of 575; 2011 had 963 cases; expended 1400 hours in grant funded overtime; latent prints database includes palm prints; case count and prints per case increasing

Technology in forensic changes rapidly; titles where needs are

Request to create Fire Arms position – not asking for funded; have Chemist in trace evidence (hair) - dying field; fire arms increased significantly; 800 cases/examiner; should be 150/year; back log growing

Take person in trace since cannot stay credited in trace because there are not enough cases; retrain in trace and put in fire arms position; funding moves; to stay premier lab, have to keep up with demand

6 authorized positions for two spots; one requesting funding and one swap funding

10 authorized positions total - going down grant funded positions

MEO decrease of 1 funded position, 2 grants and 1 swap; in addition requesting three positions but it's multiple titles in a series - Forensic Chemist in MEO; Fire Arms in Lab and Latent Print in Lab

Back log and DA's office – Dr. Corrado has excellent relationship w/office; prioritize certain cases; homicide on top; back log a huge issue; not first come first serve; ones in back log are least priority

3 steps in Toxicology position for recruiting; help recruit someone with experience; takes 2.5 years to train in fire arms

Asking for positions now but not fully online for years; built in ladder to retain people; depending on discipline can take up to 18 months and 10's of thousands of dollars of training; show the department has ability to go to next levels 1,2,3

Majority of back logs are Onondaga County; asked to provide service for area with backlog from St. Lawrence and refused; know that it would disproportionately affect the County if they were to take on that request

Lab toxicology has capacity so can accept outside cases but will not accept outside cases if it will affect the ability to serve the community; varies by discipline; very few outside cases unless very bad situation and need help

Creation of new positions – would expect most overtime to roll back; most lab OT is grant funded which won't impact local costs; there are local grants to address back log

Grants cover OT costs not benefits or increase pension; partially grant funded but still cost to tax payers
SPECIAL CHILDREN'S SERVICES:  Dr. Cynthia Morrow, Commissioner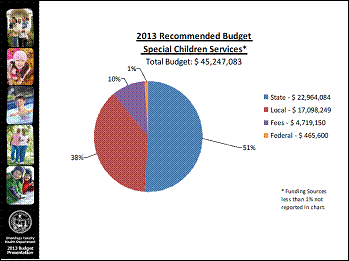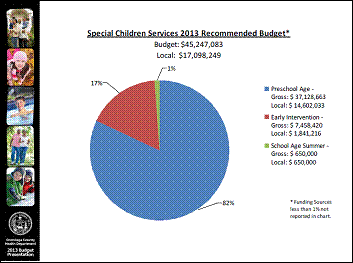 Dr. Morrow:
Federal law states, "Any child who's suspected of having a developmental delay is entitled to a full developmental assessment.  Based on the state's criteria, if that child meets eligibility criteria because of their delay, he/she is entitled to the services that he/she needs to reach his/her potential."

Two areas:  Early Intervention and Pre K

Early Intervention – fee for service based medical model; contained in local and state health dept; fraction of cost

Pre-K – educational model; rates for tuition set by state education; school districts authorize services, County pays bill

Situations completely out of our control

SCS is 57% of Health; primarily occupational, physical and speech therapy and special education for children with developmental delay; w/implicit understanding those children will achieve greater success getting services they need

Bit of SCS the Health Dept can control -  did complete analysis to see if there were efficiencies  

Throwing out $45 million without a whole lot of explanation

Dealing w/mandate – important service for developmental delay but frustrating there is no control over rates or Pre-K

Trends with mandates – greatest challenge is predicting; predict rate increase but they are set by the state; some years they implement increases and some they don't

The state can do 2 year reconciliations - change rates already paid 2 years ago today

First time in 16 years there are significant changes to EI in 2013 - state will take over as fiscal agent for billing for EI; no idea what's going to happen or how it will impact the department

Fiscal administration is significant part – should decrease; get grant funding; expect demand and supply will change but can't predict so put in budget as status quo; will change but not sure how or when

Will need to give contractors notice if have to get out of contract – could be anytime; EI will change in 2013 but not sure what the impact will be; expect Pre-K will change in 2014 or 2015
DEPARTMENT OF SOCIAL SERVICES:  David Sutkowy, Commissioner; Brian Lynch, Executive Deputy Commissioner
What I would like to do in the time allotted is to give a brief explanation of what this budget represents, the more significant changes, and finally, what it really says about our Department's mission in the community.
To begin, our 2013 recommended budget is $300.5 million gross, or $159.6 million local.  The local dollar request represents a 1.2% increase over the 2012 BAM. 
On the surface, this increase, well below the rate of inflation, would suggest that not much is changing with respect to program and administrative accounts.  At least on the program side this is not true, however.  There's a lot going on in the budget, with some accounts rising and others falling, the net impact of which is a relatively flat budget for 2013.
So what are some of the major changes in the 2013 recommended budget as compared with 2012?
There are a several points worth highlighting.
I'll begin on the program side:
The Medicaid account is down $3.4 million.  A couple of reasons account for this: No federal Intergovernmental Transfer is included.  We have received no word whether it will be available in 2013. A second reason relates to the State's billing cycle.  Simply by a fluke of the calendar, 2012 has 53 billing cycles, not the normal 52.  So the additional week's cost we needed to build into the 2012 budget is unnecessary for 2013.
In the other benefit programs that we operate, we are still seeing caseload growth and higher overall costs.  So many families are struggling these days.  In the handout we passed out that accompanies this presentation, we include a chart that shows how much the need for assistance has changed since 2008.
Across the board, we've been seeing increased demand in our public benefit programs.  Of course, this isn't unique to Onondaga County.  The same growth that we're seeing is being reported throughout the State.  But if there's any good news here, it's that the demand seems to be slacking a bit, and we've developed our Safety Net, Family Assistance and Day Care budgets accordingly.
On the Services side of our department, we have budgeted our Foster Care account at less than the 2012 appropriation.  I'll talk a little more about this later, but a number of things that we are doing differently in Child Welfare have resulted in better outcomes for children, along with reduced financial obligation for taxpayers.
All totaled, our recommended local budget for programs is $139 million, a 0.4% growth over the 2012 BAM.
Our administrative accounts represent all the items we need to operate these public benefit and services programs.  The 2013 recommended budget for our Administrative costs is $75.7 million.  This represents a 2.6% increase in gross costs from our 2012 BAM, virtually the entire amount related to the increase in fringe benefit costs.  In fact, our direct appropriation of $45 million is only $36,000 higher than the current year, less than one-tenth of one percent.
Even as I explain this, as I tell you what's up and what's down, I think you're deserving of an explanation of the context for all this, and what it means in terms of our mission and what we're trying to accomplish with the tax dollars allocated to it.
When the big federal anti-poverty programs were created, they were designed to be administered through individual states.  In New York, given the prominent role that counties have always played in the delivery of services, the administration of these large programs was delegated to the local level.  So our mission at the most basic level is to act as an agent of the State in the administration these mandated federal programs.
Both that doesn't begin to tell the whole story.  Even though we operate the same programs we have for years, these are really very different programs from what they were.  And it's a very different population we're serving.  I think it's safe to say, without risk of too much overstatement, that when these federal benefit programs were created, they were designed to create a base level of economic security for those individuals and families who were completely out of the work force – persons who were either not working and drawing no income from any source, or those who had been in the workforce but who now were out of it and living off less than adequate pensions or disability allowances.  Decades ago, we used to talk about the working poor, but in truth, that population was always on the margin with respect to how these programs were designed.  It seemed that back then there was more of a solid line separating those who were working and those who weren't.  If you worked, you could make it on your own.  If you didn't work and couldn't make it, then it was the economic security offered through these federal programs that helped you survive.
But that just isn't true anymore. I truly believe that these programs have evolved into something that's very different from their roots.  And they've changed and evolved because society and the national economy has changed and evolved.  From where I sit – from what I see through my job and from what I've read – I think over the last few years we're seeing something far more significant than a cyclical downtown in the national economy.  I truly think that what we're seeing is a fundamental change in the structure of the American economy itself. 
After the Second World War, American manufacturing turned on a dime from war production to consumer consumption.  The strength and vitality of our national manufacturing base supplied the world with commodities.  The 1970s was the high water mark for American manufacturing, when over 50% of our nation's jobs were housed in the manufacturing sector.  Typically, these jobs offered decent wages and adequate fringe benefits.  Families, generally speaking, could make it on these wages earned through these jobs.
But our country has lost those jobs.  I've read reports that say manufacturing now accounts for less than 10% of jobs in America.  Economists refer to what's happening as the hollowing out of the job sector.  What they mean is; there is growth and strength in the information/health/professional sectors where wages are generally higher, a loss of mid wage manufacturing jobs, and a growth in the service sector where wages are lower and benefits typically absent.  Since this recession began in 2008, the majority of job loss has been the manufacturing side, and recent job growth has tended to be greatest on the lower wage service economy.
I am no economist, but this looks and feels right to me.  Our caseloads have increased, but the growth is very much connected with individuals who are firmly attached to the work force, are working to their personal capacity, yet still aren't able to make it on their own.  Our Food Stamps program is a good case in point.  In 2008, before the economic crisis began, there were 5,159 households with earned income receiving Food Stamps.  A few months ago, that number was 8,622, an increase of 67%.  Day Care is another example.  Comparing 2008 with today, 24% more families now qualify for subsidy assistance because their earnings are so low.  In fact, with the cost of care at Day Care Center running around $11-12,000 a year, it is only the financial assistance provided through our program that allows the family to stay working and stay ahead.  In one telling point, working parents are required as a condition of eligibility to contribute to the cost of the care.  That fee is based on their earnings.  37% of eligible parents pay the lowest fee permissible – a clear reflection of the deteriorating wage earning capacity of many American workers.
If there is a silver lining in this discussion of these public benefit programs and how many families now routinely rely on them it is this one fact:  The programs work in helping families and children escape poverty.  Some of you have heard me say this before:  In an effort to really understand what poverty looks like in America, the National Academy of Sciences developed a new, alternative poverty index that is more nuanced than the poverty data generated through the federal Census.  Census data only looks at earned income.  But the Academy of Sciences factors in certain costs, but also the revenue households' generate through various public benefit programs.  Using this methodology, alternative poverty rates were calculated for counties in New York State.
In 2008, our county's official child poverty rate was 12.9%, just above the rate for NY counties other than NY City.  But under the alternative poverty index where a family's use of food stamps, child care and other programs is factored in, our child poverty rate fell to 7.7%, one of the lowest in New York State. 
The point I'm trying to make with this is that these large benefit programs are proving their success in helping working families in this new economy be able to live their lives and raise families out of poverty.
There is, of course, one inescapable irony in all this.  The more the economy struggles, the more families turn to these programs for help.  Greater demand means increased cost.  And this bill needs to be paid by the very same taxpayers who are increasing hard pressed to make ends meet.
What this means to me is that our mission extends beyond the population that receives benefits through us.  We – our staff and me - need to be ever mindful of the cost of these programs and the financial burden they place on taxpayers.  We have built in strong case integrity practices to ensure that we are able to investigate clients potentially committing fraud at the taxpayer's expense. 
Administratively, if you have watched us over the years, you probably have seen how we have changed our business practices – sometimes by small tweaks, and sometimes by wholesale changes, in an effort to economize and achieve more efficiency in our operations.  On this score, I'm pretty proud of what we've been able to achieve.  Despite vastly higher caseloads today than ever before our staffing remains as low as it has ever been.  We used to have almost 1,000 staff; today it numbers around 700.  Our infrastructure has become very lean, and with your help we've been able to make timely investments in technology that has helped us respond to the vastly greater demand for services while at the same time reducing operating costs.
On the Services side of the Department, nowhere is it more evident than in our Child Welfare system that good practice and cost savings need not be mutually exclusive. 
You know what we do in Child Welfare. We investigate and respond to allegations of child maltreatment in our community.  This is some of the most difficult work performed by County employees.   We currently respond to over 6,000 reports a year.  Over the past five or so years, we've asked for your support to make what we considered to be strategic financial investments in our Child Welfare operations.  You've provided that support, and the investments have paid great dividends – in helping children and in controlling program costs.  The number of children placed in the Foster Care system peaked at over 800 a decade ago.  Today, that number is 290.  In part it's because of the investments in good community programs.  In part it's because we changed how we operate.
Several years ago we asked to be part of a pilot project that was developed under State legislation.  In this pilot, we changed our practices in how we respond to the Child Protective Hotline reports of maltreatment.  Safety was and still is the primary focus; but how we approach it is different.  Very simply, the change theory is based on the idea that it's ultimately more effective to engage people and work together to solve problems than to try to impose your will from the outside.  And that's what our approach – called FAR, or Family Assessment Response – is all about.  It's about committing the time and effort to engage families who are often struggling with parenting issues affecting the raising of their children.  And the results are telling.  About 35% of Hotline reports that come to us are addressed through the FAR approach, but they account for only 6% of subsequent petitions to Family Court, and represent only 2% of admissions to Foster Care.  FAR isn't the only reason the Foster Care account dropped, and is budgeted to drop further, but it certainly has contributed to the reduction. 
This FAR approach has been seen as so successful in our operation and in the other 5 pilot counties, that the State expanded the legislation and has made it a statewide effort.
Many years ago I heard an administrator in the Social Services world, not from this county, describe his job by saying that he was there to "determine eligibility and provide benefits".  I remember thinking at the time, as I still think today, that we're more than that.  We have to be more than that.  Of course we still need to follow the mandates established for us.  That goes without saying.  But the job before us involves being aware as best we can what our community needs and how it's changing, and then be willing to change sometimes long-standing practices so that we can help make a difference in how individuals and families fare.
2013 DSS BUDGET SUMMARY
2012

BAM

2013

RECOMMEND

      $ CHANGE

      VS BAM

% CHANGE VS BAM

APPROPRIATIONS

Programs

$209,375,390

$213,865,671

$4,490,281

      2.14%

Administration

73,780,248

75,664,606

1,884,358

      2.56%

POS

10,586,887

10,911,794

324,907

      3.07%

Total

$293,600,678

$300,442,071

$6,699,546

2.28%

LOCAL DOLLARS

Programs

$138,548,271

    $139,071,236

                $522,965

      .38%

Administration

15,293,682

        16,156,897

                    863,215

    5.64%

POS

3,886,203

4,367,107

                    480,904

  12.37%

Total

$157,728,156

   $159,595,240

$1,867,084

     1.18%
The significant factors driving the local dollar increase include:
Administration:
                Direct appropriations remain flat.  Increased fringe benefits account for the rise in appropriation.
Purchase of Services:
                The increase in gross costs is due to the transfer of Juvenile Justice contracts from the Hillbrook Budget to Social Services.
Programs:
                Programs experiencing reduction in expenses include Medicaid (fewer weekly payment cycles, elimination of the IGT) and Foster Care (reduced caseload).
                Programs experiencing increases in costs include Safety Net, Family Assistance, and Day Care (increased caseloads) and State Training Schools (retroactive payments).
DSS PROGRAM STATS
Program                                     12/31/08                                  9/1/12                             %Change
Family Assistance                         2,631                                    3,504                                    33%
Safety Net                                    1,876                                    2,888                                    54%
Food Stamps                              19,836                                  32,090                                    62%
Medicaid                                    42,664                                  57,008                                    34%
Day Care                                     3,116                                    3,894                                    24%
Child Protective Reports                 435                                       558                                    28%
Foster Care                                      359                                       290                                   -19%
     Residential Foster Care                88                                         56                                   -36%
_ _ _ _ _ _ _ _ _ _ _ _ _ _ _ _ _ _ _ _ _ _ _ _ _ _ _ _ _ _ _ _ _ _ _ _ _ _ _ _ _ _ _ _ _ _ _ _ _ _ _ _ _
Staffing                              763 Funded Positions             702 Funded Positions                  -7%
Note: Represents cases at a point in time except for Day Care, child protective reports, and Foster Care. Day Care numbers represent a monthly average as do the child protective reports and Foster Care cases.
Mr. Sutkowy's responses to Mr. Liedka's questions:
Other employees wages increased $100,000 – no reserve; staff on vacation or sick or new mandates from state that need to be implemented, have to do with resources have at their disposal

2011 – expenditures in wages increased significantly; budgeted $150,000, spent $700,000; year of retirements; brought on retirees on temp basis; part time staff to get over hump and become operationally effective

Size of case loads – busy in all program areas; slight increase for capacity to hire summer help and majority is getting part time help; bridge gaps when not comfortable with operations

If division requires help, they submit plan to show how many staffers, period of time, costs; monitored rigorously

Children Services Deputy Commissioner position – bump in grade; Mary Schapley retiring next summer

Position oversees staff of 200; 24/7 job; life and death situations; wage scale does not allow to attract high level mid-manager in non-profit world; asking for little boost to attract candidate who will have skills and experience for position
Mr. McMahon stated looking at the administration budget overtime line in 2011 actual $758,000, modified was $500,000 and now asking for $550,000.  Where is Social Services year to date in 2012?  Mr. Sutkowy responded the $758,000 in 2011 was related to the early retirements.  DSS is a 700 person operation, and on September 10th, 2010, 100 people left.  From July through the end of the year, it was rugged in SS.  The production lines don't stop.  DSS must see every client that comes in, has to be current on all renewals, must respond to every call, and is bound to state time frames in respect to mandates.  Mr. Sutkowy stated he was working with budget because they needed hands on deck.  Mr. Morgan commented in 2011 the County had the resources to pay compensatory time balances down.  There were long term employees with large balances that were paid down.  There was a new policy/procedure put in place to keep the balances in check going forward.  Mr. Morgan responded to Mr. McMahon that the overtime in 2012 should come in around the $500,000, if not within $20,000 - $30,000 more.  Mr. Sutkowy said the vast majority of the overtime is related to the night service.  Child Welfare is a 24/7 operation responding to maltreatment at night, on weekends, or holidays.  $400,000+ of the overtime is related to manning that operation, and the rest is discretionary overtime made available for a catch up basis.  Mr. McMahon stated on the 103 line there is an increase of $110,000 from the 2012 budget, and asked if that line is going up, shouldn't the overtime go down or remain flat.  Mr. Sutkowy responded with the case loads the way they are, they do not want to add staff.  Mr. Sutkowy asked for one community service aid.  The flexibility SS would like in their budget has to do with temporary staff employed on an overtime basis or bringing back retirees. 
Mr. Kilmartin asked Mr. Sutkowy to explain the most significant concerns with trends in funding, grants and cases over the next year or two that the County may have to deal with.  Mr. Sutkowy:
Public benefit side – asked last year when will cases start dropping, responded not going to happen; hope wrong with economy changing but fear right; if economy makes fundamental changes, program will stay like this for long time

Families hard pressed to make on own, also to pay costs - will have to be discussed honestly and maturely

What role does America want to play with supporting families who are trying but cannot make it on their own?  What financial capacity do the tax payers have to do that?

Service side – no financial threats; want to do better for kids, not just help get them out of foster care

Graduation rates in urban schools, young adults not anchor in economy; education has to be the key

DSS and County – not clear role but personal belief that we as a society need to do more for kids within county; need to hit adult hood with a fighting chance to make it in the economy or society suffers
Chairman Knapp requested the YTD figures on the various DSS programs.
Chairman Knapp stated several years ago there was a $4 billion dollar figure for Medicaid fraud and abuse.  Chairman Knapp asked what Social Services is doing locally to address this situation, and what will it look like going forward.  Mr. Sutkowy responded the projected savings is $4 - $5 million both in identifying active cases where the information submitted was not accurate, or cases that have applied without submitting appropriate information; not only would the case be denied but possibly pursue other actions to ensure it will not happen again.  Chairman Knapp asked if DSS has software or programs that look for anomalies like this.  Mr. Sutkowy replied there was a program they used to purchase but it worked better on the provider or billers side. 
Mr. Kilmartin stated there are three bullet points under Medicaid (4-157) with reference to no intergovernmental transfer for the 2013 budget.  Mr. Kilmartin asked about the recent trends in terms of funding the County did or didn't receive; where the trend has been, and where it is going.  Mr. Morgan responded the specific reference is to Van Duyn.  It is the upper payment limit, allowable payments from the feds to a nursing home, to bridge the gap between the Medicare and Medicaid payment rate.  The feds kick in half and the County kicks in have under DSS's budget.  Mr. Morgan stated Van Duyn is the benefit of those funds.  Mr. Morgan replied to Mr. Kilmartin that there is nothing in the budget because they are not certain the feds will exercise another payment of that type.  If they do, DSS will come back to the legislature.  Mr. Kilmartin asked if the concern about the feds not exercising another payment is because of the transition that might take place with Van Duyn, or changes at the federal level.  Mr. Morgan stated the feds have to approve the state's plan on this every year which is usually late so it hasn't been budgeted for. 
The meeting was adjourned at 2:50 p.m.
Respectfully submitted,
Jamie M. McNamara, Assistant Clerk
Onondaga County Legislature