WAYS & MEANS 2013 BUDGET REVIEW OF HEALTH COMMITTEE DEPARTMENTS
SEPTEMBER 24, 2012
DAVID KNAPP, CHAIRMAN
MEMBERS PRESENT:  Mr. May, Mrs. Ervin
MEMBERS ABSENT:  Mr. Holmquist, Mr. Jordan, Mr. Stanczyk, Mr. Kilmartin
ALSO PRESENT:  Mr. Liedka, Mrs. Tassone, Mr. Shepard, Chairman McMahon, Ms. Williams
Chairman Knapp called the meeting to order at 9:07 a.m.
MENTAL HEALTH, pg.  4-65 – Robert Long, Commissioner; Barry Beck, Deputy Commissioner,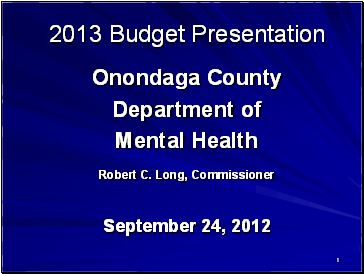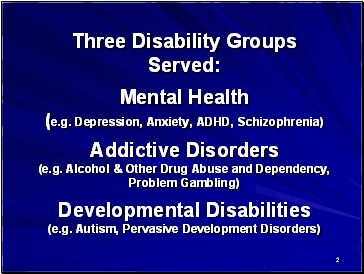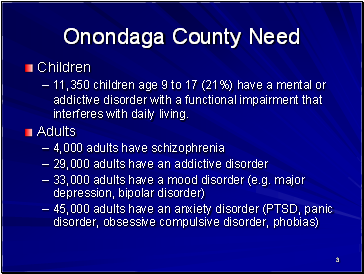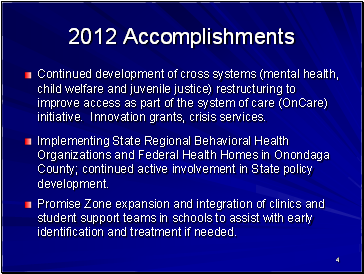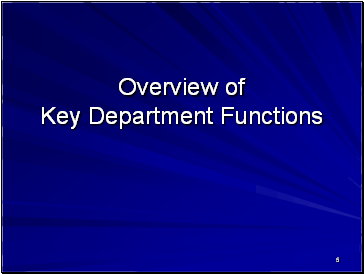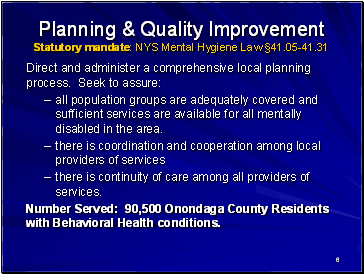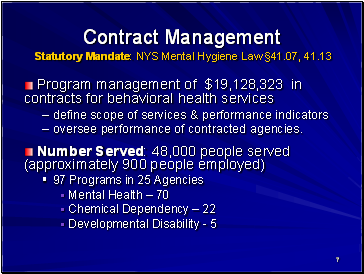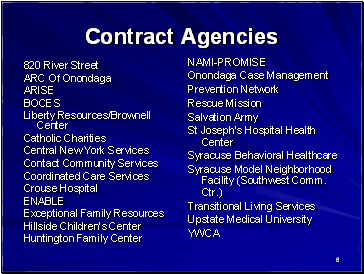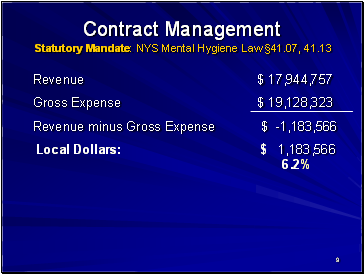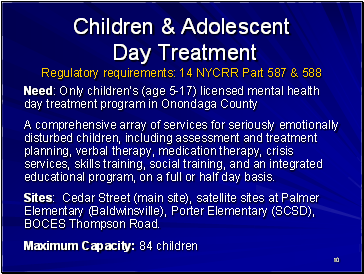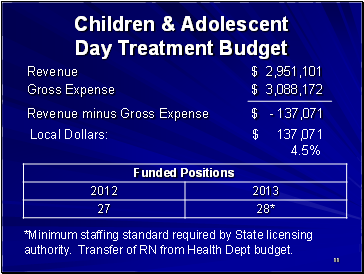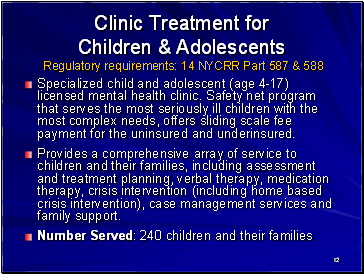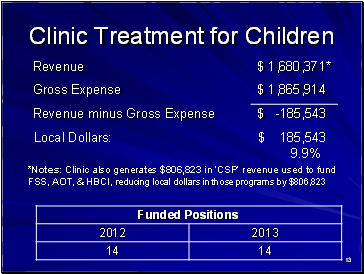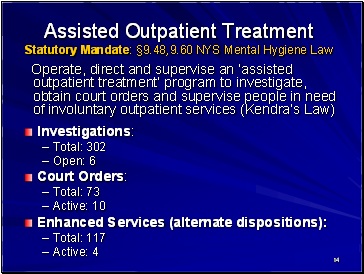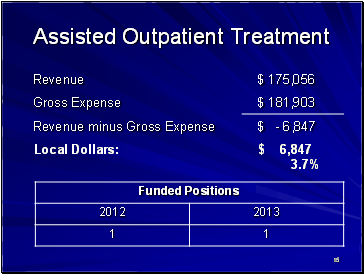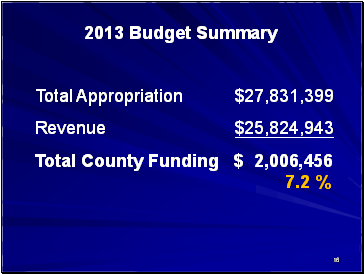 Mr. May asked if any of the state and federal money coming in is contingent on any local dollar expenditures.  Mr. Long said that the local dollars are in two categories: 
Maintenance of effort:

when State started awarding aid many years ago, the State law required that counties maintain whatever they were spending on the services in order to receive state aid

If County reduces a local dollar; they reduce a State dollar

Other Local Dollars – areas where State or Feds won't pay the expense – primarily administrative expenses
Mr. Long will provide specific information.
Mr. Liedka asked in any savings have been realized from the privatization of correctional health.  Mr. Long said that the contract is in the Sheriff's Dept. budget; he hasn't seen the final numbers - will provide the information.
Mr. Liedka asked if there are any opportunities to combine services with neighboring counties.  Mr. Long said with the transition to managed care and health homes in the behavioral health field, the State Dept. of Health is looking at creating regional planning regions.  In this area, the draft regional planning is Onondaga and the 4 surrounding counties – Cortland, Madison, Cayuga, Oswego.  There is already a 5-county planning group and they are looking at how they might work with the Dept. of Health's new regions and plan together to be more effective.  There is a lot of cross over business between Onondaga and surrounding counties.
Mr. Liedka asked if Home Based Crisis Intervention has been effective in reducing stays for children under the age of 19.  Mr. Long said that it has:
Home Based Crisis Intervention goes into the home when a family is in crisis

In home for up to 6 weeks

Very intensive services

Idea is to prevent people from going to emergency rooms, being hospitalized, or residential facilities

Very effective – rarely does someone served by HBCI go on to one of the higher levels of care
Mr. Liedka referred to maintenance, utilities & rents – up approximately $67k from 2011; asked for justification. Mr. Long explained that they received a grant this year to do renovations at the Cedar Street Day Treatment/Clinic. 
Mrs. Tassone asked about $12k for membership.  Mr. Long:
Bulk of membership is for the Conference of Local Mental Hygiene Directors, which is a statutory created statewide association of all counterparts in the 57 counties in New York plus NYC

Primary source of information about what is going on in Albany – allows them to work with administrative agencies and elected officials to ensure that their interest is represented in the policy formulation.  He is the Chair of the organization.

Very active at state level – making sure interest of counties are represented in Albany

3 person staff – dues pay for them

Created in 1970s; Onondaga Co. has been a member since it was created; affiliate of NYSAC
Mr. Liedka asked about the System of Care Grant -- staff affect; cost savings, accountability.  Mr. Long:
no cost for staff; no county staff involved; staff contracted through an agency

Effective in 2 ways:

Changing culture in our community in terms of how/when we intervene with children – examples: diversion from detention, hospitalization, residential facilities

Reduced costs because of diverting people from very expensive service – kept them with their families and in the community
Chairman Knapp asked about line 852 – local direct support, $200k.  Mr. Long said that it is a reinvestment of savings.  State aid was reduced, which freed them from maintenance of effort requirement.  They reduced local dollars in some contracts and reinvested in the OnCare Program.  Trying to prepare for sustainability of it, once the federal grant runs out. 
Chairman Knapp asked what programs Prevention Network administers.  Mr. Long said that they administer substance abuse prevention programs.  Mr. Beck said that it is mostly information and referral, radio program "Teen Talk", "Way to Go", education and prevention – a wide range of those services.  The contract is flat with the exception of the Bath Salts initiative that the legislature approved.
LONG TERM CARE, VAN DUYN, COMMUNITY SERVICES – pg. 4-53 – Maureen Cerniglia, Deputy Commissioner; Maria Cirman, Director of Fiscal Management; Patrice Gile, Budget Analyst
As you know the pending transition of Van Duyn to a private entity with the Legislature's approval was announced during County Executive's Mahoney's 2013 budget presentation.  Van Duyn Home and Hospital for the past 10+ years has been in a state of flux with the impending realization that the ever changing reimbursement system for nursing homes in New York State would make it extremely difficult for Van Duyn to break even.  Prior to the County Executive's announcement, we met with key facility and union staff and the officers of our Resident Council to provide them with the notice of the pending transition.  This "heads up" approach was received and appreciated by the staff, union and residents.
The 2013 recommended budget is slightly less than the 2012 budget as modified. The number of authorized positions has decreased by 2. The 2013 recommended budget relies on using the remainder of the Van Duyn fund balance. There is provision in the 2013 recommended budget to fund two small capital projects.  These projects are needed to continue to ensure the safety of our almost 500 residents and staff.  Also included is the improvement of our meal tray delivery system to provide meals at more optimum temperatures (hot food hotter and cold food colder).  Van Duyn's current meal tray delivery system is antiquated. We are unable to secure parts for the system and it has been an area of focus for the New York Department of Health during our recent surveys. 
Overall the 2013 recommended budget provides Van Duyn with the funding to continue to provide the necessary services required for the almost 500 residents that live at Van Duyn and call this their home. As we proceed with the myriad of processes that will need to take place before the transition can occur we along with Ann Rooney and Steve Morgan, are available to discuss and review any additional questions, comments or concerns regarding the potential transfer of ownership of Van Duyn or its current operations.
Mrs. Ervin referred to administrators being added to the roster and questioned why when Van Duyn is about to close.  Ms. Cerniglia said that they are not adding administers; these administrators have been there for the last 1.5 years.  It is a fixing the roster to the correct numbers.  There used to be a commissioner, a deputy commissioner and an assistant administrator; now there is a deputy commissioner and two assistant administrators.  The Director of Operations was has been there for 2 years; it was done through letter of distribution through the Health Department; now it is being put on Van Duyn's roster.
Mrs. Ervin questioned a reduction of 2 positions.  Ms. Cerniglia noting that there are number of positions with PT/OT that will sundown as of December 31st.  Those 8 positions will be eliminated from the roster; added in is the Director of Operations (through letters of distribution), a caseworker (through letters of distribution-DSS); a case supervisor B – Director of Social Services (through Letter of distribution); added 2 account clerks and 1 accountant – needed to improve the financial office.  It results in a negative 2 positions.  In  answer to Mrs. Ervin, Ms. Cerniglia said that people are already in the positions with the exception of the account clerk 2 positions and the accountant.
Chairman Knapp asked if there is a corresponding decrease in the roster for the other departments regarding the letters of distribution.  Mr. Morgan said that there is; there are a number of letters of distribution positions that weren't taken care of in the resolution passed in July.  They were committed to fixing the remaining positions in the budget process.
Mr. Liedka referred to all other expenses and asked for an explanation on why the provision for bad debt has doubled since 2011; also security is up over $1 million from 2011 actual.  Ms. Cirman said that the adopted budget or provision for bad debt was $250,000 last year; annually it is about $300,000.  A new security company came in last year; the estimate in the budget is based on what they have incurred so far for 2011 – 2012.  Mr. Morgan explained that provision for bad debt in 2010 actual was $250,000; typically it runs in that nature which is why $300,000 was budgeted.  Mr. Liedka asked for further explanation on security.  Ms. Cerniglia said that the contract changed, the positions haven't.  They have 2 security officers in the building 7 days a week/ 24 hours a day; the contract changed, so the rates changed.  It was a county contract; it went through the Purchasing Dept.; they are part of a lot of security that the company provides for the County.  Mr. Liedka noted that it is a substantial increase.
Mr. Liedka referred to capital needs; questioned if that is reflected in the 2012 BAM.  Ms. Cirman said that the 960 account increased to $120,000 from $50,000 to be able to do the second floor door replacement project and the kitchen tray upgrade.  Additionally some funds rolled over from 2011 and 2012, which will supplement funding for those projects.
Chairman McMahon referred to the proposed transition.  He understands that the 10 year projection of losses at Van Duyn is approximately $115 million.  Mr. Morgan said that they have estimated that the subsidy from the County over the next 10 years would be $115 million if it was to continue to be owned and operated as is.  Chairman McMahon said that the main reason for this is because NYS is sending a message that they don't want counties to be in this business, via their reimbursement rates, being at 1988 levels.  Mr. Morgan said that the reimbursement level to Van Duyn Home and Hospital isn't sufficient to operate the facility.  Ms. Rooney said that while the financial projections are startling ten years out; when the RFQ process was started in 2011, they were looking at not only the financial health of Van Duyn but also the fact that it is a stand-alone entity.  That is the sense they have gotten from the State Dept. of Health as to why counties shouldn't be in the nursing home business.  It really makes a lot more sense to be part of a health care system that a lot of private entities, and other nursing home entities, can engage in where they will have step downs of care – something that families can access better. 
Chairman McMahan asked for detail on each step of the process from a legal standpoint, knowing that the legislature is being asked to fund the positions through next year.  Mrs. Tarolli said that the positions are to be abolished effective midnight on November 30th.  That is when the actual transition would occur.  At that point in time, it is anticipated that the purchaser would have the documents that he needs from the State Department of Health, the CON and the operating certificate to run the facility.  Chairman McMahon asked if the County will be using the Development Corporation to move this process.  Mrs. Tarolli said that they are looking at that option now – looking at an LDC to see if that can facilitate the transaction for the County. 
Chairman McMahon noted that the facility does still have some assets and value, and questions how a purchase price is determined.  Mrs. Tarolli noted that it is an issue of negotiation with the proposed purchaser.  She noted that the letter of intent discussed the Medicaid transfer price.  Chairman McMahon said that the legislature is being asked to vote on the transfer on November 30th and there will be companion pieces before the legislature later this year.  Mrs. Tarolli agreed, noting that there will be several steps that the legislature will need to approve.
AGING AND YOUTH, PG. 4-80 – Lisa Alford, Commissioner;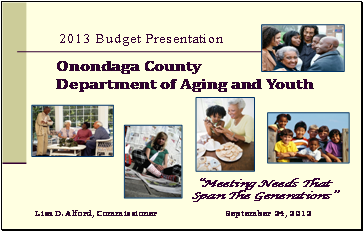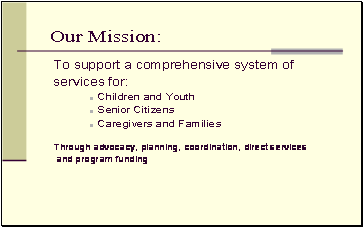 Our Department's Mission is to support a comprehensive system of services for children and youth, senior citizens, and their families.  We accomplish this and support our community through advocacy, planning, coordination, direct services and program funding.

Our goals include:
Increasing access to services for older people to enable them to remain in a safe and appropriate living environment

Developing and supporting wellness activities to promote healthy youth and older adults

Increasing the number of youth programs that utilize best practices and

Strengthening our leadership and advocacy role in the community
Today's presentation will highlight some of the ways our department is meeting these goals.

The Department of Aging and Youth has far-reaching influence in our community. Here is some data associated with the many services we provided in 2011:
340,000 Meals through Meals On Wheels and at senior dining sites
Over 30,700 Rides by funded agencies – a 22% increase over 2010
101,000 Hours of in-home aide, respite and social day services
6,500 Youth engaged in community based programs
                             and
271 Individual Youth Work Professionals were trained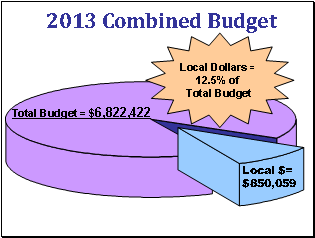 Our Total combined budget is just over $6.8 million dollars, which is $148,000 thousand dollars less than last year's budget.  Our local dollar amount of $850,000 is 12% of our total budget.

Our most significant combined budget variances include the following:
Net Personnel decreased because of :
moving appropriations to interdepartmental,
a decrease in temporary positions, and one unfunded position.
Our Contracted Services decreased because of:
an accounting adjustment to Fiscal Year 2012 BAM,
the addition of contracts to NY Connects,
a shift in funding from salaries to contracts for nutrition programs,
and a reduction in New York State funding.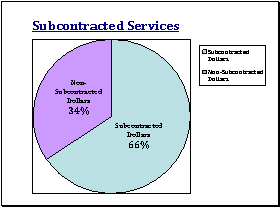 $4.5 million dollars, or 66% of our budget, is subcontracted to community based organizations.
A significant portion of the remaining 34% of our budget consists of costs associated with services and programs provided directly by our department staff, including:
Case management and support services
Telephone and face-to-face information and assistance
Nutrition education and counseling
Training and technical assistance
Health insurance and senior employment counseling
HEAP
And fiscal and programmatic monitoring of the $4.5 million we subcontract.
In addition to the revenues you see in our budgets, we received over $1 million in support in 2011 from various community sources to provide services to older adults and youth. Here are some examples:
Our department received over $722,000 in matching funds from community based organizations.
More than 40% of our EISEP clients pay a portion of their service cost. Last year this program income amounted to over $89,500.
Voluntary contributions made by Nutrition program participants totaled over $296,000 and helped us serve additional meals beyond the funding we received.
This does not take into account the hundreds hours of volunteer time we benefit from, and the generous use of donated facilities and resources that help us to provide our services.
With local dollars and these sources of support we are able to draw down all allocated state and federal funds to provide better services for Onondaga County residents.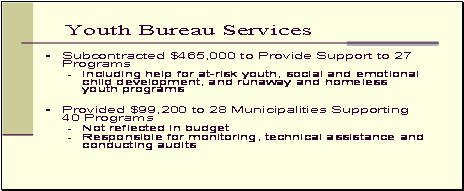 Now I'd like to highlight some of our department's programs and share some of the ways we are strengthening our community and positively affecting the people we serve.
Beginning with our Youth Bureau:
Funding totaling over $465,000 will be provided to support 27 programs, ranging from those that work with at-risk youth, including those who are runaway and homeless, to programs that help children develop socially and emotionally.
Nearly $100,000 that is not reflected in our budget will go directly to municipal programs based on population.  The youth bureau is responsible for monitoring, conducting audits and providing technical assistance to these programs.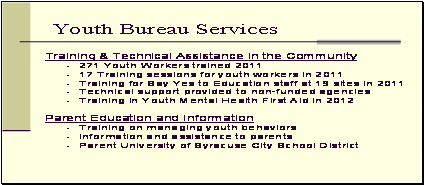 The training and technical assistance the Youth Bureau staff provides to youth workers and agencies improves the quality of the programs where youth spend their time. In 2011 we provided 17 training sessions for 271 youth workers representing 59 public and private organizations.
We partnered with Say Yes to Education and the Syracuse City School District to train staff at 19 school-based sites beginning in Fall 2011, and conducted site evaluations in 2012. We look forward to continuing our partnership with Say Yes in the 2012 - 2013 school year.
The Youth Bureau has lent its expertise to other non-funded public and private agencies. County Departments such as Probation and Public Library staff regularly attended youth bureau training sessions. In 2012, we are working with OnCare to provide Youth Mental Health First Aid Training.
In addition, 100 parents were trained on managing youth behaviors through presentations for the Syracuse City School District and the CNY Family Support Networks.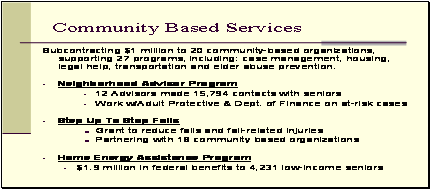 Now, I'd like to note a few statistics about our aging population. According to the 2010 U.S. Census, Onondaga County is home to more than 91,000 adults age 60 and older - a 14% increase over the 2000 Census. County data projections indicate that by the year 2015, we will experience a 19% increase in persons 60 and older and a staggering 66% increase in adults age 85 and older. Our programs are working to meet the needs of this growing population.
Our Community Based Services Programs will subcontract over 1 million dollars to 20 organizations supporting 27 programs working to promote healthy aging in place, including: case management, housing and legal help.
Neighborhood Advisors provide assistance to frail and at risk seniors in their homes and neighborhoods. In 2011, 12 Neighborhood Advisors made over 15,700 individual contacts with seniors – a 20% increase over the previous year– linking them to income stretching programs such as HEAP, SNAP and the Medicare Savings Program.
The Step Up To Stop Falls is grant was awarded to the department to reduce falls and fall-related injuries in Onondaga County, and will be sustained through 2013. The need for us to continue this work is clear: our county has the highest incidence of deaths due to falls in the service area of the granting agency.
Our HEAP program helps seniors with the high cost of energy, and we are thankful to those of you who invite us to speak to your constituents about HEAP. Last year's benefit to seniors and persons with disabilities added more than 1.9 million federal dollars to the local economy.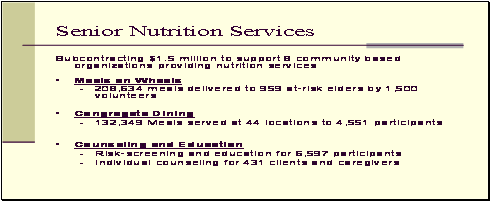 Nutrition Services will subcontract $1.5 million to 8 community-based organizations providing congregate and home delivered meals. In addition, our Registered Dieticians provide nutrition counseling and education throughout the county.
In 2011, 1,500 Meals On Wheels volunteers delivered over 208,000 well-balanced, hot meals to the homes of at-risk elders, providing daily contact and a safety check.
We are seeing an increase in the demand for home delivered meals in 2012, and that demand is projected to grow in 2013 and beyond. We are planning accordingly to meet this need.
In addition, over 132,000 meals were served at 44 locations through our congregate dining sites.
We screened 6,600 participants for nutrition risk factors associated with chronic diseases, and provided individual nutrition counseling sessions promoting healthy change for 431 of our most at-risk clients and caregivers. In addition, we provided educational information and learning sessions to an average of 2,500 of our nutrition clients on a monthly basis.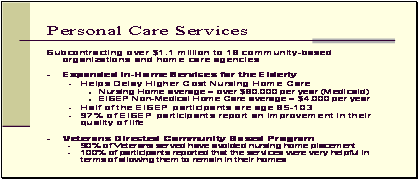 Our Expanded In-Home Services for the Elderly Program will subcontract over $1.1 million to 18 community based organizations and home care agencies to provide seniors non-medical personal care to remain in their homes for as long as it is safe and feasible to do so.
The average Medicaid cost of nursing home care for an individual in Onondaga County is $80K annually. By incorporating the efforts of family, informal caregivers and community services, EISEP case managers create cost effective care plans offering a nursing home alternative.  On average, EISEP clients receive fewer than 4 hours per week of program provided aide service.  The average annual cost of this care is less than $4,000. 
EISEP services help our increasing senior population to age in place with dignity. Over 50% of our EISEP clients are between the ages of 85 – 103. More than 60% of clients over age 90 receive services that have safely maintained them in their homes for 2 – 7 years.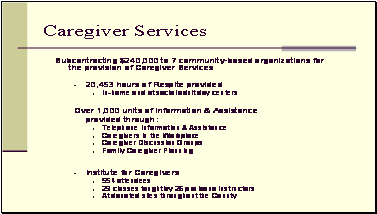 Our Caregiver Support Program will subcontract $240,000 to 7 community based organizations to provide services such as respite and information and assistance.
The 20,000 hours of respite we provided allowed caregivers of our most frail seniors to keep their family members at home, avoid costly nursing home placement, and prevent caregiver burnout.
In 2011, over 1,000 personal contacts were made through Caregiver Services, including information about and referrals to programs and services ensuring caregivers access to information, consultation, practical skills, and support.
Last year, 554 attendees benefitted from our Institute for Caregivers, offering free, on-going classes on a variety of topics specifically helpful to family caregivers.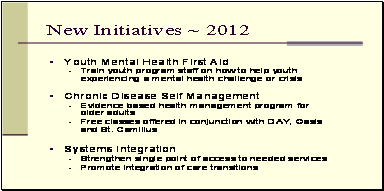 We are always looking for ways to adapt and meet the needs of the community, and 2012 has provided us with opportunities to improve services and outcomes. These initiatives include:
Our Youth Bureau is providing Youth Mental Health First Aid Training, designed to train program staff on how to help young adults (ages 12-18) who are experiencing a mental health challenge or crisis, while attending typical youth programs.
Chronic Disease Self Management is an evidence based program offered free to older adults through a partnership with our Department, Oasis and St. Camillus.
And our Systems Integration Grant will help us strengthen seamless access and promote integration of care transitions for the growing number of adults with disabilities, including dementia.
There is a bulletin board in our office that spills over with notes and letters thoughtfully sent by clients and colleagues appreciative of the assistance they have received from our staff.  These unsolicited letters serve as an important reminder to the vital meaning behind our Department's motto: "Meeting Needs that Span the Generations".
My staff and I feel privileged to be able to do the work that we do every day for the older adults and youth in our community.
My directors and I will be happy to answer any questions at this time.
Mr. Liedka referred to New York Connects, and asked what the status is with the contract and if it will be reoccurring.  Ms. Alford said it is a contract that has been recurring for several years and will continue. 
In answer to Mr. Shepard, Ms. Alford confirmed that the neighborhood advisors are done by contract.  Mr. Shepard noted that he was contacted by a representative from the Canton Wood Senior Center Board of Directors.  They have two part time outreach workers, which serve virtually the same function as a neighborhood advisor.  They work 30 hours a week between the two of them.  The senior center is facing a budget challenge, because the towns (Lysander and Van Buren) have set a flat rate that will contribute to the senior center.  They may be faced with eliminating those 2 outreach workers, and asked how it would impact neighborhood advisor work load in that area.  Ms. Alford said that it would dramatically increase the work load of the one neighborhood adviser that they fund in Baldwinsville.  Last year the Planning Department created new maps based on the new census data to show where the older adults are in the community.  There are 4 subsidized senior housing apartment building in the Baldwinsville area; it is an area that has a large growing population of seniors.   Mr. Shepard asked for the cost of the one neighborhood adviser in Baldwinsville; Ms. Alford said it about $37,000. 
Mr. Shepard said if the legislature was inclined to help offset the problem that the senior center is facing, would it be preferable to have another person at PEACE or consider funding the existing workers at the senior center.  Ms. Alford said that some of the current neighborhood advisors are at senior centers, some at non-profits in the community.  They provide multi-faceted services; there is flexibility to utilize them if they have a particular expertise in an area.
Chairman Knapp pointed out that he was on the Youth Board for many years; it was his first experience with County government; it was a great learning experience and he got to know a lot of the great work that this department does.
Chairman Knapp referred to the Youth Bureau and asked how much has the state and federal funding been reduced over the past 5 years.  Ms. Alford said there has been approximately a 50% reduction.  It has been flat on the Aging side, but noted that with the increasing numbers of seniors, the cost of services – meals, transportation, food, etc. have gone up.  It is fortunate in our community that the meals are delivered by volunteers.  Chairman Knapp asked if any changes are seen to Meals on Wheels to address the issue.  Ms. Alford that they look at as many sources of funding that they can access.  They are going to be working with the agencies to look for ways that they might be able to share expenses to bring down some costs that they have. 
Chairman Knapp asked for further detail on the Step Up to Stop Falls Program.  Ms. Alford:
The grant came through the Health Foundation of Western and Central New York;  the program is modeled after national programs

Education given to health care providers on screening older adults when they come into the office – reminding them to not just give a person a cane or a walker, but to encourage them to participate in exercise classes to help increase their strength and balance, and to give referrals to physical therapists.

Medication Management training to persons who participated in exercise classes; many times issues are related to medication interactions

In home assessments – reduce/eliminate any fall hazards in the home

Promotions of persons to look at what they are doing before they get to the point of being frail – need to work with people before they become frail
Mr. Liedka referred to pg. 4-91 and asked which position is unfunded.  Ms. Alford said it is the Project Coordinator for Runaway and Homeless Youth.
Chairman Knapp recessed the meeting until 12:30 p.m.
Respectfully submitted,
DEBORAH L. MATURO, Clerk
Onondaga County Legislature