WAYS AND MEANS COMMITTEE REVIEW OF THE 2013 TENTATIVE BUDGET
PLANNING AND ECONOMIC DEVELOPMENT DEPARTMENTS – SEPTEMBER 21, 2012
DAVID H. KNAPP, CHAIRMAN
MEMBERS PRESENT:  Mr. Jordan, Mr. May, Mr. Kilmartin,
MEMBERS ABSENT:  Mr. Stanczyk, Mr. Holmquist, Mrs. Ervin
ALSO PRESENT:  Mr. Meyer, Mrs. Rapp, Mr. Plochocki, Mr. Liedka, Mr. Shepard, Mr. McMahon, also see attached
Chairman Knapp called the meeting to order at 9:11 a.m.
COMMUNITY DEVELOPMENT:  Robert DeMore, Director; Nina Andon-McLane, Administrative Planning & Funding Coordinator 
COMMUNITY DEVELOPMENT GRANT

2009

2010

2011

2012

Change

% Change

County

$2,229,895

$2,470,746

$2,061,454

$1,680,168

-$381,286

-18.50%

Clay

287,512

309,462

257,545

190,060

-$67,485

-26.20%

Total Grant

$2,517,407

$2,780,208

$2,318,999

$1,870,228

-$448,771

-19.35%

Reprogrammed Balances

150,000

70,000

0

50,000

Program Income

200,000

100,000

100,000

100,000

Total Available

$2,867,407

$2,950,208

$2,418,999

$2,020,228

Capital Projects

$1,162,407

$1,345,208

$813,999

$526,228

-$287,771

Housing Rehabilitation

300,000

300,000

300,000

300,000

Housing Rehab (Program Income)

150,000

0

0

0

Commercial Rehabilitation

250,000

250,000

250,000

225,000

-$25,000

Rehab Delivery

450,000

450,000

450,000

440,000

-$10,000

Administration

450,000

450,000

450,000

374,000

-$76,000

Housing Counseling

5,000

5,000

5,000

5,000

Fair Housing

50,000

50,000

50,000

50,000

Homeownership (Program Income)

50,000

100,000

100,000

100,000

Contingency

0

0

0

0

Total

$2,867,407

$2,950,208

$2,418,999

$2,020,228

CDBG FLOAT LOAN

$750,000

$750,000

$750,000

750,000

Home Ownership Activities

HOME GRANT

$900,299

$896,284

$790,916

$479,710

Housing Rehabilitation

$515,224

512,213

433,187

199,783

Lead Based Paint Rehab Grants

$160,000

160,000

160,000

160,000

Home Ownership Subsidies

$0

0

0

0

Non-Profit Housing Activities

$135,045

134,443

118,637

71,957

Administration

$90,030

$89,628

$79,092

$47,971

 

Total

$900,299

$896,284

$790,916

$479,710

-$311,206

-39.35%

EMERGENCY SHELTER GRANT

$96,210

$97,616

$155,745

$178,517

Administration

$4,811

$4,881

$11,680

$13,389

Projects

$91,400

$92,735

$144,065

$165,128

Total

$96,210

$97,616

$155,745

$178,517

$22,772

14.62%

HOMELESS PREVENTION & RAPID REHOUSING

$897,454

Administration

44,872

Projects

852,582

Total Available

$897,454

AMERICAN RECOVERY  CDBG-R

$663,619

Administration

132,724

Projects

530,895

Total Available

$663,619

Total Grant Application

$6,174,989

$4,694,108

$4,115,660

$3,428,455

-$687,205

3 grants:

$3,513,916

$3,774,108

$3,265,660

$2,528,455

-$737,205
Community Development

2012 Capital Projects

No.

Municipality

Project

Approved

1

Town of Camillus

Camillus Senior Center ADA Access Compliance

$22,000

2

Town of Cicero

Senior Center Roof/Parking & Energy Conserv

30,000

3

Town of Clay

2012 Road Improvements

80,816

4

Town of DeWitt

Park Hill Redevelopment,  Ph 5

50,000

5

V-East Syracuse

Phelps Street Pumping Station

50,000

6

Town of Elbridge

Hart Lot Water District Service Line Replacement

46,000

7

Town of Geddes

Van Vleck Road Drainage

50,000

8

Town of Lafayette

LaFayette Beach Park Improvements

25,000

9

Village of Manlius

Bicentennial Park

25,000

10

Village of Marcellus

Scotch Hill Rd Sanitary Sewer Rehabilitation

50,000

11

V-North Syracuse

Centerville Park

35,000

12

Village of Solvay

Woods Road Park Pavilions

42,412

13

Cornell Cooperative Ext

Community Forests

20,000

Total:

$526,228

Contingent Projects:

1

V-Fayetteville

Senior Center Windows

$11,250

2

Village of Baldwinsville

Margaret St, Tabor St & Wood St Sidewalks

30,000

3

Village of Jordan

Clinton Terrace Improvement Project Ph 1

50,000

4

Village of Fabius

Sidewalk Replacement, Ph 2

25,000

Total:

$116,250

Fair Housing Activities:

1

ARISE, Inc.

Housing Referral and Advocacy Program (HRAP)

$10,000

2

Fair Housing Council of CNY

Fair Housing Council of CNY Inc

40,000

Total:

$50,000
Mr. DeMore:
Ms. Andon-McLane:
Budgeted grants – Block, Home, Emergency Shelter; added $1.5 million in additional grants; about half of total budget

Attachment No. 1

shows all grants over years; $186 mil since inception; include 2012 applications pending; $1.3 mil

Largest housing rehab grants - Lead Paint Hazard Removal grants; received 7, totaling over $20 million since 2001

Budget averaged $8.6 million; 3 entitled grants provide base of budget and administrative costs
Ms. Andon-McLane's responses to Chairman Knapp:
Contractual expense down significantly – Community Block grant cut drastically; by 1/3 in last 2 years; adapted by cutting CIP budget – used to be $1.25 million, cut last year to $750,000 and currently just over $500,000

Home ownership subsidies - don't budget subsidies out of 3 entitlement grants; get out of other State grants; doesn't show up in adopted budget but in modified; added later in the year as awarded the competitive grants

Housing rehab grants - budget includes entitlement grants but not LEAD grants; have $5.5 mil in Lead grants available; added $2.48 mil early in year; last year was $3.1 mil; spending out of it but not in adopted or requested
Mr. May asked what the source is of overtime charges.  Mr. DeMore responded people work more hours.  There is sometimes more time needed to get a job done.  Mr. May asked what the tasks are that require overtime in Community Development.  Mr. DeMore replied that someone may be working on a project and needs to go after work to do something at night or meet a contractor on a weekend.
Mr. McMahon stated recently there was an article in the Post Standard stating the County was giving up different parcels of land to the Common Council pending legislature approval, and Mr. McMahon would like to be briefed on this.  Mr. Fisher's response:
Out in towns and villages there are properties that don't have anyone there; towns, villages and school districts are made whole by County; County reimburses when no one pays the taxes

If land bank takes over, wouldn't have to make them whole; i.e.:  going to buy house for Community Development; upon inspection, found the house had been burned; still making school and town whole on it

Mr. DeMore's idea, which would require legislative approval before anything transferred to land bank, to form a list, not finalized by real property tax services or County Executive
Mr. DeMore's response to Mr. McMahon's question reference the Common Council meeting being premature:
Mr. McMahon stated the City would transfer their liens which would create more revenue because currently it is backwards in the City.  If someone is behind on their taxes in the County, they have to pay the current tax bill, and have a payment plan for the previous bills.  In the City, a person has to pay the least bill owed.  Mr. DeMore commented if a person lives in the City, they can choose not to pay their taxes because apparently it is an option.  The County tax rate for delinquent taxes is approximately 0.6% and the City's is 2%.  The City thinks if they force the foreclosure process, then people who were not paying will pay.  That is where there will be extra revenue from the City's side.  Mr. DeMore stated most of the lots need to be cleaned up, and some of the lots created by the tax department could be dissolved; they're costing the County money.  Mr. McMahon asked when the concept will come before the Legislature.  Mr. DeMore responded the tax sale is at the end of October, and if there were lots chosen, then the department would have to come to the Legislature in the next few weeks.  The decision would be after October.  Community Development is tracking four houses currently, and assuming they are not paid off at the auction, Mr. DeMore would be back in November to ask that they be transferred to Community Development.  At that time, they would be repaired and fixed up. 
Chairman Knapp stated Mr. DeMore and Ms. Andon-McLane have been out in the community, attending every parade, festival and farmer's market pushing the new windows for the lead abatement program.
SOCPA (Including CNY Regional Planning Board):  Don Jordan, Jr., Director; David Bottar, Executive Director of the CNY Regional Planning Board; Megan Costa, Planning Services Manager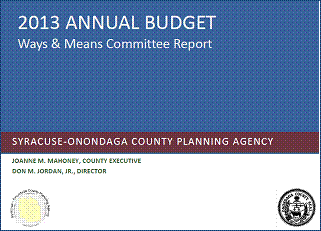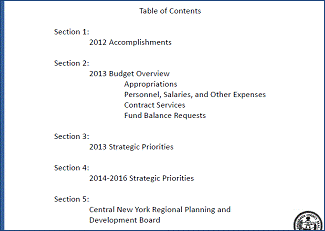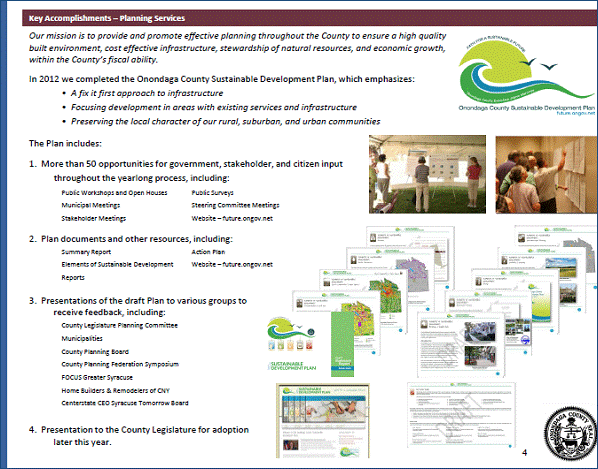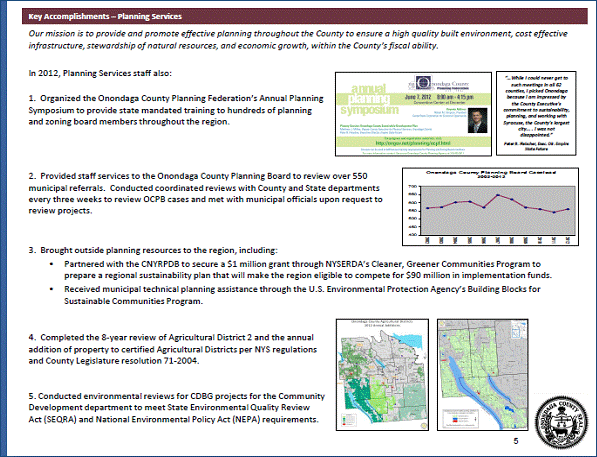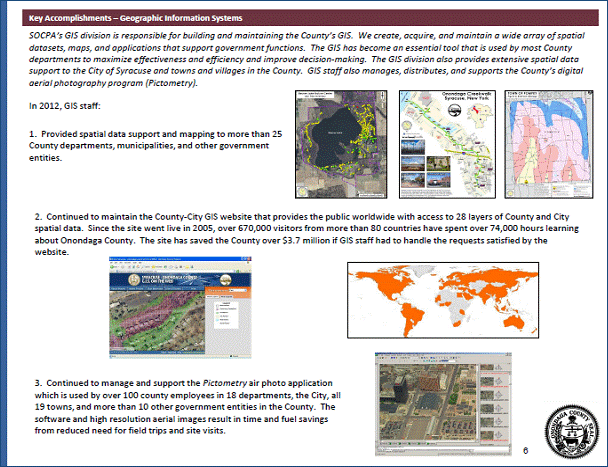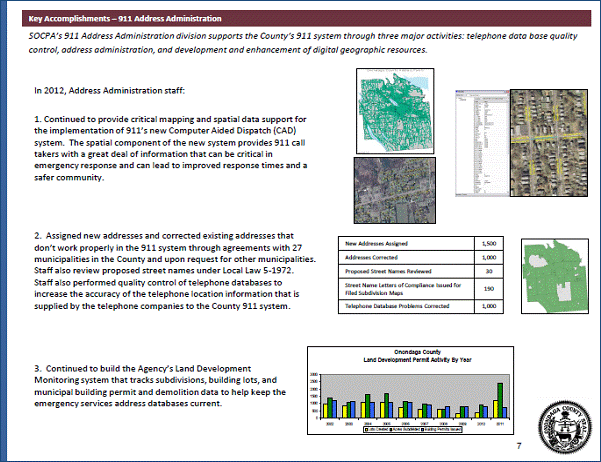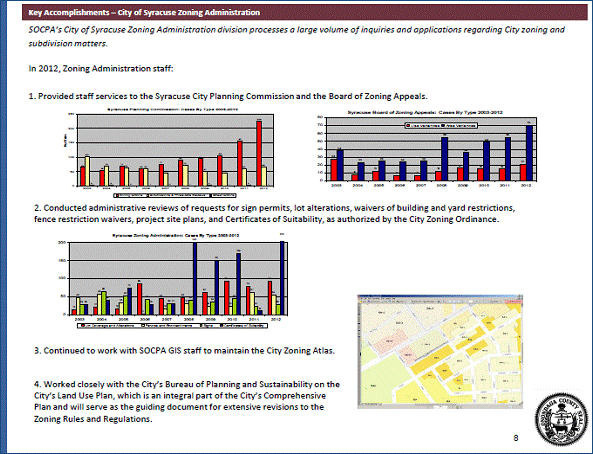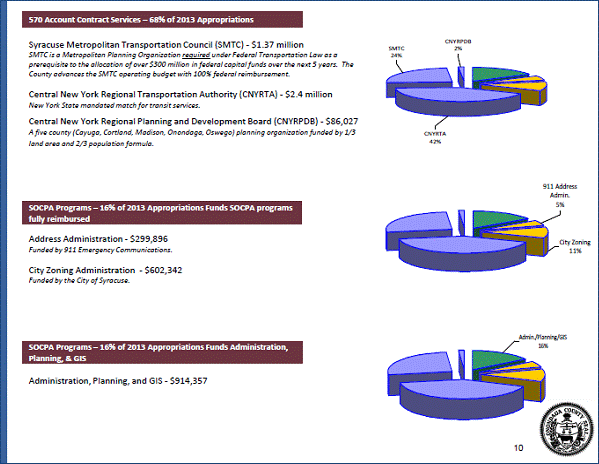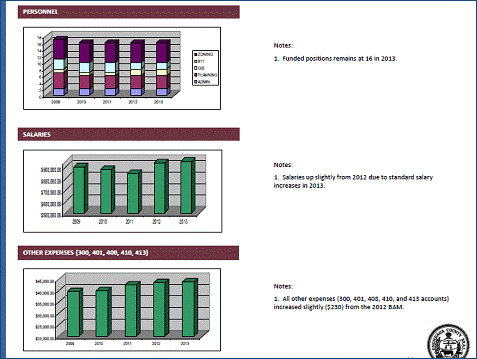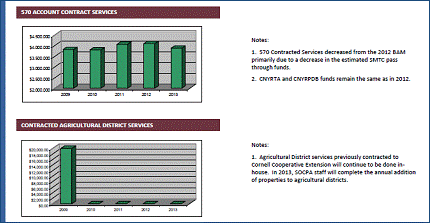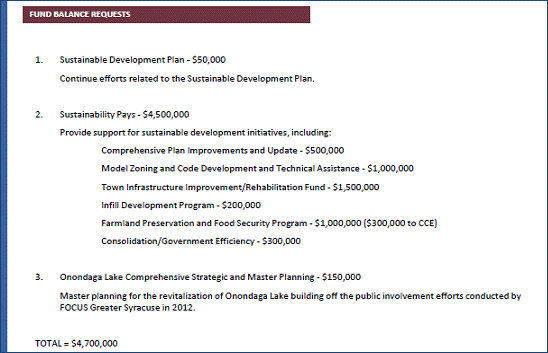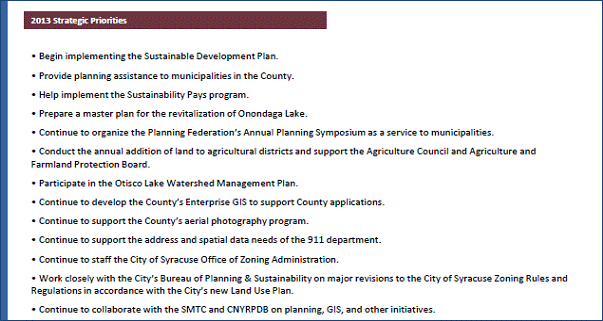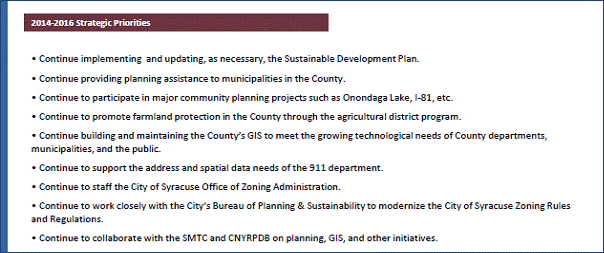 Mr. Bottar: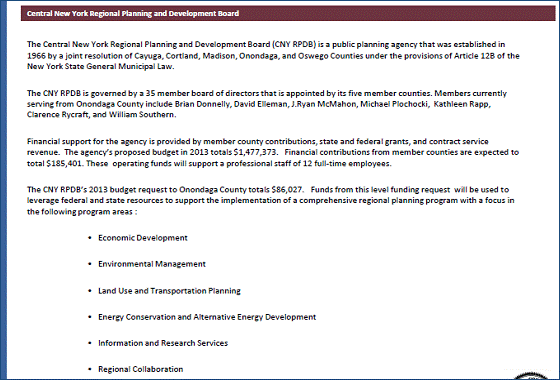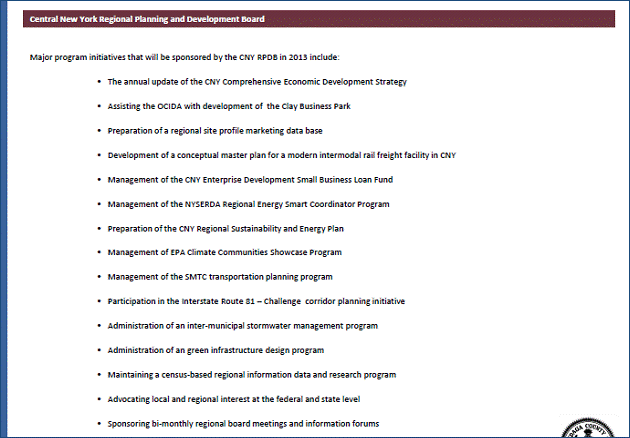 Mr. McMahon wanted to talk about the relationship between SOCPA and the City; reference zoning.  Mr. McMahon stated he was on the Common Council for six years, and after talking with 1,000's of applicants, he found that this is the worst process in the United States.  The County employees report to Mr. Jordan but think they report to the Mayor of the City of Syracuse.  Mr. McMahon read from SOCPA's narrative, "The Syracuse office of zoning administration is staffed by SOCPA and serves the City Planning Commission, Board of Zoning Appeals, and the Common Council."  Nowhere in the narrative does it mention the Mayor of the City of Syracuse, yet Heather Lamendola and her staff are on Stephanie Minor's letterhead, and they do not do anything without permission from the Mayor.  Mr. McMahon stated this is an inherent conflict, and would the Common Council want to fund this section with the abstract which is funding not from the City of Syracuse but from the taxpayers; they would say no.  What can be done about this?  Mr. McMahon said the answer is to take this off the abstract, and if the Mayor's office wants this section to report to them, then pay for it out of their own budget.  The tax payers and business owners that go through the process do not have a pleasant experience.  Mr. McMahon asked why County employees are on mayoral letterhead.  This gives business owners the impression they have to talk to the Mayor's office when clearly the focus of zoning has nothing to do with that office.  Mr. McMahon asked why the County should fund this as is.  Mr. Jordan responded the joint City/County relationship does help to foster collaboration on a number of things included planning initiatives or GIS initiatives.  The zoning staff has a close working relationship with a number of City departments.  Mr. McMahon commented that they do not work for those departments which is the issue; collaboration versus taking orders.  Mr. McMahon is not sure how involved Mr. Jordan is when a developer wants to take a junkyard, and turn it into soccer fields, restaurants and office space, when there is a junkyard preservation movement from County employees and the City's zoning board.  Mr. McMahon does not know why County employees are reporting to the Mayor of the City of Syracuse.  Mr. Jordan replied the employees report to him, and they do try to work closely with all City agencies.  Mr. Jordan does not have an answer for Mr. McMahon regarding why Ms. Lamendola is on Stephanie Minor's letterhead.  Mr. McMahon stated that has to change because it sends a very strong message to people that they have to work with the Mayor's office when the reality is they may or may not have to.  Mr. Jordan commented Ms. Lamendola is the City Zoning Administrator so she does perform that function for the City.  She is a County employee.  The staff administers the City zoning ordinance, and they enforce what is in the zoning codes; it is not personal decisions.  This is the big thing with updating the land use plan, and taking the next step to work on updating the zoning codes which may make for a smoother process for applicants.  Mr. McMahon responded the interpretation of the code has bias and influence from the Executive branch of government.  Some people do not believe the Common Council should have rights their asking for at the Planning Commission, and some people do.  The situation screams of reform.  Mr. McMahon stated it has to be reformed otherwise he will not fund this, and will ask his colleagues not to fund this through the City abstract. 
Mr. Millea commented Mr. McMahon brought out some very valid points.  There have been internal discussions, and he would be happy to sit down to entertain thoughts on reform.  There are opportunities to define who is doing what, and Mr. Millea agrees the way the roster is established does not translate into defining who is doing what and why.  Mr. Millea does not believe the Executive side would encourage back sliding into separating what's really a regional approach to planning.  Mr. Millea stated that this Mayor has a Planning Director on her staff which has added a different layer of complexity.  Mr. McMahon commented it is about how it is funded at the end of the day.  There are two levels of government fighting each other, and it is a disservice to the business community; to any small business owner trying to open a business.  Mr. McMahon's issue is that it is being funded through County tax dollars.  Mr. Millea responded he will be available to sit down next week to discuss this issue. 
Mr. Kilmartin asked, in terms of the fund balance request, to be provided with more detail behind the numbers; i.e. under section 2 shows model zoning, code development and technical assistance.  Mr. Jordan responded the details of the program are still being worked on as well as how the funds will be allocated.  The planning items are seen as consultant based services to help municipalities in updating plans and code.  Mr. Jordan is not familiar with the details on all the programs.  Mr. Millea commented this is a direct initiative from the Sustainability Plan, and the broad categories were put in to frame the discussion they hope to have with the legislature.  There was not a lot of time spent on the specifics because the Executive side would like to see where the legislature would like to go with them.  The construct of the resolution gives the opportunity to appropriate monies to specific categories (just notions received through the public process which can be discussed), and then fine tune the programming after an agreement on funding.  The key components line itemed out are priorities that have come out during multiple discussions Mr. Jordan and his team have had over the past year.  They are targeted areas that help to push the major principles of the Sustainability Development Plan. 
Mr. Kilmartin asked the following questions reference line 3, Onondaga Lake Comprehensive Strategic and Master Planning:
What are the recent plans to date that FOCUS or other entities may have worked on?

What level did they refine plans or start to have a mold come together for a plan?

What this plan would do to take it to the next level?
Mr. Jordan responded the work FOCUS did was very good.  They researched the outreach efforts for the Lake, and gauged the public's priorities for use of the Lake.  Mr. Jordan believes FOCUS will be producing a list of priorities the public would like to see for the future use of the Lake.  The master planning exercise is taking the information and building a future plan.  The County is investing millions of dollars into the cleanup of the Lake so it will become a major asset for the community and the region.  This planning is how to best utilize this asset moving forward.
Mr. Jordan's responses to Mrs. Rapp's questions reference the sustainability plan:
$6.5 million to aid towns in sustainability - $4.5 in SOCPA; Mr. Millea stated there is an additional $2 million in WEP budget – continuation of the Suburban Save the Rain program; totaling $6.5 million with both budgets

Sustainable goals – some can go on at same time; the plan improvements, updates and zoning code development starts with plan update first, then align zoning with plan; some have updated plans and can go straight to zoning

Reception from towns mixed; some supportive of plan; some have concerns; want to hear what people think; happy a number of communities have been supportive; some rural support, towns/villages supportive
Mr. Millea responded to Mrs. Rapp that the FOCUS plan is due by the end of the year which will be jointly submitted to the County Executive and Legislature.  Deadline was set in November.
Mr. Plochocki asked why $150,000 for the comprehensive strategic master plan is needed given FOCUS has done the $20,000 study.  Mr. Plochocki would like an elaboration of what FOCUS did that is different to this master plan.  Mr. Plochocki stated some colleagues are sick of hearing the words study or plan.  Mr. Jordan responded that FOCUS is gathering a list of priorities from the community including what they would like to see for the future of Lake.  This effort would be taking that laundry list of priorities, and turning it into a plan on how to implement some of those things; what the future of the Lake and its surrounding areas will look like.  This would try to capitalize on the asset of the Lake as it becomes clean for future generations.  Mr. Plochocki commented there have been many studies and money spent on studies, so what can he say to colleagues who are concerned that this is yet another study.  What makes this special?  Mr. Jordan appreciated the criticism of general studies that do not get implemented, and responded that the hope is the master plan will be used as a blue print for the future of the Lake.  It will not be a plan that is not used.  This will serve to guide the future of the Lake. 
Mr. McMahon asked if Mr. Jordan could explain the relationship the County has with Agenda 21.  Mr. Jordan responded there is no relationship he is aware of.  Mr. McMahon asked what organizations the County belongs to where the County would be on websites affiliated with Agenda 21.  Mr. Jordan replied none.  Mr. Jordan responded to Mr. McMahon that the only organization they are asking to be a part of is the American Planning Association.  Mr. McMahon stated he knows very little about Agenda 21 but know constituents who have called ever member of the Caucus saying Onondaga County is one of the only counties on the website supporting Agenda 21.  Mr. Jordan responded he does not believe that is anything SOCPA pursued to demonstrate support for Agenda 21.  Mr. Millea stated the County is not endorsing Agenda 21.  None of what Agenda 21 is drives the decision making of the Sustainable Development Planning process.  The Onondaga County Sustainable Development Plan is designed and intended to produce an outcome to sustain the services needed in Onondaga County by reducing expansion of those service areas that don't require them, and add to the footprint of the County's infrastructure without bringing in additional population or revenues. Mr. Millea stated the crux of the issue in Onondaga County is very different then what may be being discussed at Agenda 21.  It is about our community, the future of the community, the resources spent on infrastructure, and more importantly the resources the County doesn't spend on the infrastructure that already exists.  Mr. Millea understands there is a constituency out there that feels there is some international agenda the County is advancing, but Mr. Millea wants to state for the record that it is absolutely, positively not the case.  Mr. Millea stated he will look into the websites, and make sure the County is removed if there is an endorsement because the County should not be endorsing it.  The Executive Director of the Empire State Future group spoke at the Planning Federation meeting very eloquently about how the County's plan is a model plan for communities all over New York State.  This organization may be advancing Agenda 21 but that does not mean Onondaga County is endorsing Agenda 21 simply because the County is paired with them in pushing a plan.  Chairman Knapp commented he is getting similar information from his constituents, and it seems there is a UN website that lists out 8 or 9 communities that are endorsing Agenda 21 which includes Onondaga County.  Mr. Millea responded the County Executive has not endorsed Agenda 21. 
Ms. Costa's responses to Mr. May's questions reference projects regarding the Lake:
From FOCUS research – desire to look into more water based activities; ie:  boat launches, fishing opportunities, potentially swimming opportunities

How to position where certain things should be; how to use public land; what to put where

Talk of water taxis, potential for private development along the shoreline

Does County want to pursue doing work to make sites available; w/cooperation of stake holders

Variety of different public and private opportunities; positioning with projects to be able to solicit state or federal grant money for help building boat launch or getting zoning in place to protect or encourage development of land

Reflecting what community wants to do with land; 90% public owned shoreline; not doing things contrary to vision
Mr. May commented he would like to see private enterprise cast to the forefront of this initiative.  It could be a wonderful opportunity for small business development.  Ms. Costa responded that is the purpose of both the FOCUS effort and the continuing effort; to find out what the appropriate private participation in this will be.
Mr. Jordan agreed with Mr. Plochocki that a benefit of the master plan is to be able to pursue grant money.
Mr. Jordan responded to Chairman Knapp that the federal aid is down $400,000 primarily due to a reduction of SMTC pass-through funds; not sure if trend will continue.  Mr. Colone, program manager at SMTC, stated the funding through SMTC is from the federal government DOT.  Chairman Knapp stated it is federal to the state then to the County.  Mr. Morgan commented there is a corresponding reduction in the 570 account.
Mr. Jordan responded to Chairman Knapp that there was about 40 people at the Pompey meeting.  There were some municipal representatives, some federal agencies, and some state agencies.  It was a diverse group that brought good ideas to the workshop.  
Mr. Bottar responded to Chairman Knapp that the state DOT has retained a consultant team, Stantec that have identified five alternatives to the I81 viaduct in Syracuse.  Currently they are investigating each alternative as far as cost and environmental issues.  More solid information should be available mid-year next year.  Mr. Bottar replied to Chairman Knapp that as far as a time frame realistically they can continue to patch the highway, and keep it functional for quite a period of time.  Some of the options are the bypass using 481 which would allow for removal of the viaduct, the tunnel proposal, a loop around the west side which everyone recognizes is very unlikely, and rebuilding the viaduct in a more modern, functional design. 
ECONOMIC DEVELOPMENT:  Mary Beth Primo, Director; Kristi Smiley, Secretary and Treasurer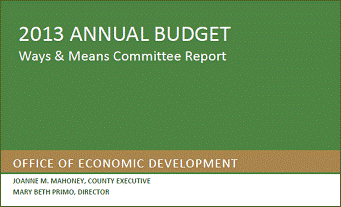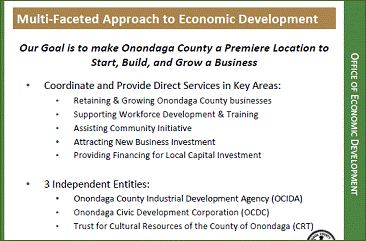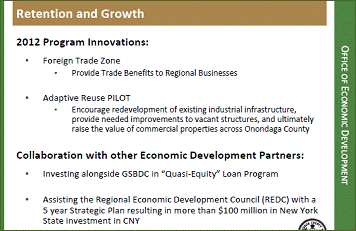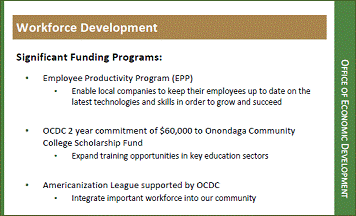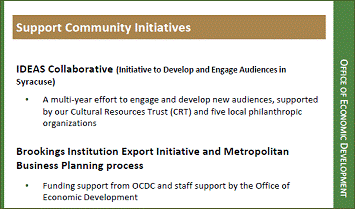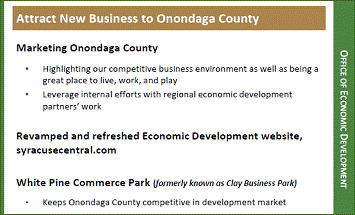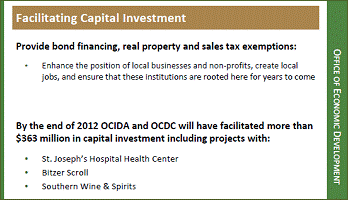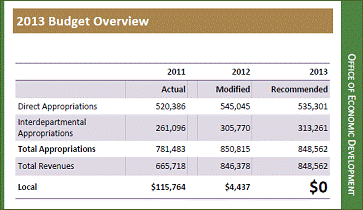 My Office employs a multi-faceted approach to Economic Development with the ultimate goal of making Onondaga County a premiere location to start, build, and grow a business. The Office provides services in five key areas: retaining and growing local businesses; supporting workforce development and training; assisting community initiatives; attracting new business investment; and providing local financing for capital investment.
The office serves as staff to three independent entities which are the main vehicles for accomplishing our objectives: the Onondaga County Industrial Development Agency (OCIDA), the Onondaga Civic Development Corporation (OCDC), and the Trust for Cultural Resources of the County of Onondaga (CRT). Each organization serves a unique purpose and, when combined with our other work, the Office of Economic Development provides a portfolio of programs and services unmatched in the region.
Retention and Growth
Onondaga County is home to a variety of companies making everything from decorative cookies to medical diagnostic equipment to radar/sonar systems. Through an efficient and integrated network of local and regional economic development partners, the Office is able to quickly answer questions, provide guidance, and respond to the needs of our local companies.
In 2012, the Office implemented innovative policies to enhance the opportunities afforded by two programs: the Foreign Trade Zone and IDA Real Property Tax Exemptions.
Last year I told you the Office would be restructuring the dormant Foreign Trade Zone program to better serve local companies engaged in global business. I am pleased to say that, with the assistance of this Legislature and our New York state representatives, my office submitted a reorganization application to the Federal Foreign Trade Zone Board in July.  We anticipate Federal approval early next year. During 2013, staff will work to inform and educate local businesses about the benefits associated with the new FTZ program and encourage those that may benefit to participate.
In July, in order to capitalize on the introduction of the County's Sustainability Plan and to incentivize the use of our available real-estate inventory, staff developed and the OCIDA Board of Directors approved the Adaptive Reuse PILOT. In 2013, this innovative policy will encourage the redevelopment of Onondaga County's existing industrial infrastructure, provide needed improvements to vacant structures, and ultimately raise the value of commercial properties across the County.
The Office of Economic Development also participates in a unique program offering local businesses ready access to vital capital they require to continue growing in Onondaga County. In partnership with the Greater Syracuse Business Development Corporation's Quasi-Equity Loan Program, OCDC co-financed the acquisition of necessary production equipment for Light 4 Life Candles – a newly established company located in the former Will and Baumer candle factory in the Town of Salina.
Finally, staff assisted in the development of the Central New York Five-Year Strategic Economic Development Plan - named a "Best Plan" and awarded over $100 million from New York State agencies. The Office will continue to work with the Regional Economic Development Council in 2013 to identify priority projects and ensure close communication with local businesses looking to access Regional Economic Development Council funds.
Workforce Development Support
Onondaga County is blessed with outstanding educational institutions and a wealth of training resources to capitalize on our workers' renowned productivity, ingenuity, and resourcefulness.  Our next generation of workers looking for better opportunities or those transitioning mid-career can and should be trained in Onondaga County.  To this end, OCDC has committed $30,000 annually for 2012 and 2013 to Onondaga Community College's scholarship fund to expand training opportunities in key education sectors.
People employed by our local companies must also maintain a cutting edge skill set. The Employee Productivity Program, funded by OCIDA and administered by the Office of Economic Development, provides matching funds to companies for that purpose. Over the past five years, this program has supported 31 training programs. In 2013 the EPP will continue to enable local companies to keep their employees up to date on the latest technologies and skills in order to grow and succeed in Onondaga County.
Finally, the 2010 Census numbers showed that one of our County's growth areas is its immigrant population. Immigrants and refugees from around the world have buoyed our population and offer employers, including Stickley, Inficon, and our local hospitals, eager workers. In 2012 OCDC helped fund the Americanization League's efforts to integrate this important population into our community.
Community
As all of you know, Onondaga County is a terrific place to live. In order to ensure that our local economy continues to grow, it is essential to keep young people in our community and ensure that current residents enjoy a high quality of life. Recently, several community projects have undertaken studies to take stock of our assets and evaluate areas for improvement.
In 2010, six local philanthropic organizations, including the Trust for Cultural Resources, committed to a multi-year effort to protect and promote our arts, cultural, and historical assets. This group, the IDEAS Collaborative, recognized that engaging and developing new audiences and markets is critical to the institutions' bottom lines. Over the past two years, the IDEAS Collaborative, with funding and staff support from the CRT, has engaged over 40 local groups and hired a national consultant to analyze audience trends in the region and for each organization.  In 2013, the IDEAS Collaborative's work will involve a region wide marketing and public awareness campaign and the ongoing IDEAS Implementation Fund.   
Over the past 18 months, a regional coalition of government, business, and non-profits has been engaged in the Brookings Institution's Metropolitan Export Initiative and Metropolitan Business Plan. My office has lent staff resources, and through OCDC, monetary support to this regional evaluation and planning process. The findings and plans of the Export Initiative hold the key to ensuring our companies find new global markets for their goods and services. The Business Plan initiatives will maximize our region's strongest industrial cluster and target policies that hinder economic growth. 
Attraction
The Office of Economic Development is responsible for promoting and marketing Onondaga County as a competitive business environment as well as a great place to live, work, and play. The Office is always prepared to assist site selectors, commercial real estate brokers, and industry groups with pertinent information available in a variety of formats, such as the completely revamped economic development website, syracusecentral.com, which offers up to date news and data about our community. This Fall we will add a GIS component to the site which will provide customizable population figures, workforce data, regional assets, and available properties. This is one more way we can instantly connect with audiences outside the County.
We leverage the Office's internal attraction work with regional efforts intended to bring new attention, interest, and ultimately, business to Central New York. Whether via conference calls with site selectors, property tours showing what Onondaga County has to offer, or targeted industry events around the nation, we're actively spreading the message that Onondaga County IS a top place to grow your business.  In 2012 our targeted efforts led to a noticeable uptick in interest and activity; we expect that momentum to continue in 2013.
Despite all we have to offer, Onondaga County has been lacking a critical attraction element – a publicly controlled, shovel ready site able to accommodate critical investment. Shovel ready certification indicates that the time from signing on the dotted line to putting a shovel in the ground will be quick and risk free – key factors in corporate decision-making. To keep pace with communities around New York State and across the nation, we must invest in such an asset.
Over the past 15 years, OCIDA strategically purchased the necessary acreage to create a business park that would broaden the County's attraction offerings.  The final parcel of White Pine Commerce Park, formerly known as the Clay Business Park, was acquired in 2009.
Many understand that when shovel ready, this property will be able to compete for the next Yahoo Data Center that landed in Niagara County; the next Alpina Foods plant that went to Genesee County;  or even a multi-million dollar facility like the milk processing plant that will open in Cayuga County.  As part of statewide searches, most of these projects briefly considered Onondaga County. Each one dismissed us – in part because we did not have what the other areas did – a site that could immediately accommodate their needs.   A certified shovel ready White Pine changes that playing field. 
With the support of Onondaga County, New York State, and our many economic development partners, my office is transforming White Pine into the region's premier shovel ready certified business park.  In late 2011 the CNY Regional Economic Development Council designated White Pine a "Priority Project" and the State awarded OCIDA a $1.5 million grant.  In the past six months, in order to satisfy shovel ready requirements and fulfill the obligations of the State grant, my office has secured National Grid matching grants to build and market the site and has worked with Town of Clay officials to coordinate the local planning approval process. And just yesterday, the OCIDA Board of Directors approved a 700 page Draft Generic Environmental Impact Statement.
By late 2013, we expect to have development of the park well underway and to be engaged in a dynamic marketing and sales campaign to showcase White Pine Commerce Park to investors throughout the country. I am confident our investments will soon pay tremendous dividends.
Capital Investment
Perhaps the activity which the Office of Economic Development is most commonly associated with is bond financing, and real property and sales tax exemptions, incentives that are critical to the economic development process. By the end of the year, my Office, through OCIDA and OCDC, will have facilitated more than $363 million in capital investment supporting some of our most important regional companies and institutions' expansion and growth efforts, including St. Joseph's Hospital Health Center, Bitzer Scroll, and Southern Wine and Spirits. These investments enhance the position of the local businesses and non-profits, create local jobs, and ensure that these institutions are rooted here for years to come.
As many of you know, the fees for the services I just mentioned support a significant portion of the administrative cost of my office.
2013 Budget Request
The Office of Economic Development's 2013 budget request includes a $9,744 reduction in direct appropriations. As I mentioned, the Office is primarily funded by the administrative fees OCIDA, OCDC, and CRT pay the County. The balance of the Office's budget is funded by the multi-year SIDA grant and, for the first time, anticipated fee revenue from the Foreign Trade Zone.
Projected 2013 revenues are from five sources:
$273,440 from the Onondaga County Industrial Development Agency;

$191,901 from the Onondaga Civic Development Corporation;

$39,221 from the Trust for Cultural Resources of the County of Onondaga;

$6,000 from the operation of the Foreign Trade Zone;

$338,000 from a portion of the County share of DestiNY USA fees paid to the Syracuse Industrial Development Agency.
Mr. McMahon commented Ms. Primo's department is a great model.  The department develops revenue from different places, and it costs the local tax payer very little in direct property tax fees.  There are a lot of projects going on that people do not realize.  Mr. McMahon agrees with Ms. Primo that the County has missed opportunities in the past and cannot afford to miss any in the future.  Those companies that have been hording cash the last couple years are going to invest when they know where the leadership of the country is going.  Mr. McMahon requested the balances in the accounts for OCIDA, OCDC and CRT, what the revenues are, and what the projected budgets for those agencies are.  Mr. McMahon suggested brainstorming on potentially being reimbursed for the Clay proposal for putting sewers in and other infrastructure.  What type of reimbursements would the County be able to see from OCIDA on the potential sale of land when the County has somebody? 
Ms. Primo responses:
Department sought financial support from National Grid; looking at CSX support - not sure would be for infrastructure

Department looking to go back to State for additional monies; problem - unless County shows progress, they will not fund; state can pull the current grant if the department does not make the progress necessary

OCIDA – very modest budget $800,000 - $900,000; OCDC has some more – considered asking them for support; this is such an important  project to region, think they would understand; able to do major projects

OCDC - $2 million; do spend a lot every year on operating costs; source to look at

Opportunity now because of grants/economy with all projects being bottle up, things ready to go – business is riskier
Mr. McMahon commented if this body moves forward with borrowing, then maybe it would be nice to have a gesture from OCDC to help cover some debt service, and future sales of land from OCIDA to help relieve some debt.  Ms. Primo responded unlike some other counties, OCIDA bought all this land, which so far has been over $2 million in accumulating the land and doing the work that has been done.  In Oswego County, the County is giving the IDA 100 acres plus $100,000.  In Cayuga County, the County is giving $1.3 million to do the work inside the park.  In Madison County, the County has provided $750,000 to the IDA to do their GEIS which this department has funded on its own.  Ms. Primo agrees that there should be a partnership but does not want the investment that OCIDA has already made to be lost on this legislature. 
Ms. Primo responded to Mr. May's question reference going head to head with other counties:
Mrs. Rapp commented the model in this County is Hancock Field which the County owned for 15 years.  The legislature stepped up and put $1 million into it to get the sewer started.  That leveraged a $2 million grant from Jimmy Walsh, and the latest one was $8 million from the state.  Today there is over 1,000 people working in that park, and it is fully developed.  As the County sold the land, it took 10 years to get the $1 million back to the tax payers.  At the end of the day, it met every objective the legislature had. 
Ms. Primo's responses to Mrs. Rapp's questions:
Foreign trade zone – pays for itself; initially tough, once companies apply and become part of it

Fee to local foreign trade zone org; annually need to submit reports to board; any time work with company initially or on reports, can charge fee; fee has to be in line with what Federal Foreign Trade Zone Board believes is legitimate

Those fees have to be used to run foreign trade zone board; pays for marketing and staff

Staffing for foreign trade zone – Honora Spillane & Ms. Primo working initially; no need to hire anyone to handle this

Businesses within other counties will have to pay the fee

National Grid giving money for marketing to campaign business park; money not available yet; need to get work done at park; reimbursement grant – $120,000 marketing; $125,000 initial engineering
Ms. Primo responded to Chairman Knapp that the total amount of money received from the regional project last year was $200 million.  The money was spread out across the 5 county regions, and was not all cash but tax exemptions.  Clay Business Park was given more than $1.5 million but some was in tax exemption bonds.  Ms. Primo stated she will send Chairman Knapp the information.  Chairman Knapp stated Ms. Primo and her team did 98% of the work on that project, and deserves the credit for receiving the biggest award in the State.
CONVENTION CENTER/CENTERSTATE CEO/CVB:  Rob Simpson, CEO of CenterState CEO; David Holder, President of CVB; Terri Toennies, CEO of the Oncenter; Craig Liston, Regional General Manager SMG; Peter Casper, Director of Finance SMG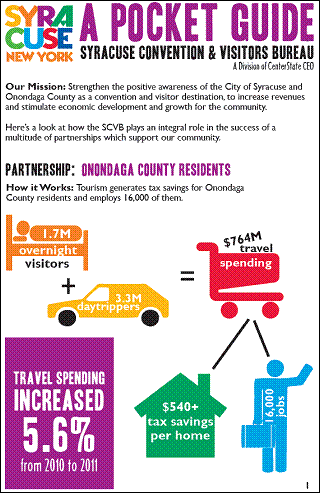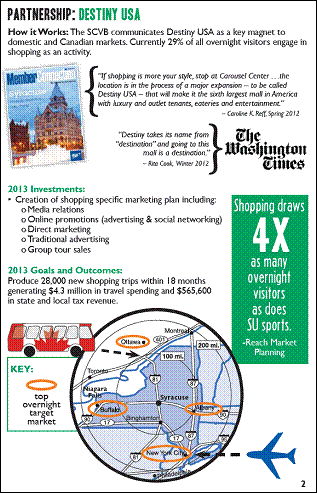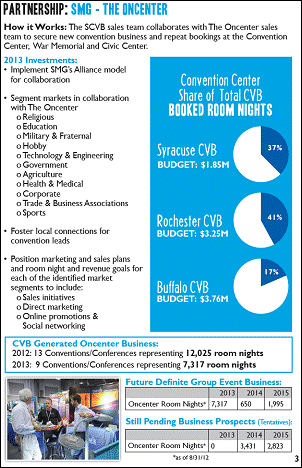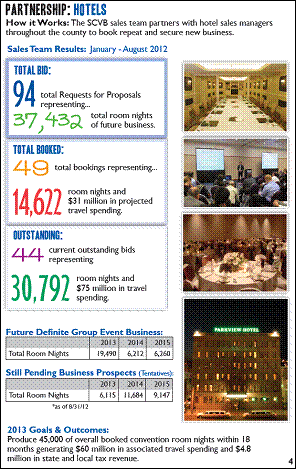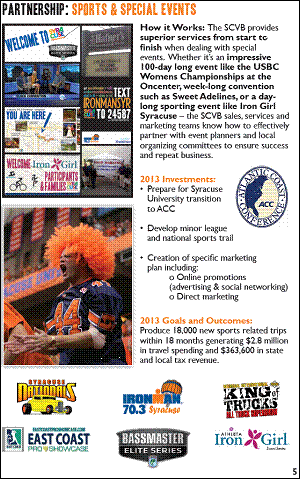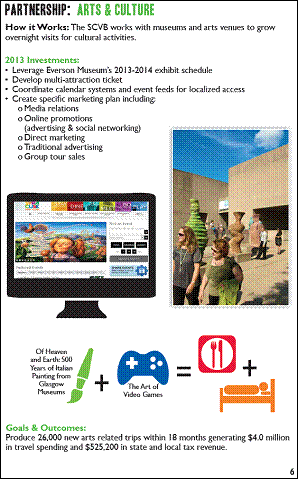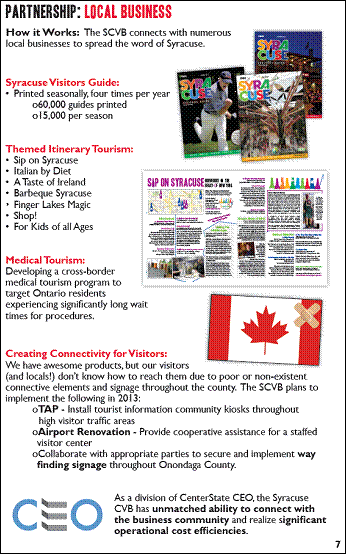 Mr. Holder's responses to Mr. May's questions reference the Triple-A All Star game:
Mr. Holder's responses to Mr. McMahon's questions reference the Triple-A All Star game:
Mr. Fisher stated the Chiefs made it clear to compete for this, there has to be an entire package, and having the bid fee would let the Chiefs successfully compete.  The Chiefs then have to find all the sponsorships totaling $400,000.  The reason the money is going through the CVB is because they would sign a contract, the Chiefs compete for the event, then the CVB hands over everything after it is all in place.  Mr. McMahon commented the money will only be spent if the County was to get the event, and Mr. Fisher agreed.  Mr. McMahon requested Mr. Holder to put together the analytics of what this investment gets, and what the multiplier is in reference to sales tax.  Mr. McMahon complimented Mr. Holder on his presentation.  Mr. McMahon stated DestiNY USA is the 6th largest retail shopping experience in the country, and the County has the 81st largest metropolitan area.  Onondaga County and the City of Syracuse's major increase in revenue is sales tax.  Mr. McMahon stated he does not understand why the County does not embrace it and make it bigger.  Mr. McMahon said he would like the County to get in the mindset of competing, and who is the County competing against.  Rochester and Buffalo are always the one Syracuse is compared to but Mr. McMahon would like to compete with successful municipalities and successful regions.  Mr. McMahon asked Mr. Holder to get an idea of what CVBs do in areas of the country that are successful via population and economic growth because that is where this County needs to go with its community.
Mr. Holder's response to Mr. McMahon:
Mr. Holder's responses to Mr. Liedka's questions:
Destination marketing analysis – biggest pieces are conversations with Connective Corridor; investment slated for building university into downtown perspective; really strong signage concept

Signs are outrageously expensive; would want quality signs in places needed like street pole banners; how to populate the city with signs that are not cumbersome or obtrusive, and that help to guide visitors

Signage piece with cost and different layers will be ongoing effort; part associated with Visit Services Program

Convention Services line is high – requires substantial investment into shuttling costs for some larger groups; don't mind baring the cost because they come here but have to program into budget

Also work with hotels and Oncenter in putting together creative pricing packages; if not using CVB budget, then using consumer payments which is cumbersome; subject to challenges with consistency; need to look for the best models

Sales incentives - building performance incentive which is included in salary line; performance incentive built across multiple staff members; tied directly to goals and objectives; market analysis pointed out need for it

Incentive this year based on delivering new sales prospects; make valuable enough that person wants to achieve
Mr. Holder's responses to Chairman Knapp's questions:
Contractual expense requesting $1,722,500 this year; last year $1,450,000 – increased by a couple things

CVB funding from County is 70% below Rochester; 88% below Buffalo; compete with those cities daily

Recommendation was not to achieve those levels; look at funding per capita

$350,000 increase in funding for marketing; couple one time projects that are needed - tourism master plan and comprehensive customer profile study

Increase is going directly into marketing sales, visitor services; to drive people to community, and enthrall them here

Onondaga Historical Association – $75,000 for St. Marie - marketing partner for Parks and OHA; efforts for St. Mary to make it a cultural center are incredible; marketing budget, arts and cultural sales and marketing - driving visitors
Mr. Fisher agreed with Chairman Knapp that the Oncenter debt increase is contractual, and what was agreed upon.  Mr. Fisher commented when the Legislature approved the Facilities Management agreement that was signed between the County and SMG, the expectation is SMG will manage such that the operating subsidy required from the center is $1.5 million.  The expectation is also that the capital reserve fund will be funded annually at a level of $250,000; hence the $1.75 million.  It was made clear contractually that each year the appropriation is subject to legislative approval. 
Mr. Holder's responses to Mrs. Rapp
Post Standard doing guide – had concern; public/private partnership, piece that works for them; works from the revenue perspective; piece that took CVB from producing Visitor's Guide every year and a half to every quarter

1 piece for 150,000 copies over 1.5 years to producing 60,000/year, 15,000/quarter; great distribution in place

Revenue produced for the Post Standard as well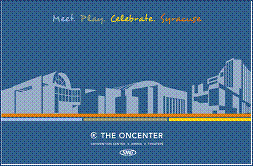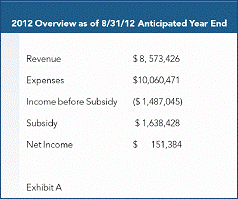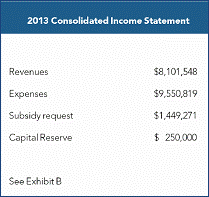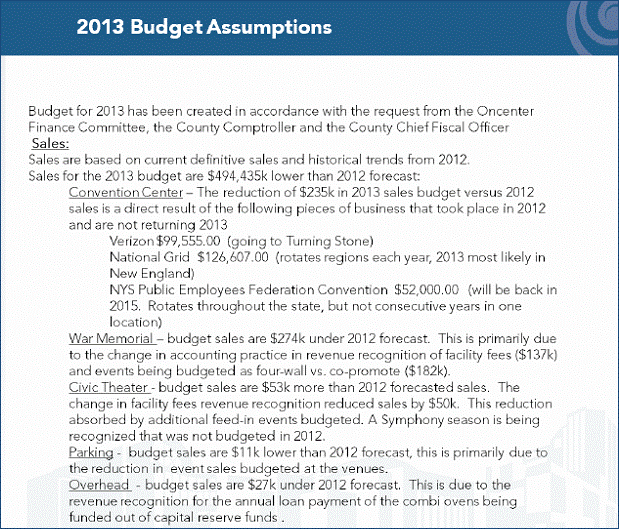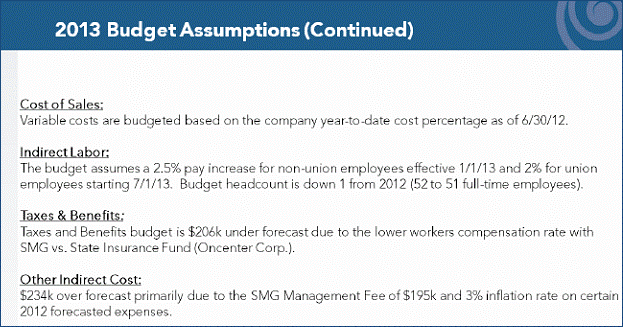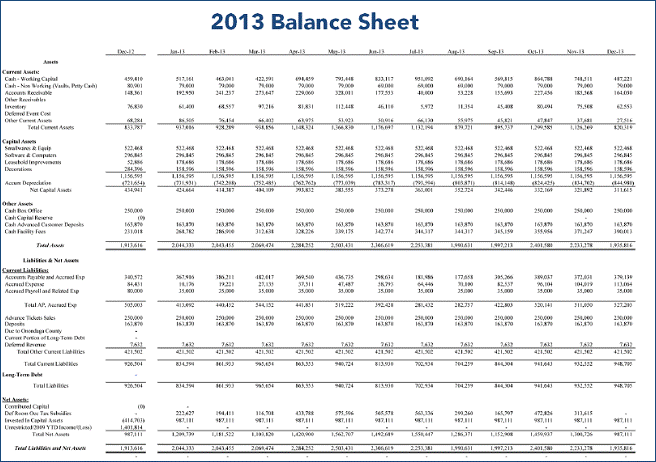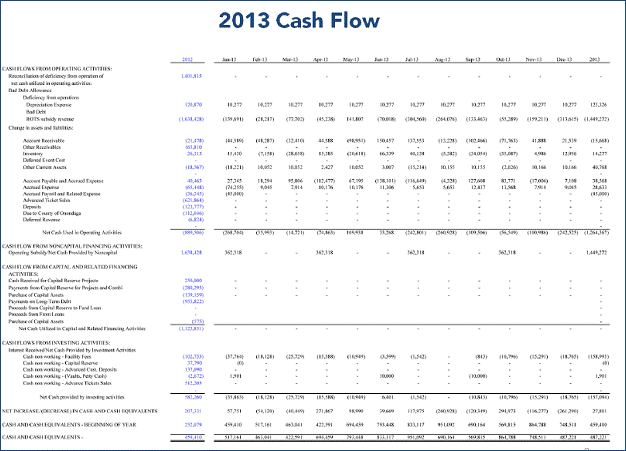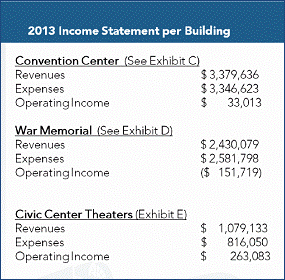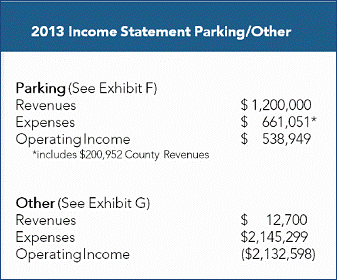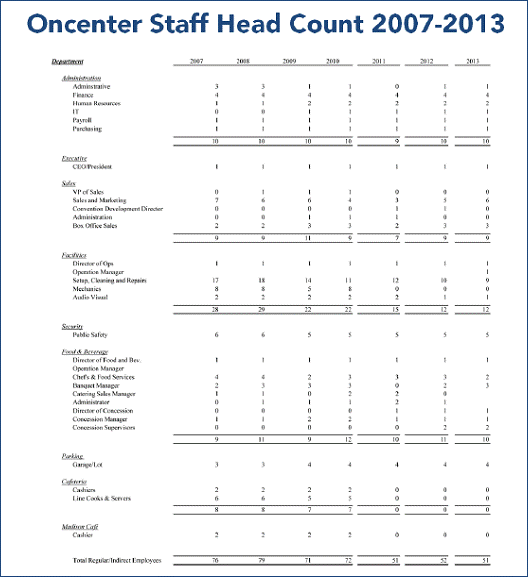 Mr. Fisher's responses to Mrs. Rapp's questions:
The $15 million granted from NYS at request of Assemblyman Magnarelli was moved to the Hotel Syracuse

Hotel group out of Boston is actively putting together an agreement that will hopefully be consummated soon

If there is not significant progress before next NYS budget cycle, then they will be tempted to sweep that elsewhere

Have had interesting conversations with SMG – if Hotel Syracuse doesn't get developed, could be threat to convention center; it will tend to drag down entire area

Proposal being discussed - 340 rooms; 260 in hotel, Hyatt Regency; Hyatt brand would allow to market destination differently than a limited service hotel next door; 225 rooms next door big difference to 340 rooms

Can't get 340 rooms at Hotel Syracuse; SMG says to get limited service next door; different propositions

If get Hotel Syracuse under new name, think 5-8 years ahead when able to put hotel next door to Convention Center

Providence, RI - historic hotel developed which lead to further opportunities to create investment

Shift demand away from Carrier Circle to here; 340 not enough rooms; want enough big shows to fulfill a lot here
Ms. Toennies responded to Mrs. Rapp that the marketing fund is a line item.  The focus has not been determined but they are talking about theatre, collateral marketing, perhaps signage.  The transition has been smooth but it has been all encompassing.  There are four union contracts that have to be passed on, and one is still in the middle of negotiations; the other three have not been signed off.  There was a transfer of 441 employees from the Oncenter to SMG.  There are 200 employees that have not been put on payroll which will ramp up during Crunch season.  Mr. Fisher commented the contract says SMG shall, subject to periodic consultation with an approval of the County, manage the SMG Arts Incentive fund.  They have not made any proposals yet but they have funded the fund, and will consult with the County.  It also requires the County approval before it gets spent.  The language says, "Shall be used for promoting and developing new event activity at the theaters and Alliance Bank Stadium".  It is not to subsidize things the County is already doing but to promote new event activity.  Mrs. Rapp commented it was interesting on the website to see how many people were coming to Syracuse for leisure, culture and shows. 
Mr. Liedka stated, in reference to the Hotel Syracuse and possible Hyatt, it is imperative to have a brand name on the building solely based on reservation systems and the amount of people they can draw to the area versus an independent hotel.  Mr. Liedka commented a relationship with the Oncenter would be a difficult thing to coordinate because they have substantial meeting space, and the County would have to find a way where they are working with the County and not competing.  Mr. Liedka would like to see it marketed as an extension of the Oncenter versus a direct competitor. 
Mr. Liedka asked about the food costs between the War Memorial and the Oncenter; is it because of more concessions and waste?  Mr. Casper agreed, and said there are different margins. 
Ms. Toennies commented it is important that whatever hotel project comes has extra event space because as the convention center is filled, they use the exhibit hall for a lot of the social and local events.  Those events need to be in a ballroom so the exhibit hall can be filled with what it was built for which is conventions.  The team between the two areas will have to be strong. 
Ms. Toennies' responses to Mr. May's questions:
Operating revenue with War Memorial – not a function of contracts

Scoreboard expense – Oncenter funded $200,000 with facility fee, paid off before transition to SMG

Remainder of payment funded through the Crunch; change in lease agreement, extended that; remainder was to be paid by 2015; was 10 years and now 12 years

Overhead for soccer and Crunch - same every year; not significant with revenues or expenses; soccer adding 1 more game; only on second year of lease – struggle with attendance; help them to market better, could add dollars
Mr. Liston responded to Chairman Knapp that they have had productive meetings reference union labor and security.  There are proposals to a lot of the labor union leadership which are progressing.  There have been productive meetings with the Syracuse Police and Fire Department about staffing of their personnel for events.  They are pleased with where they are in the transition, Ms. Toennies and her team has embraced the changes, and has done the heavy lifting on this.  Ms. Toennies commented they need to tie everything up.
Ms. Toennies replied to Mrs. Rapp that the Landmark has affected the Civic Center Theater.  What they are doing instead of booking runs of Jersey Boys and Wicked, which would have been at the Civic Center if the Landmark had not done the renovations, is picking up one-offs and community theater.  The beauty of the Civic Center is all the expenses get charged back to the promoter so it will always run a profit, and the overhead is very minimal because it is tied into the County. 
INFORMATION TECHNOLOGY:  Kenneth Beam, Jr., Chief Information Officer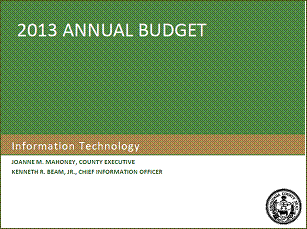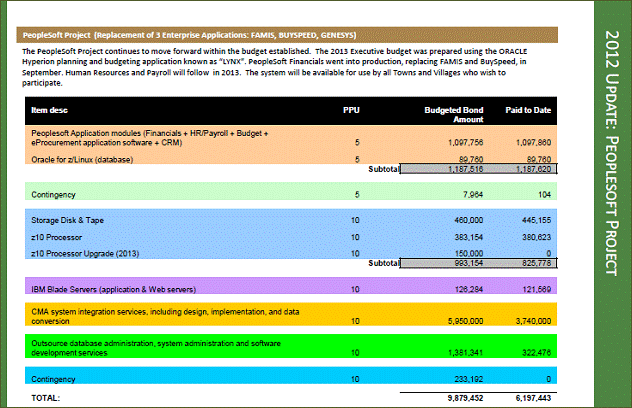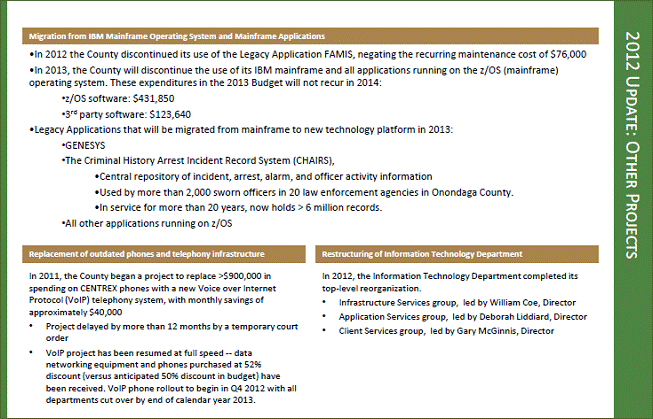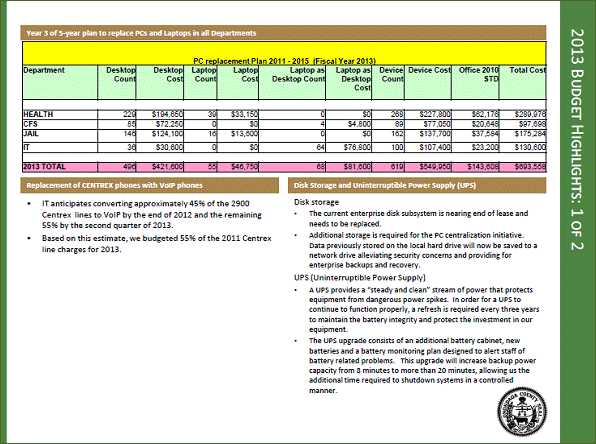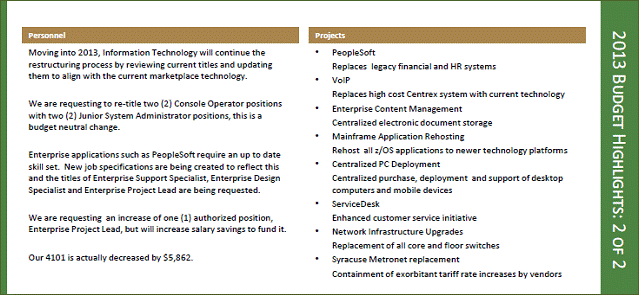 (PC Replacement Plan hand out on file with Clerk)
Mr. Beam's answers to Mr. May:
Chairman Knapp replied to Mr. Meyer that the salary savings is $530,096.
Mr. Meyer stated most of the lines in the budget from 2011 to 2013 are increased.  There were some purchasing issues including the VoIP which also had legal issues that the legislature had concerns about.  There was an increase in E911's budget due to a position that was in the IT department but is no longer; no notes reference a savings because of this position.  Mr. Meyer stated with all the upgrades and millions of dollars bonded for programs, what he is not hearing is any department heads getting benefits from the programs.  They are not saying they are working with IT to handle some of the big issues including Hillbrook with jail overcrowding.  It may be an asset, and they are not telling the legislature, but they are not saying the investments are worthwhile.  There has to be better communication between IT, the department heads and the legislature to know the big investments are paying off.  The big elephants in the room including Hillbrook and Social Services case loads are devouring the budget.  The people in the room and tax payers need evidence that they are clearly getting a return on their investment.  Mr. Beam responded the State manages the technology Social Services uses.  The State provides most applications, the hardware, and they offset the cost of County employees who manage that.  There is not a lot IT does for Social Services except provide telephone services and storing their servers in the data center.  PeopleSoft just went live 2 and a half weeks ago.  The VoIP project just started back up.  Mr. Beam stated until the projects become more completed, he does not have many answers for Mr. Meyer.  Mr. Meyer responded that he is not hearing from the departments that there is any dialogue, and he is not hearing the conversations of how long it will be.  Roads are not being handled because of projects in IT.  Mr. Fisher commented the Executive office's perspective is that IT is a services department, and part of the review should be what the quality of service other departments are getting.  Mr. Fisher thinks they have been getting increasingly improved service.  Mr. Fisher stated they will take the initiative to get information from the other departments about the level of service from IT, and where they think there needs to be improvements.  Mr. Beam stated he was surprised Mr. Meyer has heard anything from the Sheriffs or E911 because there is an IT person imbedded at the Sheriff's office, and they meet on a monthly basis. 
Mr. Beam's responses to Mr. Meyer and Chairman Knapp:
One ongoing project:  VoIP - will provide Social Services with call center; able to take more contacts

Second ongoing project:  Health – vital staff records; Enterprise Content Management System to get records digitized; if something were to happen, still have some form of records;

IT always on back side; issue or idea to investigate, will work directly with dept.; regular meetings with certain depts.

Position at E911 is a position that is salary saved; always on roster but E911 position; retiree

Criteria for computer replacement – new deployment offering regular desktop or laptop; deploying by department

Meet months ahead to discuss hardware; once everything in place, order equipment; 5 year plan – 3rd year currently
Mr. Fisher commented reference the computer replacement:
Changing governance - IT has input into replacement cycle but now Senior Management IT Steering Committee which sets policies like how often to rotate equipment

IT made proposal to replace all equipment over 5 years; standardize certain applications such as Office 2010

Goal to drive down cost of ownership; swapping out entire dept at a time; some depts. will have older computers

Take newer equipment from depts. that are getting PC replacements, and repurpose those; no money used; IT Steering Committee in charge of policy like this

Steering Committee in charge of which projects get funded/which don't; more responsive IT organization that meets the needs of the departments and their budgets

Hopefully will see in IT budget and interdepartmentals – that's how departments pay for services from IT or Law, etc.
Mr. Beam's responses to Mrs. Rapp's question reference disk storage and UPS:
Mr. Beam's response to Mr. Knapp's question reference the Verizon issue discussed earlier with OCPL:
Syracuse Metro Net started in 1990's with diffusion money - NY Tell reimbursed consumers for overcharging

Created community network; all broadband 1,000 mb circuits; connected hospitals, education & gov't facilities

County has 42 GigE circuits; 2 at OCC, 19 at Library, 21 at County

Done network observations to see what bandwidth is being used - out of 21 in County, can eliminate 8, reduce 10 to 100 mb, remaining 3 would be gig circuits; Library has to keep 1 gig, 17 100 mb; OCC needs 1 circuit

OCC only needs for 1 or 2 campuses; Library has branches; County has 21 buildings to connect to

Current rate at $372/month; County contract expired Aug 7th; stipulation for 60 day extension which expires Oct 7th

In process of trying to bid out new circuits; may be new vendor or Verizon

Current State contract is $2,875/month vs. $372; large increase; St Joes circuits going up $4,000/month

Still savings over private but huge amount to go up

Preliminary offer to extend for 5 yrs at $1,275/month; have to guarantee 40 circuits but with reduction, don't need 40

Other vendors offered lower price; competitive process for best price; it will still go up 2.5 - 3 times what it is currently

Intention to look at other entities - looking at 160 circuits; St Joes and County make up 70 of those

Gov't and education will be able to buy off what County gets; St. Joes available for others in private sector

Want joint but have to do separate for purchasing; Upstate signed contract with Fibertech out of Rochester
Mr. Fisher stated his offices have had some discussion with OCM BOCES which is a major player with a very big network that delivers to a lot of school districts.  OCM BOCES has been part of MetroNet but withdrew because they have a nominal number of circuits.  There are other nonprofits with systems but hard to move fast enough.  Mr. Fisher stated they are looking at alternative technologies.  When Board of Elections put their building up, the County did not give them a GigE circuit.  It worked with them to get microwave.  Mr. Fisher stated they came to the legislature and asked for $10,000 or $20,000.  There are no circuits there, it's already paid for, and there are no extra costs.  Over time the connections between a data center at the Civic Center and remote sites can be replaced.  Will the market place give the County the price that is needed to be competitive at the lower speeds, or will the County need to make capital investments and get out of the market?  The Library will have to do the same thing, and try to figure out where they can get away with slower or where they can get away with alternative sources.  Mr. Beam commented with the microwave antennas, it is a route IT will investigate a lot more.  The cost is fairly reasonable, and there are no long term maintenance agreements with it.  The Board of Elections is using that connection to connect back to the County systems and the internet but IT did have to put a separate circuit there for their election software.  It had to stay on a separate network.  Mr. Beam responded to Chairman Knapp that the County shares some of E911's antennas. 
The meeting was adjourned at 12:48 p.m.
Respectfully submitted,
Jamie M. McNamara, Assistant Clerk
Onondaga County Legislature