WAYS & MEANS COMMITTEE 2013 BUDGET REVIEW OF
PUBLIC SAFETY DEPARTMENTS (CONT.) - SEPTEMBER 20, 2012
DAVID KNAPP, CHAIRMAN
MEMBERS PRESENT:  Mrs. Ervin, Mr. Kilmartin, Mr. May, Mr. Jordan
MEMBERS ABSENT:  Mr. Holmquist, Mr. Stanczyk
ALSO PRESENT:  Mrs. Tassone, Mr. Ryan, Mr. Meyer, Chairman McMahon
Chairman Knapp called the meeting to order at 1:08 p.m.
EMERGENCY COMMUNICATIONS, pg. 5-45 - William Bleyle, Commissioner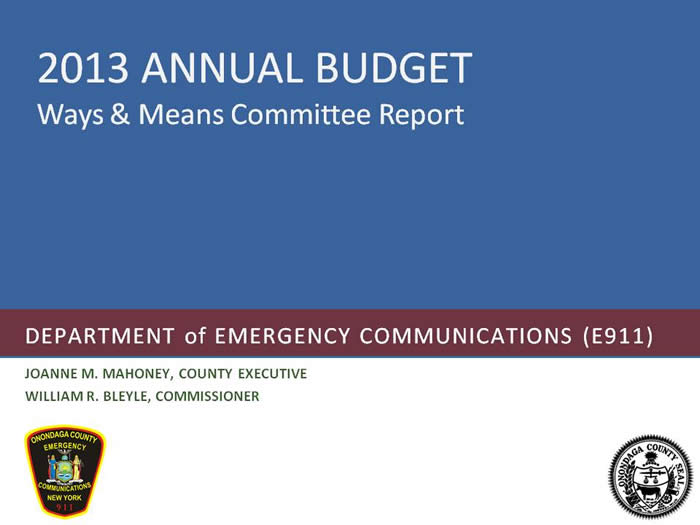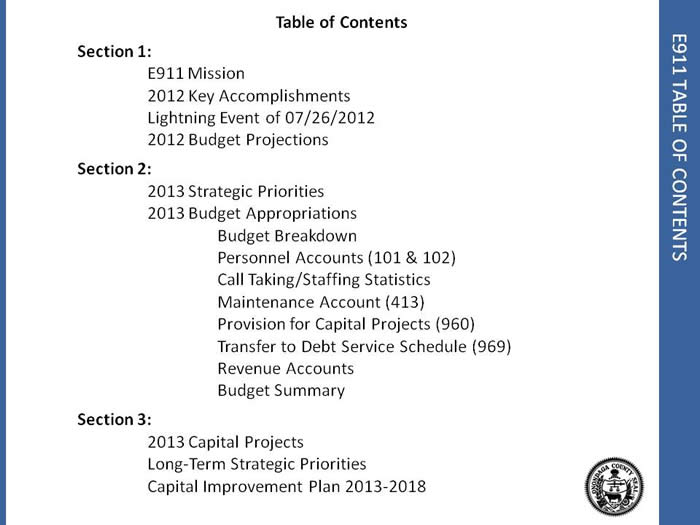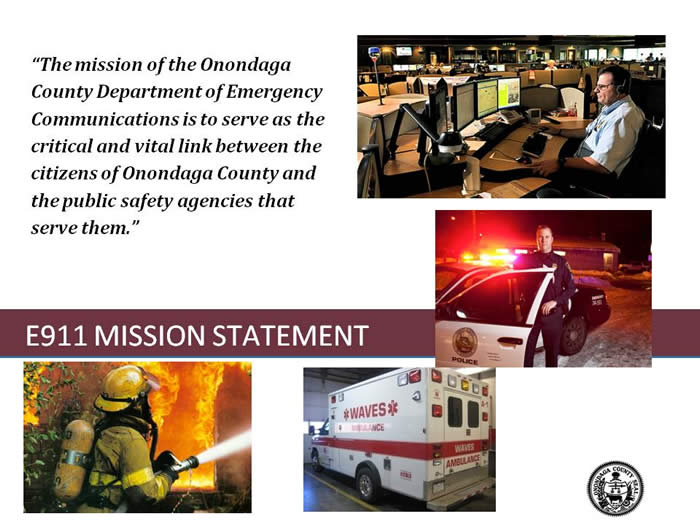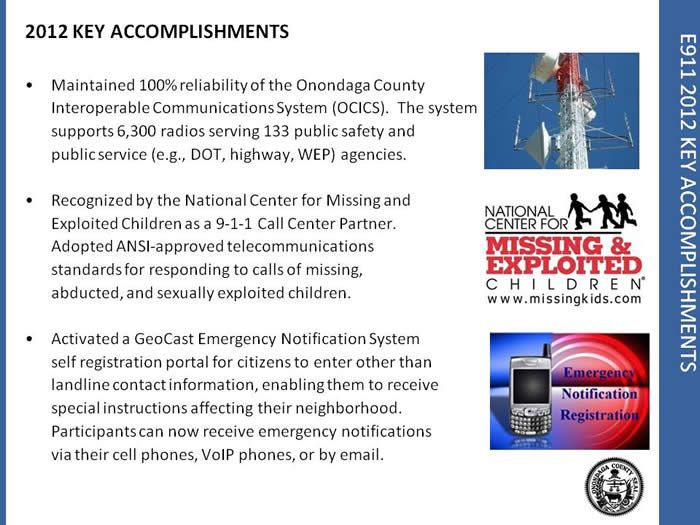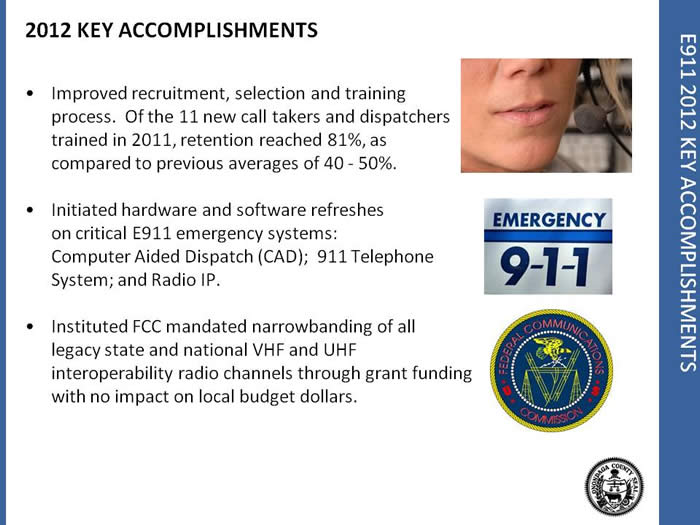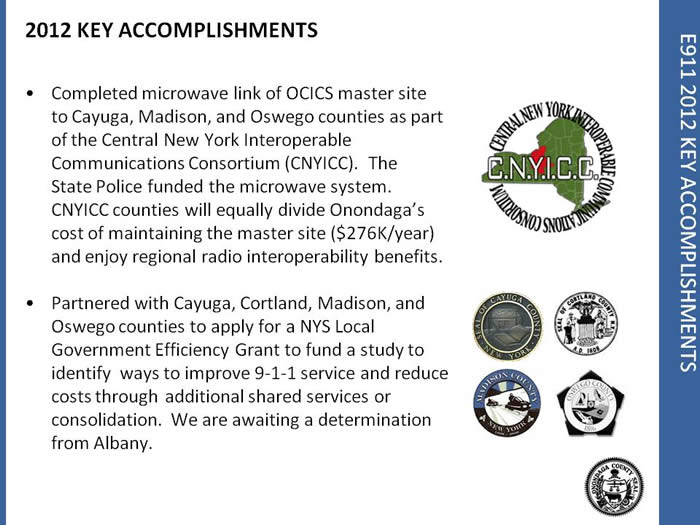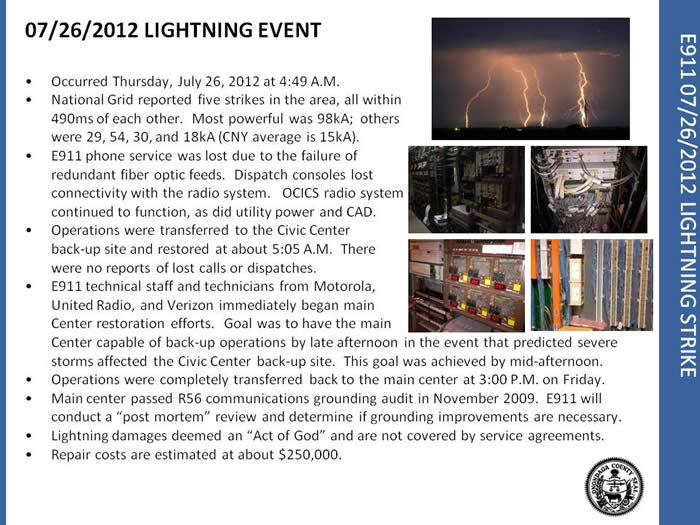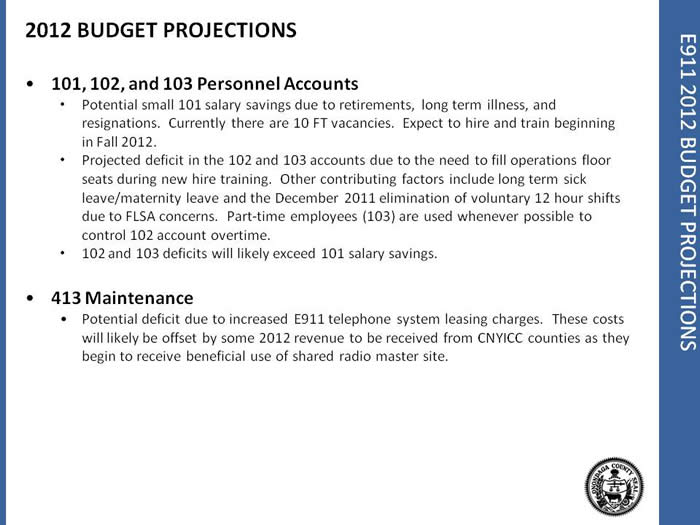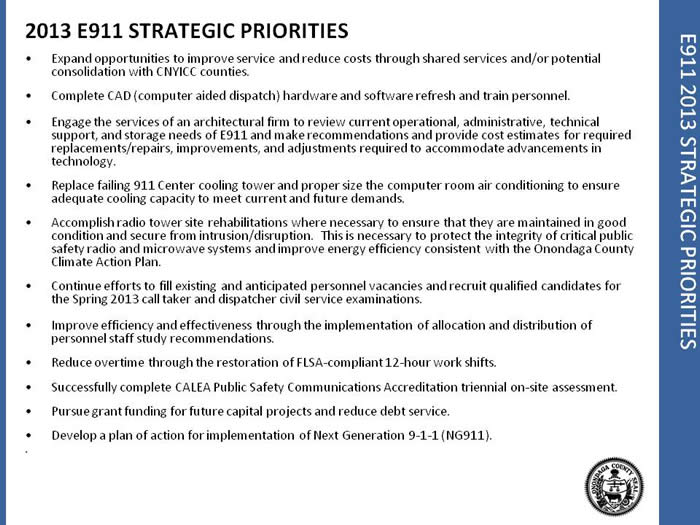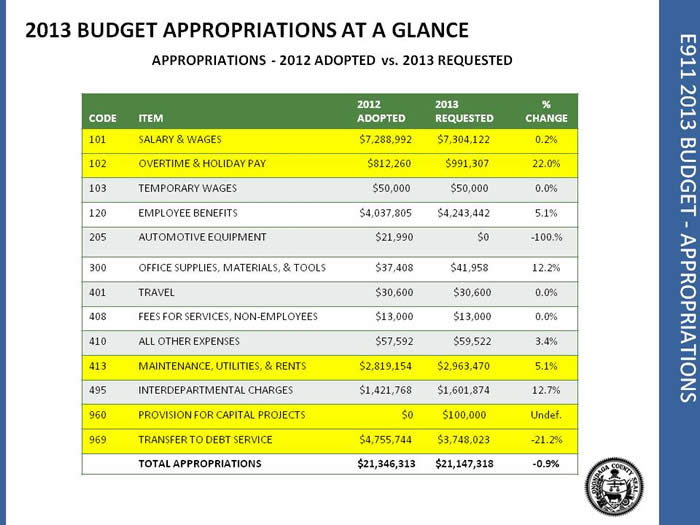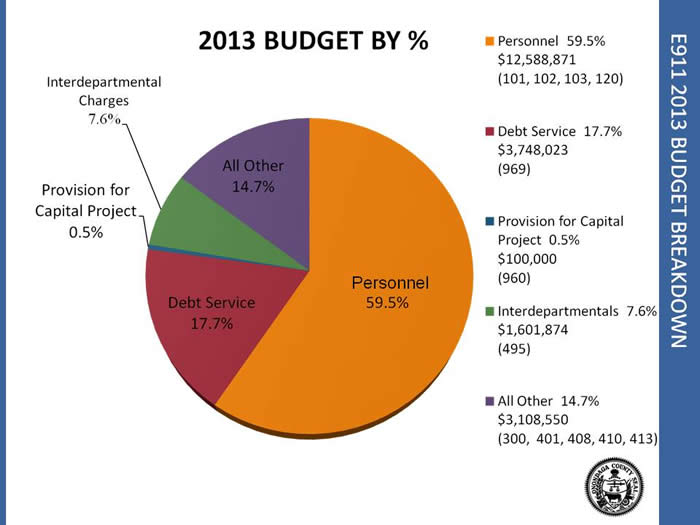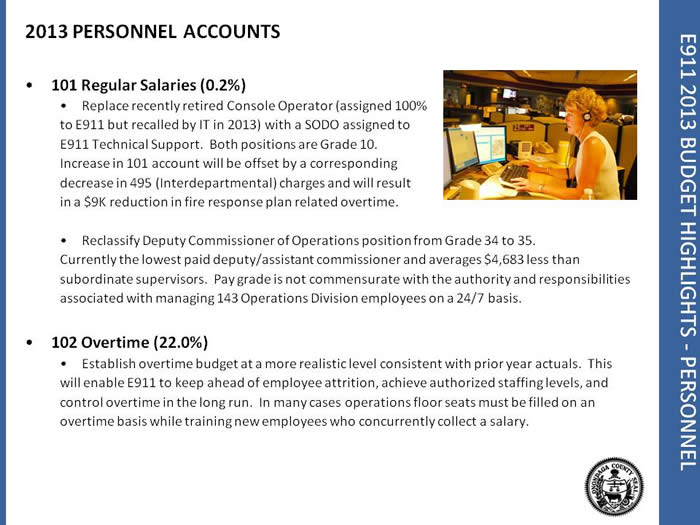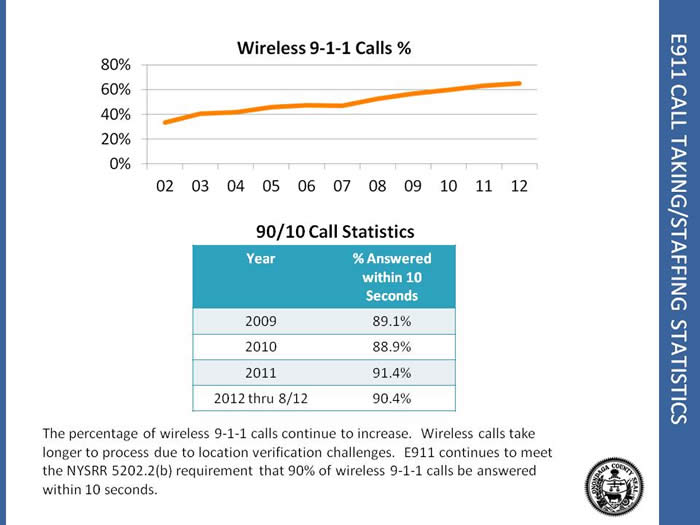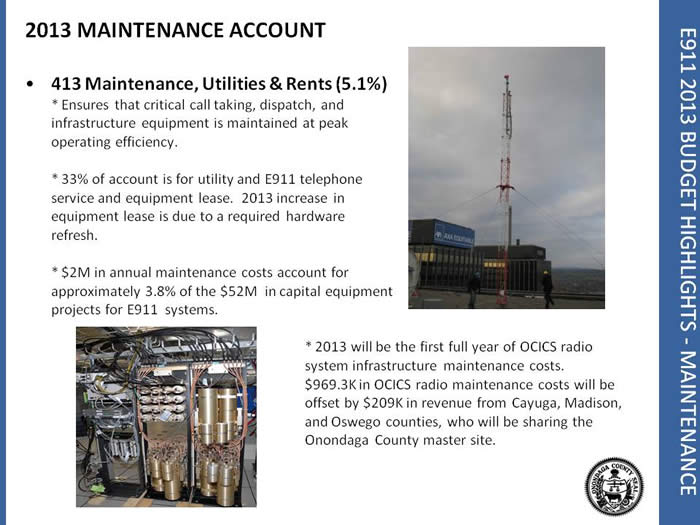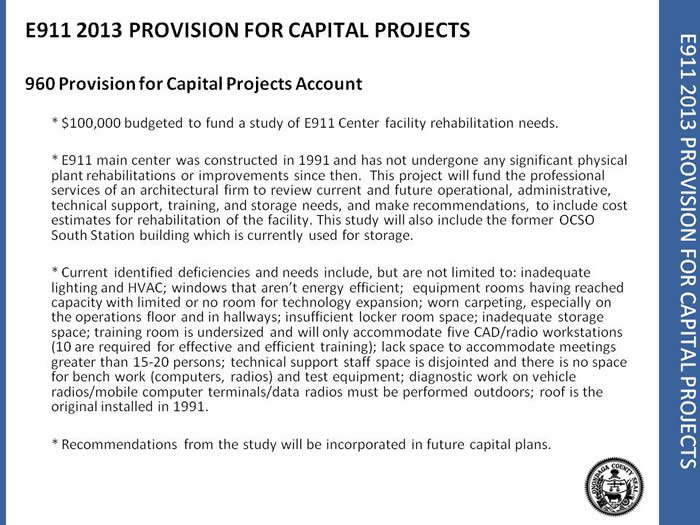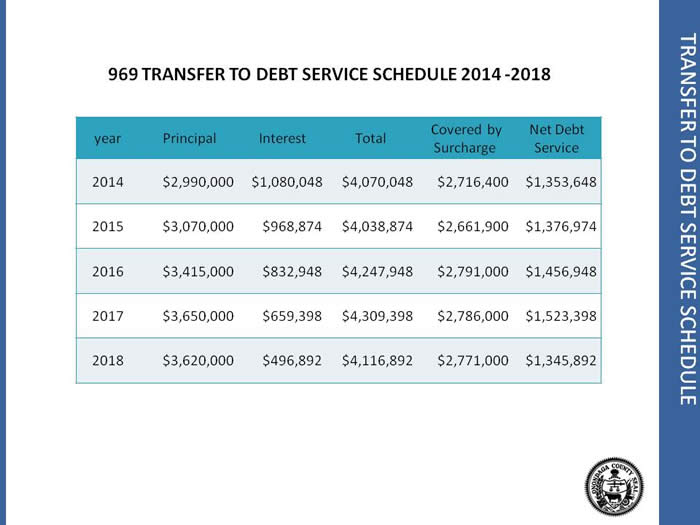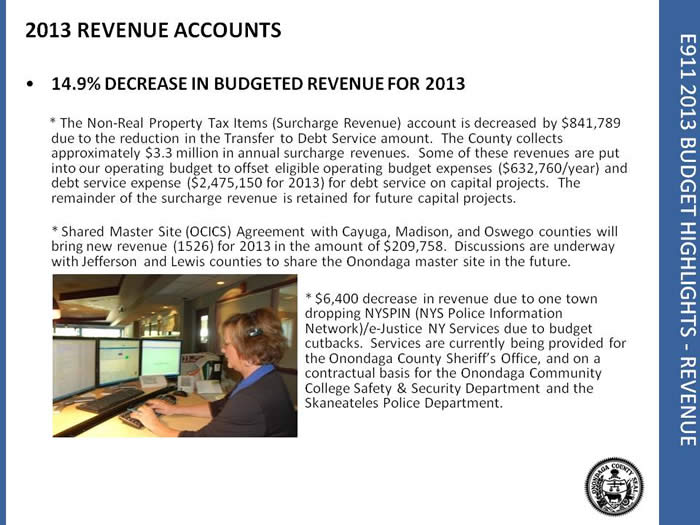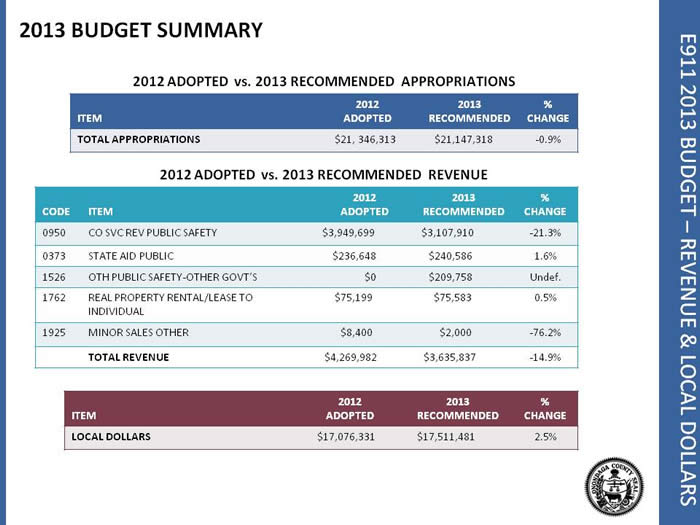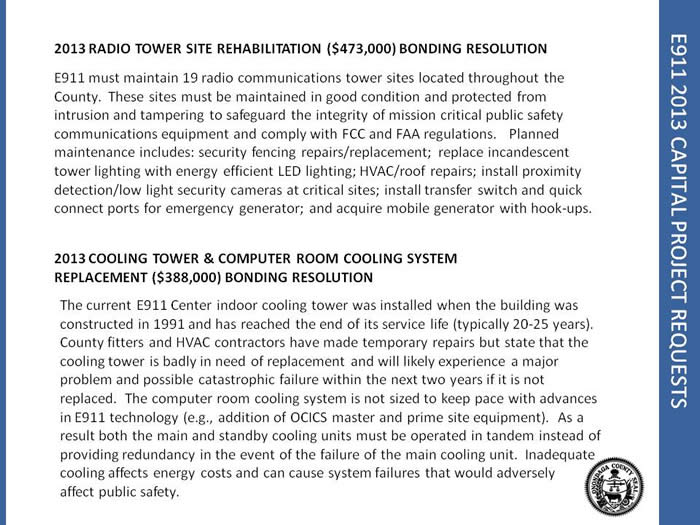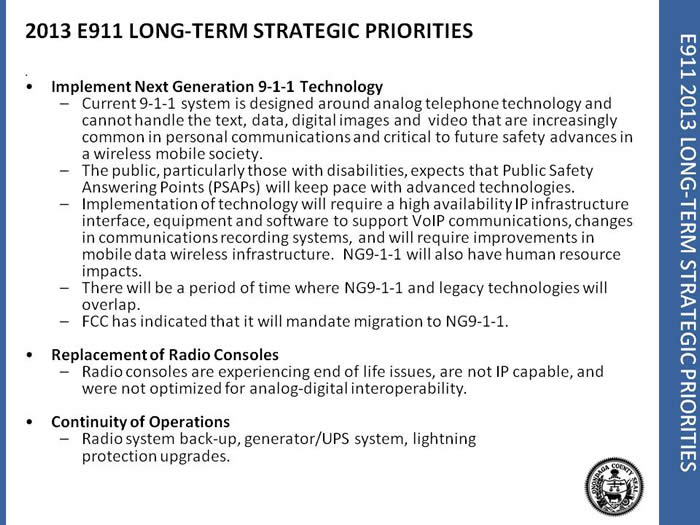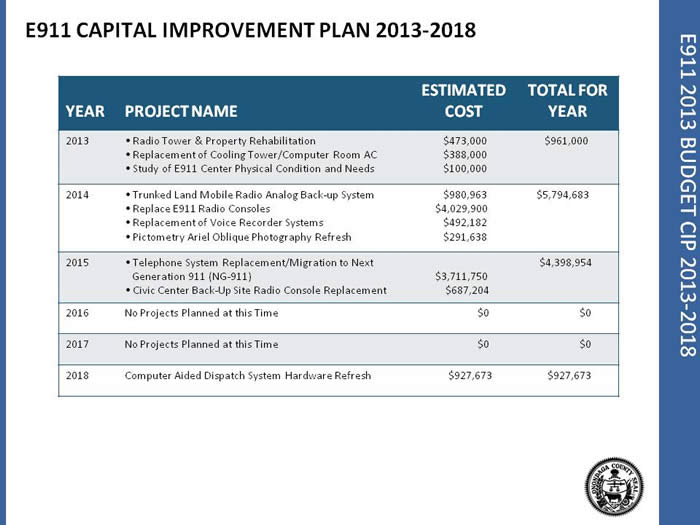 Mr. May asked why the 103 line was low and what drives the overtime line.  Mr. Bleyle:
Have substantially exceeded the 103 figure this year; using part time employees wherever they can

Don't hire off list; the problem with part-timers is that full time training is required

To be a dispatcher:  9 weeks classroom training for telecommunicater, then another 12 weeks on floor for field training; followed by another 3-6 weeks dispatch training; followed by another period of time on the floor under supervision of dispatcher

Not practical to hire part-timers off the street

Most part time staff comes from employees that have retired and want to come back part time

Limited by agreement with union as to what extent they can be used

Trainees on 101 line; don't train on a part time basis

Overtime – delay training this year – while in training, paid on 101, but also having to fill their seat on overtime in 102 in many cases.  When 102 and 103 budget is exceeding, have to use the 101 which prevents hiring people to fill the vacancies

With increase in 102 – right size overtime so that they don't have to dip into 101 acct.  If they don't have to dip into it, they can train more people

If able to train more people, in long run will see a decrease in overtime
Chairman McMahon said the problem with the overtime, due to state laws, is that pensions are padded.  The benefit package as a whole is more expensive long term.  He asked if an analysis has been done that shows if more are brought on the 101, if the overtime line could be decreased substantially in the future.  Mr. Bleyle:
Right where they need to be on floor staffing

Never able to reach 100% of floor staffing

Wanting to see increase in 102 – can't train more people for the 101 positions, if having to pay people to fill their seats

Overtime is high now, which meant holding off on haveing a training class because he can't go into a hole

Not looking for long term increase in 102 – 2 year estimate.  The thought is if working towards achieving full staffing then hopefully will see reductions in 102.  Constant game of trying to catch up to fill those positions

Can be done in a couple of ways:  1.  Doing what they are seeking to do; 2.  Authorize more positions

If employee is out long term, maternity or someone that calls in sick, it has a direct overtime impact

Maintain year after year at or about 90% - shows minimal number of people; when minimal number falls below that, they have to fill those seats to maintain 9010's by overtime
Chairman McMahon asked about the revenue decrease.  Mr. Bleyle explained that the revenue is actually higher in 2013. 
There is $3.3 million in surcharge revenue coming in, plus $209k received from neighboring counties.

Because paying less on bonds next year --by law the revenue that comes in on the surcharge can only be applied to certain categories

Seeing the same amount of revenue coming from bills for surcharges, a certain amount can only be applied to operating expenses, a certain amount can only be used to pay off bonds on some projects

Because CAD bond has expired, the amount that they can apply has reduced correspondingly

Money still coming into county, but until projects are implemented in the future, where they can dip into to pay off bonds, then it can't be accessed
Mr. Seitz explained that the biggest piece of surcharge revenue, $.35 raised to $1.00, is to pay of the town and village share, other than county, of the interoperable project.  Monies are set aside to pay the debt costs for the next 8 -10 years when the radio debt gets paid off.  Chairman McMahon asked if that is determined by State law; Mr. Seitz said that it is county policy.  Mr. McMahon asked for the policy in writing; wants to understand the policy and where it came from.  Mr. Seitz said that it is part of the budget every year and can map it out. 
Mr. Jordan asked how much of the $3.3 million coming in is going towards the saving account for the projects.  Mr. Seitz said that $3.3 million is coming in; $3.1 million is used; balance is going up $200k.  Revenue is down because $1 million of debt that dropped off at the end of 2012.  Mr. Jordan said that essentially there is $1 million now available set aside in an account for future capital projects.  Mr. Seitz said the $1 million was used for the radio project.  Mr. Jordan asked for further explanation.  Mr. Seitz said they can submit something to committee on how they plan to spend it.  When they drew $3.7 million down, it was drawing surplus balances down.  The higher surcharge revenue seen, there was a higher surplus in the account.  The balance is declining. 
Mr. Jordan referred to the capital improvement plan - in 2015 replace telephone system.  Mr. Bleyle said that they have 2 phone systems.  The system that County IT is replacing is the administrative phone system for business purposes; it will be replaced through the County IT system upgrade.  The system looking to be replaced is a whole separate E-911 telephone system; currently a Verizon Vesta system that answers all of the emergency calls.  It is the move to next generation 911 – the equipment that is not only analog telephone capable but will be digital system capable too.  It is not at all related to the administrative phone system.  Mr. Jordan asked if this system can be integrated into the other phone system.  Mr. Bleyle explained that the 911 systems are much more critical; have to be able to run 24/7, 365 – use much different technologies.  He knows of no 911 center that relies on their administrative call center to answer emergency calls.
Chairman Knapp asked what the $209,758 from neighboring counties if for.  Mr. Bleyle explained:
When OCIOS radio system was built out, received a federal grant on master site

Master site is $1.5 million piece of equipment – pay about $267k per year to maintain – federal grant received to pay for that portion of the radio system under an agreement that the master site would be shared with municipalizes

Sharing that computer allows Onondaga County to integrate its radio system with that of adjoined counties

Entered into an agreement that as other counties came on line and realized beneficial use of the master site, they will equally divide the cost of maintenance on it

Cayuga, Madison, Oswego – currently using
Chairman Knapp asked about consolidation with the other counties.  Mr. Bleyle said that it would save each county $1.5 million in building out their own master sites; it save them about $200k each in maintaining those master sites.  Applied for local government efficiency grant and all 4 counties, plus Cortland County put in for it.  It is in the Governor's office – should be hearing if Onondaga County is receiving it.  If received, would like to have someone come in and take a look at what they doing, look at advantages to sharing CAD system, can the next general phone system be built out on a regional basis with one server; looking for possibilities of saving money in other ways.   Some of the smaller ones, as they migrate to new technologies struggle with sustainability to maintain those technologies, look into if they can share and consolidate into one regional 911. 
Chairman Knapp asked how often the backup location is used.  Mr. Bleyle said it was used at least twice in 2012.  Will have to move people down to it when the CAD system upgrade is done for a week in the fall. 
Mr. Knapp referred to the Verizon system as discussed with the library and the increase in cost--asked if it is hitting the 911 center as well.  Mr. Fisher said that they may have one high speed circuit there – connect data network; may be scaled back to reduce speed. 
Mrs. Tassone asked about training – how often, how many in classes, average number of people that graduate from the classes; are they paid the same salary as the dispatch operators.  Mr. Bleyle:
Paid at entry level when they come in

Went from 40-50% success rate in training to about 80% success rate – largely from reducing size of classes

Did recruiting –increased the number of people that took the telecommunicater and dispatch exams by 400%

Changed selection process, i.e. tested multitasking

Because of limitations in size, the size of classes were too large compared to the amount of computers available for  training – training room only accommodates 5 work stations

Right sized classes – had fewer classes, but had a much higher success rate

Seek to increase the size of classes by expanding the training facility
SHERIFF – pg. 4-117:  Kevin Walsh, Sheriff; John Balloni, Administrative Chief; Chief Richard Carbery, Custody; Chief Ted Botsford, Police; Dan Shuster, Jason Dean, Budget Analyst
Mr. Kilmartin asked how evidence is stored by other departments – DA, City police, town & village police agencies and how they are coordinated.  Chief Balloni said that they are not coordinated, except for the use of the BEAST computer system, where a tracking number is assigned to the property evidence.  There are 20 separate facilities; the largest being the City Police facility, which is not much better than the County's.  There have been discussions about coordinating.  It is poorly handled countywide.  It has long been on the table they should work together to solve this problem.  The DA's office would like one spot to go to pick up the evidence; there is a lot of interest in doing this.  Sheriff's Dept. is very willing to work with and share with anyone who is interested.  
Chairman Knapp asked if the mental health unit would be built at the current location.  Chief Balloni said that it would be on the site of what was initially to be the fourth tower.   The initial proposal when the building was built included a fourth tower; at that time it was nixed.  Federal prisoners could have been housed there and paid for it many times over by this date and still have the room that they need.  It would not be a tower, but a one story addition to the existing building.  The infrastructure is there; booking area is in the basement of what would have been the fourth tower.  In answer to Chairman Knapp, Mr. Balloni confirmed that the current mental health unit would be converted to general population.  Chief Balloni said it solves the problem of overcrowding and helps them do a much better job in dealing with the mental health problems at the jail. 
Noted that Dr. Severson said that currently the mental health professionals have 2 options if someone is potentially suicidal – leave in general population or put them in constant watch

Realistically a number of these people go from critical to not so critical, but still should be watched more closely

New unit - should be built with some dorm style housing - mentally much healthier for them to be with other individuals vs. sitting in a glass cell with a deputy sitting outside the door staring at them all day

Needs to be built where they can be seen better – deputy having constant watch on more than 1 or 2 individuals

NIC continues to provide expertise; sending in a design team; will not do actual architectural drawing, but will help with layout
In answer to Chairman Knapp, the other project is the property evidence/special enforcement facility.
Mr. Jordan asked how the 100 bed/day number was calculated; with the average of 8.9 inmates per day in constant watch.  Chief Carbery:
The current mental health unit, Pod 5-C, has 60 units.

Justice Center was designed and built in the early 1990's -- meant to house both male and female populations  As soon as the building was opened, they were told that they couldn't mix males and females

Females with mental health problems are in other places in the facility

At times have 60 males in there

This is not building something new just for the constant watch situation; it is building a new mental health unit to take care of all the mental health problems.

The 100 bed unit is a guestimate right now – NIC is coming in at end of October to tell them what the building might look like – will probably get a better number; 100 is probably the minimu
Chief Balloni pointed out that this will also solve a population problem
60 bed unit being abandoned can be converted to go into regular use with minimal conversion

Oswego County is housing a number of inmates outside of their county – an additional $1 million cost 

If Onondaga County had any room, could be talking to Oswego Co. --  Oswego Co. could send some of these people to Onondaga County 

This situation could be ours as soon as next year – are beyond capacity – State could take action to force this to occur tomorrow - cost of housing prisoner outside of a facility is significant. 

Referred to the study done by Mr. Schuster – cost is discussed in study – cost would be horrendous

Project is a win/win – will more than pay for cost of building it
Mr. Jordan asked if the $10 million dollars is includes the conversion of 5-C to general population.  Chief Balloni said that it is a guess – based on the cost per square feet of building it.  Facilities Management provided a guestimate of the cost.  Looking to get engineer and estimate done and then can provide an accurate figure. 
In answer to Mr. Kilmartin, Chief Carbery explained that moving people into the 60 bed pod, would put them in compliance with State regulations.  This morning the population is 661 this morning; 629 in there a year ago today; numbers keep going up.  In the 671 cells, 10% is taken away for classification changes.  Since last November the Commission has sent two letters warning of the overpopulation.  The conversion will solve the problem, but continue to be close to full – need to think about the future and how many should really be built. 
Mr. Kilmartin noted that if there is part of a new tower, or new floor, it will have to be secured.  Even though the $1 million overtime cost is going down, there will also be a bump in cost for the manpower for the new mental health facility.  Chief Carbery said it could be – it would be like adding one pod.  Chief Balloni said that the net saving is in excess of $1 million. 
Sheriff Walsh noted that when he was a legislator, the federal courts said that the problem had to be solved or legislators would be sitting in cells.  There was no choice but to do something -- 670 cells were built, with the base to house 850 cells.  If the 850 cells had  been built, paid an extra $6 million – built the fourth tower and would be doing what Albany Co. has been doing for years.  They built enough capacity that they paid for their entire jail with federal inmates and housing from other communities.  Now a law has been passed to allow inmates in from other states.  They have also paid for the staff and salary costs from the profits. 
Chief Balloni said that by 2015 this will help reduce costs; costs are escalating and will continue to unless steps are taken.
In answer to Mr. Jordan, Mr. Schuster said that right now they are asking for the money to do the study and figure out what the costs are.  They hope to come up with a plan that they can revisit when the time comes to see if they do expand, that it will be easy to do – will have all the plans in place.  They can re-look at all of the numbers – i.e. does the population continue to go up – if it does, the plans will be ready to go.
Mr. May asked if a regional type approach be factored into the scope.  Sheriff Walsh said that the concept of regional jails has been talked about on a statewide basis.  It may work for regional sentenced prisoners, such as they have at Jamesville where people are in one spot for 6 mos. to a year.  In the jail, where people are coming in and out every day, about 13,500 per year, they have to go to local courts.  To have a regional jail in Syracuse and having people transferred back and forth from Oswego or Cortland, doesn't really help.  They could decide to ship inmates out of Oswego to surrounding counties – they send the people who are going to be there for a while.  Onondaga Co. is the only county in the state that has a separate Department of Correction and it brings about certain issues within the county; i.e. Sheriff can't send inmates that are unsentenced to Jamesville because of a union agreement.  Mr. May questioned if a regional concept would work for just the mental health unit.  Chief Balloni said that it should be explored.  He noted the reason they have never had a problem getting federal prisoners, is because the federal courts are in Syracuse – feds don't want to send them to Oswego or somewhere else; there is a convenience factor which turns into a money issue.  Mr. Carbery noted that if there was a regional approach, it would likely be in Syracuse.
Mr. Meyer referred to pg. 4-121 and asked about 101 salary savings.  Chief Balloni said it is $150k for both justice center and police/civil. 
Mr. Meyer said that one assumption on a vehicle is 120k miles on basic vehicle, and 100k on the others – questioned if that is a standard or if the standard can be changed.  Chief Balloni said that they have been talking about it with the people that do the maintenance on the vehicles.  Due to the rough duty that they serve, once up over 120k miles on a Chevy Caprice, given the amount of idol time – sitting at accident scene or running radar – it is the equivalent of about 300k on a regular car in terms of wear and tear.  Mr. Meyer said that it takes a long time to get a car delivered and a long time to get the car processed  - people have said that you don't need any more cars because 30 of them are sitting in a parking lot.  Chief Balloni said they will be in the exact same position again.  They stopped making Crown Victoria's this year and have to go to a new vehicle.  Chevy Caprice was selected – vehicles are coming in as we speak – they were ordered at the beginning of the year.  All new equipment has to be provided for the vehicles because they are a different layout than the Crown Victoria's.  The computer configuration has to be RFP'd and they are still waiting for Purchasing to get out the RFP.
Mr. Meyer noted that primarily the Justice Center is dealing with unsentenced people.  One solution is to have more bail expeditors and more coordination with the courts to process the people quicker.  He asked if it is being maximized.  Chief Balloni said that there have been several commissions that have looked at how to reduce the jail population and how to expedite getting people out of the jail.  The reality is that they have tweaked where they can.  Some of it may be that people prefer to do some time at the Justice Center, if they know they are going to get convicted of something.  If they are going to do jail time, the time they do in the Justice Center jail will count towards their sentence.  Many would rather do time here than go to Jamesville where family can't visit/ can't get to them easily.  They have been fairly successful in moving bodies around through commissions looking at what they can do.  It is felt that the most tweaking that is possible has been done and they don't know what else to do.  Chief Carbery said that if the tweaks that were done in the last 5 years hadn't been done, then the 661 population this morning would be between 811-850.  Essentially the tweaks have been to send different classes of inmates go to Jamesville; but now they are out of room and out of classifications of inmates to move. 
Mr. Meyer referred to video arraignments; is there any possibility that Onondaga County could be a pilot.  He asked if it is a step in the right direction; if there is anything the legislature can do to help.  Chief Carbery said that 12 years ago there was a push back from the defense bar – felt that face to face arraignment was an asset for their clients.  Since that time, videos and video equipment has become more common place; it is cheaper and more routine in a lot of locations.  They are moving so that families can visit from their homes and computers and have probation and parole interview by video.  He can't imagine that the courts are far behind that.
Chairman McMahon asked how many take home cars there are.  Chief Balloni:
74 assigned vehicles – 32.9% of fleet

5 funded by the federal government including maintenance (assigned to people on federal task force from the Sheriff's office); fed insist that they are take home vehicles.

2005 -- 97 take home vehicles 48.7% of fleet

2008 – 84 take home vehicles

2011 – 75 take home vehicles

Every time someone vacates a position, the Sheriff determines if the position really merits a take home vehicle

Once in a position and have a vehicle, it becomes a condition of employment – have to negotiate it

Sometimes it makes sense to have the position have a take home vehicle
He provided a copy of a report, which he will email to the Clerk.
Chairman McMahon asked for a breakdown of the 74 assigned cars -- asked how many are for those that live outside of Onondaga County.  Chief Balloni said that there is one.  Chairman McMahon asked for a memo from Mr. Troiano as to his opinion on take home vehicle assignments.
Mr. Ryan asked for a breakdown of assigned vehicles between police and custody.  Chief Balloni said that he will send the information to the Clerk.
Mr. Ryan referred to district courts and video arraignment in the towns, villages.  He thought that it couldn't be done, due to something in the State statute – it is a "get out of jail free pass".  Sheriff Walsh said that they have tried, through state organizations for a number of years, to try to get the laws changed.  When they passed the law to allow video arraignments, they allowed the inmate to decide whether or not he/she wanted to go to court or wanted to do video arraignment.  He would like to see the law changed that it simply be the court's decision as to whether or not they go to court, and not the inmate's decision.  Mr. Ryan said that if there is something that he can do as a member of Public Safety Committee to help facilitate it, he would be happy to do so.
Chairman McMahon said that the legislature is being asked to increase positions at a time when the bargaining unit is at an impasse.  It is not know what that will lead to for an increased cost to the Sheriff's budget or the taxpayers.  The Sheriff's Dept. budget is almost half of the county property tax levy.  He does not believe that the legislature has all of the data at this point to really be able to consider these requests at this date and time.
Chairman McMahon referred to overtime numbers – as of today in Civil, budgeted for $1.2 million and running about $922k.  It appears that it will come in right on task or slightly over.  Chief Balloni said that the holiday pay is missing from the overtime numbers.  Monthly projections are done; so he knows where they should be at each month; how much is recouped over time; how much will come up in terms of expenses.  Chief Balloni said that the Sept. 2nd report – projection for 2012 on police/civil end is $304,487 in the red.  The estimated holiday pay at the last quarter of the year comes out in one check, estimated to be $537,236.  Chairman McMahon said that this is the type of dialog that needs to occur, as we are at the bargaining table now.  Chief Botsford said that these are for the county paid holidays, each county employee get them; it is nothing special for the bargaining unit.  Police and custody sides work 24/day, 7 day/week and have paid holidays like other full time county employees do.  They get the one holiday check at the end of the year. The deputies' holiday pay shows in the overtime budget.  In answer to Chairman McMahon, Chief Balloni said that the legislature has approved 12 paid holidays for virtually every unit.
Chairman McMahon referred to the custody side, noting that his numbers show $3.1 million allocation, and $1.8 million year to date.  Chief Balloni said that $1.3 million will be spent in the last quarter -  this is a larger unit than the police unit, and as a result holiday pay takes up a larger piece of the $3.1 million.  Constant watch and hospital details have driving custody overtime.
In answer to Chairman McMahon, Chief Balloni said that the drug seizure revenue (forfeited assets) is $450k for 2013; so far $211,820 has been collected in 2012.  The money is accumulated, appropriated in the budget and tell what they would like to do with it the budget.  A lot of discussion surrounds that money – feels the legislature would like to use some of it to reduce local dollars.  Supplanting is prohibited by law in federal seizures.  If they did not have that, they would be asking for the $350k.  It is used for video upgrades at jail, buying police vehicles, specific for the drug program; used to fund some drug operations; used to fund things that would be difficult and time consuming to get through the legislature.  Chairman McMahon said that procedurally, each year the department should come back to the legislature and it should be considered separately from the budget for the usages.  Chief Balloni said that they believe they are coming before the legislature, because it is put in the budget.  Chairman McMahon said that he understands that Air-1 has missions to detect marijuana in the fields, and asked if that qualifies for some of that money to help some of those operations sustainable.  Chief Balloni said that they received DEA funding for it and have used drug seizure funds to pay for FAA required upgrades to Air-1. 
Mr. Jordan referred to supplies and materials for police-civil and asked for an explanation of food, household medical.  Chief Balloni said that the increase in supplies and materials is primarily due to:
No longer making Crown Victoria, making switch to Chevy Caprice – much equipment that goes into patrol vehicles (cages, consoles, computer, radios, push bumpers, etc.) does not transfer from Crown Vic to Caprice – accounting for approx.. $47k of increase

Safety standards of manufacturer call for replacement of ballistic vests every 5 years.  A lot have been bought in the past via grants in large pots of money, thereforem many come up for replacement at the same time. State pays for half of the cost of a vest to a new police officer.  $20K for Ballistic vests

Ammunition costs have increases, nearly $20k, because of back orders from prior years that did not come in 2011.  It allowed them to get by without buying much ammunition in 2012.
Mr. Shuster explained that the new system budgets by subobject, whereas before it was budgeted in a rolled up account.  Mr. Morgan said that if you look at the categories, you will see some huge swings in the classifications.  For this year, we have to look at the overall number, as the way the expenses were classified you can't compare year to year.
Mr. Jordan referred to custom software maintenance, profession services acct., and asked what it is.  Chief Balloni said it is for the civil software maintenance.  It keeps track of service of papers; helps balance civil accounts, and keeps track of how much revenue is coming in.  Civil is responsible for a significant amount of revenue. 
Mr. Jordan referred to $70k for furniture & equipment.  Chief Balloni said that it is for the software for pistol permits – will allow them to catch up without adding personnel.
Mr. Jordan referred to United Radio, $45,000, annual maintenance.  Chief Balloni said that there is an annual maintenance on the radios.  Also when transferring radios from one vehicle to the next, they install and test it.  The number of radios won't change.  Mr. Jordan asked how much of the contract will be towards equipping the new vehicles that are being requested.  Chief Balloni said it is $200/vehicle for the new vehicles; he can provide the exact figure.
Mr. Jordan referred to 408, civil annual support, $17,000.  Chief Balloni said that this is maintenance to run the civil department, civil software -- maintenance for pistol permit software.
Mr. Jordan referred to $1,500 of all other expenses, for purchase cards. Mr. Shuster said that they are used to buy small items – show up in different accounts; they are credit cares of a $200 limit.
Mr. Jordan referred to $10 million, contractual expenses, Custody.  Chief Balloni said that it is largely for CMC, the provider for the medical services at our jail.  It used to be part of the Health Department budget.  It was rolled into the Sherriff's budget 2 years ago, resulting in a major increase in their budget.  Jamesville is billed interdepartmentally for their portion of it.
Mr. Ryan asked about specifics regarding the lack of personnel possibly affecting call handling time.  Chief Balloni said that to some degree their staffing study will talk about it.  When there are fewer personnel in the street--means that people have to travel further distances to get to calls, increasing response time.  It is a significant issue on priority 1 and in progress type calls.  If personnel aren't available, they have to go to another post.  The further out in posts you get, the more time is taken in trying to get to a call.   It affects the number of calls they can answer and the response time.  In addition, it reduces self-initiated activity.  It impacts them in many ways; impacts community safety.  When stopped at disabled vehicle, they park in such a way that with the vehicle and lights, the citizen is protected.  If there is nobody to stop, then the citizen is unprotected.  Self-initiated activity includes making DWI arrest; includes all things that are done on routine patrols.  State police are also facing it; they can't go out and pick up the slack.  State is having their first academy in 3 years; it won't even make up for the people lost while the academy is in session.  They are significantly understaffed.  Mr. Ryan said that there is doing more with less to save money; at some point in time you have to do less.  It is the same thing at Emergency Communications – can't have people calling 911 and not getting someone on the phone; can't have someone in need of police services and no one getting there.  He asked if there is any statistical data that can be provided to show him that there is a back log.  If it is affecting handling time, he would like to know about it.  Chief Balloni said that the statistics are being gathered as they speak with the staffing study.  Chief Botsford said that a watch doesn't go by where 911 isn't calling one of his supervisors and advising them of calls waiting.  The supervisor on the street has to prioritize those calls, determine which units he can start and which ones have to wait.  There are calls for service that will wait hours.  At this point he and Chief Graiten are talking about making a determination on what calls they are not going to respond to any more.  They are contemplating many of the things that the city has already started – setting a threshold of the type of crime that they will send a mail in report.  They are making it through priority 1's; priority 2's and 3's are waiting.  Looking at many of the priority 3's to make a determination if there will be a mail in report or be able to handle or service a call. 
Mr. Ryan asked what the taxpayers will see as a saving related to the pistol license software.  Chief Balloni explained that they are 9 months behind in making appointments; this will bring them to current.  They are not able to handle them with existing staffing.  The software won't save any more, as the position is already pulled from the assignment, but it will allow them to function with one less person. 
Mr. Ryan referred to Air-1 costing $1,250/hour to go out of county; asked for a projection on how often it is flown out of county and what the overall loss will be.  Chief Balloni can provide exact figures.
Mr. Ryan referred to custody at the jail – deputies doing work that is nontraditional jail work, i.e. IT, clerical, etc.  He believes that there should be clerical people doing clerical work, thus leaving deputies to do the deputy work and a savings would be realized.  Sheriff Walsh agreed and would love to see the deputies doing strictly deputy work and clerical work done by civilians.  They hired 10 civilians to do the clerical work and lost in court.  It went to PERB and the Supreme Court.  They are back to having deputies do the clerical work.  Chief Balloni said that as part of the technical services team, they had 2 people assigned nearly full time at the Justice Center.  One deputy retired; they felt that IT should be relied on more heavily.  There is some benefit to having a deputy understand specialized software in the Justice Center.  They hired, through IT, a technician, a retired deputy part time to work in that unit.  There is a grievance pending; they are headed to arbitration over not putting a deputy in that position.  They are preparing to fight it right now; every time they have lost a sworn in what they considered to be more appropriately a civilian position and generally less expensive, they have move to replace the position with a civilian.  In many cases they have sustained grievances; have lost some cases.  They agree that civilianizing positions that shouldn't be sworn is the way to go. 
Mr. Ryan referred to housing inmates, waiting to go to the State, and the State not willing to accept them, so they have to be kept here.  He questioned the population of these individuals and the cost associated. Chief Carbery said that there isn't a big problem of that in the Justice Center.  A few years ago, there was – they stayed too long but then Auburn was opened as satellite site to drop off.  They go to the state facility at least 3 times a week with inmates.  Mr. Ryan felt that it was costing the county money, as we aren't getting reimbursed from the State to the extent that we should.  Sheriff Walsh said that the issue is state parolees.  He explained that if someone goes to state prison, gets paroled by State Parole Bd., comes back to local community, violates their state parole, they are not sent back to state prison; they are sent to the Justice Center.  On average there are 150 state parolees; half of which have additional charges.  They have to be in the Justice Center because of an exclusive right to guard them by the DSBA.  The other 75 or so are at Jamesville; they will stay there until they get their State parole hearings and the State Division of Parole decides what to do with them.  There are 150 bodies on average sitting there that should be still state prison, because they haven't finished their state prison sentence.  The state used to pay the county $34/day for every day that the state parolees were in there.  Last year they stopped paying, after it was already budgeted for about $300k/year coming in for Jamesville.  At the same time, State prisons are being closed.  If the 150 beds were still available, now being taken up by parolees, they could be rented to the federal government at $100/day.  Chief Carbery said that there are 66 today at the Justice Center, about the same number that they are over capacity by.
Mr. Kilmartin asked for an update on the progress made by the Air-1 Foundation and the billings to date for Air-1.  Chief Balloni said that they are vastly optimistic on the medical as they were down for 4 months for the upgrade this year.  Recently, we have discovered a glitch in the billing, in that they didn't have the narcotics license.  Even though they don't administer any narcotics, because they are flying in the ship, a narcotics license is needed.  They have applied for one; received the narcotics license number, but the state has not yet mailed the license.  The Foundation - have raised close to $75k – some of that was cost of doing business, i.e. paying for mailing.  There is approximately $60,300 in the Foundation account.  The Foundation Board voted to give $50k to the County, with a caveat as long as the County matched it in budgeting for Air-1.  Mr. Kilmartin said that Foundation charged with fundraising to offset the cost to the County taxpayers is conditioning distribution of their money on a match for the County.  Chief Balloni agreed.  He noted that there is the equivalent of that in paying for insurance for paying with Air-1 in the budget.  He believes the County is crazy not to insure its own asset.  Whether or not the rest of it is funded through grant services; feels they have the money to do those things next year.  They have made it through this year, partially because they weren't flying for part of the year. 
Mr. Kilmartin asked when is it expected that it will be totally up and running for reimbursements for medevacs.  Chief Balloni said he had expected to be in January, and then ran into this glitch.  The license has been issued; they just don't physically have it.  This should be the last glitch – should be able to bill from any moment forward.  There is a possibility of back billing some of the flights already made, depending on when the license is dated.  Mr. Kilmartin asked about an impact on 2012's budget from reimbursements or expectations from the Foundation.  Chief Balloni said that an account was set up for it in the budget; have received funding from some outside counties.  There is DEA funding, that they will be billing for and getting.  Homeland Security grant funding is coming in.  Shortfalls have been absorbed with the Sheriff's budget, largely because they didn't fly for a period of time. 
Mr. Kilmartin referred to Project Impact and asked for the amount of funding that the Sheriff's Dept. gets allocated from Project Impact as if flows through the DA's office.  Mr. Schuster said that they pay for salaries of two individuals, overtime approx. $90k, and some supplies.  Mr. Kilmartin asked how dollars in aggregate the Sheriff's Dept. dedicates to Operation Impact.  Chief Balloni said that they assign 7 personnel to Impact, and with overtime that cost far exceeds the $200k that they get in grant funding; it pays for a little less than half of it.  However it is a very important program – feel it is worth their investment in the program.  
Mr. Kilmartin asked for a status update on the concept of a joint police academy with the SPD and other agencies.  Chief Balloni said that there have been conversations with the Law Department; some is in their hands.  Syracuse Police is not having an academy.  There is no academy for the Sheriff's Dept.  Sheriff Walsh said that they have done a lot with Homeland Security academy in Oriskany.  They have facilities and great training; generally cost free to send people.  They may in time branch out to doing regional police academies. 
Mr. Kilmartin referred to capital projects; they are big projects with a lot of nuances that will be tough to work through this budget.  It is good that last year the County Executive put capital projects through the budget process, but at the same time it is a short timeline to analyze and vet the projects.  It may be a worthwhile endeavor to give it a little more time and look at all of the options.  Chief Balloni said that if the mental health unit isn't built, the cost will be more than that effective next year because of the population issue – they will be back before the legislature asking for millions of dollars for costs.  The money this year is not saying that the rest of the project will be funded; it is for research and design that is needed to make a good decision.
Mr. Kilmartin asked if there is a projection on where line items will come in for 2012.  Chief Balloni said that they have perused every account and discovered that everywhere besides overtime they are in pretty good shape.  Some may come in a little over; many will come in a little under.  They estimate that they won't cover the estimated shortfall in overtime.
Mr. Kilmartin referred to trends in personnel with a department; the department looking at different ways to handle different priorities of calls, the stress on the Sheriff's Dept. is similar to what has occurred in other departments in recent years with the budget crisis that everyone has faced.  Probation has had very serious cuts over past couple of years.  The County Executive commented a couple of years ago that the County has to do more with less; last year she talked about the County doing less with less.  IT is stress that all departments are under.  Due to the cuts, the Probation Dept. had to cut the level of service in some areas and eliminate the level of service in other areas all together.  Other departments have had to do the same; the Sheriff's Dept. has as well.  Looking for the longer time, if the economy stays in its current state, the Sheriff's Dept. might have to do less with less.  He asked what short, mid, and long term projections the Sheriff's Dept. is looking to change.  If it comes to the point of making tough decisions about not doing some things on the menu of services, what projections have been made for that.  Sheriff Walsh said that they have done a number of things:  Community Relations unit, that used to do a lot or crime prevention programs has been cut from 6-8 people, had 6 people just doing DARE programs in the schools – they are not doing those programs anymore.  At one point they had 8 dogs and are down to 3 dogs.  They have done more with less and are doing less with less.  They have to provide services, make selected cuts as they come, have civilianized a number of positions to save; eliminated at least 4 lieutenants, some replaced with civilian staff; have one less chief than they used to – doubled the duties of one of the Chiefs.  He has a constitutional responsibility to provide peace in the county.  Chief Botsford noted that they have pulled out of some task forces that they belonged to in the past and brought people back to do the basic mission.  Chief Balloni said that one issue they face is that towns and villages have downsized – agencies that had dogs before don't have them now; they are backing out of ERT/SWAT concept; they rely on the Sheriff's Dept. to provide those services.  They pretty much provide the basic services.  There will be budget improvement; always have to look at how to do things most cost effectively and efficiently – can't afford with a smaller force to not give them the training and equipment they need to do their jobs.  They look to see what they can do with the personnel they have; bring in consultants to take a look at it – may never get to 259 people on the police side like they once were, but maybe the right number is not 209, maybe it is 220.  Sometimes there needs to be an investment made towards future savings.  Regarding the mental health unit, the savings will be significant--close to $3 million the first year. 
Chairman Knapp noted that he is interested in streamlining the pistol permit process. 
The meeting was adjourned at 4:45 p.m.
Respectfully submitted,
DEBORAH L. MATURO, Clerk
Onondaga County Legislature