WAYS & MEANS COMMITTEE 2013 BUDGET REVIEW OF
PUBLIC SAFETY COMMITTEE DEPARTMENTS - SEPTEMBER 20, 2012
DAVID KNAPP, CHAIRMAN
MEMBERS PRESENT:  Mr. Stanczyk, Mr. Kilmartin, Mr. May, Mr. Jordan, Mrs. Ervin
MEMBERS ABSENT:  Mr. Holmquist
ALSO PRESENT:  Mr. Ryan, Mrs. Tassone, Mr. Shepard, Mr. McMahon, Mr. Plochocki, see also attached lists
Chairman Knapp called the meeting to order at 9:05 a.m.
DISTRICT ATTORNEY, pg.  3-82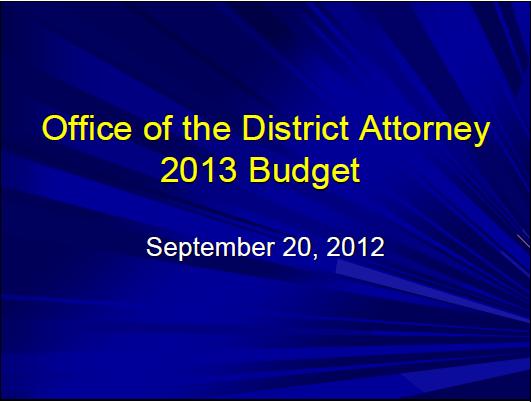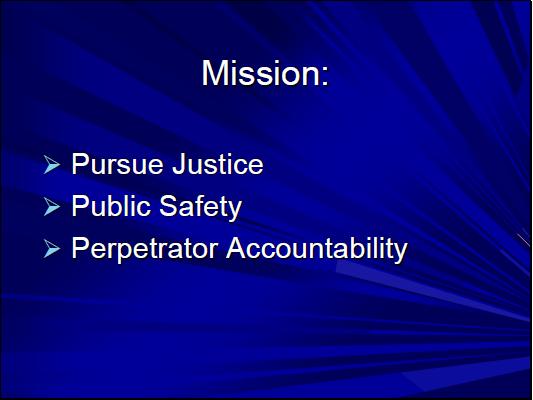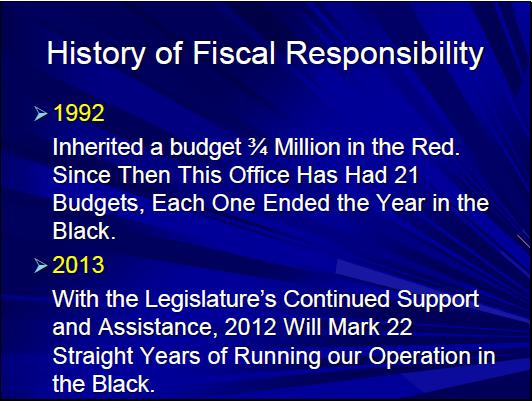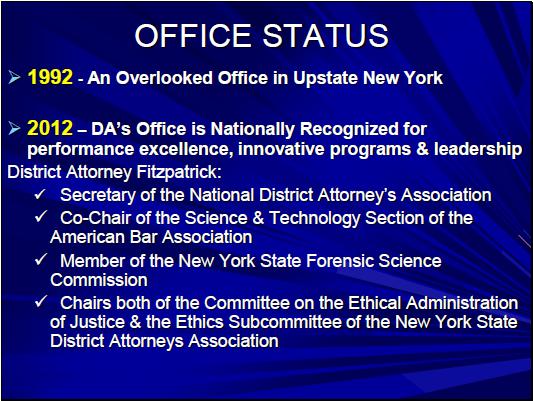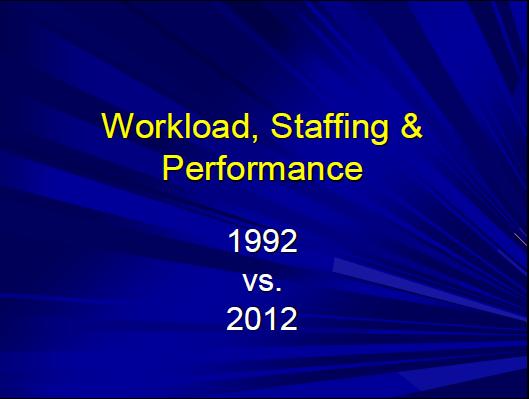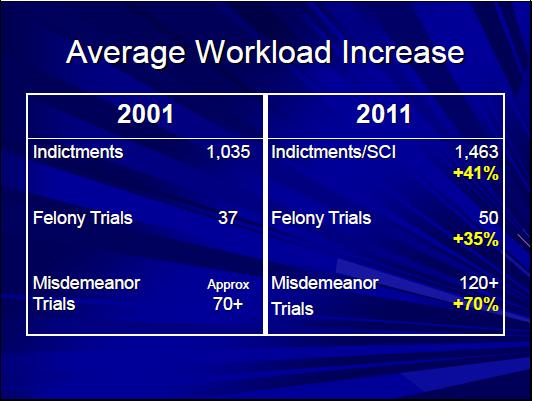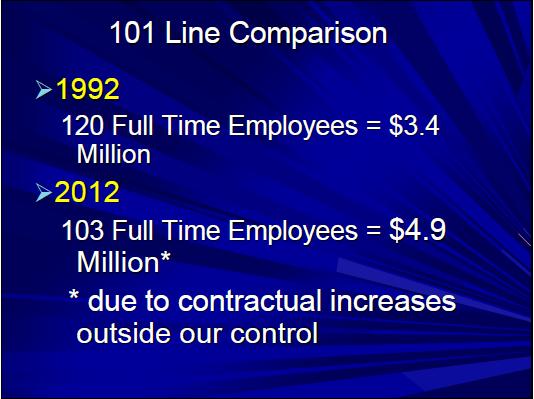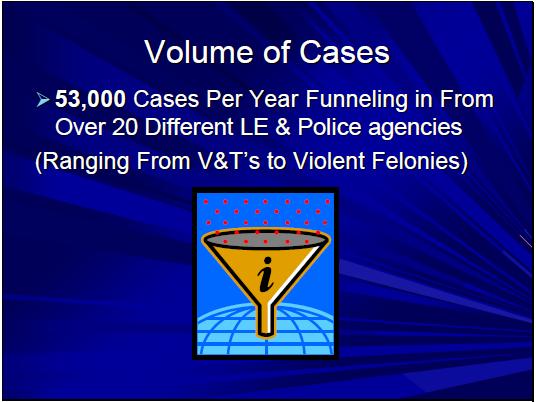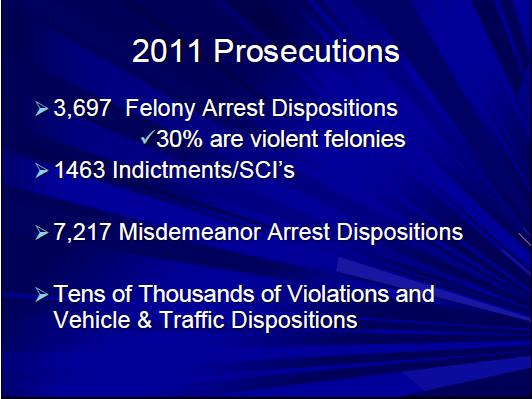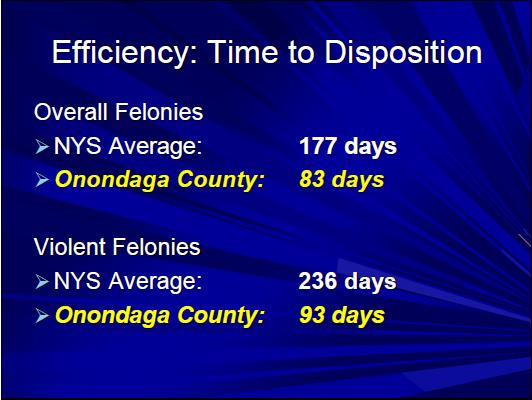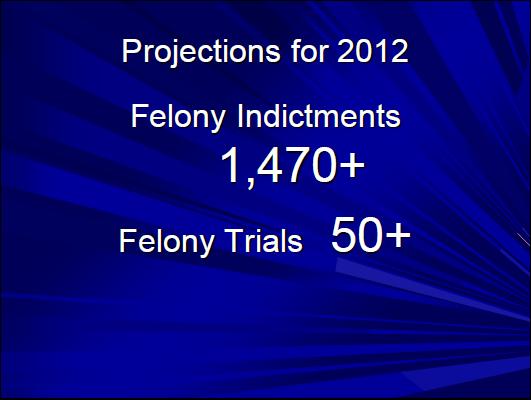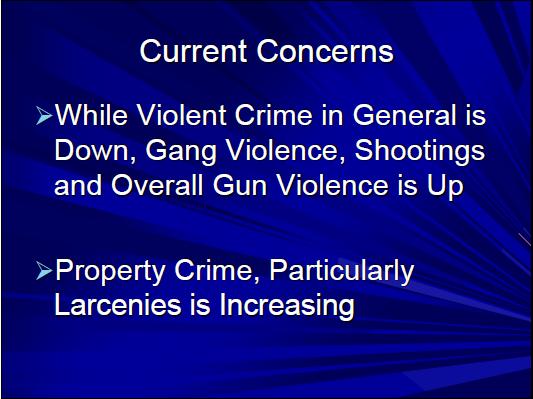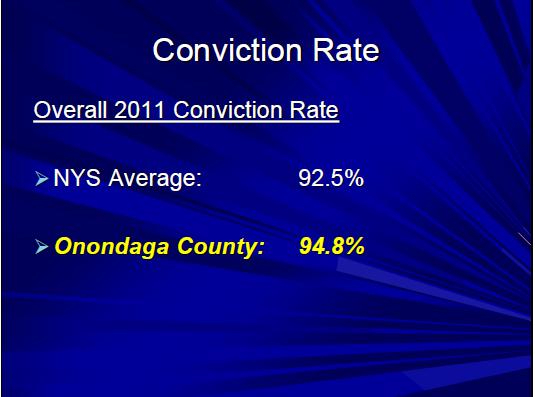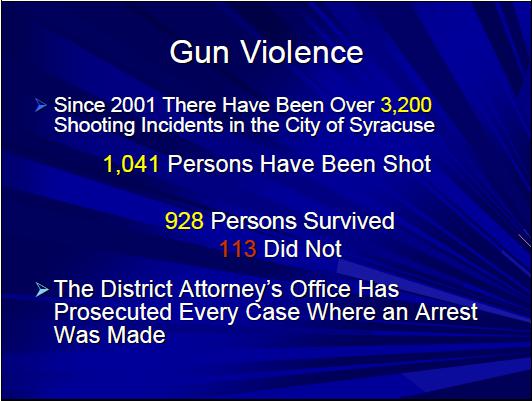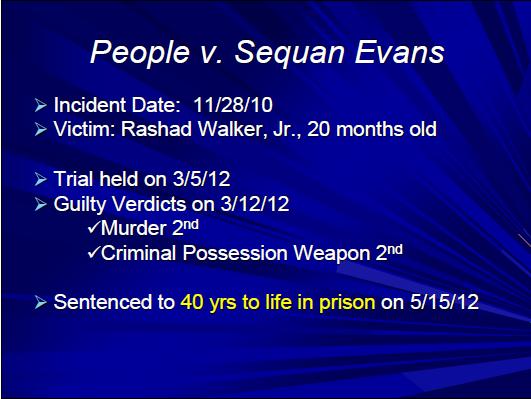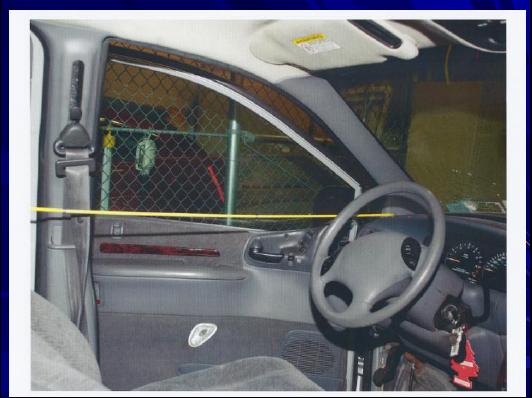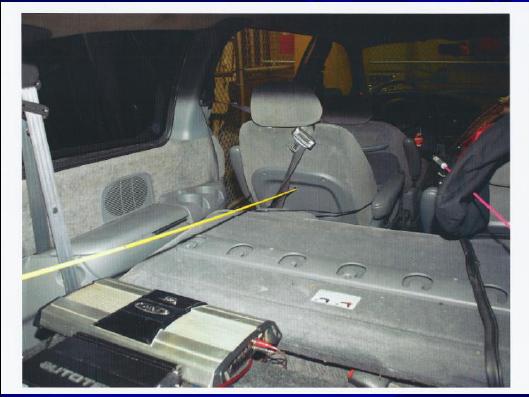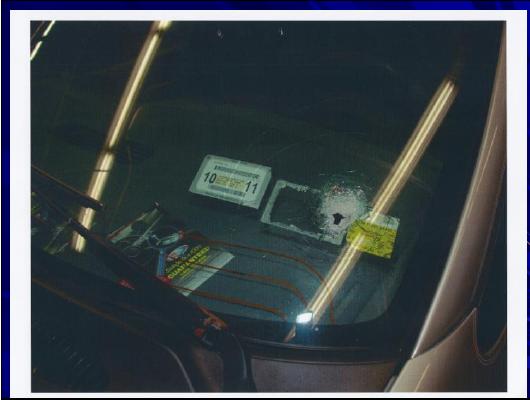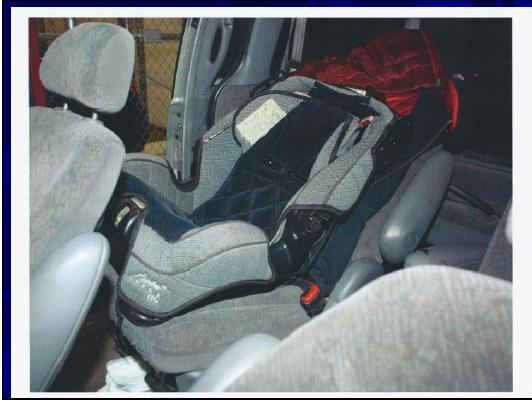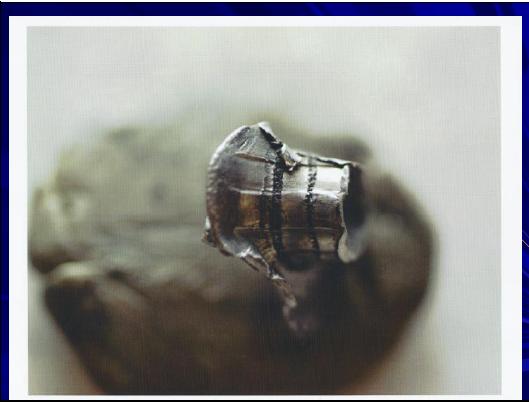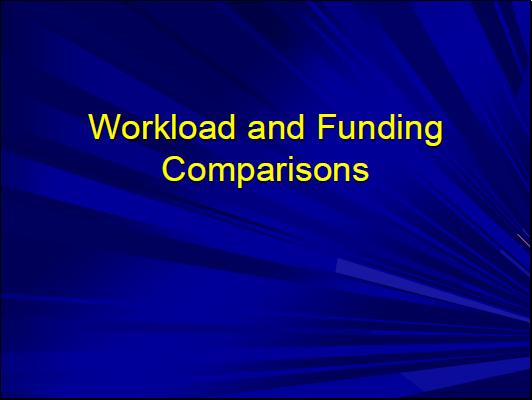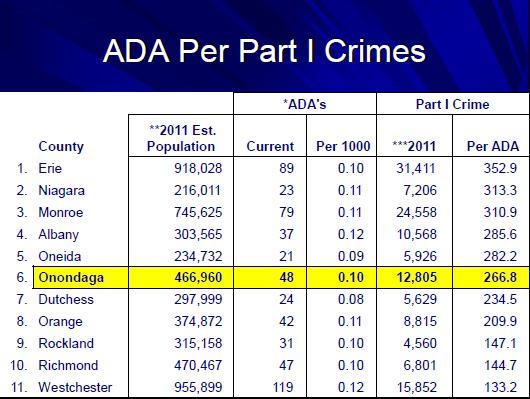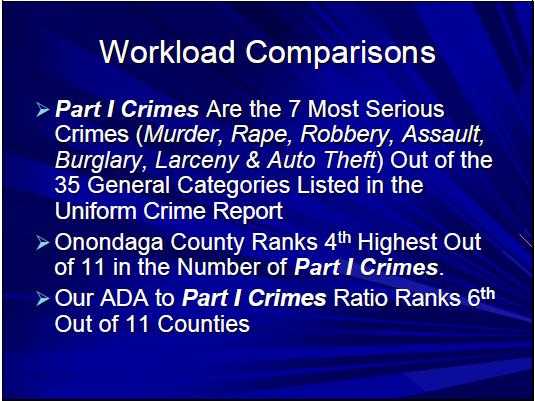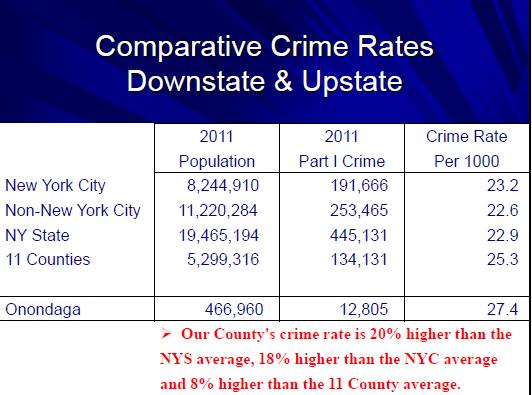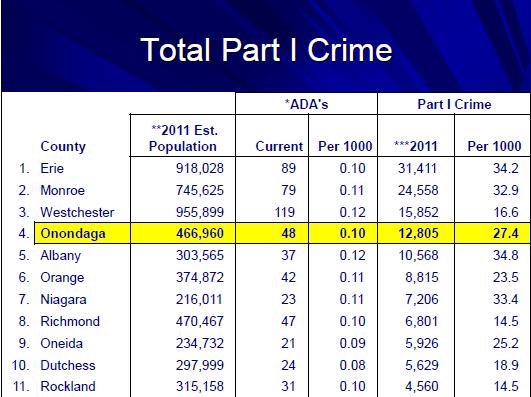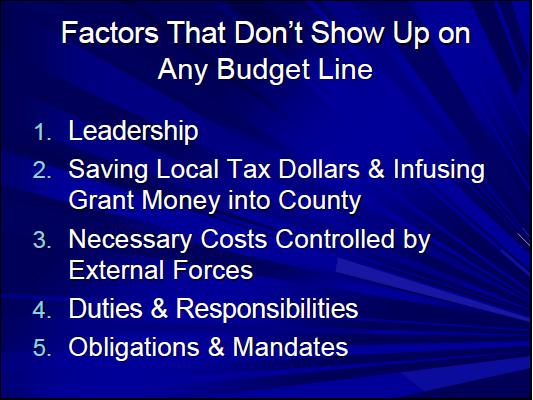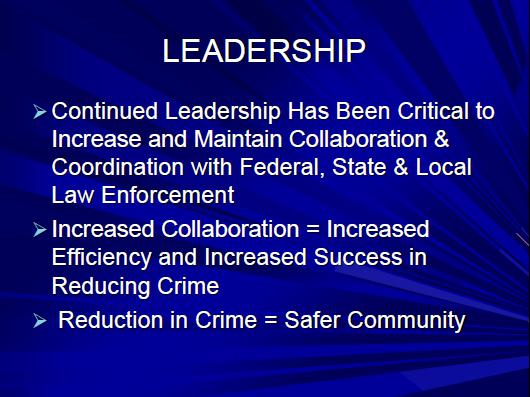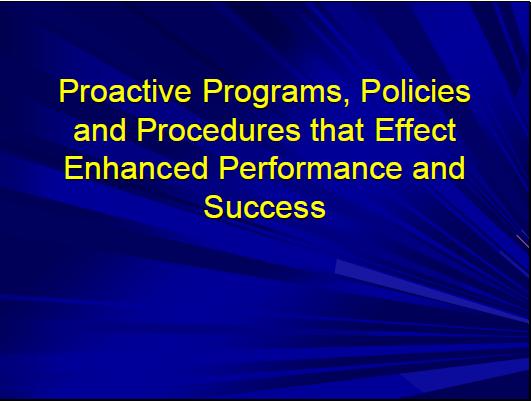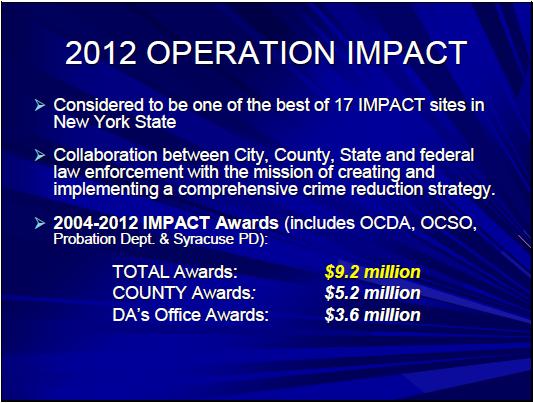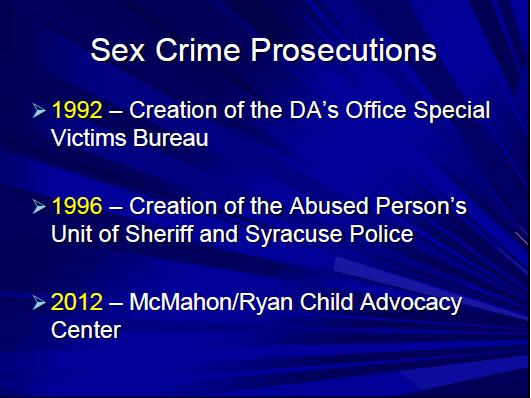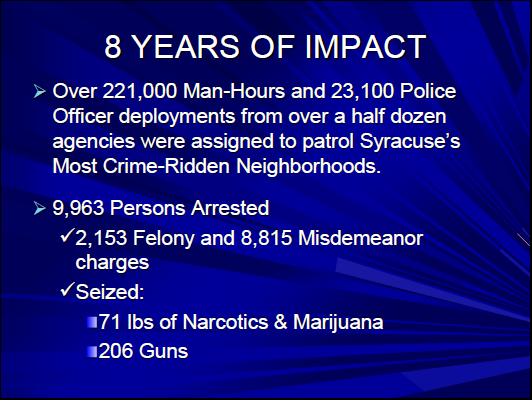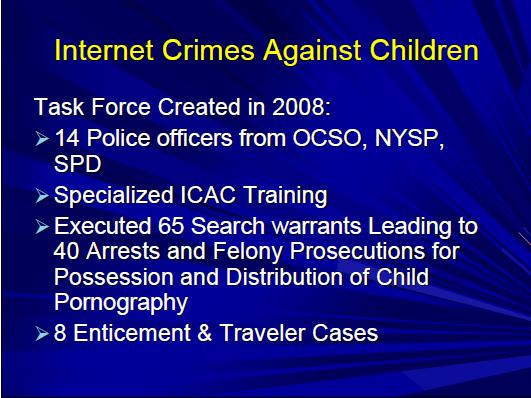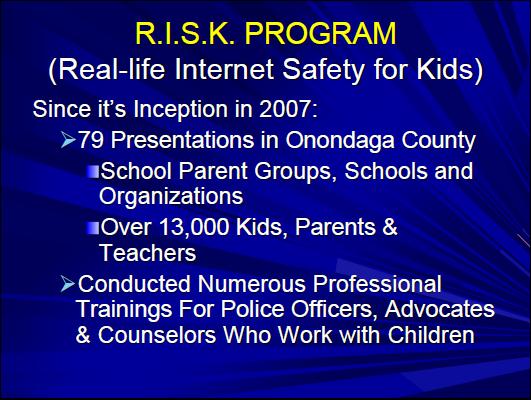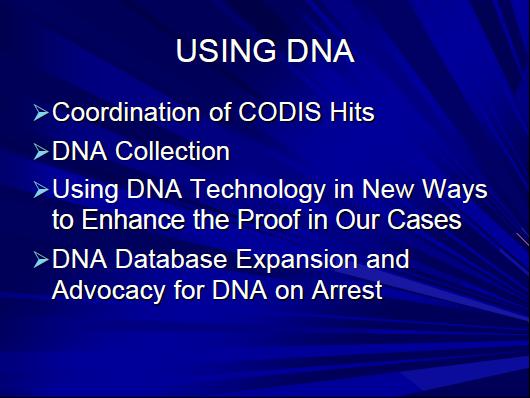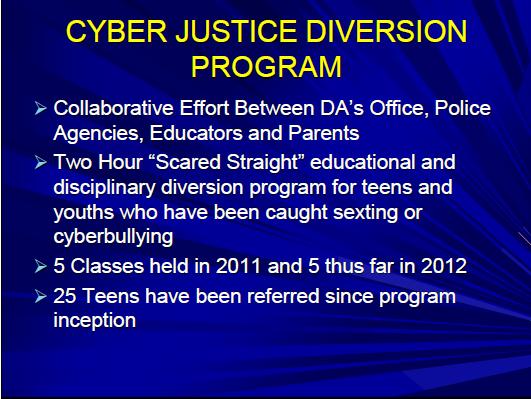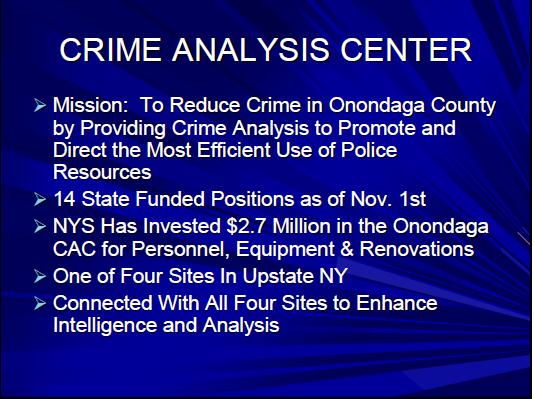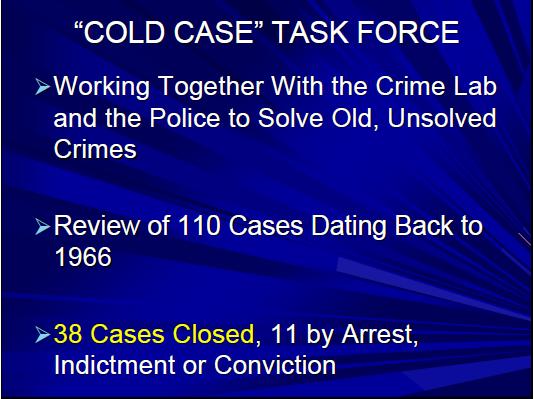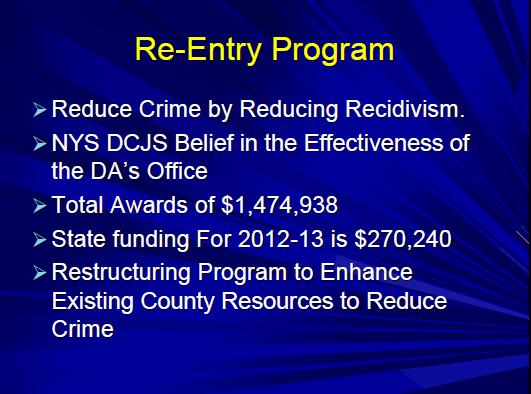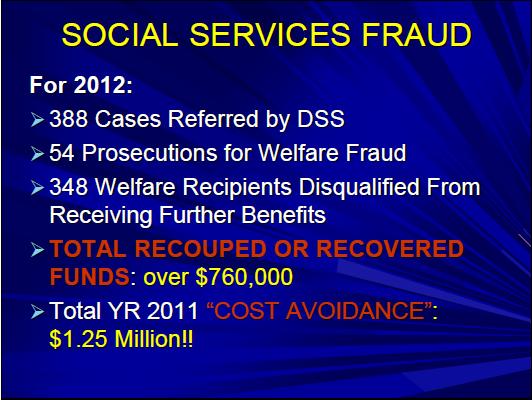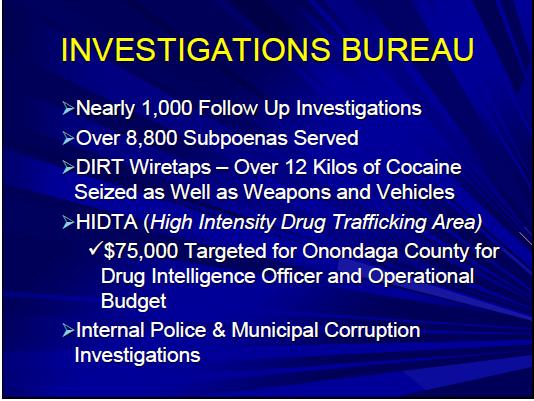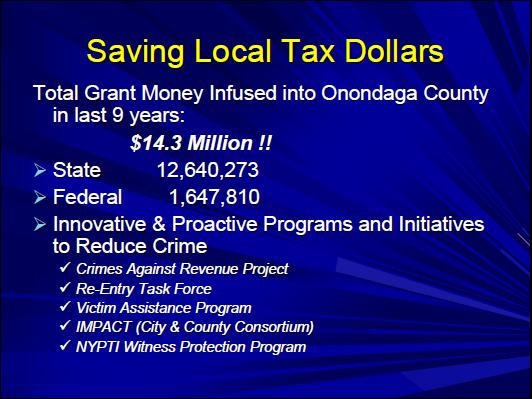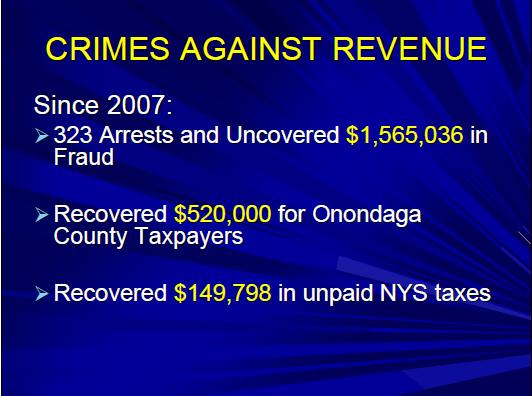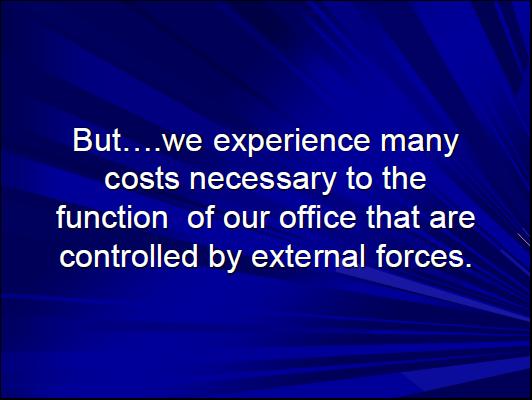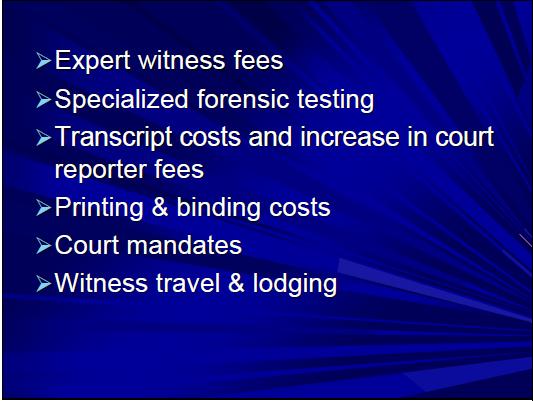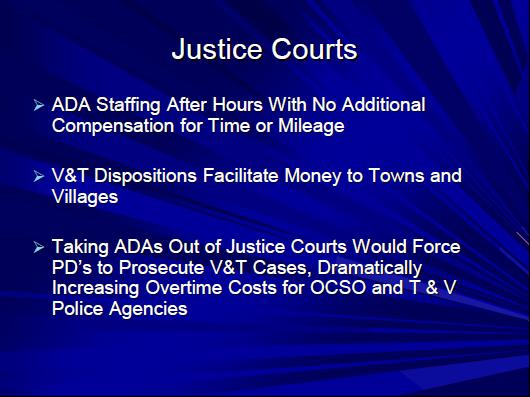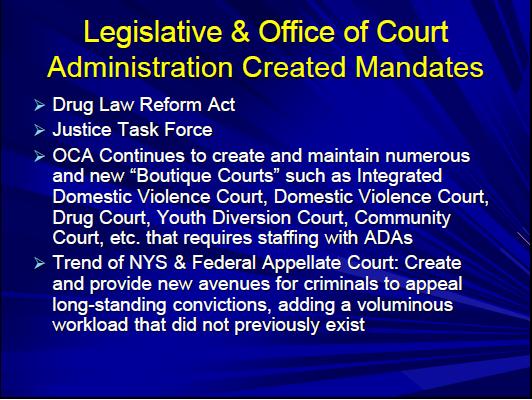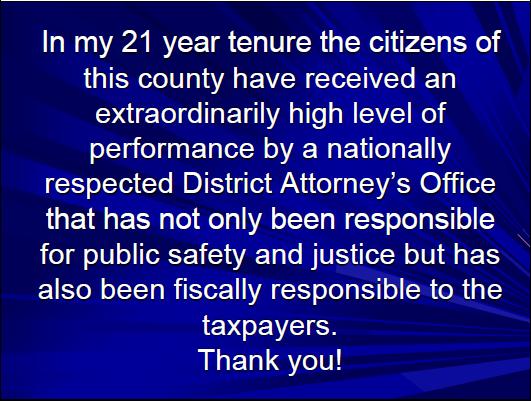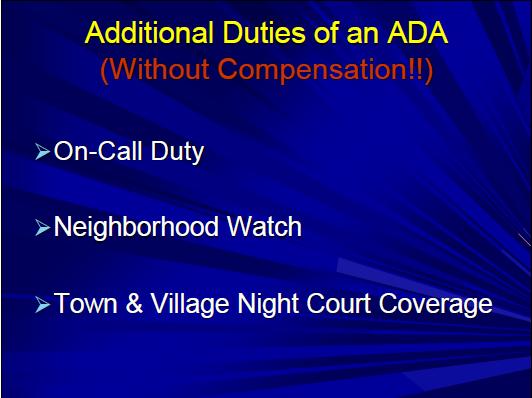 Chairman McMahon referred to McMahon Ryan Center and noted that he was in the room when the idea came to fruition about what they wanted to do with his grandfather's building and noted that if it wasn't for Bill Fitzpatrick, Rick Trunfio and their team, the site wouldn't be in existence today.  He agrees with Mr. Fitzpatrick when he said that if it wasn't for his office, we wouldn't have that asset in our community.
Chairman McMahon referred to the success of Operation Impact and asked how the routes are determined.  Mr. Fitzpatrick said that public input is always welcome – i.e. if someone calls and says that there is a serious problem with a drug house, the police or his office will react to it.  Resources can be redirected to that area. There are meetings chaired by Mr. Trunfio, all of the police agencies, US Attorney's office, Probation, Parole, etc. are all represented.  There is high level, production discussion about where these people will be placed.  Ultimately it has to be approved by the district attorney's office.  They are not wedded to one area – it's done proactively and sometimes reactively. 
Mr. McMahon referred to frustrated residents, especially seniors, noted that we are under assault in some neighborhoods with burglaries.  It is the same group of characters.  It seems they go before judges and then they are seen back out doing the same things later.  Is there a systemic problem, or are there judges being elected in Onondaga County that don't take these issues that serious.  Mr. Fitzpatrick said that ethically he cannot criticize the judiciary on a personal level.  He wishes that other people would stand up.  He advocates "the broken window theory" …i.e. if you allow squeegee men to allow them to hit you the minute you get off the west side, and that is your initial impression of the greatest city in the world, you are probably not going to come back.  ADAs listen to every whining story in the book, and there is frustration factor.  He doesn't allow it – if they are frustrated, then they should go somewhere else.  Things have to be taken seriously. The bottom line is that a community has to take care of itself.  He implores Neighborhood Watch to be the eyes and ears of law enforcement.  Keep a log, write down a suspicious license plate number; do things that are productive and help out.
Mr. Kilmartin referred to Operation Impact and asked about the mechanics of the program, trends in funding and how it is allocated.  Mr. Fitzpatrick said that fund trends are down, but we are disproportionately higher in the awards that we get.  They like the things we do.  The results are still staggering, productive and black and white – doesn't think we will ever see it done away with.  Mr. Kilmartin asked to be provided with a breakdown of where the funds are allocated.
Mr. Kilmartin asked if there are any other challenges on the horizon.  Mr. Fitzpatrick said that Judge Littman has a notion that he wants his legacy to be the improvement of the juvenile justice system.  To take thousands of offenders, currently being prosecuted by the DA's office and then suddenly dump them on the county attorney without a long term plan in place, could be problematic.  He referred to wrongful convictions and how expensive they can be.  He noted that North Carolina is going to pay millions to the Duke lacrosse players.  In Onondaga County there are systems in place that if there is a wrongful conviction, it is not going to be because of something the police or prosecutors dis.  He strives in his role on NDAA is to get other agencies to copy Syracuse. 
Mr. Jordan asked about professional services, contracts and misc.; contracts $90,000. Mr. Fitzpatrick said that every trial has to be transcribed; there no control over that.  Mr. Weiss said that the contracts are for services such as grant coordinators, codists in DNA investigation, CARP grant – 3 people.  Miscellaneous professional services are for people they call into court, i.e. psychiatrist.  
Mr. Jordan referred to a LEIKA Geosystem 3D scanner noted under furniture, furnishings and equipment.  Mr. Fitzpatrick said that it will revolutionize crime scene investigation in the County.  The County Executive is impressed by it and asked that it be put in the budget. Photos taken at the scene of a crime by police will be put on a CD Rom, DA'  s office will look through them and select the ones that they want to print.  They will be printed and presented to a jury.  The jury will see the crime scene in 2 dimensional reality.  This technology will allow the jury to go through a virtual reality of the crime scene in three dimensions.  It will be housed at the forensic science center and available to any county or city police agency. 
Mr. Jordan referred to $147k - fees for services. Mr. Weiss said that it is used when they move witnesses around.  They are unforeseen things; money is moved around within the budget to do what they need to do.  Mr. McMahon asked if it is used to move a witness to another community for their safety; Mr. Fitzpatrick indicated that it is; noting it a State witness protection program.
In answer to Mr. Jordan, Mr. Weiss said that the two replacement vehicles are needed to keep the fleet up to date.  The cars are replaced at the 100,000 mile mark.  Mr. Fitzpatrick said that the DA's office can't function without vehicles; they aren't desk jobs. 
Mr. May referred to the cost of incarceration, length of stay being a big driver.  He asked for any insight on what is driving this; i.e. court system, due process, etc.  Mr. Fitzpatrick said that they have discouraged judges from setting trivial bail, i.e. $1,000.  If a person is charged with a serious crime and is a danger then he wants the person held.  Unfortunately, in New York, a person's future in dangerousness can't be considered in setting bail – can only consider whether or not the person will reappear. The seriousness of the crime may be the person's decision on whether or not to reappear, so often times judges do set high bail in serious violent felony cases.  If they can't make bail, they go to the justice center.  If they are sentenced prisoners, they will go to Jamesville or somewhere into the state system.  Alternatives to incarceration are always looked at and noted that statewide prison population has dropped from 70,000 ten years ago to approx. 57,000 now.  The alternatives are working.  There are things that there are no control over; i.e. defense lawyer doesn't appear, the judge gets frustrated and adjourns the case for a week.  The lawyer shows up and the case is disposed of, but there was a week of taxpayers' money holding the person because of inefficiency of the lawyer.  Most of the judges are efficient.  He is open to any suggestions.
Chairman Knapp referred to the time to disposition and how superior we are compared to the rest of the state – so important, and compliments Mr. Fitzpatrick and his team.
Chairman Knapp referred to bath salts, asked what the state is doing and what else the county can do.   Mr. Fitzpatrick said that the Legislature's proactive approach was very effective. The governor issued an executive order.  He understands from Chief Fowler that the periodic sweeps of head shops have not indicated the presence of any bath salts.  The dealers will go underground; it should be as difficult as possible to sell it.   The state legislature will address it in the coming year; and next year there will be another exotic artificial substance created.  He will also be proactive.
Mr. Ryan attended a Neighborhood Watch meeting recently; they are frustrated specifically related to drugs in the Skunk City area, because they know the people dealing the drugs, they know where the drugs are being dealt and the same people keep getting arrested and they are seen back out on the street the next day.  It is a double edged sword – don't want to incarcerate people because of the expense, but also it is not fair to the people who live on Gifford, Shonnard, Hartson Streets, etc.  Mr. Fitzpatrick said that neighborhood is important.  He doesn't want people to say there is nothing they can do – there is a lot that can be done.  People can call him; he encouraged people to call him.  The system is there to help people; DA's office is there to protect.
Emergency management, pg. 5-58 – Kevin Wisely, Commissioner; Dan Hammer, Budget Analyst;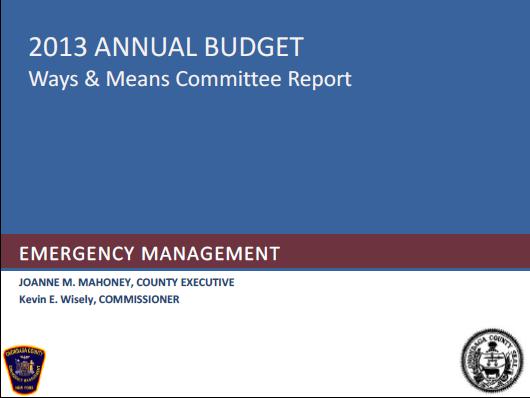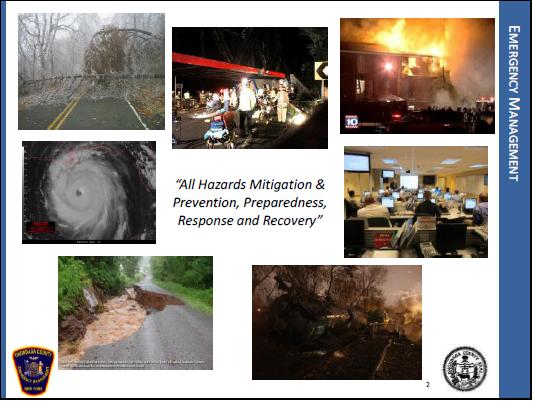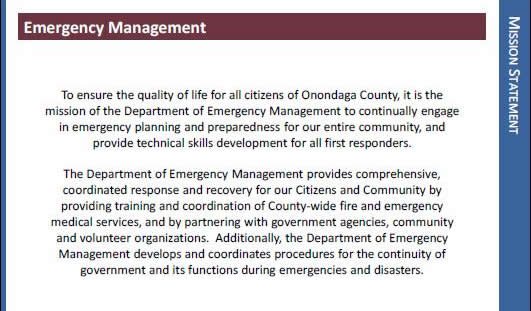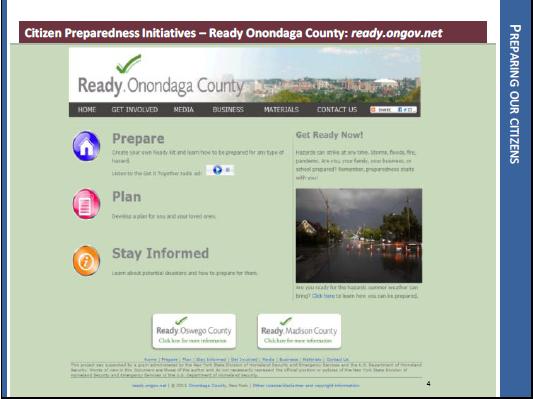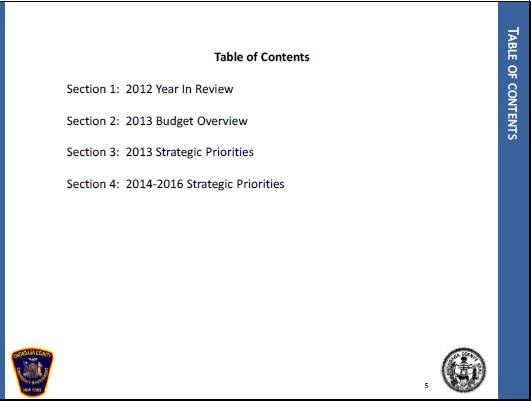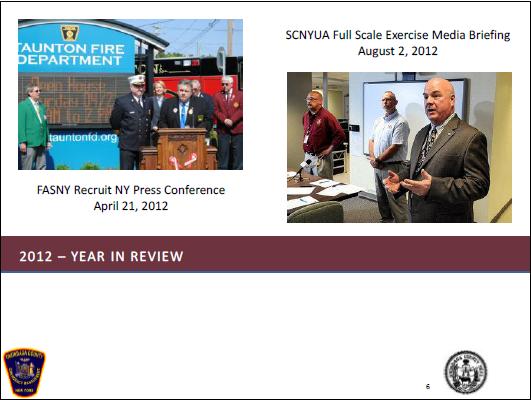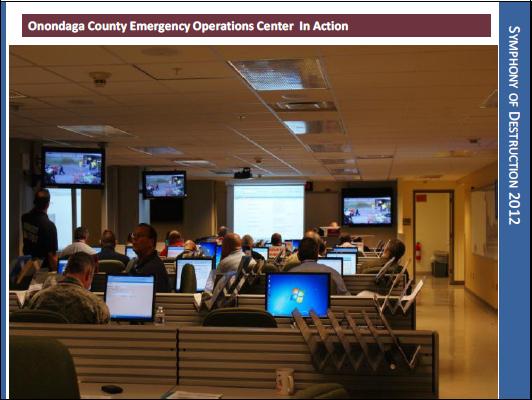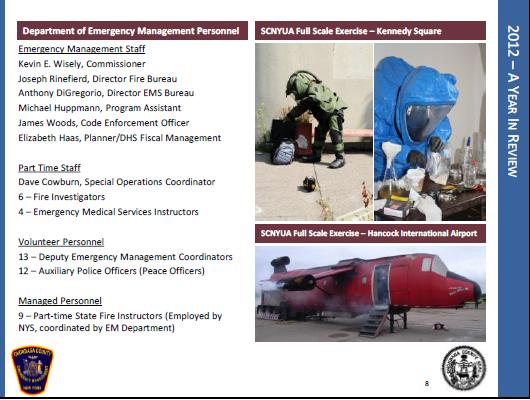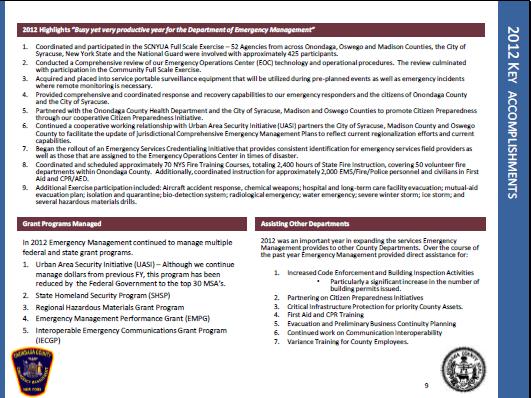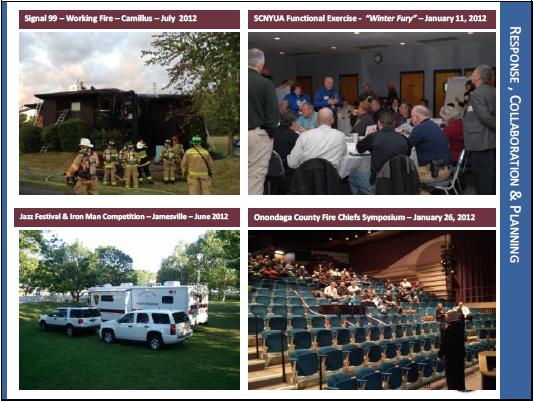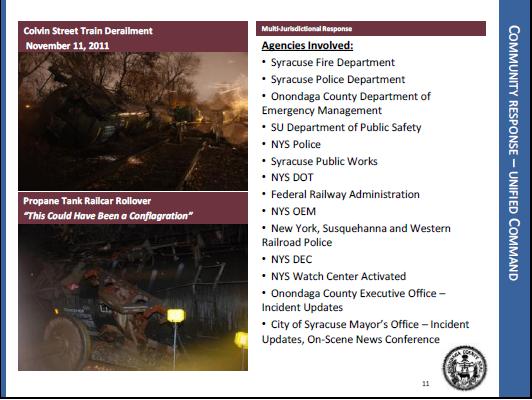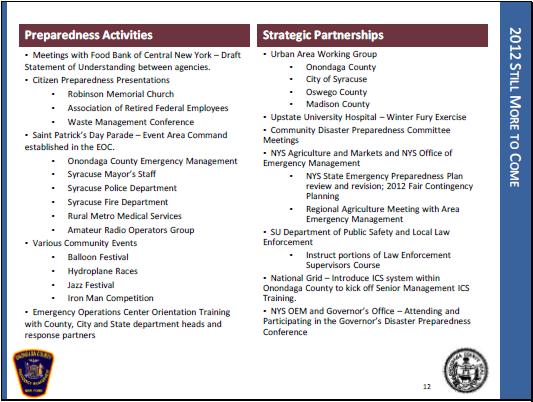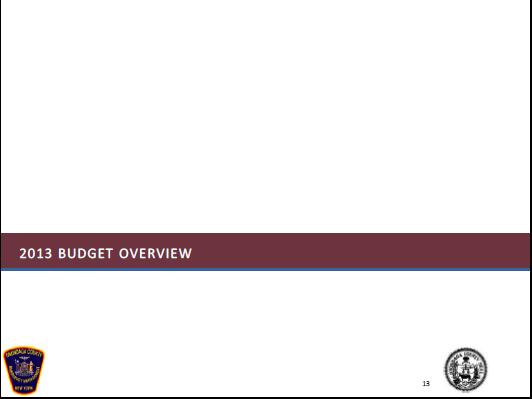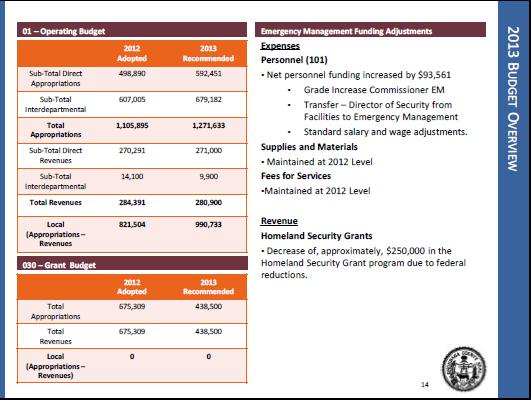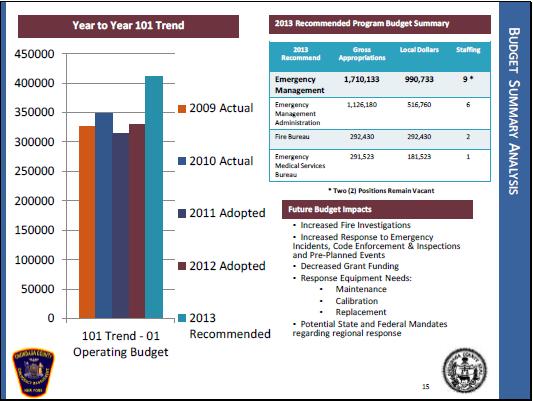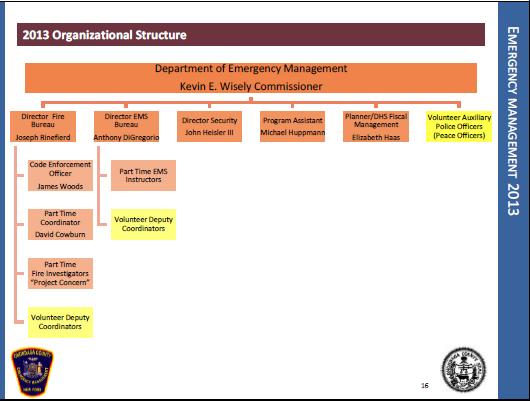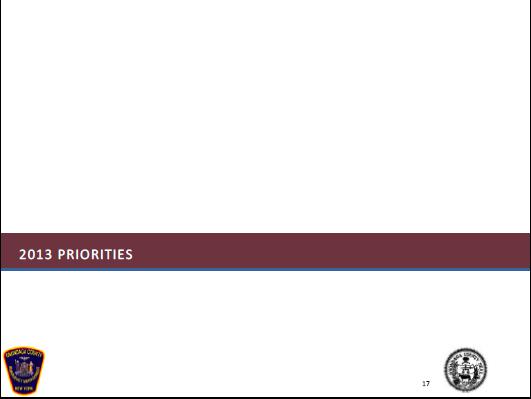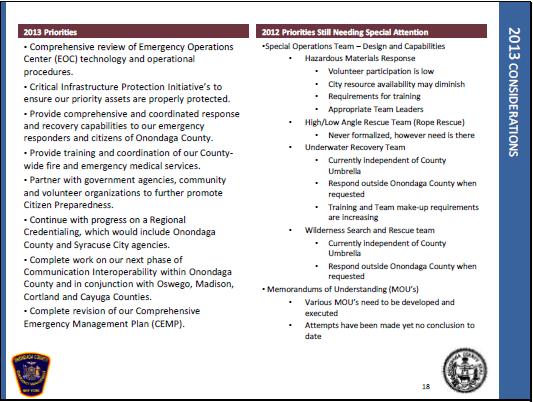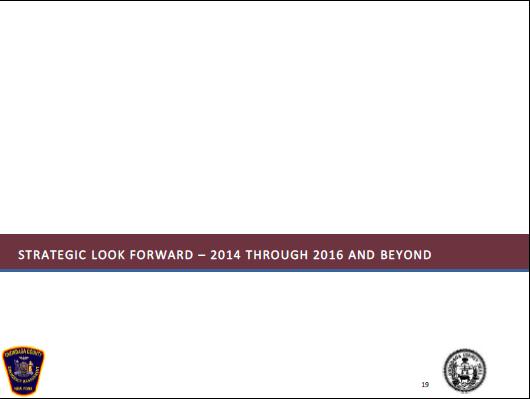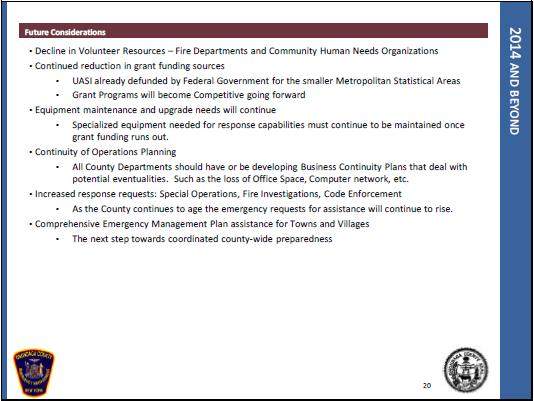 In answer to Mr. Jordan, Mr. Wisely said that they are right on track with their 2012 budget. No salaries savings have been realized this year.
Mr. Jordan asked for an explanation for the $24k for other employee wages.  Mr. Wisely said that it is the fund to pay the part time fire investigators.  Chairman Knapp asked where the county's fire investigators start and end, and how the process melds together with law enforcement.  Mr. Wisely said that fire investigation provide a cause and origin report, working in conjunction with the fire chief at the scene of the incident.  If it is potentially something that is criminal in nature, they document the information with photos and notes.  The information is put into the Sheriff's database and a police investigation begins.  Chairman Knapp asked if Emergency Management pays to get the process started; Mr. Wisely indicated that it does as far as the initial investigation goes. It is for anything in the towns; they do not do fire investigations in the City.
Mr. May referred to the decline in volunteer resources and asked for further explanation.  Mr. Wisely said that he was referring to the advisory role to the fire departments – how to continue to recruit fire fighters, how to keep them.  State organizations are also looking at this.  Also ensuring that fire departments are constantly reviewing and updating their response plans.  Mrs. Tassone asked if it applies to the underwater recovery team and wilderness search and rescue team.  Mr. Wisely said that those teams aren't directly related to the Dept. of Emergency Management; there is no direct oversight, but do work closely with them.
Mrs. Ervin said she likes the assistance to towns in helping them provide their own plan and asked how it is envisioned.  Mr. Wisely said the base plan is finished; they will develop a template that can guide local towns and villages on how they can step through putting their plans together.  The Disaster Preparedness Committee brings towns, village and community partners together at a quarterly meeting – he envisions starting off introducing then to towns and villages.
Chairman Knapp referred to professional services, noting not a large change form 2012, but up dramatically from 2011.  Mr. Wisely said it is funds that are reimbursed form NYS Dept. of Health for EMS training.  Last year the line was increased to provide additional training.  Mr. Morgan explained that the county services revenue, State aid health, line is exactly the same.
Chairman Knapp referred to the grants budget, and noted the revenues are decreasing $800k.  Mr. Wisely said that the State and Federal 2013 grant cycle is being revamped – will be more competitive and community need driven.  He is not sure how it will play out.  The last grant cycle with State Homeland Security grants, have been more of a coordinate grant.  Needed to work with the City to come to consensus of percentage breakdown.  In the past, Dept. of Emergency Management managed the full pot of the grant for both the County and City.  Now the State is requesting that the County set aside a certain percentage for the City – it looks like there will be a reduced amount due to that.
In answer to Chairman Knapp, Mr. Wisely said that there is one full time position, grant manager/fiscal manager, which is grant funded and one part time staff person is grant funded.
In answer to Chairman Knapp, Mr. Wisely said that their grant projects roll year on year – all preparedness, training and maintain equipment.  They are typically 2- 3 yr. grants.
PROBATION – pg. 4-101:  Andrew Sicherman, Commissioner; Patrick Bane, Accountant
Mr. Sicherman provided the following:
Good morning and thank you for the opportunity to present the Onondaga County Probation Department's 2013 budget.  You will see that our budget is very similar to the adopted budget for this year.  For 2013, we will maintain a total headcount of 87.  However, through a combination of reorganization and salary savings, we will realize a savings of over thirty thousand dollars in local funds.  To accomplish this, we have made the following changes: We will not be filling the PPO position that became vacant when I was promoted.  Instead, we will promote a P.O to Supervisor and we will salary save the P.O position.  Lastly, Hillbrook will hire a Director of Operations, allowing the Director of Juvenile Justice and Detention Services to work more close with my team, to further the County's ongoing efforts with Juvenile Justice reform.
The Onondaga County Probation Department has two main functions: Protection of the community and rehabilitation of the offender.  We accomplish the first function through a variety of programs and practices.  At the end of 2011, over 3,000 individuals were under our supervision, many of which were convicted of a felony.  To adequately supervise these individuals, we place a very strong emphasis on fieldwork.  Our Officers are required to complete fourteen (14) hours of fieldwork, outside normal work hours and a portion of these hours must be done at night and on the weekend. 
In addition to home and field visits, we are a partner in Operation Impact.  We participate in details with several police agencies and the Division of Parole.  These details have been cited by DCJS as some of the most productive of the OI functions.  We also have a Probation Officer identified as an Intelligence Officer.  This individual works closely with the Crime Analysis Center to gather and disseminate important information to our staff.  This collaboration has resulted in the identification and arrest of numerous wanted individuals. 
Within the Department we have a specialized unit for the supervision of sex offenders and individuals convicted of domestic violence related crimes.  In Onondaga County there are 193 registered sex offenders under our supervision.  We take the supervision of these individuals very seriously; utilizing a combination of close supervision and mandated treatment.
To effectively deliver these services requires extensive training.  Our Officers must prove their proficiency with firearms and defensive tactics.  In addition, we have a group of thirteen staff members, who have volunteered to be part of an active-shooter response team.  This team has been trained to respond to an active-shooter incident within the Civic Center complex. 
While all this sounds impressive-and it is, the challenging part is getting our clients to change their behavior. 
We begin this process by conducting an assessment on all adult and juvenile clients.  We use the assessment to determine risk and needs.  We then tailor a program of supervision to address both of these factors. 
In Onondaga County we are fortunate to have resources to address the problems our clients and their families face.  Substance abuse has always been a significant factor in criminal behavior, however over the past several years, we have seen a significant increase in the number of clients with mental health issues and in many cases both of these problems are present. 
In addition to the initial assessment, clients are assessed throughout the period of supervision.  Should a violation of probation be necessary, the case is evaluated for possible referral to one of our alternative to incarceration programs.  In addition to electronic home confinement or house arrest, we utilize drug court and our in house ATI program.  These programs not only serve clients' needs, they also save an incredible amount of money that would otherwise be spent on incarceration. 
Onondaga Counties Juvenile Justice services are second to none; utilizing a combination of best practice and collaboration to deliver outstanding services to children and families.  We believe that collaboration is the key to success.  We work hand-in-hand with On Care, DSS and numerous agencies throughout central New York.  This approach not only offers the best service to our clients but saves money as well.  We have been asked by the Office of Child and Family Services to test and evaluate a new risk assessment instrument that will soon become the state standard.  In addition, we recently received additional funding from OCFS to further our Juvenile Justice reform efforts.  These efforts originally began over a decade ago.  The new funding will assist the County in maintaining its low detention and placement cost, while providing better outcomes for children and families. 
By statute, the Probation Department is also responsible for completing all of the pre-sentence reports for all of the Courts throughout the County.  In 2011, our Officers completed over 3,000 of these reports.  
The future……..We recently "went live" with Caseload Explorer, a statewide, web based case management system.  Although we are still getting used to this new system, I believe it will allow us to work more efficiently and effectively.  Work has begun on renovation of our offices as well as the creation of a secure reporting site, located on the ground floor of the COB.  We have been in the same space with the same partitions and carpeting since the building opened. I would like to thank the County Executive for making this project possible and Facilities for all of their assistance. 
I would like to thank the staff for their hard work and dedication and will be happy to answer any questions that you may have. 
Mr. Jordan referred to food, household, medical – supplies & material, noted that there was a significant increase.  Mr. Bane said that is the way it is now allocated through the PeopleSoft program and how it is allocated by different program.  The 2011 actual was $73k in total and is down to $67k in 2013 recommended.  Mr. Morgan explained that it is being categorized differently than before. 
Mr. Jordan referred to professional services, custom software licenses.  Mr. Bane said that it is every year for Automon licenses for Caseload Explorer, approximately $19k-$20k per year – based on number of users.  Mr. Sicherman said that this is a new software program to track offenders, used through the state – 47 or 48 counties.  NYC recently took it on as well.  The idea is to have a consistent software program to manage offenders.  The officers log in all of their contacts with their offenders:  phone calls, home visits, etc., - allowing consistency across department and departments.  It will give them the ability to write reports against their data.  Some information that legislators have asked for in the past was impossible in the old system, but now will be possible in the new system. 
Mr. Jordan asked for an explanation re: $378k for contractual expenses.  Mr. Sicherman explained that that one is a contract with CNY Services, which provides case management for alternatives to incarceration programs.  The other is a contract with Cayuga Counseling Services to provide pre-trial release services; it was a county function and is now privatized.
Mr. Jordan asked about $20,350 for all other expenses.  Mr. Sicherman explained that it is for wrap around services – money to assist juveniles in being successful.  They use the money for transportation, bus tokens to get them to and from programming.  It is also used to purchase clothing for youth that don't have clothing appropriate to wear to school.
In answer to Chairman Knapp, Mr. Sicherman said that there are over 3,000 adults on probation now.  They also do pre-sentence reports.  In a general supervision unit, the officers handle upwards to 95 cases each.  Right now cases are on the high side; they go up and down based on the number of effectors.  Chairman Knapp asked if the sex offenders are part of the officer's 95 caseloads, or is there a separate group that handles those cases.  Mr. Sicherman said that sex offender cases are tailored to make sure that they are able to get everything done on those cases.  They use an assessment to determine not only needs but also risks.  Sex offenders or real high risk offenders are kept with lower caseloads.
HILLBROOK, pg. 4-110 - James Czarniak, Director of Juvenile Justice and Detention Service
Thank you very much for the opportunity to present Hillbrook's 2013 budget to you today.  Hillbrook's mission is to ensure the public safety of our community by providing short-term detention for youth who have been accused of a crime or have involvement in Family Court and are awaiting adjudication.  Detention is a mandated requirement by New York State and is available to law enforcement and the courts to provide for the public safety of the community.  Hillbrook is located in the town on Onondaga and operates 24 hours a day, 365 days a year.  The facility is regulated and monitored by the New York State Office of Children and Family Services (OCFS). 
The Hillbrook Detention Center is mandated to provide daily childcare supervision, medical care, education, food and clothing, recreational activities, spiritual care and therapeutic intervention for all of its residents as they go through the court system until their adjudication.  The 32-bed facility must operate according to OCFS regulations and must arrange for the transportation of youth in its care to court and other appointments and treatments as directed by the courts and OCFS. In addition, the County is mandated to provide a non-secure alternative to the secure detention center for youth who are involved in the Persons in Need of Supervision (PINS) program and contracts those services with the Elmcrest Children's Center.
Over the past 7 years, the County has been reforming the Juvenile Justice System to put the focus on detaining only those youth who pose a serious public safety risk to our community and providing community based programs for more low level delinquents.  Because of these reform efforts and the continued efforts of the Probation juvenile unit, Hillbrook has reduced admissions by 55% and care days by 60% since 2005.   During this same period of time, Hillbrook has been able to make many changes in the operations of the facility to respond to these reduced numbers.  Last year Hillbrook's allocation was reduced by $474,000.  In 2005, the approved budget for Hillbrook was $2.3 million in local dollars.  Today, Hillbrook is requesting a 2013 allocation in the amount of $1,238,493 in local dollars. 
Hillbrook's request will support the continued operation of the detention center and our non-secure contract.  The budget calls for the creation of a Director of Operations for the facility that will oversee the day-to-day operations of the facility.  As the Commissioner discussed in his presentation, I will put more of my effort in Probation to focus on the successful reforms that have been implemented and work on ensuring their sustainability and effectiveness and support the management team in Probation.  These changes would allow for the County to respond better to the rapidly changing State changes in juvenile justice, increase the operational efficiency at the detention center and does so without any increased request from last year's approved budget between the two departments.  I look forward to working with our juvenile justice stakeholders including our family court judges, probation officers, OCFS, law enforcement, and the County Attorney's Office and the Juvenile Justice Steering Committee who have been instrumental in supporting the reforms that have been successful and are the reason we are seen as a leader in the State in reforming our system.
Thank you for the opportunity to present this budget to you today.
Mr. Jordan referred to other employee wages, $229k, and asked for detail.  Mr. Czarniak said that they hire a lot of part time staff to deal with the uptick of census, instead of hiring full time staff.  They can call in a part time person when the census is higher.  Additionally, part time employees provide transportation for the youth – to court, appointments, and mandated therapy.
Mr. Jordan referred to a decrease in contracted services, $305k due to consolidated services, DSS purchase of services, and asked for an explanation.  Mr. Czarniak said that this year they worked closely with DSS and the contracts that they service with the same clientele.  Efficiencies were found and they were able to consolidate some of the services.  Additionally, the services aren't used as much because that population is reduced. 
Mr. Jordan asked about capacity.  Mr. Czarniak said that they are a 32 bed facility; there are 4 wings of 8.  There is a proposed increase of one in population to cover food cost, clothing, etc.  They are at half capacity most of the year and are looking at alternatives for the building.  Mr. Jordan asked if opportunities are sought to take children from other counties.  Mr. Czarniak said that they provide regional detention for other counties who don't; one of only 4 upstate facilities.  They are reimbursed at 100%. Mr. Jordan asked that it be pursued as much as possible to offset our costs.  Mr. Czarniak said that the do, but explained that the State is encouraging all counties to look at preventative services for youth, not detention.
Mr. Czarniak asked for an explanation of the position of Director of Operations.  Mr. Czarniak said that it would center at Hillbrook and do all day to day operations, which include making sure the schedule is accurate; interactions with Sheriff to make sure kids are getting transported to court, dealing with all OCFS requirements of the facility, and management of staff in day to day operations. 
Mr. May asked about overtime expenses and what the costs are attributable to.  Mr. Czarniak said that in any 24 hour operation there is going to need to be some use of overtime for training.  A lot is mitigated by using the part time staff.  Also staff is mandated to stay until they are relieved.  If someone calls in sick, they try to make every effort to find the part time staff to cover, but it is not always a reality.  Sometimes people are mandated to stay because of the census or an emergency in the building.  Overtime has been reduced by nearly $80k from 2010 by use of 103 staffing.
Mr. McMahon asked for a year to date number of overtime costs.
Mrs. Tassone asked what the average population is.  Mr. Czarniak said 14 in the facility, 10 or 11 are from your county.  There are 21 full time staff members; addition of a director of operations.  Ms. Rooney referred to the Director of operations position and explained that Hillbrook and Probation Dept. are one in the same in that, there is an offset in the Probation Dept. salary line, a savings of about $30k because they are not planning to fill the principal probation officers slot.  This will allow Mr. Czarniak to move some of his duties downtown, as so much of the juvenile probation work is done out of the Probation Dept.  Juvenile justice efforts can continue, which has been widely recognized by the State.  The State has asked us to participate in another grant that they are providing funding for, $85k in 2013, which will alleviate some of the expenses in Probation.  While there is an increase at Hillbrook, there is a companion reduction in the Probation department's budget.
In answer to Mrs. Tassone, Mr. Czarniak said that the $540 for membership is for the Juvenile Detention Association; it's the organization that allows them to recruit and highlight our program to other counties for out of county admissions.  Provide other agencies with a reason why they should choose Hillbrook. 
In answer to Mrs. Tassone, Mr. Czarniak said that $1,000 is used to advertise for part time positions.
Mrs. Tassone asked about contractual expenses, non-secure overflow, $393.95/bed, $28k. Mr. Czarniak said that they used to have a 16 bed facility that they were contracting out; now are contracting 2 beds.  With Elmcrest, there is a guaranteed contract for 2 beds for the non-secure program.  Occasionally, they go over that, and Elmcrest charges for the overage on a per diem basis.  The cost for a guaranteed 3 beds was astronomical.  
Mr. Jordan asked for a breakdown of how many times Elmcrest has been utilized for overflow.
Mr. Jordan asked to be provided with the number of 103 employees that are receiving benefits through the County. 
Mr. Ryan asked for more specifics on the $305k savings in contracted services, consolidation of services.  Mr. Czarniak said that he will provide a list of efficiencies in services provided to the clients.
Chairman Knapp asked about the separation of males and females, and is there occasion to send a female somewhere else.  Mr. Czarniak said that they don't.  There are specific rules regarding where they sleep, who does their medical care, strip searching, etc.  There are certain things that have to be handled by female employees.  They sleep in a different wing, but are allowed to be with the males to go through the programming.  The only time they have to do one on ones are when they have to separate kids is where there is extreme mental health concerns or suicide watch; 103 positions are used.  Onondaga County kids are never sent to outside facilities. 
Chairman Knapp asked if video arraignments and visitations are something that can be done for juveniles.  Mr. Czarniak said that juvenile justice is changing rapidly; looking to have a lot of changes.  There is a great communication with the judges, and if kids, don't really need to appear, then they don't.  Looking into it down the road might be helpful, but right now they are doing what they can.  In answer to Chairman Knapp, Mr. Czarniak said that the visitation policy is that the kids can get visits 2 days/week; all families are allowed an evening visit and a weekend visit.  They are completely supervised. 
CORRECTION; pg. 4-7 – Timothy Cowin, Commissioner; Tina Dalfo, Fiscal Officer; Dan Hammer, Budget Analyst
In 2013 we will continue to operate a safe and secure facility in the most cost effective means possible.
2012 has been and will continue to be a difficult year with increasing population. As the chart below indicates, our numbers have continued to be high.  As you can see since 2000 our population has increased by 60% from 312 to 517.  This year we converted the gymnasium to permanent inmate housing, which was approved by the State Commission of Correction for an additional 48 inmates.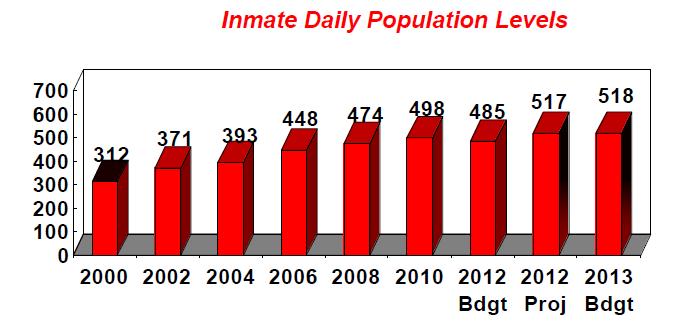 These increases obviously have a direct effect on our personnel.  The addition of the permanent inmate housing in the gymnasium has required us to add five additional officers.  This along with retirements and resignations has caused us to be short a significant number of officers  (we are currently recruiting for a class of 18 that will begin in November).  As you can see from the chart below – even with the additional 5 officers our authorized strength is still almost 40% less than it was in 1990.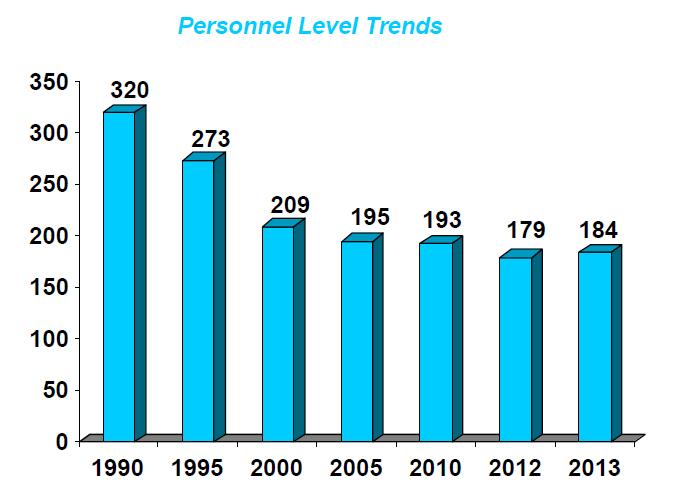 These shortages have caused our overtime to increase significantly putting us over our budgeted amount.  The budgeted amount is $744,120 and we are currently estimating our 2012 overtime to be at $1,017,537.  This is due to not only an increase in inmates, but also because of an increase in inmate hospital stays and our one on ones, required for inmates with mental health issues.  Fortunately, this deficit will be offset this year by the surplus we are projecting for the increased federal revenue we receive for housing federal inmates.
In 2013 we believe our overtime will be somewhere closer to 2011 due to the new class and hoping our one on ones and hospital stays will be more in line with previous years.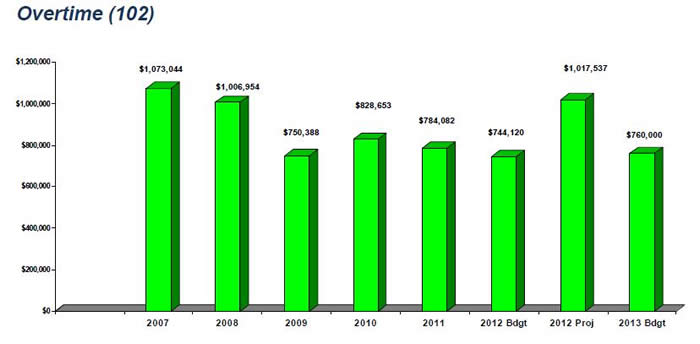 We still house federal inmates and for 2013, we are budgeting for 70 inmates a day, which will bring in about 2.6 million dollars.  This is up from 65 inmates we budgeted for year 2012.
The rest of our budget is similar from year to year and is certainly significant.  The increased number of inmates housed at our facility, in combination with a contractual price per meal increase will result in an increase in the 570 account.  To operate a facility with several buildings and almost 700 people a day living and working here requires significant costs.  In a year we will serve about 640,000 meals, at a cost of about $725,000.  We will purchase 69,120 rolls of toilet paper at a cost of $26,626.  We spend over $30,000 per year on cleaning supplies for our facility including germicidal cleaner, tub & tile cleaner, can liners and miscellaneous items.  We shipped our laundry out to a vendor a couple of years ago and that continues to save us over $10,000 a year.  They wash approximately 220,000 pounds of laundry a year.
The Department of Correction continues to provide a significant amount of programming with very little local dollars. Jamesville-Dewitt School District and BOCES provide a number of educational programs to the inmates.  We also provide numerous other programs as listed below.
BOCES -                                            GED testing
                                                         GED tutoring
                                                         Transition
                                                         Computer program
PEACE Inc. -                                      Early Head Start (works with parenting skills and issues)
CCA (Center for                                  Substance Abuse
Community Alternatives) Re-entry
                                                        HIV/AIDS counseling
AA & NA -                                          Alcohol and drug rehabilitation
Law library
CNY Services                                      New Directions for Substance Abuse
SBH                                                  HIIP – High Impact Incarceration Program
(Syracuse Behavioral Health)
The Department continues to review every area of operation with the goal being to have one of the best correctional facilities in the state, operating in the most cost effective means possible.
Mrs. Ervin referred to pg. 4-12, line 3, and asked if the position is filled.  Mr. Cowin said that it is.
Chairman McMahon asked if there is a contract obligation with bargaining units so that overtime is used instead of the 103 line.  Mr. Cowin said that there is; they have tried to get the union to go along with bringing back retirees and part time positions to fill in on the overtime, but the union has had no desire to do so.  Chairman McMahon said that right now there are negotiations going on.  He asked Mr. Cowin to put together a list of things that could help him to his job better so that during the negotiating process, they can help advocate for change. 
Chairman McMahon referred to the reimbursements for federal inmates housed revenue, and asked what the projection is for 2012.  Mr. Cowin said that the projection is that if it stays where it is now, at 73 inmates, it will be $2.3 million.  Mr. Cowin said that the feds always tell them that they are looking to try to reduce that number; it hasn't happened over the last several years.  The other issue is the overcrowding situation between Jamesville and downtown.  It gets to the point where we don't have room for the feds, and a couple of times this year, they have had to throw some out.  Their first priority is the local inmates. 
Chairman McMahon asked what the contractual expenses, non-government are.  Mr. Cowin said that it is the food contract.  There is an inflation clause in the contract; it went up almost 7% and is going up 8% or 9% this year.
Mr. Jordan asked for a breakdown of how many employees on the 103 line are receiving benefits.  Mr. Cowin said they aren't getting any benefits.  Mr. Jordan asked for a breakdown of the 570 contractual expenses.  Mr. Cowin said that 90% is food costs.  Also, there is drug rehab service for $25k, some of the money is reimbursed through the DWI program.
Mr. Jordan asked if any of our local inmates are sent out when room is needed.  Mr. Cowin said that at this point, they aren't.  If downtown got to the point of where they couldn't keep their prisoners, there is a contractual issue where Correction can't watch their inmates.  Housing space can be provided at Jamesville, but Sheriff officers would have to be put there on overtime, estimated at $800k/year.  If the federal inmates were thrown out to make room for them, there would be a loss of $2 million/year.  Madison or Oneida Counties could be looked at at some point in time to ship inmates to because it would be cheaper to ship them out then to pay those costs.  Mr. Jordan asked if it would be better to send our local inmates out to another facility instead of bumping the federal inmates.  Mr. Cowin said that the transportation costs are significant; they are unsentenced inmates that are back and forth to court quite often. 
Mr. Jordan asked about the sizable overtime budget; asked if an analysis has been done if it is better to hire additional 101 positions instead of utilizing overtime.  Mr. Cowin said that he has not done that study.  He noted that this year is an unusual year because of the different things they have had and the amount of resignations and openings—it has been unusually high.  Because of the fringe costs associated with officers, it has become closer and closer.  Next year he hopes it become more in align.  Long term sick leave, when putting someone in a hospital 24 hrs. a day, is extremely costly. 
Chairman McMahon asked if the department is facing unfunded mandates from NYS Correction Dept., like as seen downtown in the mental health area where one deputy is watching one inmate.  Mr. Cowin said that the one on one cost is a big number.  They do have cases where they can do one on two at Correction.  It is all about line of sight and how the facility is built.  Some facilities have built areas where they can do one on threes or fours.  He asked that over the course of the next 4 or 5 months, if Mr. Cowin could provide an analysis of how a facility change would affect the overtime number.  Ms. Rooney said that is the impetus for the capital improvement project to build a behavior health unit that would be utilized for both Correction and the Sheriff, so that the one on one number would hopefully go as high as five.  She believes the payback is in about 5 years.  In answer to Chairman Knapp, Ms. Rooney said it would be at the Justice Center.  The Jamesville inmates once categorized would come downtown.  Chairman Knapp asked if that violates any contractual agreement.  Mr. Cowin said that the contract reads that they can watch any of the Correction inmates, but Correction cannot watch the Sheriff's inmates. 
Mr. Ryan said that many times the jail is housing inmates that are waiting to go to a State facility.  He was surprised to learn that the county has to house them, but the State can opt not to accept them.  He asked if Correction has the same problem and if so, is it leading to the overcapacity issue.  Mr. Cowin said that it has gotten better, the parole inmates are usually the problem; the ones that have been brought back in.  They go through all of the steps, which can take a long time.  The County used to be reimbursed for those; it was reduced at one point, then reduced again, and now they pay $0. Once they have their final hearing, they have 10 days to get the inmate out of the facility.  If not, there is small reimbursement, $30.  It hasn't been received yet; they get them out within the 10 day limit.  Mr. Ryan asked if it could be quantified on how many inmates are waiting to go somewhere else and a dollar amount attached to it.
Chairman Knapp asked if the capital plan goes forward to provide one on fives, and Jamesville inmates are brought down, what capacity could be increased.  Mr. Cowin said one or two a day.  Chairman Knapp asked if the feds would give us more inmates if we had the room.  Mr. Cowin said they have never been told no; at one point at 100; are right about at the most that can be taken.   If there were more beds, he doesn't think that they would get any more than what they have right now. 
Chairman Knapp recessed the meeting at 1:00 p.m.

Respectfully submitted,
DEBORAH L. MATURO, Clerk
Onondaga County Legislature