WAYS AND MEANS COMMITTEE REVIEW OF THE 2013 TENTATIVE BUDGET
ENVIRONMENTAL PROTECTION DEPARTMENTS– SEPTEMBER 19, 2012
DAVID H. KNAPP, CHAIRMAN
MEMBERS PRESENT:  Mr. Jordan, Mr. May, Mrs. Ervin
MEMBERS ABSENT:  Mr. Stanczyk, Mr. Holmquist, Mr. Kilmartin
ALSO PRESENT:  Mr. Meyer, Mrs. Tassone, Mrs. Rapp, Mr. Plochocki, Mr. McMahon, Ms. Williams, also see attached
Chairman Knapp called the meeting to order at 9:08 a.m.
OFFICE OF ENVIRONMENT:  David Coburn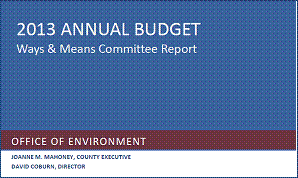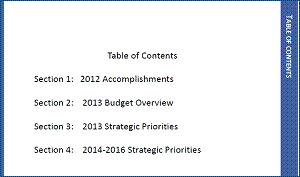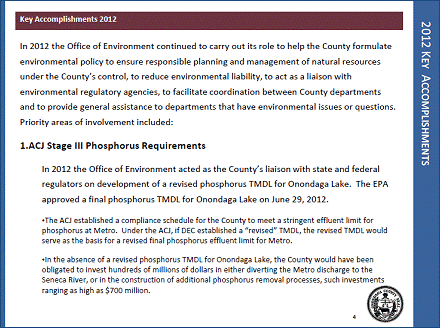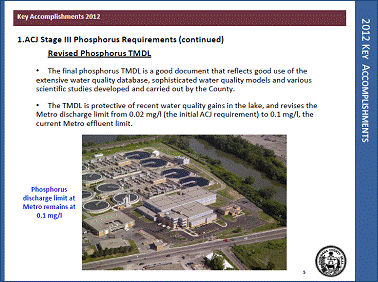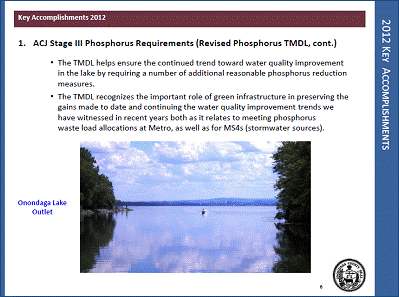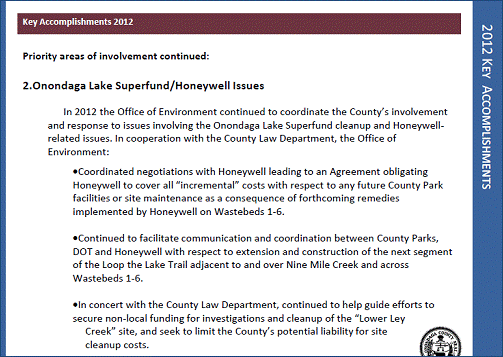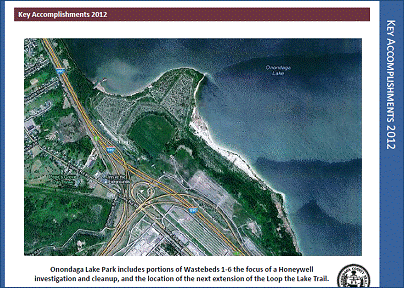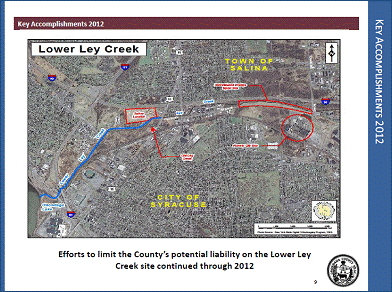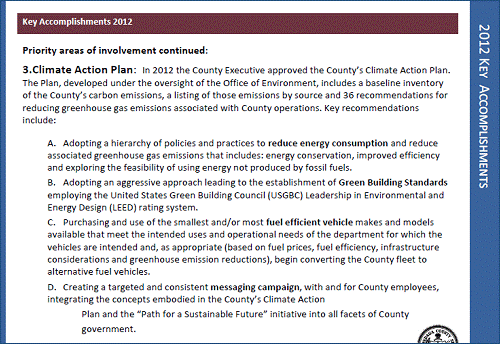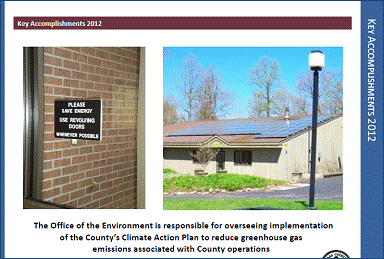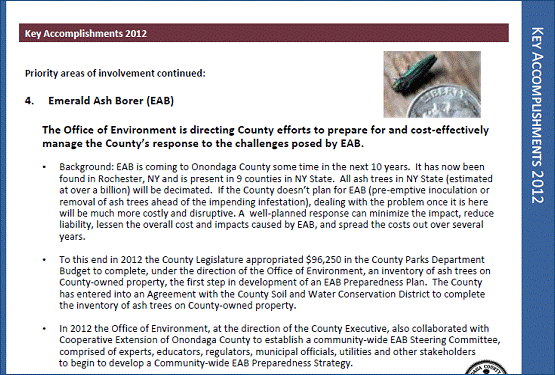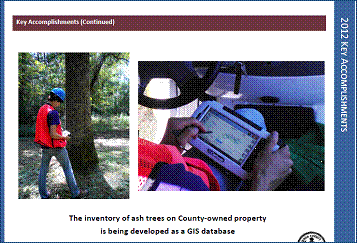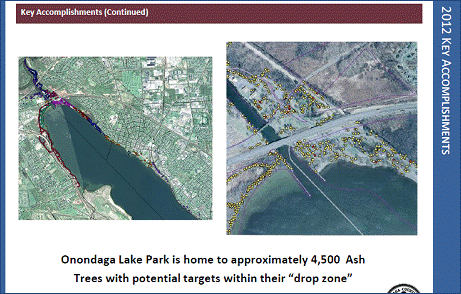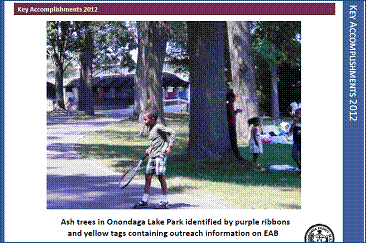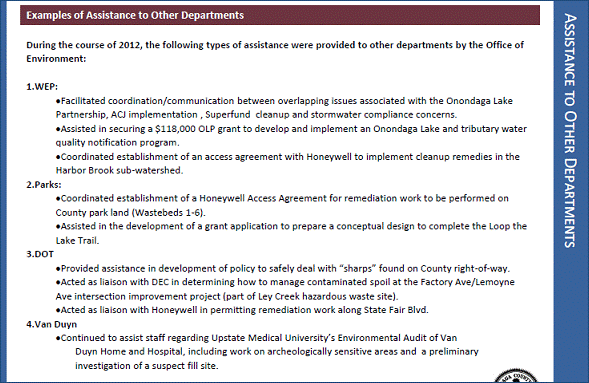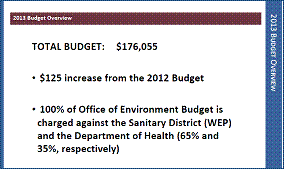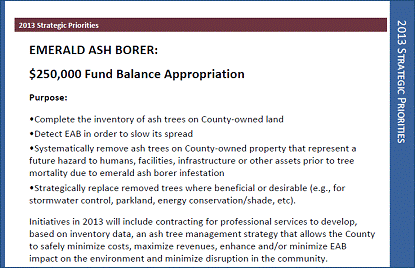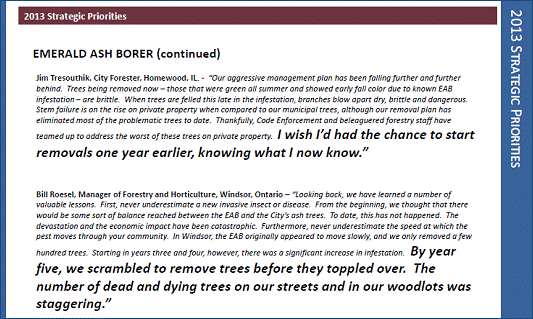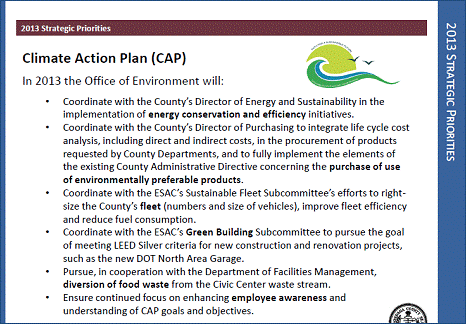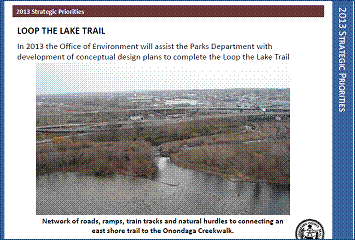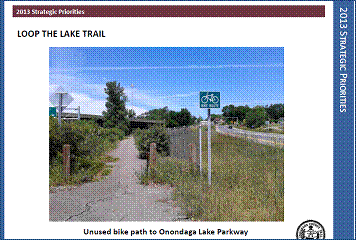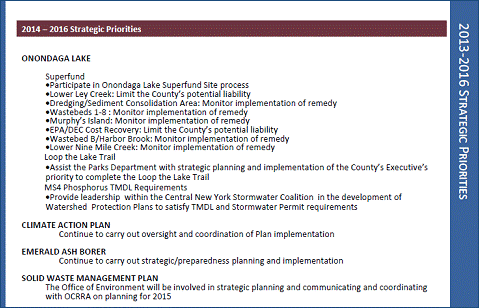 Mr. Coburn's response's to Mr. May's questions:
Ash tree flagging - most parks done; maybe all but Highland Forest; have Hillbrook and Van Duyn; getting to waste water treatment plants in next week or two; drainage districts next week

800 miles of highway right of way; hard to predict what will find; think approaching half way; prepared to start working

Ash trees:  4,500 Onondaga Lake; 1,000 Beaver Lake; 1,000 Oneida Shores; 300 Hopkins Road

Market for Ash up; not tree or bug expert; need people w/expertise - how to bundle good and bad in terms of market

Harvesting out of timber stands, easy areas to work in and good straight trees is one thing; open grown like at Onondaga Lake with nails in tree, less desirable, and not free to work without interference from public

Parks Department done some harvesting part of sustainable timber management planning effort in Highland and Spafford; taking out Ash trees as they come; Four Con contract; start looking at Ash heavy areas

Max revenue is not all Ash – can get some value out of Onondaga Lake Park; larger number of larger diameter trees; many are not in bad shape; may have some real value; if took out all Ash trees, would be devastating to park:  4,500

Package - incrementally remove and replace; so shock to public and park is not tremendous

Don't want to end up with erosion and sediment problems due to removal of the canopy, at a time when canopy conservation is important

Want to start – money now to go on, get professional services in place - smartest way to max revenue and limit costs
Mr. Coburn's responses to Legislator's questions on the Ash Borer:
State's roll - so wide spread (midwest – northeast); hasn't been wide spread financial support; NYS made experts available; grants not about this species; needs to be a shift in state's attitude toward the ash borer

Essentially all trees will be diseased; in this part of the state 1 in 9 trees is an Ash tree

No evidence of disease in County; found ash borer in trap in Tioga County between Binghamton and Elmira; found in Buffalo, Catskills, etc

Bug could be here today; will quarantine the County when it happens; will affect how timber is moved; can't take out of County unless it is treated, trimmed down to an inch; debark it

Figured State would quarantine the state for free movement of material; put together network to detect as soon as possible; have funds available so can begin inoculating trees in the detection area; slow the spread – slow the cost

Inoculate using pesticide; triage pesticide of choice; will protect the tree for 2 years; inject – requires certified applicator to do it; contractor costs $10/diameter inch; 12" tree - $120 to inoculate; skills in house can cut cost in half

May decide canopy worth preserving; may choose to inoculate; over time may find other pesticides to last longer

Helping public to understand why taking down perfectly healthy trees; resistance – especially in Onondaga Lake Park

Inoculation is more likely to service to buy time until taking the trees down and growing a new canopy

Focusing on areas where there is a drop zone; if opportunities to generate revenue, then do it
Mr. Coburn's responses to Mr. Jordan:
Lower lake; area where GM discharged PCBs - upper lake creek; NYS consent to remediate area, was negotiating to do area down to Onondaga Lake when GM went bankrupt

Lower lake creek area not included in consent order; settlements after bankruptcy to clean up sites, that area was omitted; EPA and DEC began pursuing other potentially respective parties to handle that area

County undertook flood protection in 70's – regulations and law – case could be made that County caused rerelease of contaminant; became a potentially responsible party; working to limit liability on this

PCBs from GM: great injustice if public has to pay the price because County took initiative to protect it from flooding

Law Dept keeping case alive that GM is responsible party; County should not be held accountable for their actions

Recent settlement on part of State – acquired through bankruptcy $22 - $25 million for cleaning up; if that's entire cost, then it's covered; if it's double or more, who's responsible?

County's Environmental Sustainability Advisory Committee; created by County Executive to change county culture; reduce carbon footprint; representatives from all County departments; policy subcommittee of 7 key departments

Development of Climate Action Plan; target areas of focus

Geared towards reducing carbon footprint and other aspects; not only greenhouse gases, have to be financially stable; need to reduce greenhouse gases but in long haul, they need to pay for themselves and reduce costs
Mr. Coburn's responses to Chairman Knapp:
Asian longhorn beetle - Maple trees; slow moving and doesn't fly – horrifies and scares; not only Maple but other trees; points to how serious for the invasive species; people have no appreciation of consequences of these coming in

Has potential to be devastating; learn lessons on Ash Borer – hope someone figures out how to control it

Not clear where beetle is – doesn't sound eminent; Ash Borer moves on pallets; cardboard; intersection of 90/81 – traffic, log or pallet or someone from a State Park bringing own firewood; can move quickly
DEPARTMENT OF WATER ENVIRONMENT PROTECTION:  Tom Rhoads, PE, Commissioner; Michael Lannon, PE, Deputy Commissioner; Mary Voss, Administrative Director; Bonnie Karasinski, Fiscal Officer; Nick Capozza, Sewer Maintenance & Inspection Engineer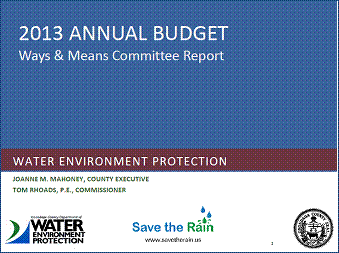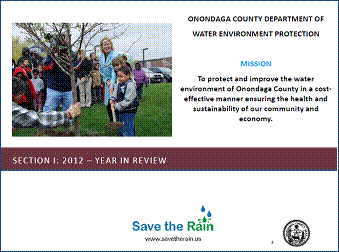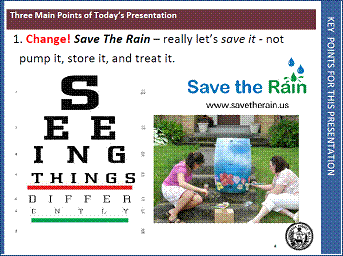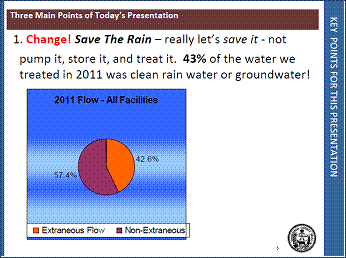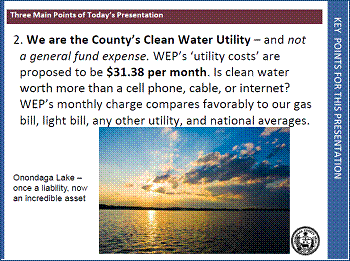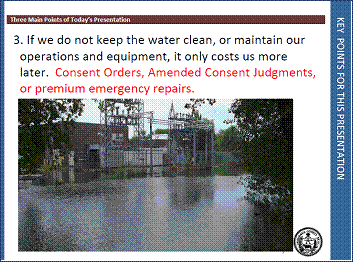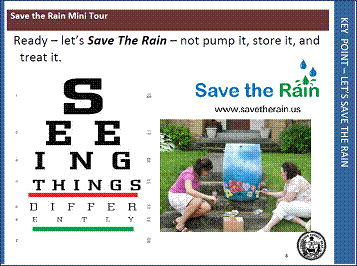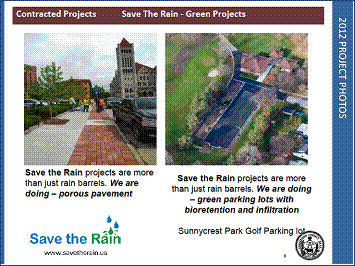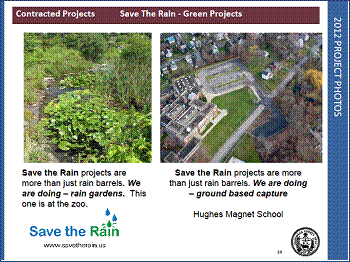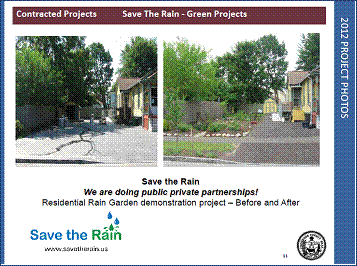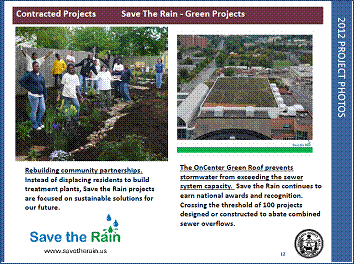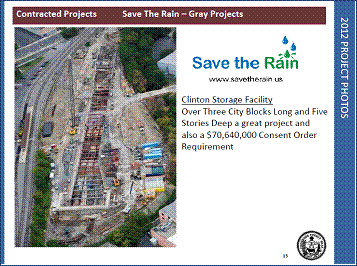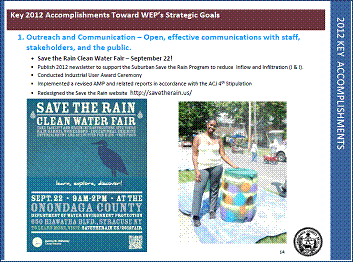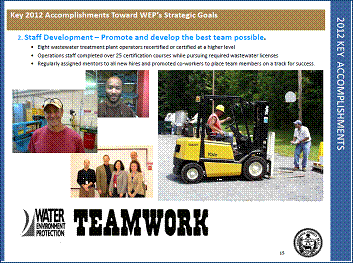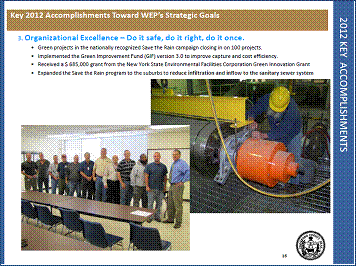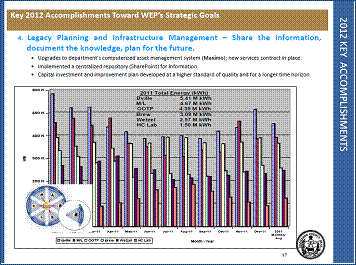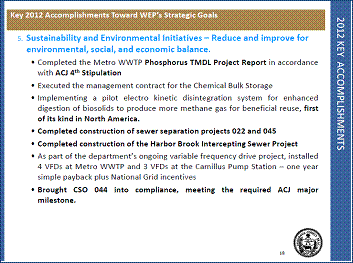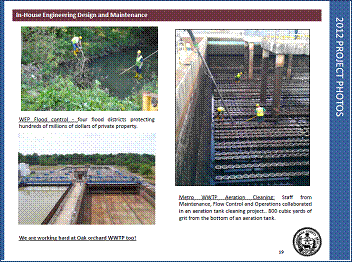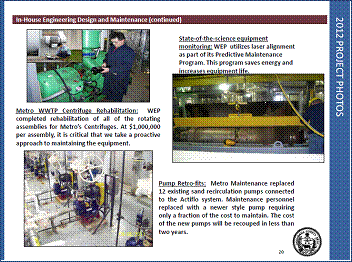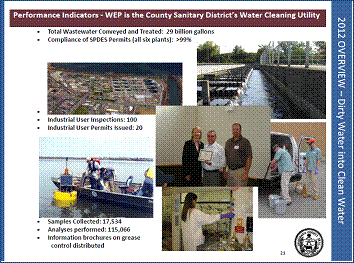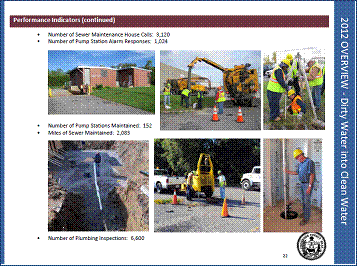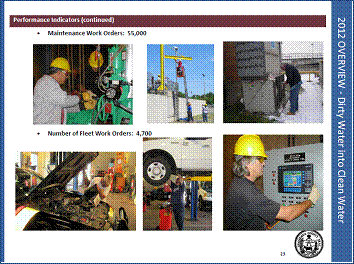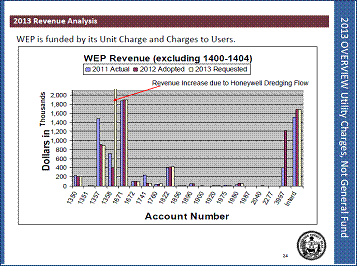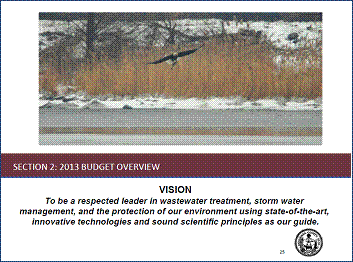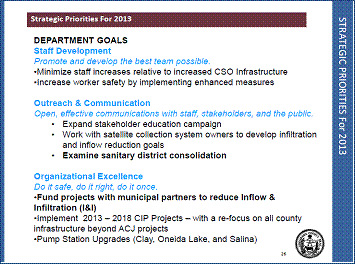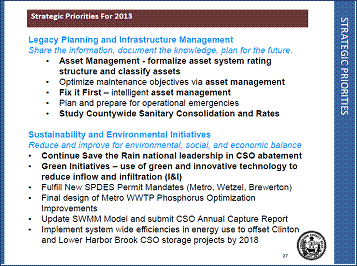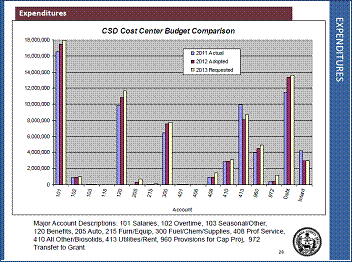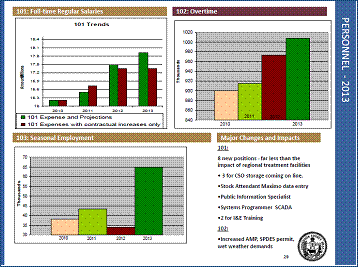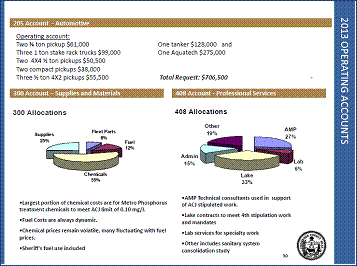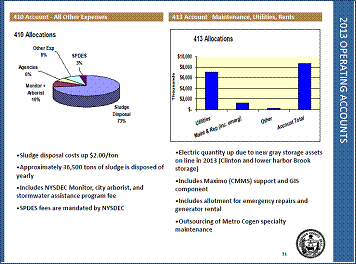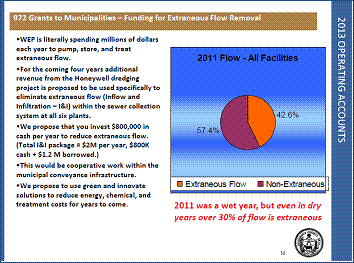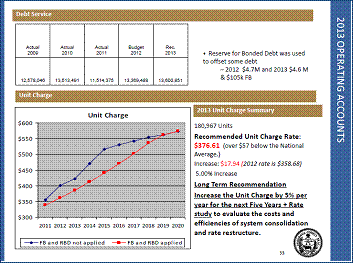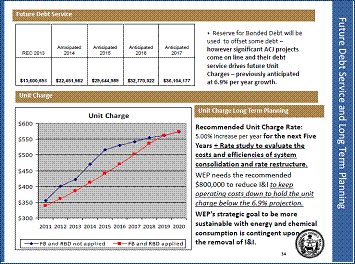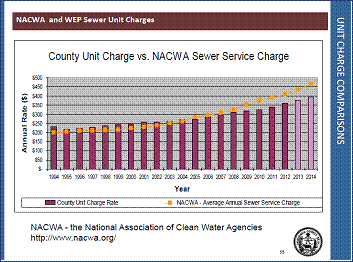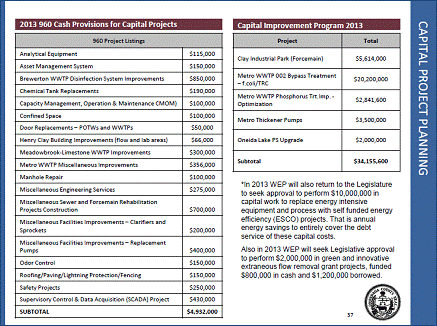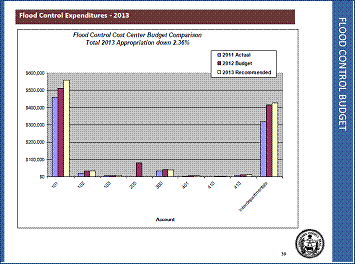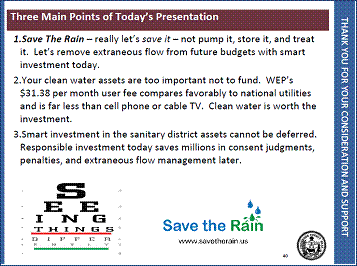 Mr. Millea stated it is important to know the nation is watching what the County is doing here.  Because of the success of the Save the Rain program, the County has been invited to Washington D.C. to speak at a White House conference on green infrastructure.  This is a tremendous reflection on what this community is doing through all these programs.  Mr. Rhoads has been a terrific addition to the County's team, and his entire team has worked hard to make this as successful as it is.  The amount of capital spending through WEP is impressive, and the way it is moving forward as seamlessly and quietly as it is, is equally impressive.  Mr. Millea stated it is a very aggressive budget.  Looking at a five year rate will give the County time to think about how the County charges for sewer services.  Currently it is elementary and inefficient; it is not fair to charge the same amount to someone with nine bathrooms versus someone with one bathroom.  In the next five years the plan is to take 2-3 years to investigate how other communities charge in a more effective and efficient manner.  Potentially the County will charge for storm water fees which is something communities do so the entire burden is not on sanitary clients.  At the end of this process, there would be a discussion with the Legislature on how the County gets to a better place, charges a more equitable rate, and how the 6% increases would come down over time.  Mr. Millea stated it would be greater revenue with a more equitable fee structure.
Mr. May commented the 5% annual increase to the sewer charges is more than doubling.  Mr. May stated compliance is an issue, and incentives are wonderful but what else can be done.  It was mentioned that 30% of utility costs are INI, but what about wear and tear on the infrastructure.  Mr. Rhoads responded that the equipment is running 30% more than it needs to which means more replacements, more response events and more house calls.  The more that has to be treated, and the more that has to be pumped results in the more the County has to maintain the pumps.  Mr. Rhoads replied to Mr. May that it will be no small lift when talking about a restructuring.  There are things that have to be looked at like the strength of various wastes, and parking lots that are completely impervious putting storm water into the system (not paying fair share).  To move out a major change like this, it will take a lot of study and communication including bringing the stake holders into the room.  It is no small thing when changing a rate base; people will always ask why.  The County has to do a great job at explaining what the foundations are, and a full transparency of how the County comes up with a new rate base.  Also, who are the impacted people, and why is it appropriate in fairness. 
Mr. Voss replied to Mr. Jordan that the overtime increase of $35,000 is based on 2011 numbers which is more consistent with normal expectations.  The winter of 2011/2012 was an aberration with limited snow and rain. 
Ms. Karasinski responded to Mr. Jordan that the copier rental savings will be in years to come when there is scanning, and the department is doing things more digitally; it is cheaper than an inkjet.  Mr. Morgan commented the County has been leasing for years, and the change recently was going towards multipurpose devices (scan, print, copy) to reduce print jobs to a laser or deskjet because the toner is expensive.  The only thing the County pays for with the lease is a click charge but the maintenance and toner are included in the price of the copier.  In the long run there will be savings in the supply accounts because the departments will be buying less toner and less maintenance but this will not be immediate.
Responses to Mr. Jordan:
Mr. Rhoads:  $25,000 for cell phones - response to after hour events; cellular communications part of pump stations; plumbing and inspectors using smart tablets instead of back/forth to office, use for digital transfer; not all cell phones

Mr. Rhoads:  Deploying technology - more efficient with services; location of underground utilities, using smart tablets

Mr. Voss:  Given volume of work/use, volume discount with shared package - fixed cost to project; reimbursement would create disparity in rates; Comptrollers to doll out money; high quantity minutes with Verizon; nominal fee to pay

Mr. Morgan:  Cell analysis done in last couple years; consultant came in – modify contracts or moving to different arrangements; reimburse employees – tough to evaluate the bills to determine what use was County vs. not

Mr. Morgan:  Purchasing power of County, ability to have contract with Verizon; rate plan better

Mr. Voss:  $1,700 for beepers – employees who don't need cell phone; beeper is cheaper; small amount/month; don't need to respond to call; have to report to work station

Mr. Lannon:  $104,000 in fuel tank replacement – admin of fuel facility program; inspection services – work with other departments to make sure in compliance with NYS Petroleum Bulk Storage regulations

Mr. Lannon:  Fuel tank replacement - incidental repairs with leaks or signage; small scale repairs up to $500-$1,000; larger scale identified, then notify department, they would do larger scale repair

Ms. Karasinski:  $142,000 to CCE – last year was $130,000 put in budget during presentation

Mr. Rhoads:  CCE helping with tree program, Save the Rain, public education for Save the Rain; street trees canopy purpose to prevent rain water in sewers, absorbed by trees; helping on other smaller incidental projects

Ms. Karasinski:  $17,650 for memberships - NACWA is $13,000, National Association of Clean Water Agency - trade org advocate for trees, instrumental with County and different municipalities with describing regulations; very beneficial

Mr. Rhoads:  NACWA provides info and advocacy for clean water issues; nationwide; advocating for broad based initiative; start seeing regulatory changes all time; measuring mercury in parts per trillion - one second in 32 years

Mr. Rhoads:  Start talking unfunded mandates; have benefit of national knowledge and info

Ms. Karasinski:  Succeeded last 2 years to get at half price; but can't budget that way

Mr. Rhoads:  $71,000 travel/training – slight increase $5,700; roughly $200/employee; training and certifications

Mr. Voss:  Entire operation staff licensed by State; 78 positions; operators of treatment facilities have 4a or 3a; most efficient way to license is at SUNY Morrisville; have to have license to be more than basic operator

Mr. Voss:  Face fines from DEC if no certified operators 24/7 at Metro and Oak Orchard, during day at day plants

Mr. Voss:  Other training includes CPR, forklift safety; lot of focus on safety training

Mr. Rhoades:  Lot of skill sets left with retirement; reduction of forces puts demand on training responsibilities

Mr. Voss:  INI and INE; INE group - huge transition of employees in 50's retiring; not a strong bench to bring up; technology using; PLCs more and more technical; not wiring but programming

Mr. Voss:  $15,000 body work requested by Sheriffs - frustrated they couldn't get body work done because money ran out; will get body work done; quarter panels and bumpers rusting

Mr. Rhoads:  $275,000 AMP, Ambient Monitoring Program; requirement; monitor status of Lake, it's tributaries and Seneca River; consultants review work doing and help prepare reports for DEC

Mr. Lannon:  960; smaller scale cash CIP; used to fund and initiate certain studies; depending on study, may blossom to larger scale projects 

Chemical tank replacement – based on life cycle approach; chemical tank replace after so many years

Annual allotment for door replacement

Man hole repair – target so many manholes per year; chip away

Misc engineering services – small scale may not have expertise in house or can only get to certain point

Misc facility improvements – replacement of pumps; annual program; continual maintenance

Odor control – pilot; Davis Road Pump Station; alternative chemical; hopefully more efficient, more sustainable; look at treatment plants on case by case basis

Safety projects – tepid eye wash stations; half aren't alarmed nor have tepid water; alarm those when someone is using which would trigger emergency response; able to submerge eyes for period of time

SCADA – sophistication of new process control equipment; i.e. Metro Treatment Facility, ammonia phosphorous treatment facility; monitor things in real time; triggers if piece of equipment running afoul

Mr. Lannon: SCADA - mix of hardware cost and training cost; physical installation and programmable logic controllers; entails microwave communication – partner up with E911 to save costs in long term; do away with lease lines

Roofing /paving – don't have specific list; allotment annual program to replace pavement at pump stations, treatment plants; lighting protection – replace damaged equipment, making sure up to code, grounded

Henry Clay building improvements - various building improvements; largest portion is flooring

$100,000 for confined space; most pump stations have confined space; to enter need to fill out permit; checklist in regards to safety:  harness system for manhole, another person, air monitor

Increase fall protection at some of the facilities like Midland Regional Treatment; better egress, tank cleaning at Liverpool; some cases above and beyond code compliance; employees safe; gain increased efficiencies
Mr. McMahon requested information regarding the professional services line including what makes up the line, who is the County paying money to, how does the County pay the money, where the money is going, what are the County's agreements with them, when was the last time the County signed an agreement with them, and if the agreement has expired, Mr. McMahon would like to see an RFQ or RFP process start.
Responses to Mr. McMahon's questions:
Mr. Rhoads:  Professional services through RFP process; occasional amendments – ie Ley Creek project, goes 1 or 2 months then amend; large part of professional services is AMP; RFP'd in 2012; significant portion w/new consultant

Portion of lab services outsourced; some solid waste work; don't have gaschromatograaf lab work so RFP for lab work; RFP typically for all professional services; chemical bulk storage – outsourced, competitive RFP

Mr. Petrela:  5% increase; model which projects inflation increase; everything increases 3%; projection of almost 7% increase in sewer charge driven by debt; dropped 2% and promising to keep expenses under control; if leave debt alone, where to get 2% - get through savings in rest of appropriations

Mr. Rhoads:  Professional service recommend allocating $200,000, new study; typically use consult; outsourcing because studies done nationally; compare costs and different functions part of treatment; how to come up with fair way in order to ask community best way cost should be paid for; currently using flat fee based on nothing

Large pieces of infrastructure adding water to sewer system and paying nothing; look into volume of flow; various constituents - strength of waste; some are important in study; impervious services putting storm water in system – how should that parking lot pay for the water contributing to treatment/pumping costs

Long extensive study; if agree to pay for; several year process; come back in 3 years

Suggesting in interim make sense to bring stability in community; stretch goal to keep at 5%; a lot debt service; Miami spending $12-$14 billion to replace water sewer assets; suggest don't make expenditures, constituents would have to pay in the end; incremental increase vs. rate shock

Update report:  financial section posts monthly progress; who has various contracts, status of the contracts and status of payments versus overall project budgets - Clinton, Harbor Brook & Midland
Responses to Mrs. Ervin's questions:
Mr. Voss' explanation of the additional positions: 
Nominal amount of help – sewer 1, sewer 2, pump station 1; 1 employee for 61 miles of sewer to maintain

Stock attendant – Asset Management Program; billion $ assets at WEP; can't say where they are, what they are, condition, when to replace; utilize the data/computer software to analyze/plan for assets; consultant coming in to develop own Asset Management Program; save money; lowest cost of ownership; hopefully tell if it makes sense to replace, run to failure or maintain; lowest cost position found and get info; intern now but full time January

Public Information Specialist – as expanding Save the Rain, would benefit department; reaching out to communities; not only on Save the Rain but also INI; town/village/community understand why doing all these different things

Systems Programmer – SCADA, communication with pump stations/plants; data available to operators; employee trained w/expertise but coordinator; will provide step for Instrumentation Electrical Group capping at Coordinator

Person working as Coordinator can handle programming instead of outsourcing that may cost $250,000

Labor 2's – Instrumentation Electrical division; struggling with, 40 people on good day; hard to find capable, qualified people to get trained; have 2 working in other areas, give 2-3 years of training; move to work position when qualified

If Legislature didn't fund the positions, AMP would suffer; SCADA would be a problem; trying to solve problems as reasonably as possible; frugal and restrained; in house; would spend more than triple the salaries to outsource

There are things a County employee can do more efficiently then contracted consultants

Priority of positions requesting – most important are stock attendant and systems programmer for asset management and SCADA; others will pay in OT and burn out staff or adequately staffed

Bad weather day on Tuesday; making calls for overtime; 3-4 hours after hard rain for pump station and failures; people have families and other responsibilities; can't always work two 20 hour days back to back

Not asking for step increases or grade adjustments; upgrade for Deputy Commissioner not at WEP
Mr. Rhoads' responses to Mr. Meyer's questions:
Mr. Meyer requested Mr. Rhoads cover where the County stands with the different facilities at the next committee meeting.  Mr. Rhoads responded he may not be ready for the next committee meeting.
Responses to Mr. Meyer's questions:
Mr. Voss:  Salary savings $502,000; look at trend year to year; workers comp, extended sick; get reasonable estimate

Mr. Rhoads:  Earnings and investments; 233 – 60; market rate for interest earnings

Mr. Petrela will provide Mr. Meyer with what the old market rate and new market rates are for interest

Mr. Voss:  WEP required to have employee physicals; since late 70's - no scientific analysis of WEP; required to do under collective bargaining agreement; budget full amount $25,000 but able to negotiate down to $14,000 or $15,000

Physical specified in CBA; blood pressure, chest x-ray, looking for specific diseases or illnesses to things exposed to

Mr. Rhoads:  Sustainable issues; what can WEP do with yard piping; take some piping and flow from back end or treated water and recycle it in front end

Yard piping typically part of capital effort; look at some water used from Metro; can it be used in sewer flushing trucks

Continuing to look at ways to recycle water throughout facilities; yard piping at Metro - redeveloped considerably; quite a bit of opportunity in other plants

Save the Rain - try to have coordination meetings with City when opening street for Save the Rain work

Help City by telling them where their assets need replacement; lot of City's leaking water pipes not part of WEP work

More work with City coordinator, everyone saves money; suggesting might make sense to have consolidated sanitary district; inclusive of assets; study - look at combining assets; one entity responsible for sewer pipe wall to wall

Mr. Voss:  103 technical intern – Maximo Asset Management person; using 103 to fill gaps from 101; get projects done that cost more money to outsource

2 tech interns – 1 at Henry Clay in lab, 1 at Metro doing asset mgt; used 103 to hire 2 individuals who have moved to 101 as labor 1; use for training evaluation, see if suited for waste water industry

Mr. Rhoads:  $200,000 study - proposing to look at sanitary district consolidation and rate study; go to municipalities that have sewer systems; talk with State – program for consolidation of services - $50,000/municipality

Work with municipalities, and ask if they want to be a part of study; 3 years, come back with better and full analysis

$200,000 - won't get it all done; leverage to get State grants on consolidation studies; work system to max so local dollars not invested; make sure if consolidation, bring efficiencies and services to tax payer and rate payer

Scope a large portion of this for the first year but not all

Mr. Lannon:  Certified operators; State requirement to receive so many contact hours; function of what class license; 3A or 4A needs 80 hours in 5 year window; try to space out and obtain so many hours per year

Mr. Voss:  Sheriff concern with process of vehicles (buy and sit) has been resolved

Mr. Rhoads:  Save the Rain projects have been within the CSO area; suburban programs for abetment of INI
Mr. Meyer requested a fill and funded chart from Mr. Petrela; the same as was done for Purchasing. 
Responses to Mr. Meyer's questions:
Mr. Rhoads:  $10,500 – typically with Education Outreach, even if have person, still pay for placements

Save the Rain advertising, Clean Water advertising, new web based model; done to make some initial public awareness – use public education money for placements

Mr. Voss:  $286,000; $28,000/month - after hours fleet repair; don't staff fleet 24/7; over weekend breakdown, emergency work; all County departments; not just DOT, includes Parks, Health, DA, Sheriffs

Mr. Capozza:  Construction material mostly associated with manhole repair; staff multitalented; pump station – in house repairs; same as wastewater

Mr. Voss:  The electricians are not IVW, they are CSEA; specific to wastewater treatment plant
Responses to Mrs. Rapp's questions:
Mr. Capozza:  Aquatech, did buy; been replacing over last few years, want to replace 1996; used for all towns and villages; don't have lot of miles but operate at full speed; lot of hours and complex pieces of equipment

During storm, sewer blockage in Clay – 3 responded to prevent flooding; industrial clients could have been impacted

Mr. Voss:  $250,000 in budget for Aquatech, then took out, bonded for it but not able to pass bonding resolution

Mr. Capozza:  1 year forwent Aquatech because packer damaged/scrapped; other year did not receive bonding

Received one in 2012; if take past 10 years, then start spending excessive amounts; emergency repair – $40,000 water pump; $12,000 repair on transmission; $10,000 on vacuum repair

7 aquatechs and 1 flusher; want to replace water jet truck; would have 8 combination cleaners - vacuum/water truck

Mr. Voss:  Parts Management Program – did analysis and RFP; cost more to outsource for lesser quality parts

County employees grade 8 and 2 keep shop afloat; keep costs down; stock attendant is separate project
Mr. Plochocki stated for the record that Commissioner Rhoads has been a pleasure to work with.  As Chairman of the Environmental Protection Committee, Mr. Plochocki has had to deal with Mr. Rhoads extensively this past year.  Mr. Plochocki requested a metric about how much money is saved per gallon that does not go into the system; i.e. for every gallon that does not go into the system, WEP is saving at least $15.
Mr. Rhoads' responses to Mr. Plochocki's questions:
WEP needs to do better with public education; looking for public education specialist

Round numbers – treating 29 billion gallons; $2/1,000 gallons which is less than National average of $2.40-$2.50

Need to look at what are fixed costs and debt service costs; will see some variable costs - chemicals, oxygen, blowers, pump maintenance and repair

Looking at energy number this year vs last – wet year vs. dry year; better ability to make comparisons; worst case April 2011 vs best case July 2012; develop the metrics and will get back to Mr. Plochocki

Can get rough estimate on energy costs; total system will be longer term
Mr. Rhoads' responses to Mrs. Tassone:
Save the Rain projects – pg. 11 demonstration project; why strong believer in public education; get community thinking what they can do, how to invest in and improve properties

Large portion of Save the Rain, not only to have public investment but move concept to ground level; see all institutions in community picking up and doing themselves; government doesn't have to be responsible for all

County paid a portion as demonstration project; how it can be done on a residential basis; done by a grantee

Only one done; residential projects not part of current GIF project; only a demonstration; residential are rain barrels

Rain barrels given to those in right portion of Sanitary District; available at Clean Water Fair Saturday; outside of Sanitary District have a one time opportunity to buy at wholesale cost
Mr. Voss responded to Mrs. Tassone that the rain barrels are inventoried in Maximo, their wholesale cost is around $96, and recently took delivery of 600.
Mr. Rhoads replied to Mr. Meyer that WEP will hit the mandatory numbers on the amended consent judgment.  This is because WEP will be dedicating all efforts to that.  Part of the project and 2012 annual report will talk about the SWM (Storm Water Management) model.  This will demonstrate how much of the CSO capture is being done.  The condition in the amended consent judgment is that WEP must start hitting the figures, and demonstrating capture at certain percentage levels going towards 95% capture by 2018.  Mr. Rhoads stated WEP is well on track.  By 2013, WEP has stipulated damages if they do not hit some of the numbers in ACJ requirements.
Responses to Chairman Knapp's questions:
Ms. Karasinski:  Fines and forfeitures way down; Hanckock Airport used to be a different user, now an industrial user

Mr. Capozza:  Aquatech – when use vehicle within town, and employees do work in town system, then level of service billed to Towns on an annual basis

Mr. Voss:  Fleet management side get interdepartmentals; shows up initially in WEP budget

Ms. Karasinski:  Save the Rain budget in 972 account - $400,000 Public Ed/Outreach; $800,000 new part INI project

Mr. Rhoads:  972 has $400,000 for Save the Rain public ed; $800,000 cash towards $2 million suburban INI, $1.2 million remaining being bonded money

Sludge currently hauled to Seneca Meadows land fill
METROPOLITAN WATER BOARD:  Holly Rosenthal, Executive Director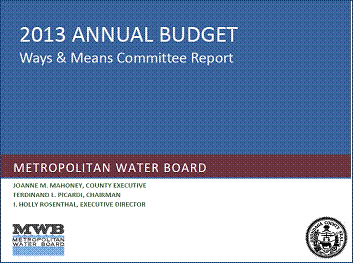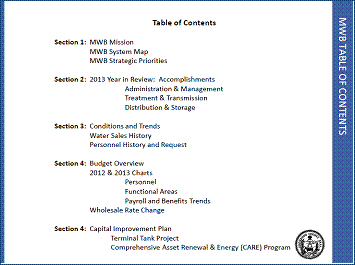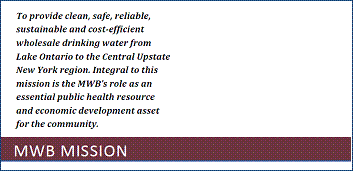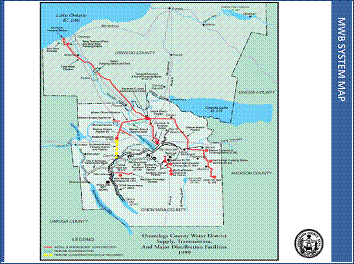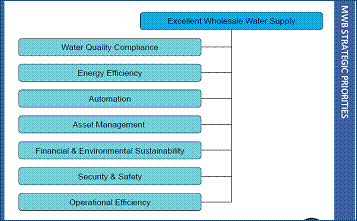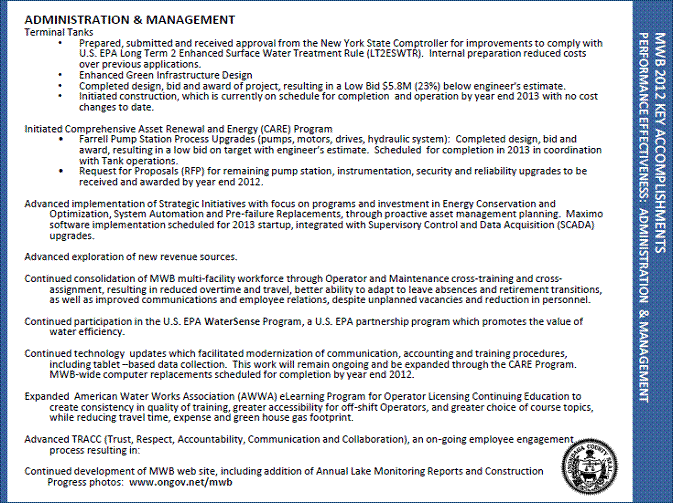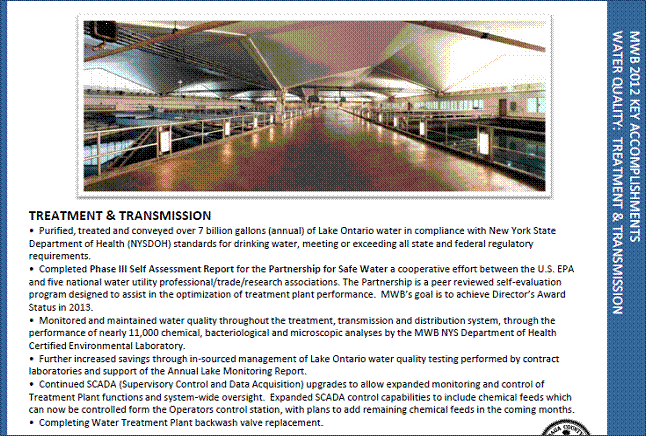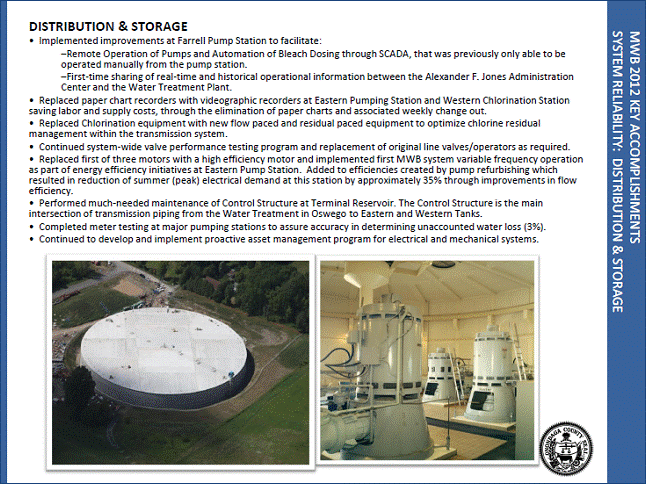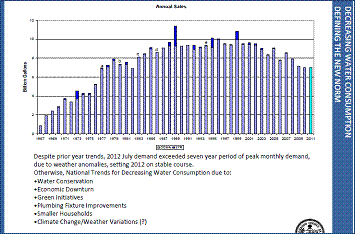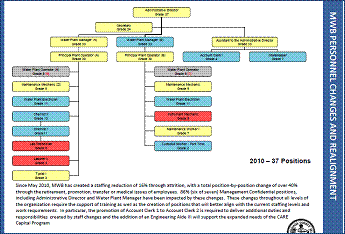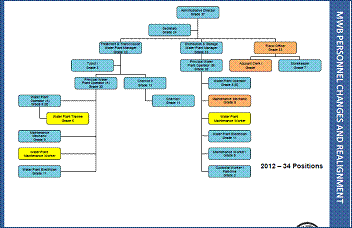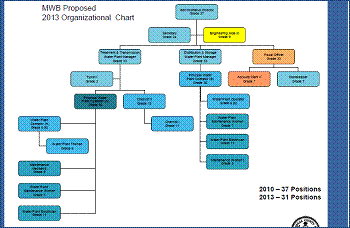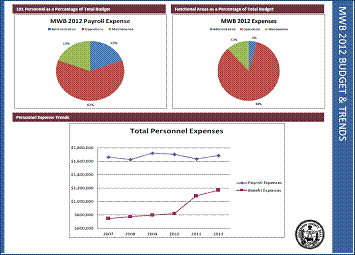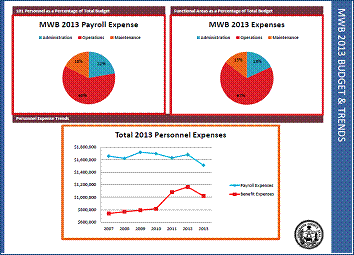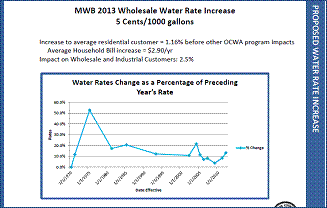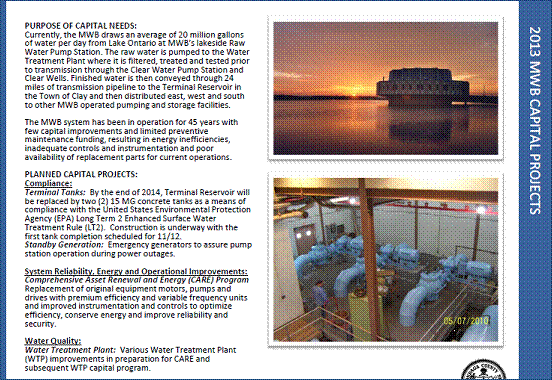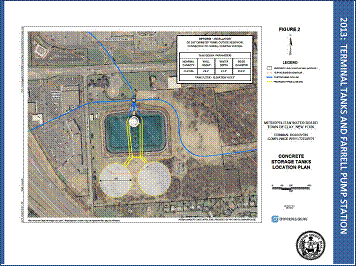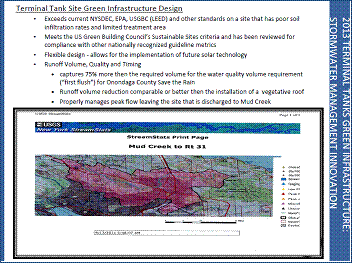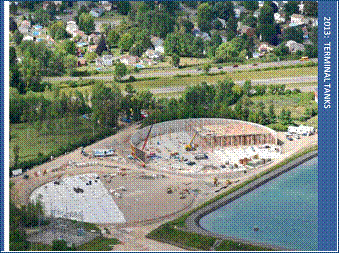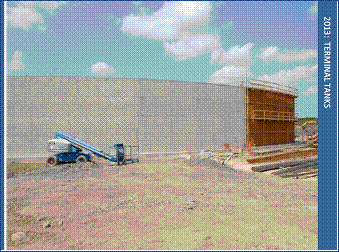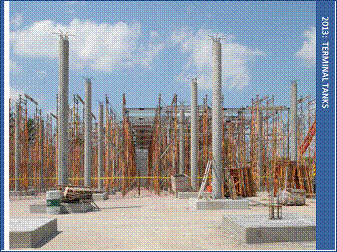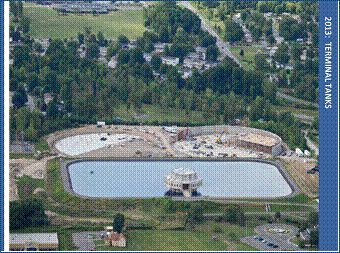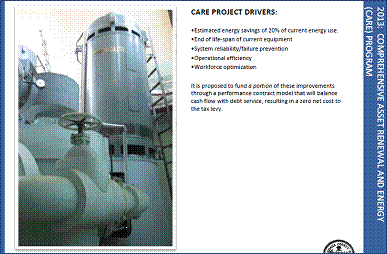 Ms. Rosenthal's responses to Mr. May:
103 positions reduced to part time positions; 101 roster had Typist 1, redistributed to existing personnel, now part time

Maintenance Mechanics; had full time but now 2 part-time – 1 at water treatment and 1 at maintenance center in Clay

Shift that results in net reduction in payroll costs, and net reduction in full time employees

Able to manage budgeted OT; year to year unexpected losses in staff; created temporary bumps in OT

Types of skill sets employed, if someone not there, creates unique set of demands; low point for combined operations and maintenance staff; work with group to redistribute responsibilities to be better aligned
Ms. Rosenthal's responses to Mr. Jordan:
Professional services – $65,000; broken into 2 components

Operations compliance and calibration - outsourced testing and calibration required to comply with Department of Health requirements; EPA requirements

Testing; meter calibration for accuracy

Share costs with City of Oswego in respect to keeping intake clean and periodic inspections

Different methods of mitigation for zebra mussels – need to physically move

WEP mentioned – spill prevention report that must be updated for the DEC

General Services – contract with O'Brien and Gere; small projects challenging for group of engineering firms to respond to; ie. Concern w/structural issues at Raw Water Treatment Plant, O'Brien and Gere did analysis of problems

Legal – Board of Directors as well as accountability to Legislature and County Executive's office; sometimes need for outside legal services; Law Department first but other issues may need expertise; Mackenzie Hughes has contract

Facility assessment – specific to water treatment plant; proposed CIP; fully fledged assessment; est costs

SCADA system programming – tech services for MWB's SCADA system; go forward and expand – more people internal doing that work; rely less on outside consultants

Supplies/material – $639,000 - mostly water treatment chemicals approximately $600,000

$13,500 memberships - one required is Dig Safely NY because MWB is utility with underground infrastructure and is $10,000; remaining is American Water Works Association (AWWA) – valuable to keep up with water utility industry

$1.6 million CIP – portion being funded at recommendation of 2011 Legislature; EP committee recommended to set some funds aside for future CIP; build funds for the upcoming

Most is for upcoming water treatment plant program; anticipate upgrades to water treatment plant being $20-25 million; some to get ahead of this work, some for in-between, and some for funds to put away for upgrades

Some SCADA program costs associated with CIP; some smaller projects; others will fall outside the scope of that

Savings account for CIP down the road $1 million

Care program – bonded authorization; get moving with project then start to draw it up; approved in December

Wheel loader $142,500 – used infrequently, anticipating approval for cost effective; asking again this year

Did look at DOT loader, both departments agree it is not suitable and not as good as one currently have; until knowing MWB has resources to purchase loader, can't look at used equipment; used year round – sporadic but essential

If can't find suitable used replacement, will purchase new and keep in good condition for another 30 years
Ms. Roshenthal's responses to Chairman Knapp:
Ms. Rosenthal responded to Mr. Jordan that the 103 titles in 2012 were seasonal aides and a custodial worker, and now MWB is bringing in more highly compensated part time personnel over to the 103. In some instances MWB has unfunded the 101 positions and shifted them to 103.  Ms. Rosenthal replied to Mr. Jordan that there are 3 positions in 101 they are unfunding because they may be unable to find qualified part time employees.  Mr. Morgan stated combining the 101 and 103 accounts, it does show a reduction from the 2012 budget.  There are 3 new positions being created under different titles, and 3 being unfunded.  Ms. Rosenthal responded to Mr. Jordan that there are 5 positions total being unfunded.  Mr. Morgan commented that it does not show which positions are being funded or unfunded, but he can provide Mr. Jordan with the information.  Ms. Rosenthal replied to Mr. Jordan that the Maintenance Operator is being created but not funded. 
The meeting was adjourned at 12:52 p.m.
Respectfully submitted,
Jamie M. McNamara, Assistant Clerk
Onondaga County Legislature