WAYS AND MEANS COMMITTEE REVIEW OF THE 2013 TENTATIVE BUDGET
COUNTY FACILITIES COMMITTEE DEPARTMENTS AND AGENCIES - SEPTEMBER 18, 2012
DAVID H. KNAPP, CHAIRMAN
MEMBERS PRESENT:  Mr. Jordan, Mr. May, Mr. Stanczyk, Mr. Holmquist, Mrs. Ervin
MEMBERS ABSENT:  Mr. Kilmartin
ALSO PRESENT:  Mrs. Tassone, Mrs. Rapp, Mr. Plochocki, Mr. Ryan, Mr. Shepard, Mr. McMahon, see also attached
Chairman Knapp called the meeting to order at 1:13 a.m.
OCPL; Elizabeth Dailey, Executive Director, Sally Carmer, Director of Administrative Services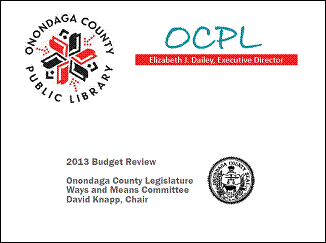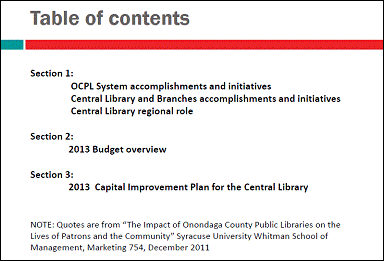 Thank you for this opportunity to present our 2013 budget and the library services that the budget supports. Sally Carmer and I are here to answer your questions.
I would like to start by telling you about some of our accomplishments this year, some of our challenges and plans for the coming year.
Refer to OCPL's Annual Report for 2011 for a statistical overview of the way OCPL meets community needs.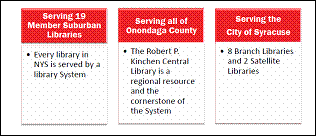 The budgets that Sally and I are presenting today reflect Onondaga County Public Library's organizational structure.
As a result of consolidation in the 1970's, OCPL consists of a public library system, the Central Library and the Syracuse City branches. Our System, Central, Branch and Grants budgets are built on service mandates and funding from the State of New York, the City of Syracuse and Onondaga County.
"Our research and analysis confirmed our initial hypothesis that the library is a vital resource and makes a deep and lasting impact on all members of the community."  Syracuse University Whitman students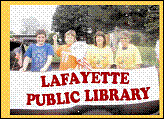 LaFayette
As one of 23 public library systems in New York State, OCPL ensures that our county's libraries are working together to the benefit of all.
"The library has helped me foster a love of reading and learning in my child in a way that I would not have been able to due to my financial situation. We are able to borrow books from everywhere…!" OCPL Patron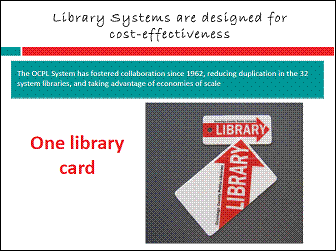 The library card that all public libraries in Onondaga County have in common was updated this year to include a key tag and graphic to make the card easy to find on your key chain or in your wallet.
The library card is now almost as useful outside the library as inside - getting information from databases, downloading audio books, music and e-books, and paying your fines online are all possible with your library card and PIN.
"I have been using libraries for 53 years. I got my first library card at 6 years old and have used it continually since then."  OCPL Patron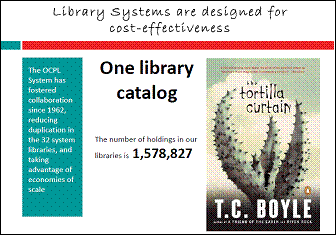 One library catalog with the holdings of all of OCPL libraries exemplifies our success in leveraging resources through sharing. Our compact geographic area and a long history of collaboration both contribute to seamless service to every Onondaga County resident.
"I wouldn't be able to carry out my research projects without the library." OPCL Patron…job-seeking PhD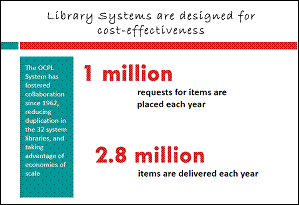 Library users highly value the ability to request and receive items from any library. This service depends on library staff at every library who spend time each day pulling items needed elsewhere; and on the System's sorting and delivery service.
So core system services that are synonymous with OCPL are one library card, one library catalog and delivery to 32 libraries five days a week.
"The library has greatly reduced the amount of money that I need to spend each year on curriculum – I am able to order books I need from libraries all over the county and have them waiting for me at my library." OCPL Patron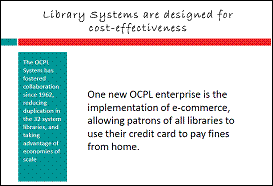 In addition to the core services, the System handles other services where all libraries have to be involved.
Beginning next month, OCPL patrons will be able to pay fines from their home computers or in the libraries with a credit card. Recent upgrades in the Polaris Integrated Library System have enabled us to offer this service that  patrons have requested. In particular, Suburban member libraries hope that they will experience an increase in fines collected because of the convenience to users.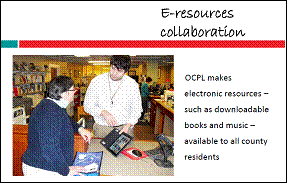 Library card holders who have Nooks, Kindles, iPads, MP3 players, iPODS, and other
e-readers are looking increasingly to libraries to provide reading materials that they can borrow and return.
These electronic materials along with our informational databases are driving libraries to work even more closely together for two important reasons:
controlling costs through aggregate purchasing and

providing equity of access so that small suburban and rural libraries are able to offer the same level of resources as larger libraries.
"The library has provided me with resources and sources of entertainment that I would otherwise not have been able to afford." OCPL Patron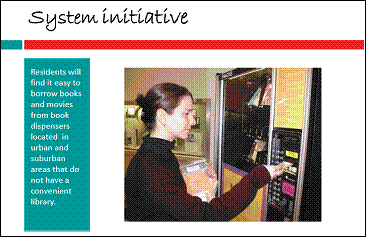 Our 2012 budget includes funding for two self-serve book dispensers. I'm happy to report that we are well along in the RFP process that will result in implementation in 2013 of  two book dispensers that allow patrons to borrow and return library books and DVD's without having library staff onsite. One will be in the town of Clay; our partner is the Great Northern Mall; and the other is on the near Westside where our partner is WCNY in their new location in the former Case Supply building.
"The library provides me with additional reading and learning materials that would not normally be available to me."  OCPL Patron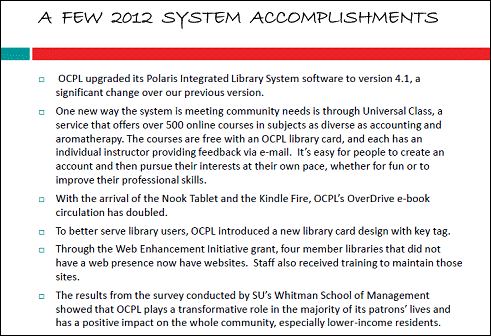 Just a few System highlights.
OCPL upgraded its Polaris Integrated Library System software to version 4.1, a significant change over our previous version.

One new way the system is meeting community needs is through Universal Class, a service that offers over 500 online courses in subjects as diverse as accounting and aromatherapy. The courses are free with an OCPL library card, and each has an individual instructor providing feedback via e-mail.  It's easy for people to create an account and then pursue their interests at their own pace, whether for fun or to improve their professional skills.

With the arrival of the Nook Tablet and the Kindle Fire, OCPL's OverDrive e-book circulation has doubled.

To better serve library users, OCPL introduced a new library card design with key tag.

Through the Web Enhancement Initiative grant, four member libraries that did not have a web presence now have websites.  Staff also received training to maintain those sites.

The results from the survey conducted by SU's Whitman School of Management showed that OCPL plays a transformative role in the majority of its patrons' lives and has a positive impact on the whole community, especially lower-income residents.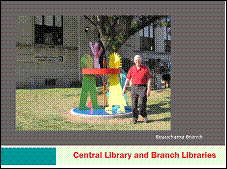 Now, I would like to move from the System functions to the Branch Libraries which are funded primarily by Syracuse City residents, and the Central Library, which is supported primarily by funds from Onondaga County. The Central Library and Branches are consolidated administratively and policies are set by the Onondaga County Public Library Board of Trustees.
Of all of our materials and services, I would like to bring to your attention our contributions to three things in particular: our literacy role, our collaborations, and assistance to job seekers.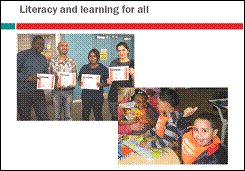 Books and reading are at the heart of our mission. Storytimes, programs for daycares and nursery schools as well as classes for adult new readers are standard in our libraries.
"Conclusively, patrons express strong feelings about the library, and about its unique features. Several go as far as arguing that they could not imagine a society without a library, because of the valuable changes caused in their lives." Whitman students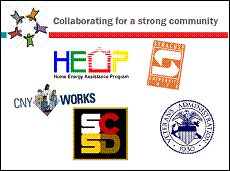 In partnership with Catholic Charities, the library provides a neighborhood services worker at Mundy and White Branches for mentoring and outreach services to youth and families.
Local organizations and agencies connect with residents through outreach at neighborhood libraries.
People can find HEAP applications, tax assistance, and counseling on federal and state assistance programs at their local library.
Central and branches provide internship opportunities and job training in cooperation with the Westside Learning Center, CNY Works, the County Department of Aging and Youth, the Syracuse City School District, and Syracuse University.
"I found employment through the Library and have improved my computer skills, as well as improved my social life." OCPL Patron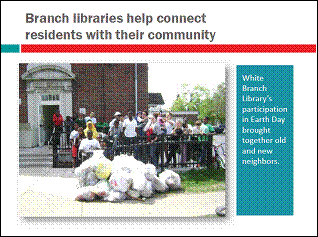 Connecting individuals with the agencies and services that they need is important.  And just as importantly, individuals connect with each other. 
Neighborhoods are enriched by their libraries. 
"(The library)…provided an essential link to the community and an avenue to active engagement in communal life…"  OCPL Patron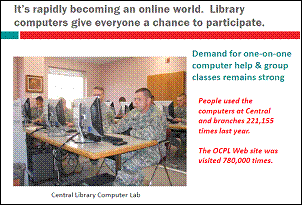 Computer use rises not only because more information is available online but because so many services - particularly government services - are available only by accessing a Web site.
"Whenever I needed resources, I was able to find them in the library which was/is very empowering experience, especially knowing helpful hands of the knowledgeable librarians are nearby to assist me when needed."  OCPL Patron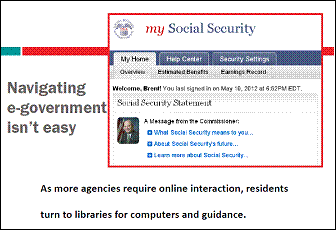 Every day more services are accessible almost exclusively online. During the past year the US Postal Service stopped accepting change of address cards. You have to go online to change your address. People ended up in libraries asking for assistance.
"I can't imagine life without the OCPL libraries."  OCPL Patron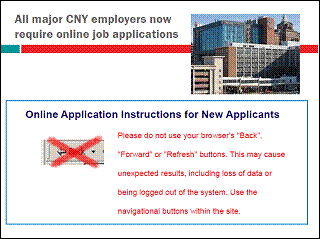 Even organizations with many entry level jobs such as McDonalds and I recently heard, the Salvation Army, need online job applications.
People use the public library's Internet access, equipment and sometimes just as importantly, the expertise of the library staff for their job searches. In addition to answering questions just at the moment people need them answered. The Central Library and branches conduct computer classes, computer tutorials and we collaborate with agencies such as Jobs Plus and CNY Works to bring classes right into the library.
"The OCPL System could hence be described as a pillar in the society without which a large percentage of the population would not have any opportunity to learn, stay informed, get job help or overall improve their quality of life." Whitman students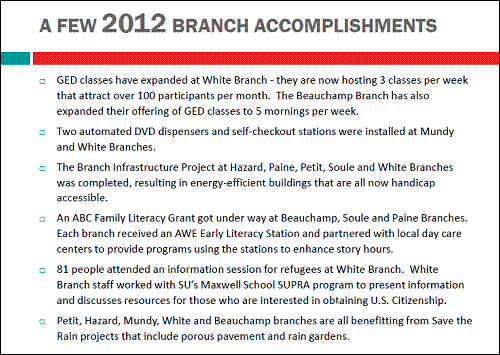 Here are a few Branch accomplishments that were culled from hundreds of services and events that have taken place so far in 2012.
GED classes have expanded at White Branch - they are now hosting 3 classes per week that attract over 100 participants per month.  The Beauchamp Branch has also expanded their offering of GED classes to 5 mornings per week.

Two automated DVD dispensers and self-checkout stations were installed at Mundy and White Branches.

The Branch Infrastructure Project at Hazard, Paine, Petit, Soule and White Branches was completed, resulting in energy-efficient buildings that are all now handicap accessible. 

An ABC Family Literacy Grant got under way at Beauchamp, Soule and Paine Branches.  Each branch received an AWE Early Literacy Station and partnered with local day care centers to provide programs using the stations to enhance story hours.

81 people attended an information session for refugees at White Branch.  White Branch staff worked with SU's Maxwell School SUPRA program to present information and discusses resources for those who are interested in obtaining U.S. Citizenship.

Petit, Hazard, Mundy, White and Beauchamp branches are all benefitting from Save the Rain projects that include porous pavement and rain gardens.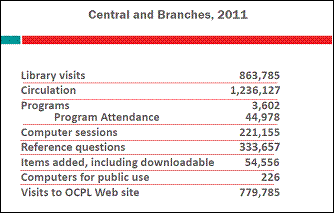 Looking at statistics for the Central Library and Branches 
"I love libraries. I love living in a community where there is a library just a few blocks away where I see people I know and get books/magazines/CD's to enrich and educate my mind and soul. I've enjoyed concerts, lectures and art. I read the notices to see what is going on in our neighborhood…thank you." OCPL Patron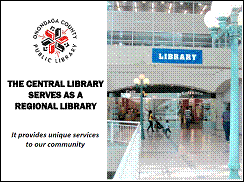 The Central Library and Branches have many similar services, however the Central Library has some unique contributions that I would like to point out.
"We can't afford a computer so the libraries help my child learn and do homework that we just would not be able to do at home." OCPL Patron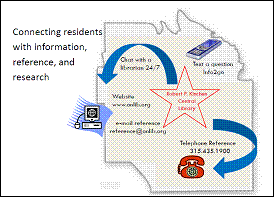 Another vital contribution to our region is the expertise of the Central Library staff, supported by reference resources not duplicated elsewhere. Information and assistance is easily available. You can come into the library, call, text, do on-line chat or email.
"(The library)helps me with homeschooling." OCPL Patron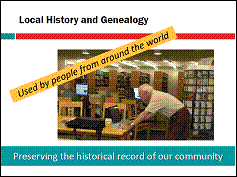 The range of materials and services offered by Local History and Genealogy is amazing. It is not just old books and microfilm. Corporations and agencies that need to make reports available to the public turn to Local History.  These documents inform citizens today while becoming part of the historical record of our community.
Remote patron access to Local History/Genealogy resources is also important. This year library staff added 10 unique, locally-developed databases and finding aids to the website.
"I now have the never ending hobby of Genealogy to keep me busy and I have enjoyed the people I have met along the way." OCPL Patron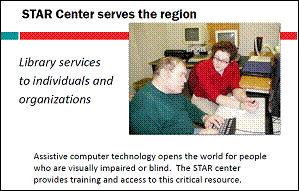 There are approximately 2,200 persons in Onondaga County who are visually impaired or blind. There are many thousands more who have vision loss requiring large print and/or audio books.
We provide bulk loans of children's Braille books to member libraries to help them serve their patrons with disabilities.
OCPL's STAR librarian serves the community by translating documents from print to Braille for educational institutions and county agencies.
The library is the only place locally that people with disabilities can get free access and training on assistive computer technology. Even agencies like CNY Works and AURORA of CNY that have the technology send people to the library for help.
"I am disabled and on low-income and the items I get from the library help me to be happier and the social joy I get from the librarians and the library itself gives me a quality of life I wouldn't have otherwise." OCPL Patron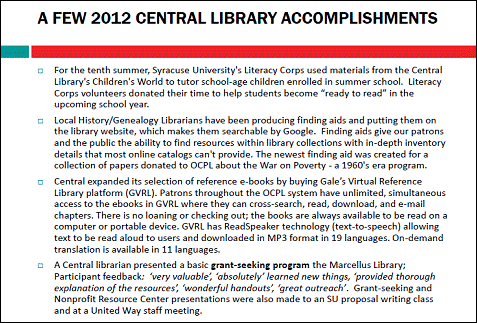 At this time I would like to bring your attention to funding we are requesting for 2013.
Sally will present our budgets and then I will give you the timeline on what we hope will be a major initiative in 2013, the Reconstruction of the Central Library.
For the tenth summer, Syracuse University's Literacy Corps used materials from the Central Library's Children's World to tutor school-age children enrolled in summer school.  Literacy Corps volunteers donated their time to help students become "ready to read" in the upcoming school year.

Local History/Genealogy Librarians have been producing finding aids and putting them on the library website, which makes them searchable by Google. Finding aids give our patrons and the public the ability to find resources within library collections with in-depth inventory details that most online catalogs can't provide. The newest finding aid was created for a collection of papers donated to OCPL about the War on Poverty - a 1960's era program.

Central expanded its selection of reference e-books by buying Gale's Virtual Reference Library platform (GVRL). Patrons throughout the OCPL system have unlimited, simultaneous access to the ebooks in GVRL where they can cross-search, read, download, and e-mail chapters. There is no loaning or checking out; the books are always available to be read on a computer or portable device. GVRL has ReadSpeaker technology (text-to-speech) allowing text to be read aloud to users and downloaded in MP3 format in 19 languages. On-demand translation is available in 11 languages.

A Central librarian presented a basic grant-seeking program the Marcellus Library; Participant feedback:  'very valuable', 'absolutely' learned new things, 'provided thorough explanation of the resources', 'wonderful handouts', 'great outreach'.  Grant-seeking and Nonprofit Resource Center presentations were also made to an SU proposal writing class and at a United Way staff meeting.

The County Executive's recommended 2013 budget for OCPL is $15,453,351, and includes $5,697,791 to support the operation of the Central Library; $2,746,424 for System and Member Services; $6,552,939 for the operation of the eight branches and two satellite libraries in the City of Syracuse, and an estimated $456,197 in Library Grants.
This budget maintains current service and staffing levels, and overall represents a $56,347, or 0.36%, increase over current year funding.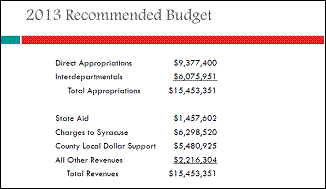 Of the overall $15.5 million, $9.3 million is for direct appropriations, and $6 million, or nearly 40% of our budget, is for overhead costs. Supporting those costs are State Aid of $1.5 million; charges to the City of Syracuse for the operation of the branch libraries totaling $6.3 million; $5.5 million in local tax support; and $2.2 million in other revenues.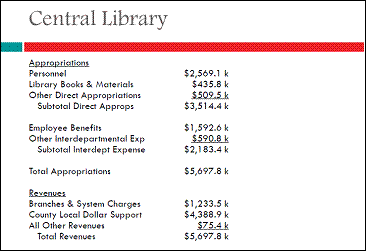 As we look at the Central Library, this budget shows an overall decrease of $393k when compared to 2012. This is due to the fact that 2012 included an additional $100k for library books and materials, as well as $300k for two automated materials dispensers, which are not included in our 2013 budget.  Absent these items, we would be looking at an increase on a $5.7 million budget of less than $19,000, or 0.3%.  This is composed of an additional $37k in personnel expense to restore funding to support current staffing levels, offset by anticipated utilities decreases of $18k. 
On the revenue side, the amount of fund balance available to appropriate to offset expense has decreased almost $280,000 compared to 2012.  Our requested tax levy support for the Central Library for 2013 shows a decrease of $62.7k when compared to this year's budget.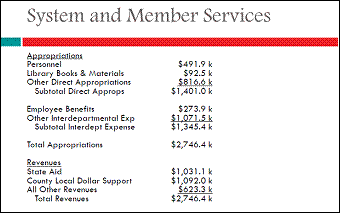 The 2013 System and Member Services budget is up $181k on the expense side.  This is due entirely to anticipated increases in our telecommunications expense, which is expected to triple from its current $87,000 annual cost to over $275,000.  We are also replacing a delivery van with over 200,000 miles, and providing more systemwide digital content.  These increases, however, are offset by decreases to our employee benefits expense, leaving the overall appropriations increase at $181k.
On the revenue side, Albany is helping us out this year and has actually increased State funding to libraries by about 3.3% in 2012, a funding level we expect to continue in 2013.  Because we budgeted a 3.5% decrease for 2012, our 2013 State aid revenues are expected to rise about $68,000 when compared to this year.  In addition, as our telecommunications costs rise, so does our E-Rate reimbursement for those costs, and we anticipate an additional $65k in reimbursement.  These revenue increases combine with appropriating about $100k in fund balance to actually decrease our requested local dollar support by $74k when compared to 2012.
Combined with the Central Library, our overall local dollar request for 2013 is $142,306 less than this year's budget as modified.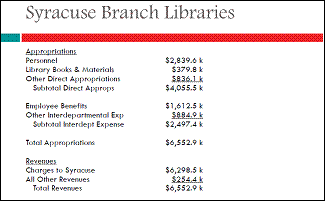 Direct appropriations for the Syracuse branch libraries' budget will also decrease in 2013, by $25k. Employee benefits are expected to increase by about $65,000, however, and other interdepartmental expenses will rise overall by an additional  $49,000, resulting in an increase to overhead costs of nearly $114,000.  These increases push the overall budget up a net of $88,000 over 2012.
Charges to the City of Syracuse for the operation of the branches is $6.3 million in 2013, with other revenues of $254k.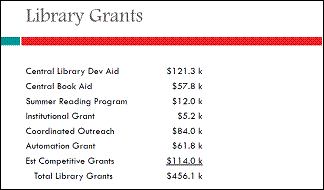 Finally, as with the State Aid revenue in the System and Member Services budget, we expect an increase to State-funded grants in 2013, resulting in a bump of about $22k for those grants.  And for the first time in 2013, OCPL is also including an estimate of the competitive grants we anticipate receiving next year.  Based on a 15-year trend analysis, we expect about $114,000 from various federal, state and other sources.
All told, the 2013 OCPL budget continues to support services to our community that help make Onondaga County residents strong, engaged, informed, self-sufficient, healthy, entertained, and successful.
And now Elizabeth is going to tell you about the next exciting chapter for OCPL….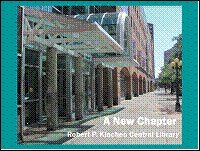 Now, I would like to turn to a different topic.
In the Capital Improvement Plan that you have received is the Central Library Reconstruction project to reconfigure the Central Library for the delivery of effective and efficient library services.
As you know, many of the rich resources of the Central Library, such as public access computers, the Foundation Center database, the Local History department  have not been available for 2 ½ hours each day since 2009. With staff reductions that took effect in 2010, we haven't been able to staff the public service desks or complete backroom tasks.
We now have a plan in place to reorganize the Central Library so that we can restore access to all of the library's resources. We will do these by downsizing the physical space, by redesigning the remaining space for efficiency and by adding technology.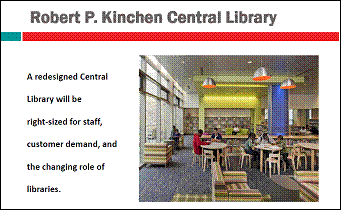 A redesigned Central Library will be right-sized for staff, customer demand, and the changing role of libraries.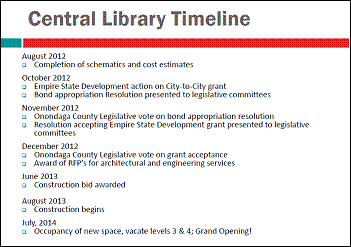 August 2012
Completion of schematics and cost estimates
October 2012
Empire State Development action on City-to-City grant

Bond appropriation Resolution presented to legislative committees
November 2012
Onondaga County Legislative vote on bond appropriation resolution

Resolution accepting Empire State Development grant presented to legislative committees
December 2012
Onondaga County Legislative vote on grant acceptance

Award of RFP's for architectural and engineering services
June 2013
August 2013
July, 2014
Occupancy of new space, vacate levels 3 & 4; Grand Opening!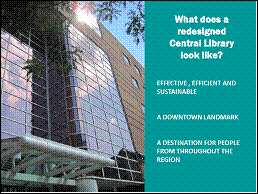 Our planning began with community involvement and as we go forward we will continue to respond to the needs and priorities of residents, agencies, organizations, and Onondaga County government.
Ms. Carmer's responses to Chairman Knapp:
3-149; from $11,000 – $0; moved to system services budget

Telecommunications – contract with Verizon expiring
Ken Beam's explanation of Verizon contract:
Syracuse Metronet put together in early 90's with diffusion funds from NY Telephone Corporation

Money used to build series of circuits connecting hospitals, schools, libraries and government agencies

Contract expired on Aug 7th and was $372/month; County, Library and OCC have 42 1,000mb circuits

Pricing going to $2,800/month; 5 year contract for half but want to bid out for correct pricing; for budgets estimate highest cost – no firm number at this time
Ms. Carmer stated OCPL budgeted using the number they were given of $1,275 per circuit per month; annual total went from $86,000 to $275,000/year. 
Mr. Fisher:
Metronet members been talking for months; St. Joseph's and County working together

Hospital filed complaint to Public Service Commission stating diffusion fund should have built the capital equipment; not just a cheaper operating cost

County asked to pay for capital equipment; County Executive sent letter in support of request for arbitration and urgent negotiations between Verizon and St. Joe's

Hopeful, but not optimistic, will sit down and be reasonable; County cooperating with St. Joe's on an RFP

Non-profits in past received better rates by banding together

Budgetary perspective – not optimistic to have rate close to what it was

Almost 40 circuits dropping to 5 or 6 at 1,000mb rate; can't afford high speed for all; Library part of the total contract
Ms. Lewis stated the Library has 18 circuits, and the intent is to keep the 1,000mb circuit at the Central Library.  The rest would be dropped to 100mb or lower.  Mr. Fisher stated the rate was $2,800 but offered a 5 year deal at $1,300 which was triple what the County was paying.  Mr. Fisher responded to Mr. Stanczyk that the 100mb is a little cheaper but this is why there is an RFP out.  The competing vendors are Verizon, Time Warner and Fiber Tech out of Rochester.
Ms. Carmer responded to Mr. Jordan that the $100,000 appropriated in fund balance towards the budget is in the system services budget.  Mr. Jordan requested a breakdown of the interdepartmental transfers.
Ms. Carmer replied to Mr. May that the increase in other miscellaneous revenues account is the reimbursement for the increased telecommunications.  Chairman Knapp commented the telecommunications is a killer, and asked where the Legislature would see this in other departments.  Mr. Fisher responded in the IT budget, and then it is charged interdepartmentally to all the departments.  Ms. Carmer stated that is the reason they appropriated $100,000 of fund balance, to offset some of the increase to expenses.  Chairman Knapp asked if there was a program where libraries can receive free service.  Ms. Lewis responded Time Warner supplies a 5mb free connection for each public library in NYS.  Many of the small libraries use this for public service.  It is designed to be limited to public access, and staff is on a separate line.
Mrs. Dailey responded to Mrs. Rapp that they need money to move forward with right sizing the library.  Before asking the Legislature to appropriate the bond that was approved last year, OCPL would like to know for sure that the grant application to Empire State Development has been successful.  Their board meeting is in mid October, and OCPL is hoping for good news.  Mr. Fisher replied to Mrs. Rapp that the 2011/12 state budget had $2 million for this project.  The final application will be reviewed by the Empire State Development board of trustees on October 16th.  The total project is $7.8 million, and the County portion is $5.2 million which has not decreased.  Chairman Knapp asked about the long term agreement with the owner of the Galleries.  Mr. Fisher stated it is being negotiated.  The plan is to start construction next July, and open the reconfigured Library in July 2014.  Mr. Fisher stated the County will have to find a way to acquire access to property that is not currently owned while keeping the library on 3 and 4 until July 2014.  Mr. Fisher responded to Chairman Knapp that he is optimistic they will come to an agreement at which time they will be back to the Legislature for approval.
VETERANS SERVICES: Ann Rooney, Deputy County Executive of Human Services
To The Honorable Members of the Ways and Means Committee:
The proposed 2013budget for the Onondaga County Veterans Service Agency is presented in support of services provided to a Veteran population in Onondaga County currently estimated at approximately 31,000.  This figure does not include family members and other dependants who may be eligible for services or benefits. 
The Agency operates with a small staff of 1 MC Agency Director, 2 Grade 9 VSO's (Veteran Service Officers) and one clerk on loan from DSS to handle administrative duties etc.
The most senior of the Service Officers opted to participate in the ERI program.  However, he has returned to his position in a part time status.  His work hours will go from 35 per week to 21.  His continuation in this capacity will allow us to provide the same level of service with some adjustments in schedules and appointments.
The addition last year of a clerk from DSS replaced the loss of a person from the Over 55 Senior Employment Program.  This clerk, who is a service connected Veteran has enabled the staff to work more efficiently by concentrating more of the Service Officers' time on case related issues.
During FY10, Onondaga County Veterans received $66,951,000 in VA compensation and pension benefits. These figures do not include retirement payments made to Onondaga County Military Retirees who receive their funds through the Department of Defense.  Our VSA makes a major contribution to this level of benefits.
This year to date, our agency has helped 1654 Onondaga County Veterans or family members with benefit claims and other issues. 
2012 ACCOMPLISHMENTS
Provided claims representation under federal laws to veterans, dependents, survivors and other claimants in the changing arena of laws, regulations and operations.
Continued to significantly increase public outreach to position the VSA as the leading source of information, advocacy and assistance for Veterans and their families in Onondaga County.
Using the VA.gov website, we continue to work with many of the Nursing Homes and Assisted Living Facilities in our county to streamline the claims application process and make it more efficient for our staff and our Veterans
In conjunction with the Syracuse VA Medical Center, designed and conducted a series of outreach events media phone-thons to encourage Veterans and family members to seek more information about benefits 
In conjunction with the County Clerk, Chairman of the County Legislature and the Legislature's Advisory Committee for Veterans Affairs, continued to increase the number of Veterans and businesses participating in the "FAVOR" Program of business and merchant discounts for honorably discharged Veterans.
Coordinated with the Syracuse Habitat for Humanity to build two Veteran designated newly built homes on the near West Side of the City of Syracuse  
Completed changes in benefits delivery, eligibility and claims representation under federal programs. Re-emphasized the continuing education of accredited representatives.
Director serves as the Chair of Congresswoman Ann Marie Buerkle's Veteran's Advisory Group and serves as a member of U. S. Senator Kirsten Gillibrand's Veterans Advisory Working Group.
Continued to increase coordination with other departments of County Government to maximize services to county residents that was begun in 2008.
Director continues to serve as one of the founding members of the "Voices Together Project" steering committee to oversee efforts to establish a Veterans Outreach Center in our community.
VSA will coordinate burials for some 50 honorably discharged County residents whose families are without funds to see that these events are conducted with respect and dignity.
CHALLENGES
We will continue to work with the New York State Division of Veterans Affairs and the Syracuse VA Medical Center on projects and issues affecting Operation Iraqi Freedom (OIF), Operation Enduring Freedom (OEF) and (OND) Operation New Dawn Veterans. 
Staffing and funding will remain a significant challenge for the VSA as it will for all agencies of County Government.  We will continue to look for ways to leverage other sources of funding and Veterans as volunteers.
Last year, New York State has lowered the rate of reimbursement for indigent Veteran burials from the original 50% to 29% this will result in a slight increase in local dollars expended for these events.    
While it is clear that the 2013 budget year will be a challenge for the administration, county employees, our Legislative leaders and county residents, the Veterans Service Agency will work within the approved level of funding to minimize the direct impact on Veterans and their families in our County and provide them with the best possible service and assistance in obtaining the benefits for which they are most certainly entitled.
Thank you for the opportunity to present this budget.  I welcome any questions you may have.
Mrs. Rooney:
Mr. Mclean left, moved to Veteran's Administration; Director of Communications and Public Affairs; in hiring process

Admirable job with limited resources; service over 1,600 veterans a year; $67 million in veteran benefits infused

Additional item – $25,000 in funding for Outreach Center for Veterans; model program - long tenure in Monroe County to get off ground; $25,000 will be used as a portion of seed money

No changes to budget except for vacancy to be filled by Jan 1st

Outreach – location to be in Chittenango and serve Onondaga, Madison and Oneida Counties; agency called Clear Path – extensive campus; many veteran activities; on a bus route

Being able to service three counties with single point of entry for veterans; will not move services from Civic Center

$3,000 is maintenance for veteran's case in War Memorial; $25,000 is County share; committee working on this; anticipation of start up costs; fully functioning outreach center for veterans

In process or submitted requests at fed level and state level for participation; show have seed money to start; good indication may be responses on fed level because it is joint funding for three counties
TRANSPORTATION DEPARTMENT; Brian Donnelly, Commissioner; Colleen Gunnip, Administrative Director; Thomas Gottstein, Senior Management Analyst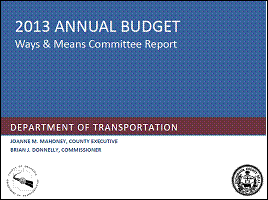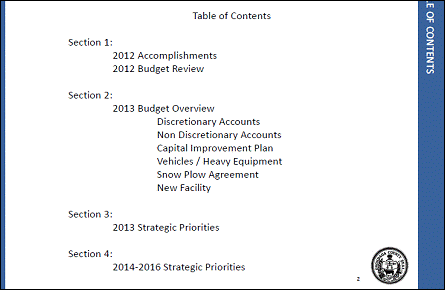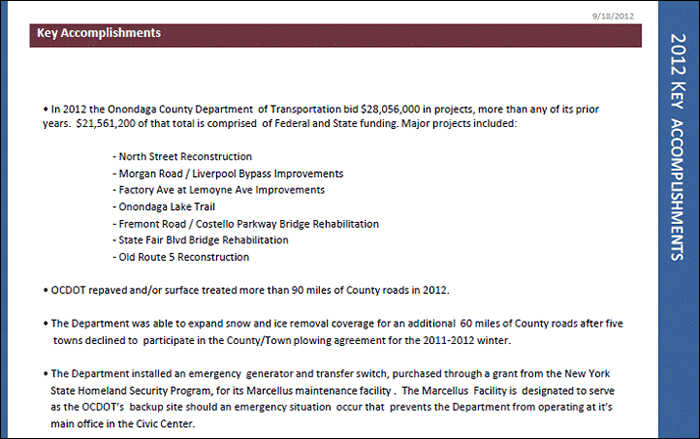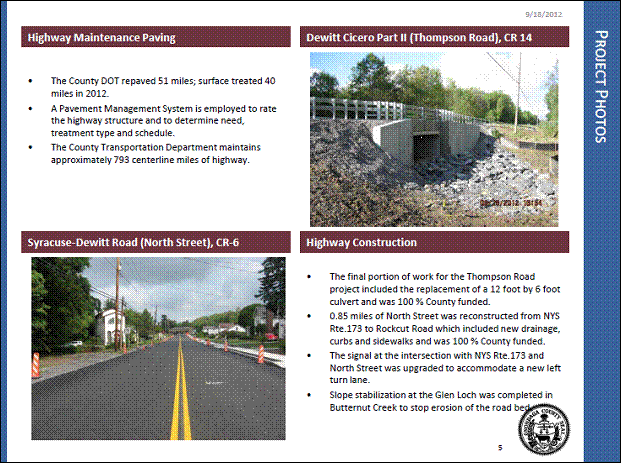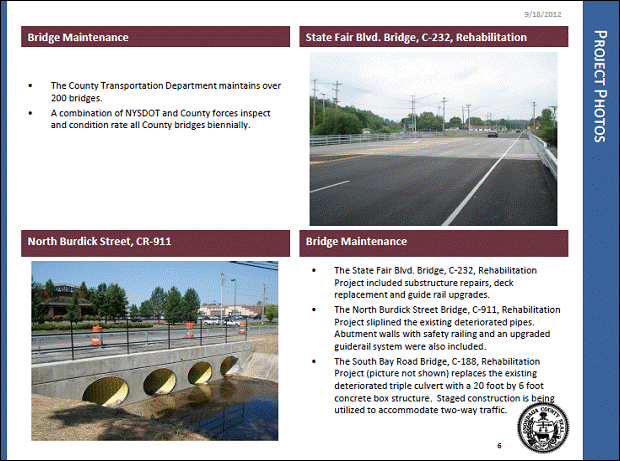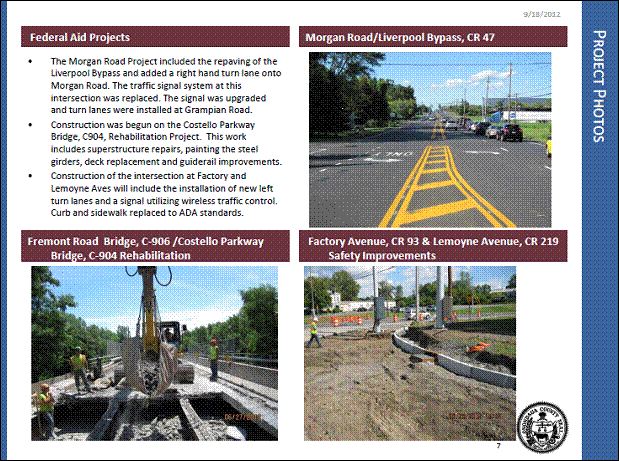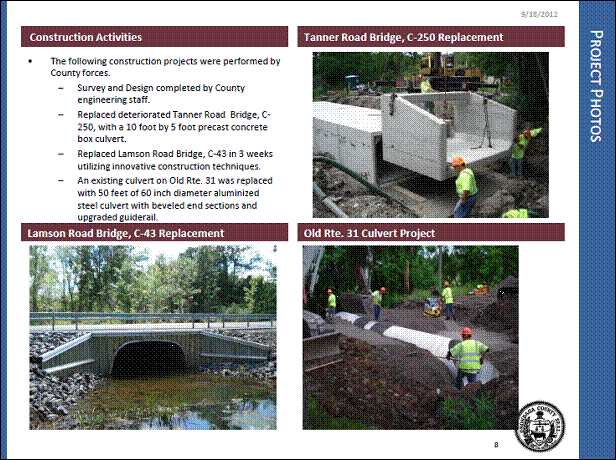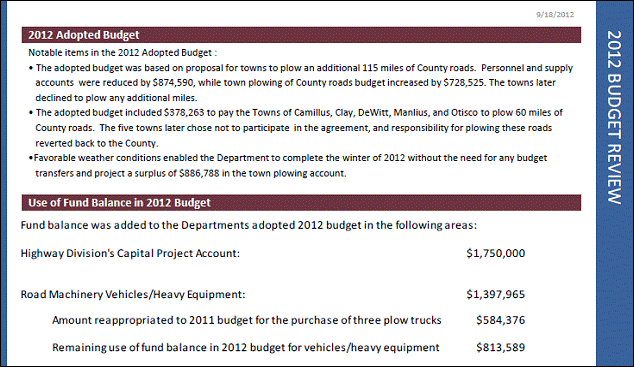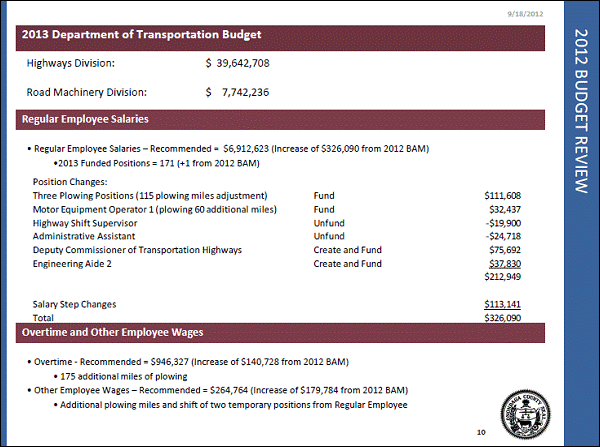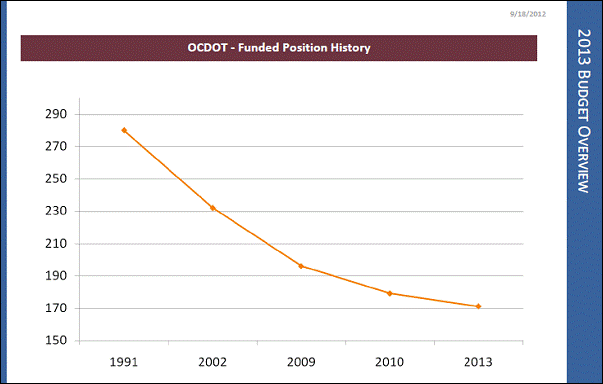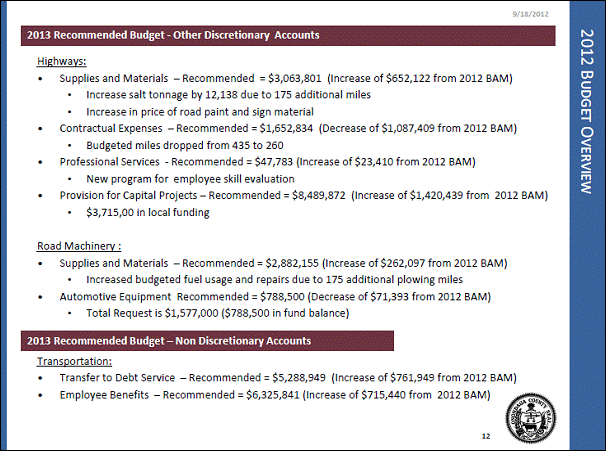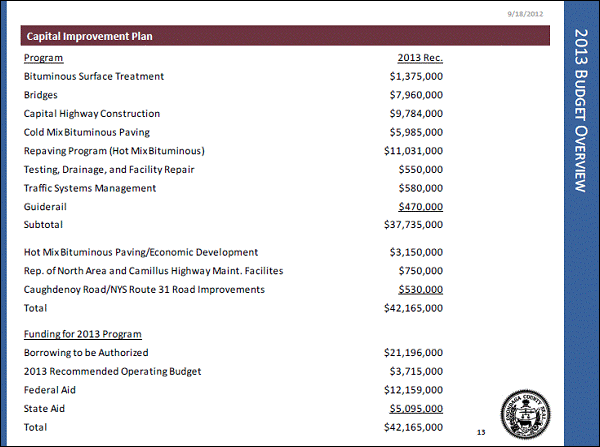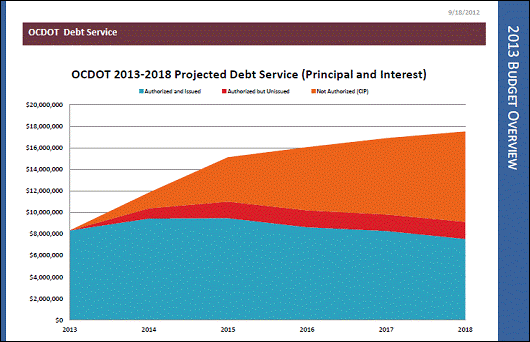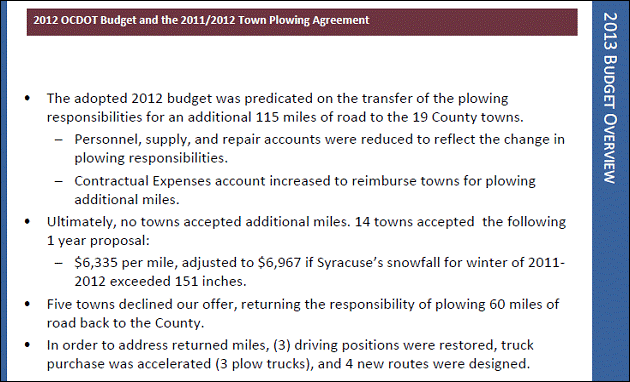 5 towns that didn't accept the proposal:  Dewitt, Clay, Camillus, Manlius and Otisco
Chairman Knapp responded to Mr. Stanczyk that Pompey has the most County roads to plow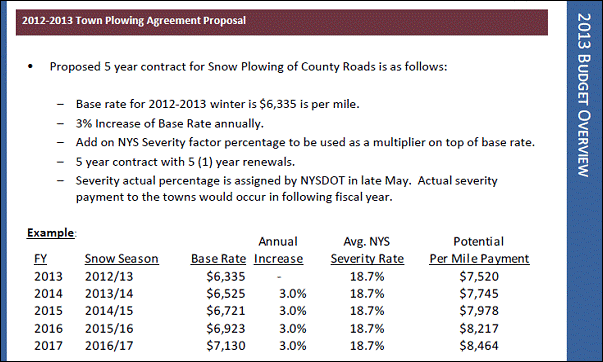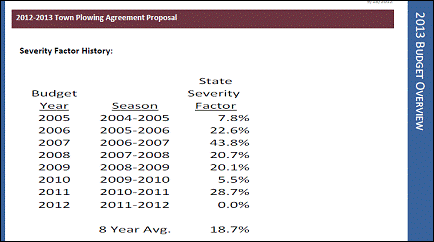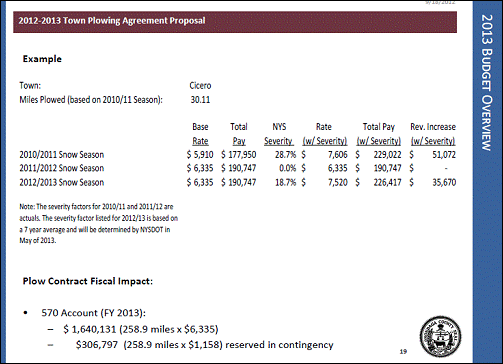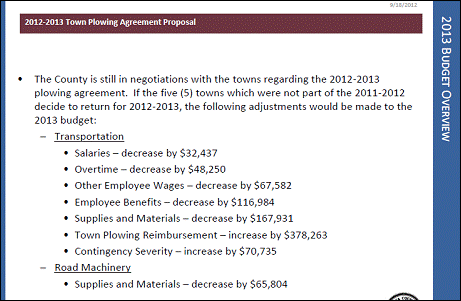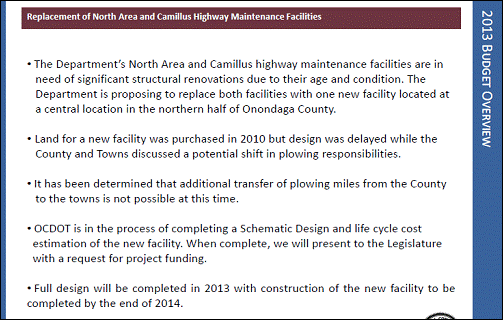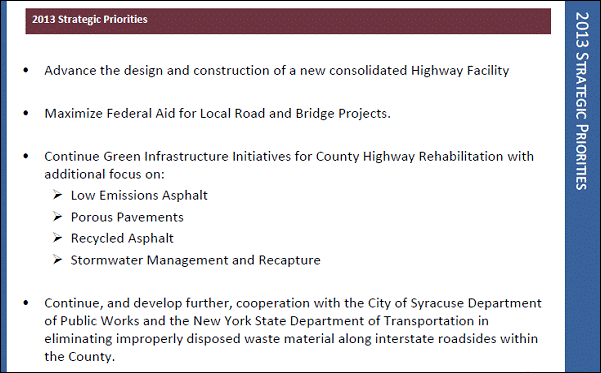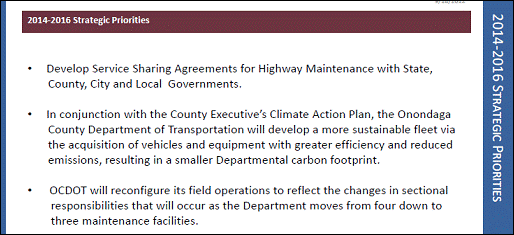 Mr. Donnelly responded to Chairman Knapp that page 20 is based on the assumption that the five towns that were out, do come back.  Mr. Donnelly stated if they come back, then DOT would amend and reduce the accounts in those areas by that amount. 
Mr. Donnelly's responses to Mr. Jordan:
2013 budget assumes the 5 towns out last year are out this year; 258 miles would increase 60, if towns came back

570 acct - payment based on severity factor; can increase dramatically or be base amount; internal cost last year was around $4,000/mile; on avg between $6,100 - $6,300/mile; staying consistent with what the County's costs are;

DOT size based on what they do; if town take on more miles, they would have to expand infrastructure; bigger salt sheds; if County DOT takes over all, would expand the department size; heavy start up costs

Marcellus to Onondaga Hill is 25/30 miles travel; theoretically more efficient for town of Onondaga to handle

DOT on par with what paid to towns and villages, and where the county costs have been

Did not make sense to transfer additional miles to town; additional pressure on them when not in the position to bear it

2013 budget 60 miles heavier because of the 5 opting out of agreement; 14 still plowing miles they've always plowed

Challenging for town to get to town routes without coming across a County road; perception of public is "If you were there, why not do it?"

If towns increase infrastructure or County does, there is still a start up cost to the shift

Towns would still have summer maintenance work; would not see complete reduction in cost; still need forces on
Mr. Millea commented the County has formed an effective committee to review this with representatives from the towns, villages, highway sector, and DOT.  Mr. Millea stated over the last 18 months, they found there is no real path to achieving either ideal (County or Towns take over all plowing).  Mr. Millea believes the Legislature will not support what towns are looking for which is $9,000 - $12,000.  Chairman Knapp commented it would not make sense to have a plow travel from Jamesville, when the towns have the plows positioned close to the roads that need to be plowed.  Mr. Millea stated with the amount of snow fall and how it is managed, the constituent feedback is very positive.  Mr. Ryan commented there has to be a more collaborative effort amongst towns and villages, and it will take time.
Mr. Donnelly's responses to Mr. McMahon and Mrs. Rapp:
The meeting was adjourned at 3:16 p.m.
Respectfully submitted,
Jamie M. McNamara, Assistant Clerk
Onondaga County Legislature