Thank you to all who attended our Community Forum
on January 20, 2016
A group of more than 450 concerned community members joined us for this informative and inspiring event that provided insight and solutions from experts including addiction specialists, public health, law enforcement, physicians, treatment specialists, community partners, community leaders, and families of those affected.
View videos of the forum in its entirety below or on You Tube.
Download the slides from the presentation.
View the Community Forum agenda.
Videos
Thank you to Visual Technologies for producing the videos below which provide coverage of the entire forum. All videos can be viewed below or on You Tube.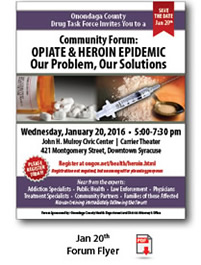 Forum Welcome, Opening Remarks, and Personal Perspective
Welcome: Co-Chairs of Onondaga County Drug Task Force
Indu Gupta, MD, MPH, MA, FACP, Onondaga County Commissioner of Health
Barry Weiss, Administrative Officer, Office of the Onondaga County District Attorney

Opening Remarks: Joanne M. Mahoney, Onondaga County Executive and
U.S. Representative John Katko (NY-24)

A Personal Perspective: Deanna

Public Health Perspective: Indu Gupta, MD, MPH, MA, FACP, Commissioner of Health
Panel 1: Crisis Management
Presenters:
Eugene J. Conway, Onondaga County Sheriff
Frank L. Fowler, Chief of Police, Syracuse Police Department
Michael Ferrante, Assistant District Attorney, Narcotics Bureau Chief,
Office of the Onondaga County District Attorney
Jason Casanova, Assistant Director, North Area Volunteer Ambulance Corps (NAVAC)
Panel 2: Treatment of Addiction–Medication & Behavioral Health
Presenters:
Brian Johnson, MD, Professor of Psychiatry and Anesthesia, Upstate Medical University
Hector Biaggi, MD, ABPN, ABAM, FASAM, Medical Director, Crouse Hospital–Commonwealth Place,
Medical Director B-MAT Clinic, Chemical Dependency Treatment Services (CDTS) Program
Monika Taylor, LCSW, CASAC, Director of Behavioral Health Services,
Crouse Hospital Chemical Dependency Treatment Services (CDTS) Program
Jeremy Klemanski, President and CEO, Syracuse Behavioral Healthcare
Panel 3: Prevention of Addiction–Role of Physicians and Community
Presenters:
Ross W. Sullivan, MD, Director, Medical Toxicology Consultation Service,
Assistant Professor, Department of Emergency Medicine, SUNY Upstate University Hospital
Beth E. Hurny, LMSW, CASAC, Executive Director, Prevention Network
Gail Banach, MS, MSEd, BA, Director of Public Education and Communications, Upstate New York Poison Center
Forum Closing
A Personal Perspective: Rob
Closing Remarks: Dr. Indu Gupta and Barry Weiss