Public Notice: August 21, 2013
Public notice is hereby made that an imminent threat to public health has been declared due to the presence of Eastern Equine Encephalitis (EEE) in the Cicero Swamp area of Onondaga County. Click here for more details.
Fight the Bite
Protect yourself and others from West Nile Virus (WNV) and Eastern Equine Encephalitis (EEE).
Mosquito bites can spread diseases like WNV and EEE. Mosquito-borne disease is spread by the bite of an infected mosquito.

Who is Most at Risk?
Adults over 50 years old and children are the most at risk of becoming severely ill from infection. People who are outdoors a lot may be at the most risk of begin bitten by an infected mosquito.
What are the Symptoms of WNV or EEE?
Most people who are infected with WNV do not get sick. Mild cases can cause a slight fever and headache and usually get better on their own. Serious infections can cause a high fever with head and body aches. Symptoms of severe illness from WNV and EEE include: severe headaches, high fever, stiff neck, mental confusion, muscle weakness, tremors (shaking), coma, or paralysis. See your doctor if you develop any of these symptoms.
Found a dead bird?
The New York State Department of Health is no longer testing birds for West Nile virus. West Nile virus is present in all areas of New York State. If you find a dead bird, wear disposable gloves and:
pick up the bird
put it in a plastic bag and double bag it
then throw it in your garbage can.
Protect Yourself and Protect Others
Get rid of water!
Don't let them in!
Protect yourself when outdoors!
Mosquitoes are most likely to bite between dusk and dawn. If you spend time outdoors during these hours, wear long pants, a long-sleeved shirt, shoes and socks.

The Centers for Disease Control recommends using insect repellent containing DEET, Picaridin, Oil of Lemon Eucalyptus, or IR3535 to prevent mosquito bites. DEET and Picaridin provide longer-lasting protection than other repellents. Follow the manufacturer's recommendations for application.

Do not put the repellent directly onto children. Put it on your hands and apply it to your child. Do not put insect repellent on your face. Wash treated skin and clothing after returning indoors. Follow the manufacturer's recommendations for application.
For more information about mosquito control, contact the Onondaga County Health Department at (315) 435-1649 or download "Fight the Bite" print-ready materials (pdf): Brochure or Flyer
Mosquitoes breed in stagnant water (water which is not in motion or has no flow). If you have areas of stagnant water around your home such as on top of your swimming pool cover, rain barrel, or bird bath, you may want to consider treating the water with mosquito dunks.
Mosquito dunks contain bacteria that kill mosquito larvae. They do not kill adult mosquitoes. Mosquito dunks can be purchased at your local hardware store. The dunks can only be used for containerized standing water and cannot be used for any type of flowing water such as a stream or pond. Please follow the manufacturer's directions on the package for safe and proper use.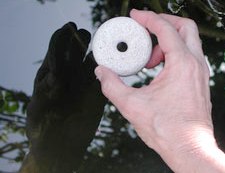 Mosquito dunk being placed
in stagnant water
New York State Department of Health:
West Nile Virus Information
Eastern Equine Encephalitis (EEE) Information:

Centers for Disease Control and Prevention (CDC):
West Nile Virus Information
Eastern Equine Encephalitis (EEE) Information
Watch Senator Schumers Public Service Announcement Here